Have you ever baked with a tangzhong? No, it's not some crazy kitchen tool; it's actually a unique type of bread starter which acts as the base of these Japanese milk bread rolls.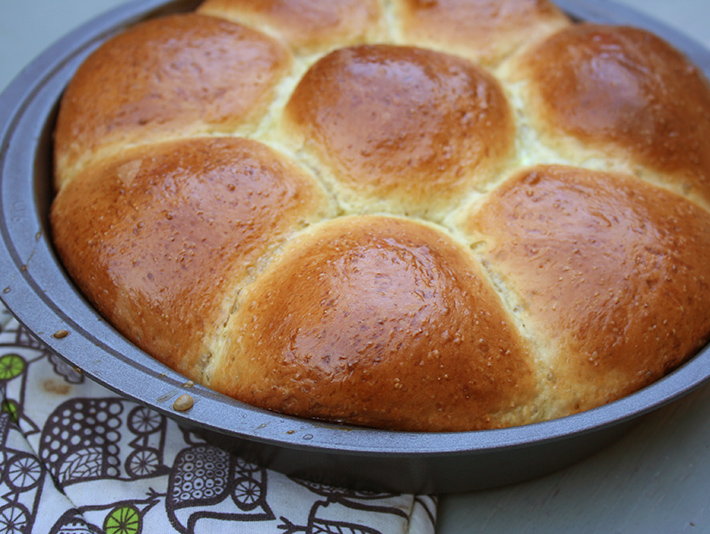 Photos via CakeSpy
The tangzhong starter is like a roux, lightly cooked and cooled before being incorporated in the dough. It adds a unique flavor and a reliably tender, fluffy finished texture to these light-as-air rolls, which are truly unlike anything you've tasted before!
These absorbent rolls are ideal for pairing with a Thanksgiving meal, but they're also the perfect base for sandwiches or burgers all year round. Should you find yourself with days-old leftovers, they make for a killer French toast or delicious batch of bread pudding.
Japanese milk bread rolls
Makes 8 large rolls
Adapted from King Arthur Flour 
Ingredients: 
For the tangzhong starter
3 tablespoons water
3 tablespoons milk
2 tablespoons all-purpose flour 
For the dough
2½ cups all-purpose flour 
3 tablespoons sugar
1 teaspoon salt
1 tablespoon instant yeast
½ cup whole milk
1 large egg
4 tablespoons unsalted butter, melted and slightly cooled 
For the egg wash
1 egg, lightly beaten
1 tablespoon milk 
Step 1:
First, make the starter. Combine all of the starter ingredients in a small saucepan. Whisk until the mixture is smooth and lump-free.
Step 2:
Over low heat, cook the starter mixture, whisking constantly, until it becomes thick and the whisk shows lines on the bottom of the pan. This only took about a minute for me, but go by the visual rather than the timing. Transfer the mixture to a vessel where it can cool to room temperature. 
Step 3: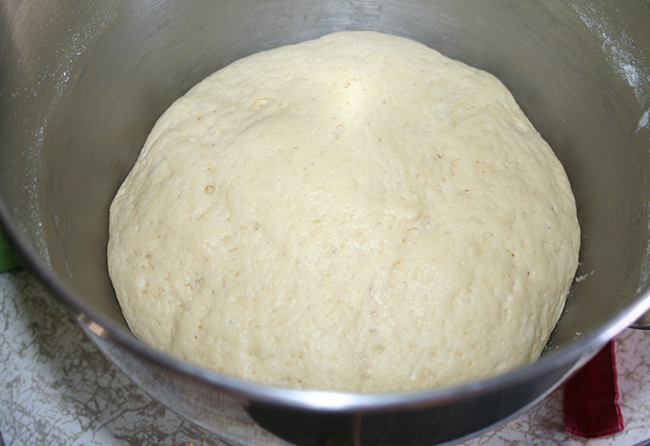 In a large bowl, combine the room temperature starter and the remaining ingredients. Knead, either by hand using a rubber dough scraper, or with a stand mixer fitted with the dough hook attachment, until the dough becomes smooth and elastic (3-5 minutes with a mixer, 5-7 minutes by hand).
Place the dough in a large, lightly oiled bowl and cover with a slightly damp kitchen towel or plastic wrap. Let rise at room temperature for about 90 minutes, or until very puffy in appearance (though it may not quite double in size). 
Step 4: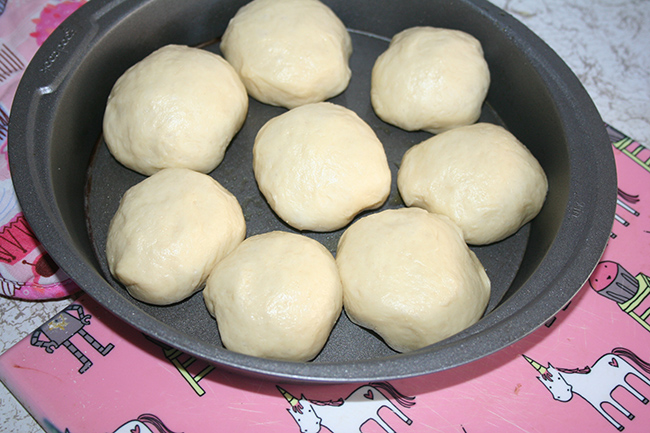 Deflate the dough, and divide into 8 equal portions. Shape each piece into a ball, and place in a lightly greased cake pan. 
Step 5: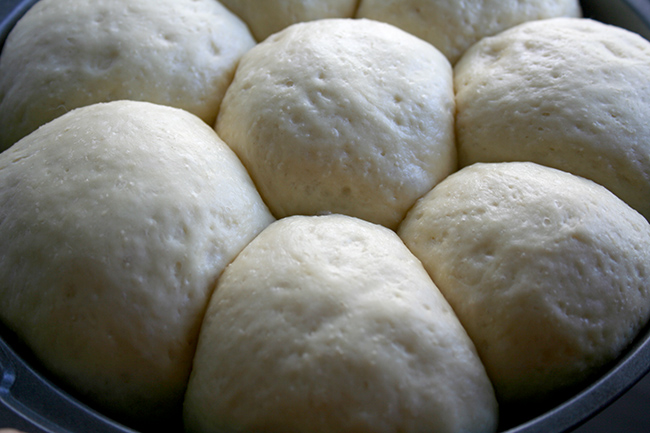 Cover the pan, and let the rolls proof for about an hour, or until they are puffy and fill out the baking pan. Preheat your oven to 350 F. 
Step 6: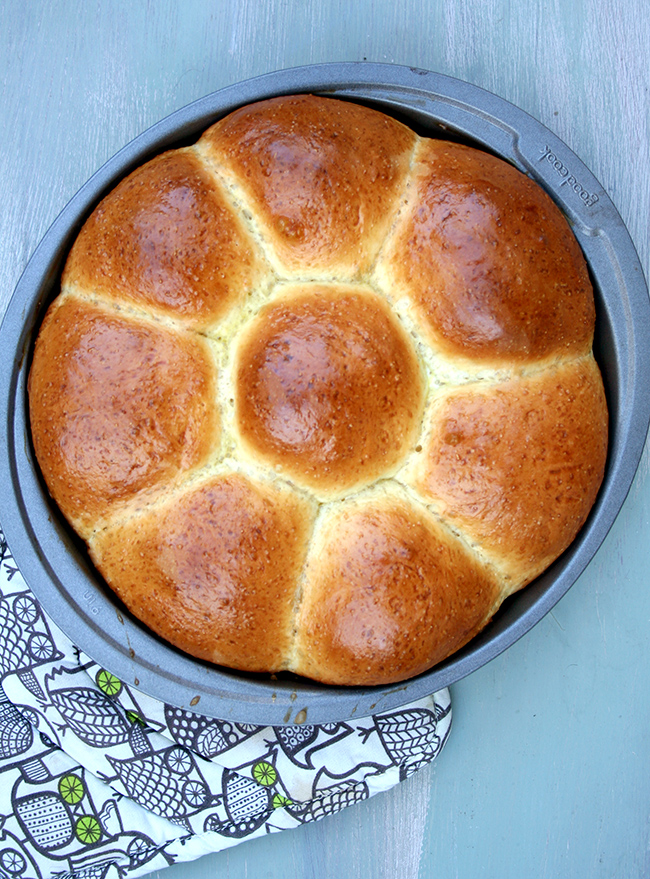 Brush the rolls with the egg wash, and bake for 25-30 minutes, or until golden in appearance; to be sure of doneness, you can insert an instant-read thermometer in one of the rolls; it should register about 190 F. 
Step 7: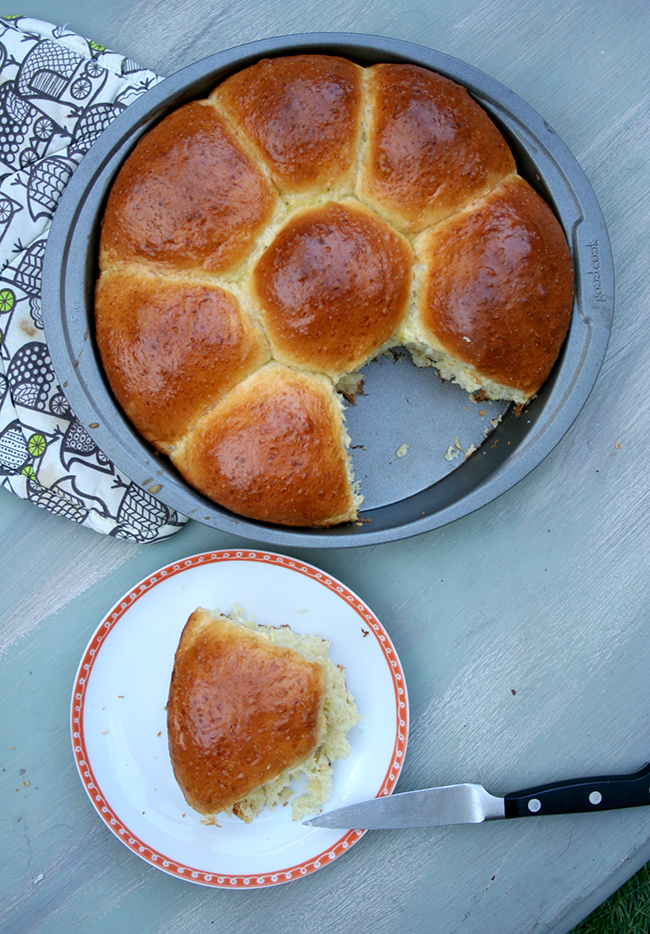 Remove the rolls from the oven, and let cool in the pan for about 10 minutes before transferring to a wire rack to cool completely. Enjoy warm!
Have you ever made a Japanese-style bread?