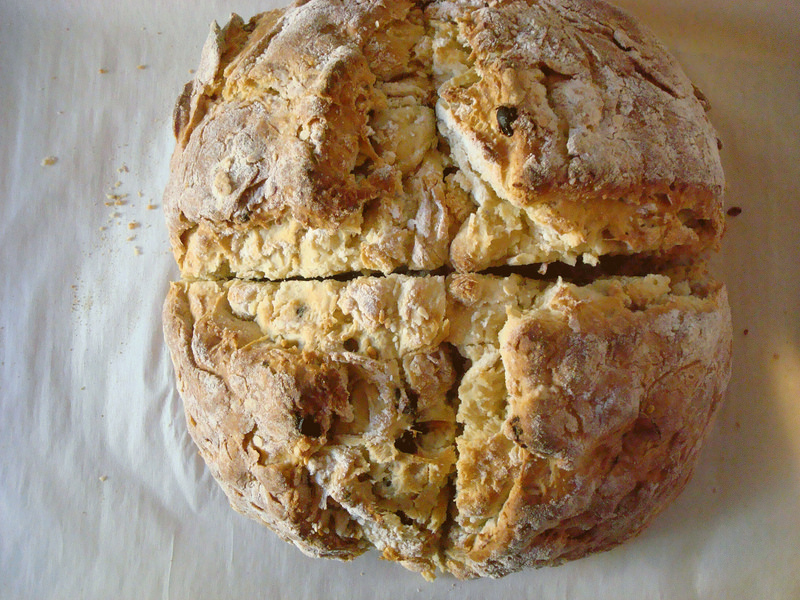 While your St. Patrick's Day dinner of slow-cooked corned beef and cabbage sounds amazing, there's one easy way to make it better: serving it alongside a dense loaf of Irish soda bread. The traditional loaf is usually unsweetened, but this recipe is proof a spoonful (or two) of sugar goes a long way in enhancing the flavor while keeping the bread moist. Here's how to make it — and store it properly — so your holiday festivities go off without a hitch.
Irish Soda Bread
Yield: 1 approximately 9″ round loaf
Ingredients
4½ cups all-purpose flour, plus more for dusting work surface
2 tablespoons granulated sugar
1½ teaspoons salt
1 teaspoon baking soda
4 tablespoons unsalted butter, cubed
1 cup raisins
1 large egg, lightly beaten
1¾ cups buttermilk
Instructions
1. Preheat the oven to 425º F. Line a baking sheet with parchment paper and set aside.

2. In a large bowl, sift 4 cups of flour with the sugar, salt and baking soda. Work the butter into the flour, mixing only until it resembles a coarse meal that can be loosely clumped by hand.

3. Stir in the raisins.
Pro Tip: If your raisins are hard, soften them up by soaking them in a mixture of water and 2 tablespoons rum, brandy or vanilla extract. The alcohol or extract will improve the flavor, but you need to thoroughly drain and dry them before adding to the dough.

4. With the dough mixture still in the bowl, form a well in the center. Pour the beaten egg and buttermilk into the well and stir using a wooden spoon until the batter is combined. Take care not to over-mix — you just want everything evenly moist.

5. Dust a work surface and your hands with flour. Gently turn the dough onto the work surface and knead just enough so you can form it into a ball. (It should be slightly rough; don't try to get it smooth and seamless.)
Pro Tip: If needed, you can work in the remaining ½ cup flour, in part or in whole, but only work in as much as you need to make the dough workable. It's OK if it's still slightly sticky.

6. Transfer the round of dough to a prepared baking sheet. If the dough alters shape while being transferred, re-work it into a round with a domed top.

7. Using a serrated knife, score the dough with an "x" shape across the top, about 1″ deep.

8. Bake until the bread is golden on the outside and has formed a firm crust, about 35–45 minutes.
Pro Tip: If your bread's crust is browning too rapidly, tent a sheet of aluminum foil over the loaf. This will slow down the baking of the exterior so the interior can catch up.

Test by inserting a skewer or cake tester in the center of the loaf. If it comes out mostly clean, your bread is done.

Remove from the oven and let cool for several minutes before serving warm. This quick bread is best when served the same day it's made, but will keep when well-wrapped at a cool room temperature for up to three days. You can also freeze it for up to a month.