Traditional, modern, bold, bright and subdued.
Fabric choices today are as varied as the many different quilters pursuing quilting and sewing. This diversity in style was clearly evident at the recent International Quilt Market held in Houston, Texas. Every style of fabric and design presented to shop owners and retailers and will be available for purchase in the coming months.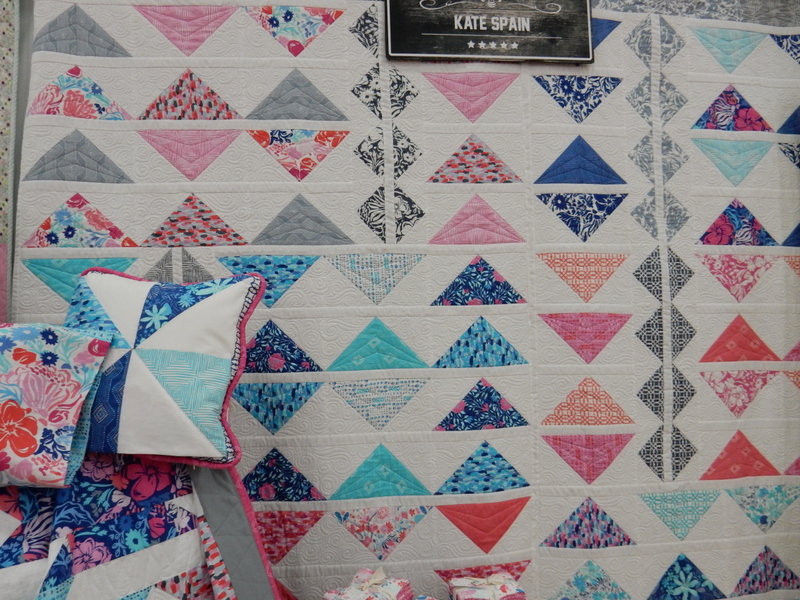 Trade Winds Quilt designed by Kate Spain using her upcoming Moda collection Paradiso. Photos via Sherri McConnell
International Quilt Market, an industry trade show not open to the general public, was held October 25 – 27, 2014, in Houston.
Schoolhouse events, classes and seminars started before the market opened and extended after the market's closing. Representatives from every part of the quilting, sewing and textile industries attended to promote their latest designs and products and to catch up on current and upcoming trends that will shortly influence what today's quilter finds in local and online shops.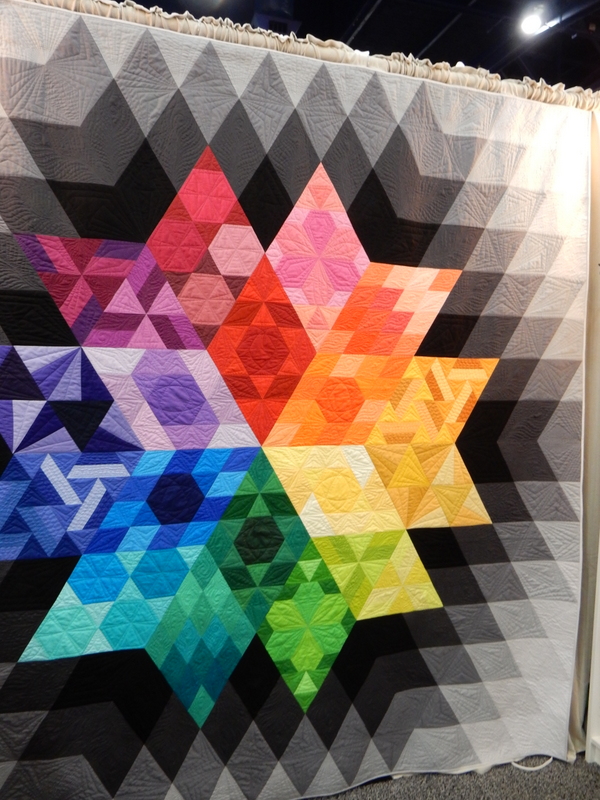 Quilt by Julie Herman of Jaybird Quilts using Kona Solids by Robert Kaufmann.
Designs at this market successfully blended traditional patterns with today's bright and bold fabrics. While mini quilts still had a noticeable popularity, big and bold seemed to be the keywords for this market. Eye-catching designs could be found in quilts around every corner.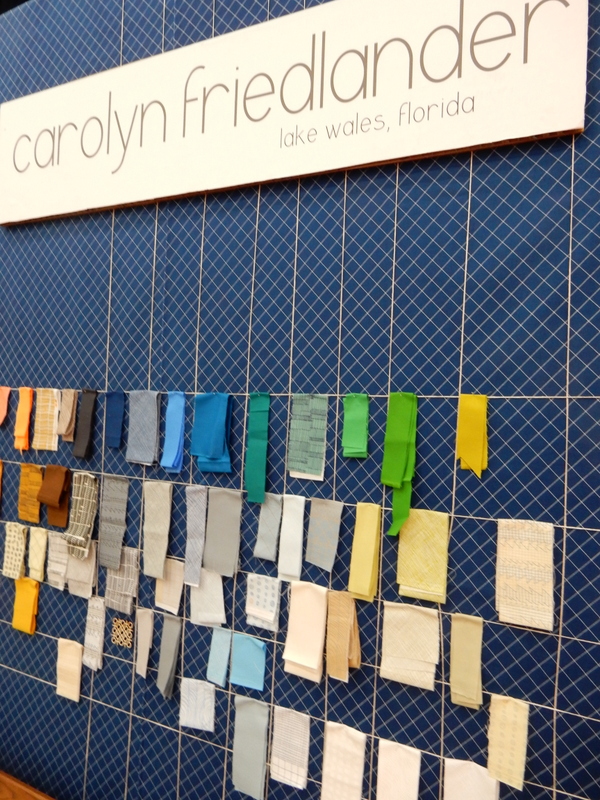 Carolyn Friedlander's display of Doe, her upcoming collection. 
Along with the colorful, bold graphic designs, texture and low-volume graphic prints also remained popular. These fabrics work perfectly as backgrounds and blenders with today's modern fabric designs. As in recent market displays, booth exhibitors also utilized coordinating solids that complemented and helped showcase the feature prints.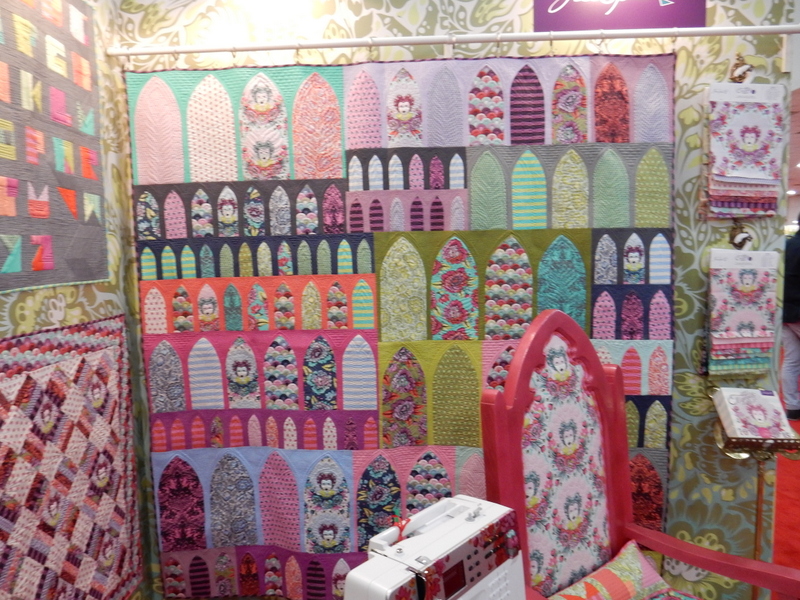 Tula Pink's display featuring her upcoming collection Elizabeth. 
Colorful booth displays with novel props and stunning quilts promoted the upcoming fabric collections presented by the fabric designers. Many of these display quilts featured bold use of  both large-scale and small-scale prints in each collection.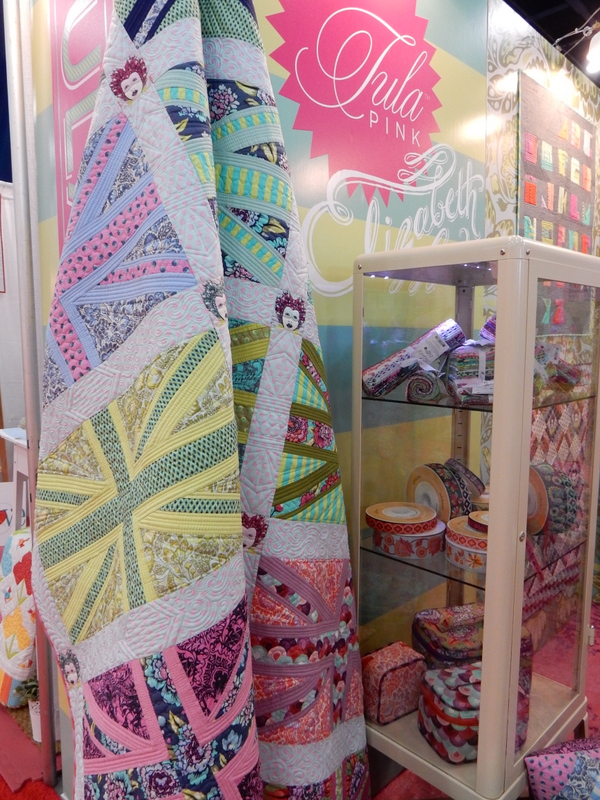 As in previous markets displays, most designers showcased their fabrics in a variety ways. While quilts were the most popular choice, quilting cottons, cotton lawns and upholstery fabrics were also displayed in a variety of forms. Home goods, accessories, clothing and bags were prevalent in fabric design displays.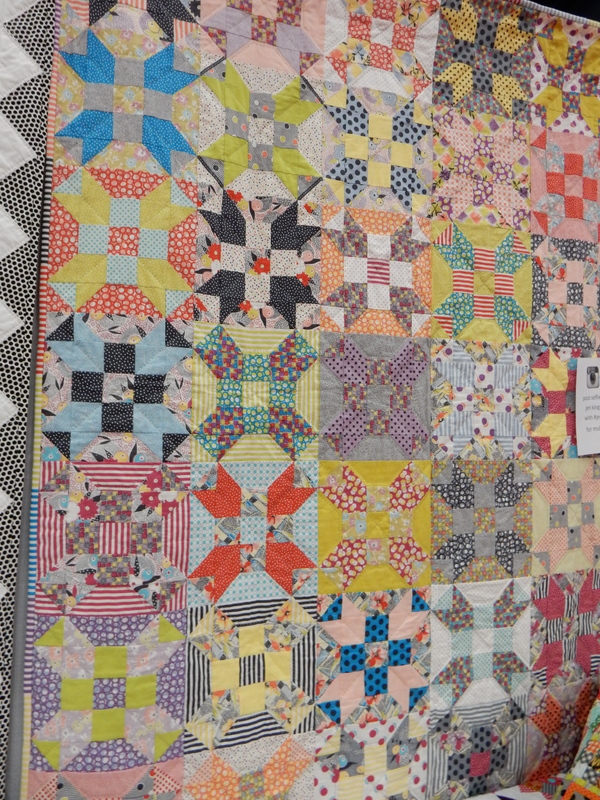 Jen Kingwell's Gardenvale collection for Moda debuted in Houston. 
Bold designs were also used to feature a variety of more classic fabrics. The reproduction look with a modern perspective was clearly popular at International Quilt Market. Traditional designs made modern weren't only to be found in bold and bright fabrics, but also softer palettes, featuring a modern twist.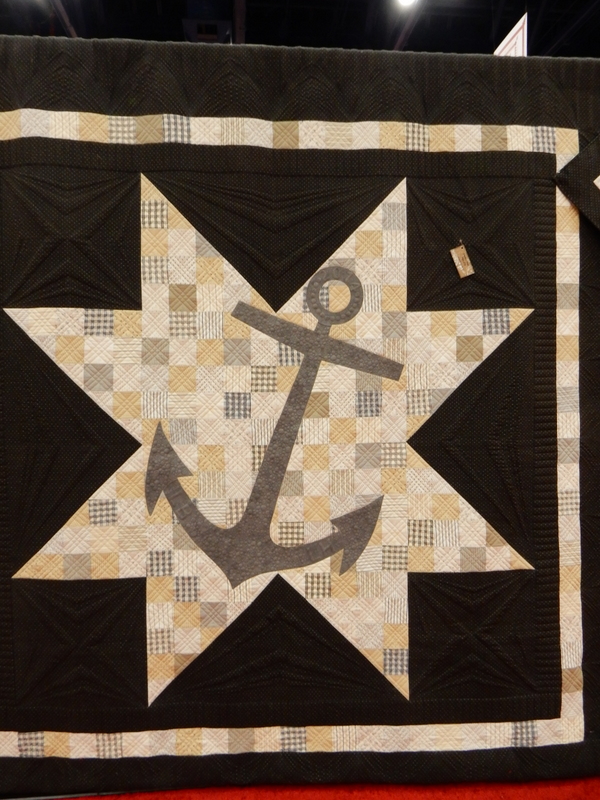 This anchor design by Lisa Bongean of Primitive Gatherings features her upcoming Moda collection Lakeside Gatherings.
Primitive fabrics and quilt designs also used bold patterns to showcase upcoming collections. Not only does today's quilter have an incredible variety of fabric styles to choose from, but they may also choose from any number of traditional and modern designs to create with these fabrics.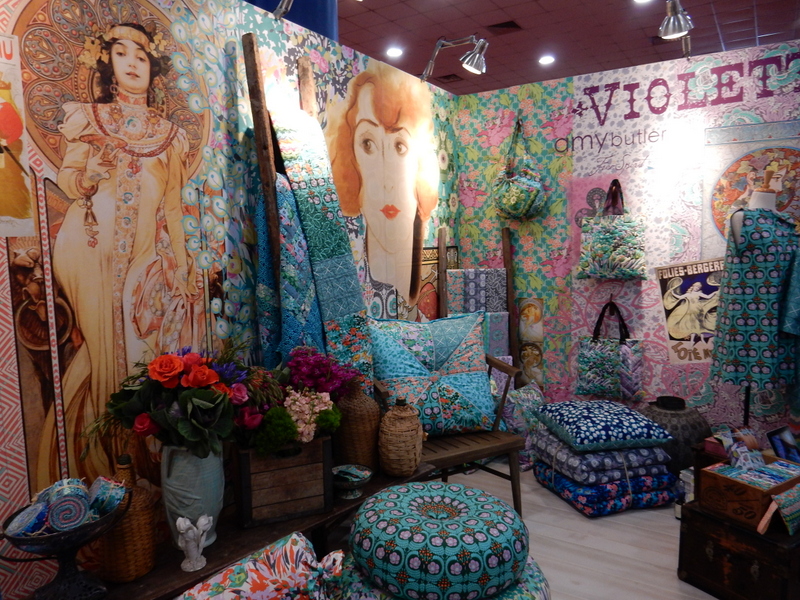 Amy Butler's Violette collection is featured in pillows, clothing and home decor items. 
While traditional shapes such as squares, rectangles, triangles and circles were popular in quilt market displays, the Dresden design was also trending. Large Dresden quilt blocks were the perfect showcase for presenting new fabrics and could be found in several different designer booths.
Anna Maria Horner's display at the Fall 2014 International Quilt Market. 
Although the Fall 2014 International Quilt Market has closed its doors until participants convene again in the spring, the fabrics and designs presented this fall will be available for purchase in the near future.
What's your favorite fabric featured from the fall quilt market?