When it comes to illustration painting techniques, the sky is the limit. In fact, there are so many ways to tell your story in painted images that it can just about make your head spin. But we can help you manage the creative madness. Get ready to prep, sketch, and paint: Here are the must-know techniques for amazing painted illustrations!
Illustration via CakeSpy
Although art is objective and no one method is "correct," there are certain illustration painting techniques with a proven track record of streamlining the process, regardless of style, size, or medium. Employing these techniques will not only help you refine the images which will convey your story, but will also make you a better and more effective illustrator.
First things first: do your background work.
An architect wouldn't build a skyscraper without a blueprint — the walls would be wonky and the support structure wouldn't be sound. Likewise, a good illustrator doesn't just start painting: They take steps to build an artistic foundation upon which they can create finished illustrations. Here are just a few techniques to get you started:
Choose your medium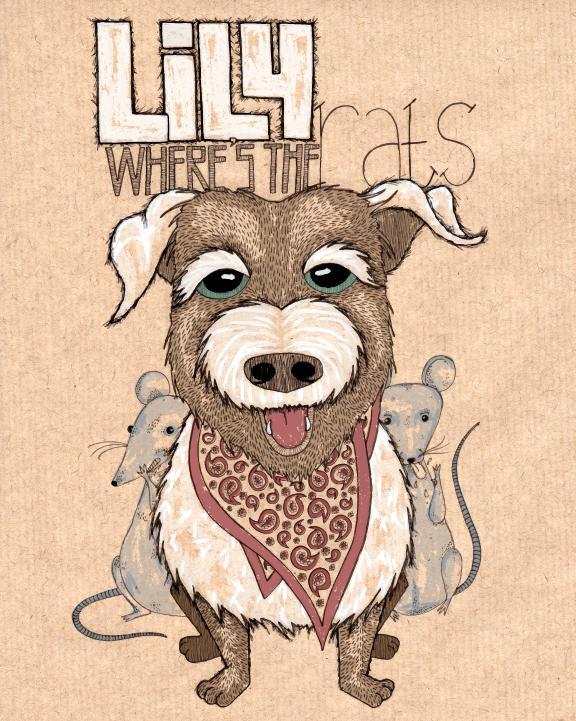 Lily story via Craftsy member Sallyannewalker
Once you've chosen what to illustrate, choose a medium that feels authentic to you, and that you find accessible to work with. Consider the illustration(s) you'll be creating, too. A baby's bedtime story, for instance, will work beautifully with a watercolor palette, whereas a bright single panel illustration might work better rendered in bold acrylic paint.
Gather reference images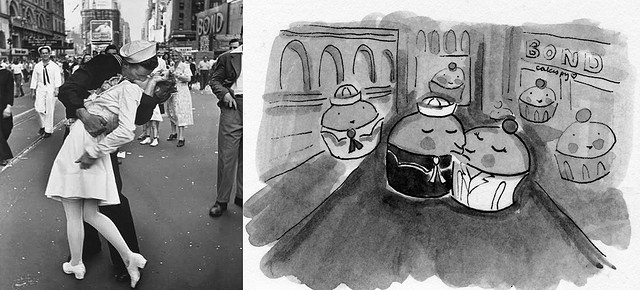 Illustration via CakeSpy
Use reference images to create scenes and characters. This can be as simple as looking at an image to inspire your artwork, as above, or creating character sketches and detailed scenes from different angles to create the basis of a picture book world.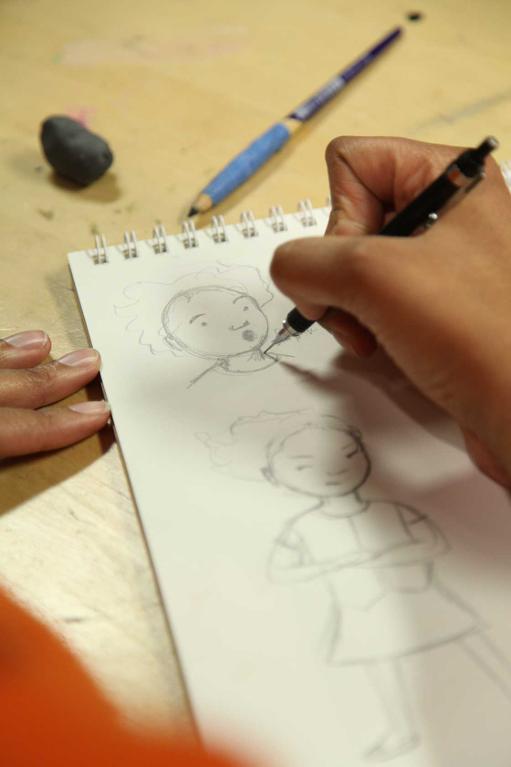 Character studies via Craftsy instructor Shadra Strickland
For book illustrations, character studies are particularly important. After all, you'll be spending a lot of time with them, and you have to know how to illustrate him, her or it from every angle.
Plan your composition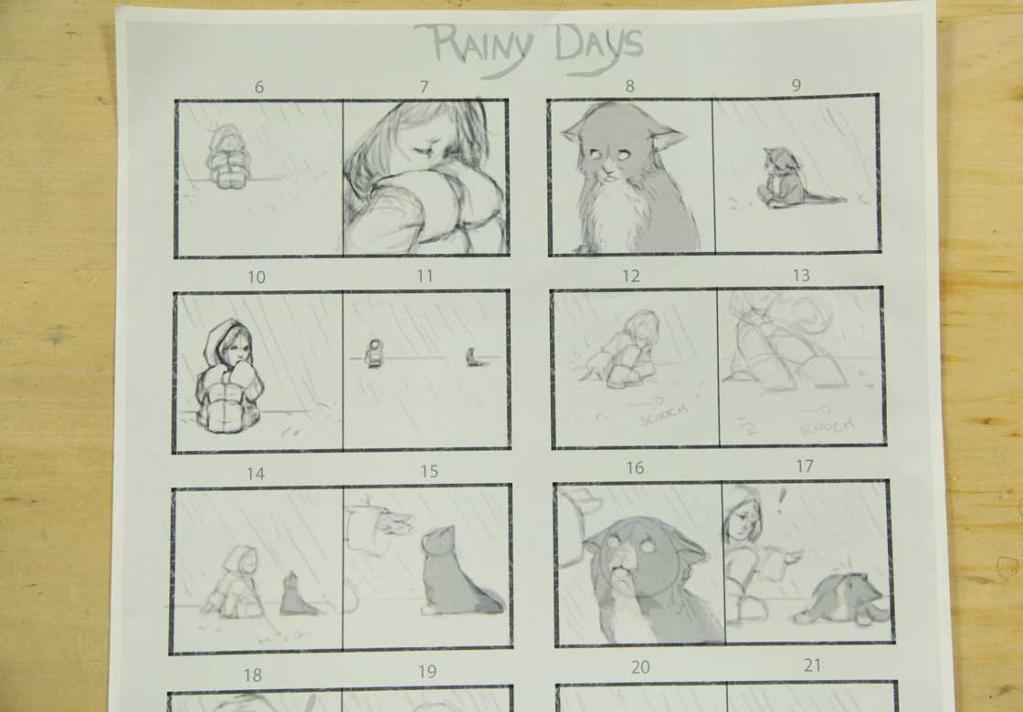 Storyboard via Craftsy instructor Shadra Strickland
Plan out your composition by doing small "thumbnail" sketches. If you are making a series of illustrations for a picture book, creating a storyboard helps you organize your ideas in popular picture book formats. Not only will this help you divide any text between a set number of pages. You can see how a story will "flow" based on your illustrations. Mix it up with points of view, varying close-ups and depth of field, so that every page turn is a new adventure.
Getting to work
Tell a story with your illustration
Armed with a plan, you can begin refining, your sketches. Be expressive. If you illustrate in a very straightforward, literal way, you might create a pretty painting. But you won't be creating amazing illustrations, which tell a story on their own. Refer back to the reference images and character studies to make your illustrations come to life. These sketches are the backbones of your paintings.
Illustrator's note: Once you start advancing to final sketches, be sure to work at scale or larger than your intended final size. In general, images look better reduced rather than enlarged.
Choose your color scheme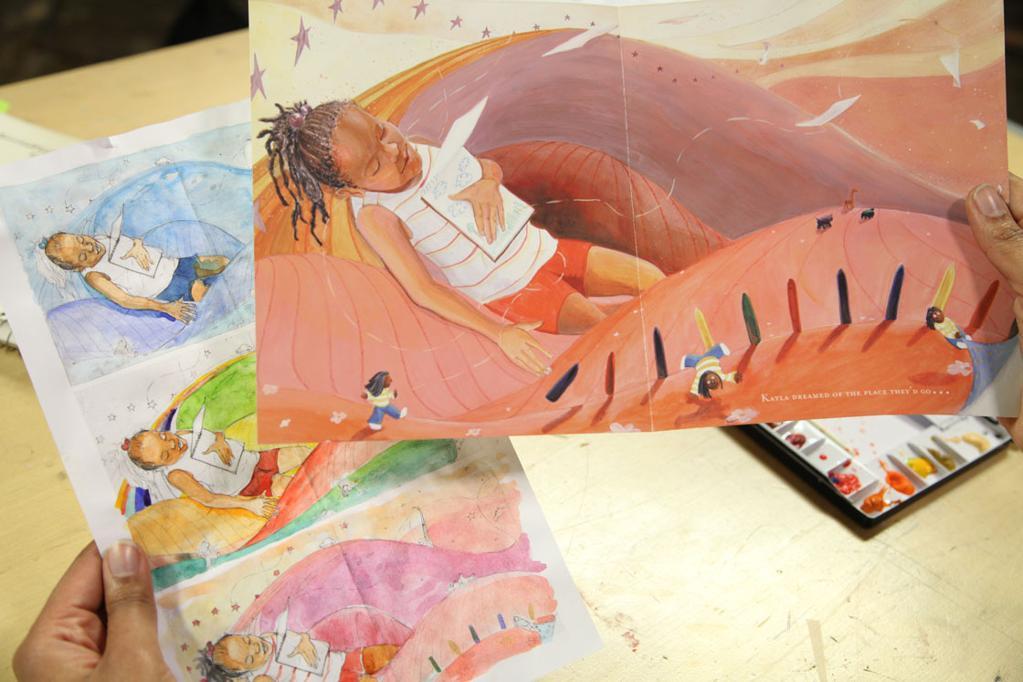 Choose your mood via Craftsy instructor Shadra Strickland
Now that you have sketches, choose a color scheme. You can make loose sketches and try out various color schemes, or photocopy a sketch to try out different options. This step helps you guarantee you will be creating the mood you'd like.
Finalize your sketches
Illustration via CakeSpy
Once you feel great about your ideas and layouts, make your final sketch. Use your sketch to make sure that the image is spaced as you would like. Many find that it is easiest to do a sketch on a lower quality paper, to allow for experimentation, and then can be traced and transferred to a higher quality paper for the finished illustration. However, it is not unheard of to make the final sketch on your working surface and then to erase pencil lines later.
Some tips for organizing your page:
If you're creating book illustrations, don't put extremely important elements toward the left or right-hand edge of the piece, as these would be the portions that would be cut off at a page break. For a page spread piece, don't put the most important part of the piece right in the center!
Make sure the images are sized so that they will scan well. If your scanner has a 9 x 12 bed, but your image is 11 x 14, this could create an annoyance later on.
If you're working on a story, be sure that there is a spot in each illustration without too much "action" so that there's space to superimpose the words without the overall image becoming too busy.
You're ready to paint!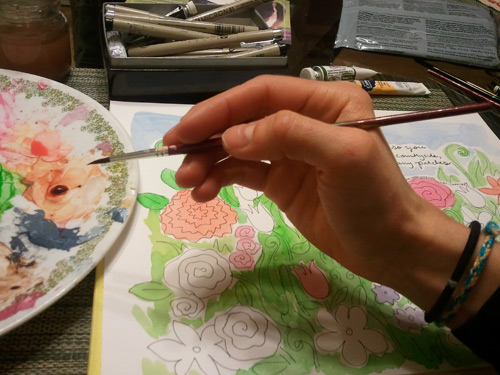 Photo via CakeSpy
Now that you have your sketch transferred, you're ready to get painting.
How to deal with the pencil marks? If you're using pen and ink, draw over the pencil image and then, once the ink is dry, erase the pencil marks. If you're using pastel, pencil or any media where you won't want to see the pencil sketch, you can erase it to a ghost image.
For acrylic paint, lay down a base coat. Because the paint will be opaque, the pencil won't really matter.
Keep in mind that colors may scan with slightly less contrast, so don't be shy with shading and accentuating key details.
Unless it is a spot or vignette illustration (one that is meant to be free-floating on a page), make the image extend an inch or so beyond where the image will be cropped. This makes reproduction much easier.
What kind of story would you like to illustrate?