Quilts and glue can easily go hand in hand. As odd as that may sound, glue can truly be a quilter's best friend! To some quilters, this is not a novel concept at all. To others, this sounds downright crazy! Let's take a look at glue and how it can be a great benefit to those of us who love to sew and quilt.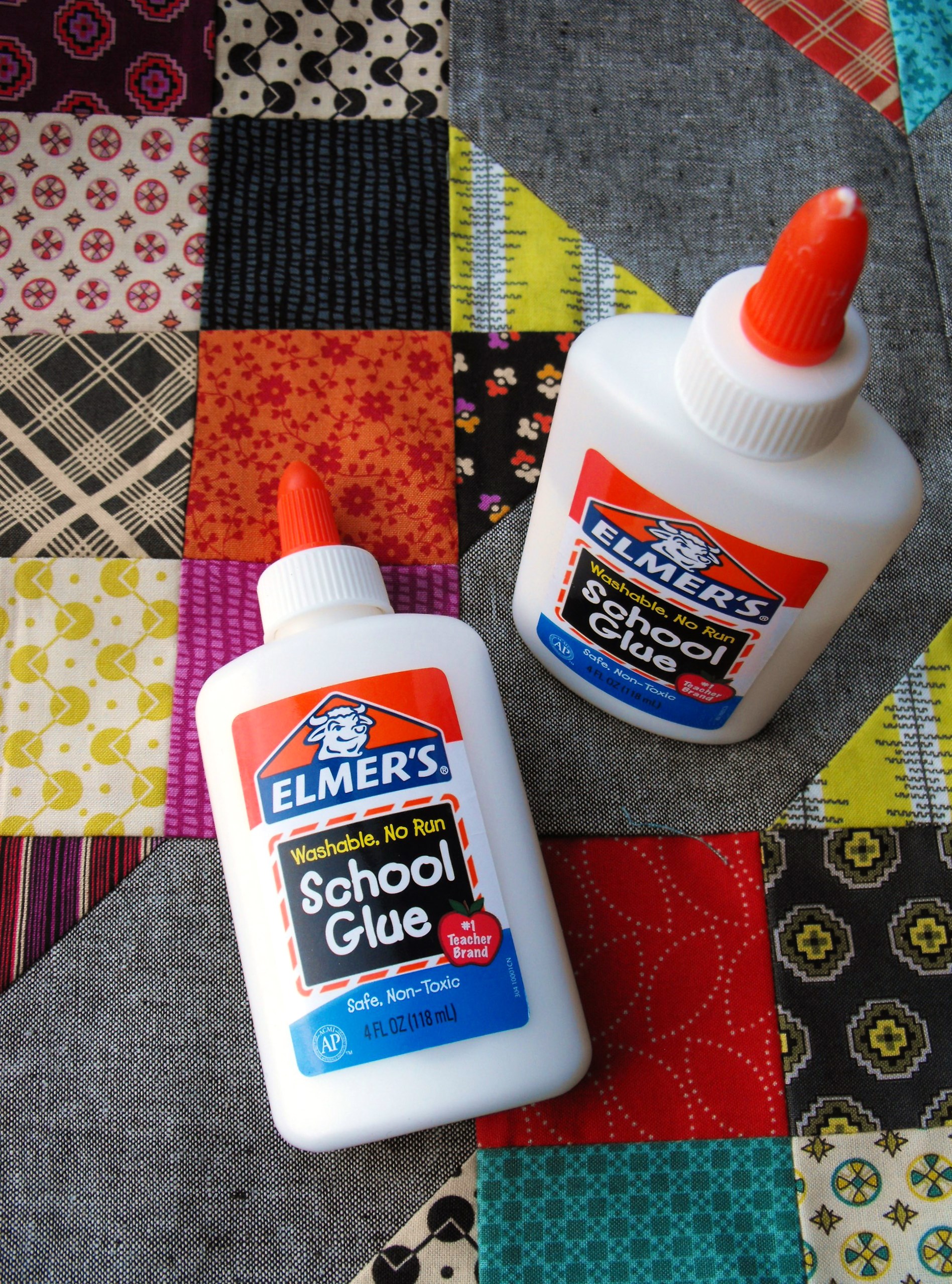 When I say glue, I mean exactly what you think. There are a variety of glues that can be used to help with the sewing process.
Elmer's washable school glue is vastly popular with quilters. This can be in liquid form or glue stick; they both work well for a variety of techniques. Specific quilting and sewing glues can be purchased in local quilt stores and online. Adhesive sprays are another type of glue that can be used for quilting, and many like to baste their quilts with spray rather than pins.
Wondering how you can use glue in your quilting and sewing? Here are a few of the many ways:
1. Binding
Most quilters appear to have either a love or hate relationship with binding. Glue can make this process a bit easier for both hand and machine binders. Need a tutorial? Sharon Schamber has a series of video tutorials on binding a quilt with glue that is extremely popular. Both machine and hand binders will find her techniques helpful.
2. Precision piecing
Seams of all types can benefit from a bit of glue. When liquid glue is applied to the seam allowance, seams can be matched in a nearly perfect manner before they are sewn together. This prevents all shifting. If you are having trouble with complex blocks, glue can help keep those seams neat and precise. Cristy Fincher, who is Sharon Schamber's daughter, shares a helpful video tutorial on how to precision piece with glue.
3. Hemming
Quickly hem clothing by gluing fabric in place rather than pinning.
4. Appliqué
A touch of glue makes appliquéing nice and easy. When appliqués are glued to the background fabric, there is little or no shifting during the sewing process. An added benefit? No pins to sew around!
5. Basting
Do you like to spray baste your quilts? Adhesive spray can be rather costly. Check out California Quilting's tutorial on how to baste an entire quilt with Elmer's Glue!
6. English paper piecing
Rather than using a needle and thread, fine-point glue pens can be used to hold the fabric in place for English paper piecing. Read more about it in Sue Daley's glue pen tutorial.
Are you ready to give glue a try? Keep these helpful tips in mind!
When using Elmer's washable glue, set the glue with a hot dry iron before sewing. Just a couple seconds of pressing dries the glue and prepares it for sewing.
Many quilters claim that the glue does not "gunk up" their sewing needles. If you are worried that this may be an issue, be sure to carefully apply the glue in the seam allowance only.
A little bit of glue goes a long way! Dots of glue spread, so lines are not always necessary.
Always be sure that the glue you are using is washable.