Did you make silly mistakes early on in your knitting career that you now regret? I usually put those mistakes behind me, but last week one of them came back to haunt me.
Today is, in fact, World UFO Day. And while it marks a different type of UFO (more ET than Crafts-y), we wanted to celebrate this day in our own way, with a few tips to help prevent your knitting UFOs from becoming unidentifiable fiber-arts objects.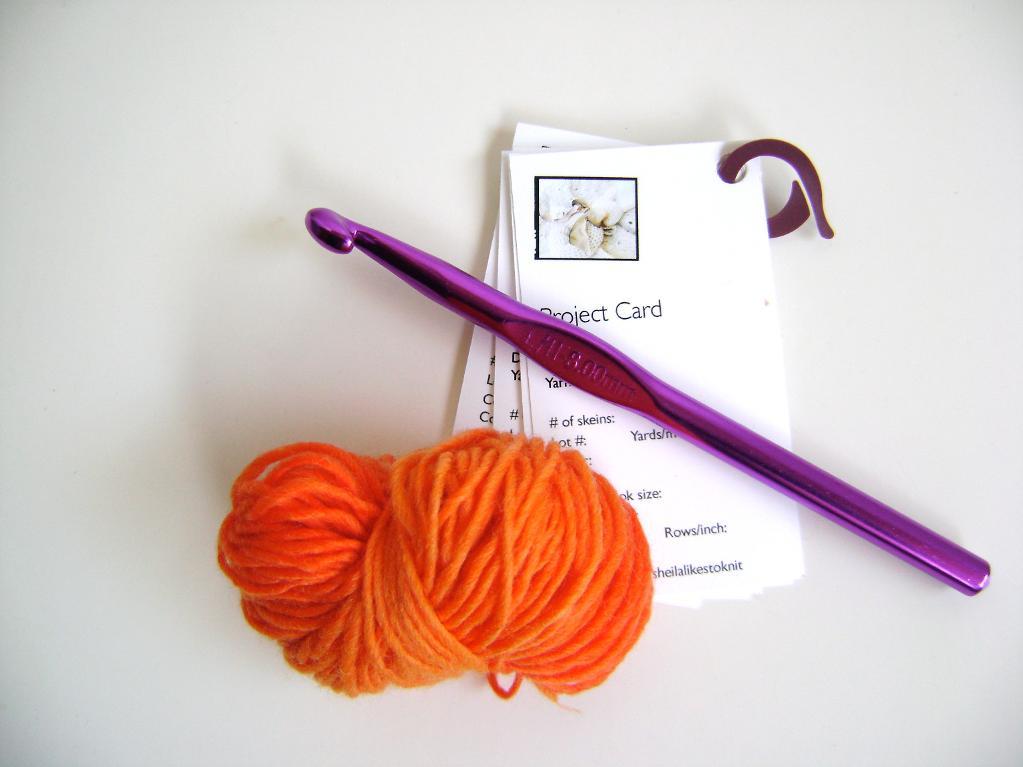 Photo via Craftsy member Sheila Zachariae
I shove a lot of UFOs (UnFinished Objects, for you newbie knitters) into the deep dark corners of the closet, but one sweater has been back there for almost ten years — I know. It's shameful. Last week I had an itch to get it out and finish it, but when I pulled it from its hibernation, what I found was very disturbing. Parts of it were unraveled. Yarn had tangled in yarn and wrapped itself around different parts of the sweater, creating massive knots. And what's worse, I had many questions about where to even begin completing the UFO.
This drama shouldn't befall any other knitter. Next time you temporarily stop working on any project — even if you think it's just for a few weeks — attach these notes to your UFO so you can easily pick up right where you left off.
5 notes to attach to your UFO before storing it
How you attach these notes to your project is up to you. Type them up, print them and stick them in a bag with the UFO. Attach handwritten notes. Save the notes in a file on your computer. Craftsy member Sheila Zachariae makes it super easy by offering a free download — the project cards pictured above. No matter how you choose to attach them, you'll find them valuable when you reach back in that dark UFO black hole.
Here are a few notes I wish I'd taken before I stashed my UFO:
1. Where did this pattern come from?
Lucky for me, I remembered that this particular sweater was the Clover Lace Wrap from the Stitch 'n Bitch Nation book by Debbie Stoller. However, I have not been so lucky with other UFOs.
If you're using a pattern that you printed from Bluprint, for example, be sure to store the pattern with the UFO. I like to put mine in sheet protectors, just in case.
2. Which yarn did I use?
Why on earth did I throw away the yarn labels?! My UFO's bag was packed with extra yarn, but for some reason I had thrown away all the labels. Did I use the yarn recommended in the book or did I substitute? This information can be invaluable, particularly if you need more yarn to complete the UFO.
3. What size needles did I use to get gauge?
Here's the most embarrassing part of all: Apparently I only had one pair of whatever size needles I used to make the wrap because I had removed the needles from the work. As in, I pulled the stitches right off the needle without even securing the stitches on a holder. The work was unraveled, no needles in sight. Now not only do I have an unraveled sleeve, but I also have no idea what size needles I used to get gauge.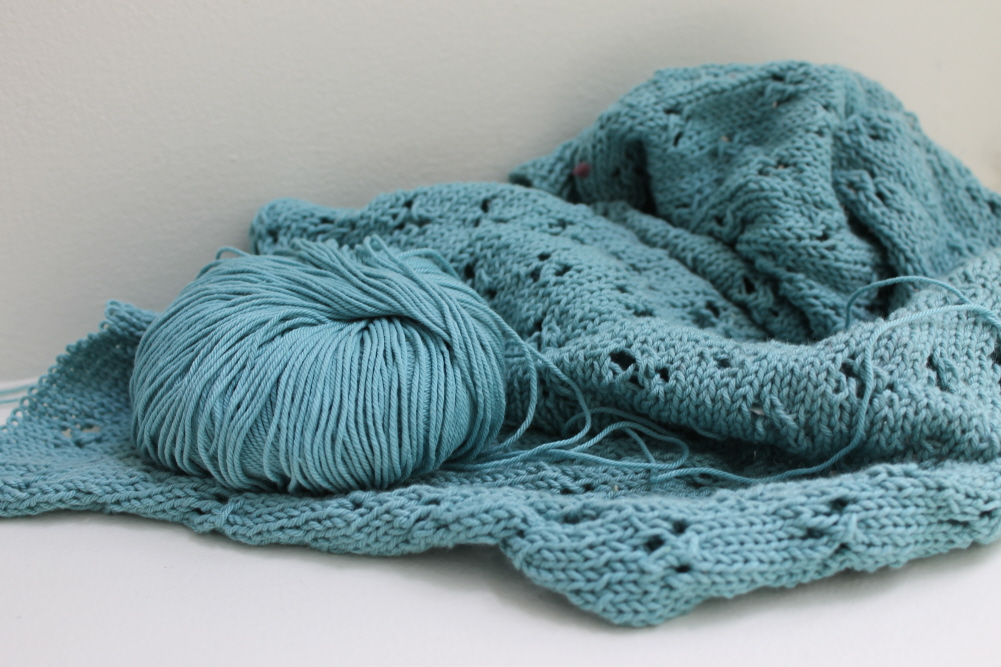 My abandoned Clover Lace Wrap UFO
4. What size was I knitting?
My body has fluctuated a lot over the past ten years, and I'm not sure the size sweater I was making. I'll be able to measure and figure it out. But, wouldn't it be easier if I had just written that information down and stored it with the UFO?
5. Where did I leave off in the pattern?
I'm seriously lucky to have remembered that this sweater was from the Stitch 'n' Bitch book, though I must admit that I thumbed through two different SnB books before I found the matching sweater. It also helped that I used the same color as the sweater in the book, so it was easy to spot.
What's the oldest UFO you have hanging around? How long has it been a UFO?