Burlap is an awesome fabric that provides a natural texture, offers a classic look and has a rustic appeal. 
While the cloth is fairly easy to come by and super affordable, working with this type of material can be a bit of a challenge. So, before you get started, make sure you check out these helpful tips how to sew burlap. This way, your projects are sure to look their best!
1. Burlap stretches
Burlap is made with a loose weave and tends to stretch. Consider adding a lightweight interlining to stabilize your project. Depending on your project, you can use iron-on stabilizer or sew in interfacing. There are different types of interfacing and stabilizers that could be ironed on to the back of the burlap fabric. This minimizes the amount of fraying that happens while cutting or sewing. One benefit of this simple technique is that you could trace the pieces of your pattern onto the stabilizer and use them as a guide when cutting.
Applying fusible seam tape along the seam line is also a good option. This stabilizes the area and strengthens the seam. However, the stabilizer could slightly show through and be noticeable on the right side of the burlap fabric. But this depends on how loose the weave of the burlap is. Also, the fabric itself will become stiffer. These problems will vary depending on the weight of the stabilizer.

2. Burlap frays
Due to the loose weave, burlap tends fray. So, consider clean finishing your seams with a serger to prevent seams from unraveling. If you don't have a serger available, you can use a zigzag stitch to finish the edges, or use a liquid seam sealant. This will significantly minimize fraying but won't make the seam very strong. Keep in mind that the areas applied with liquid sealant may become stiff. This technique usually works fine on small stuffed projects where raw edges are exposed.  

3. Dusty and dirty
Burlap can be dirty so be sure to prepare your material prior to starting your project. You can spot clean the fabric by using a wet sponge to remove any visible stain. You can also toss it in your washing machine with an adequate amount of detergent. Add some fabric softener when rinsing. Make sure the spin rinse cycle is set in medium. (If the burlap has a loose weave, hand washing is best.)
Before drying it in the dryer cycle, make sure the lint catcher is clean because the fuzz and lint from the burlap fabric will absolutely fill it up. The fabric will become wrinkled after the washing process, so iron it before cutting. Set your regular flat iron to the highest steam setting. Spritz the burlap with water one area at a time then begin ironing. The burlap won't be pressed completely, but it will be relatively flat and much easier to cut.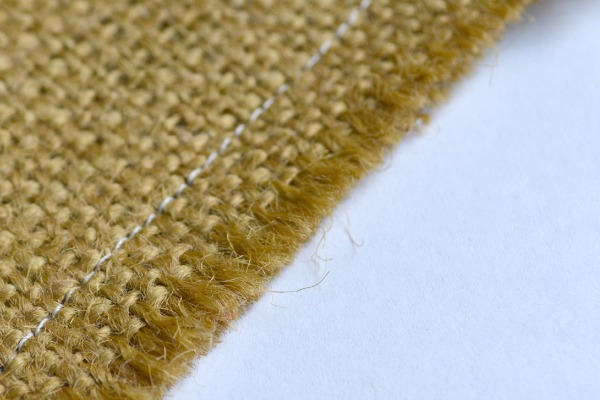 4. Reduce stitch length
Set your machine for smaller stitches to capture as many fibers as possible within your seam. This will help strengthen the seam and prevent fraying. 
5. Clean your machine
Did you spot all those loose fibers above? It is important to clean your machine after sewing with burlap and remove lint from the basket.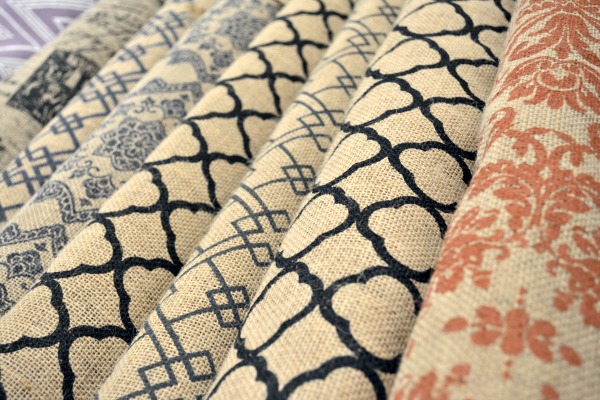 Now that you have the burlap basics down, did you know that burlap came in all different colors and prints? That's right all of these designs were found at my local shop. Think about all the fantastic things you can make with these designs! 
How about some inspiration from our Craftsy members to get you started?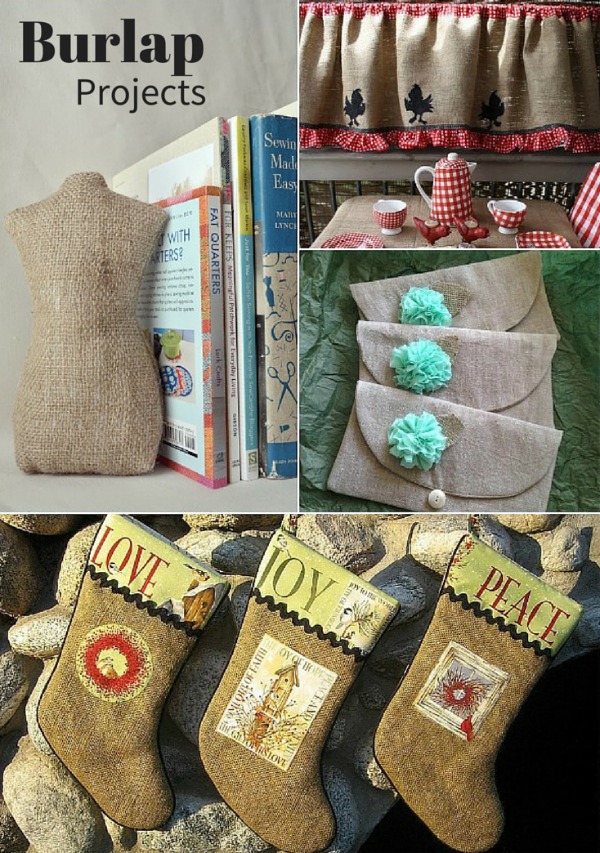 Patterns pictured above include:
Book End Pattern Craftsy member The Sewing Loft
Easy Clutch Wallet by Caddy Pattern by Craftsy member Corner Quilting
Lined Christmas Stocking Pattern by Craftsy member Studio Cherie
Do you have any tips for sewing with burlap?