So you've decided to take the plunge and try to sell your quilts. Do you know where to start?
There are lots of options for selling your work, from a local holiday sale, to consignment with a gift shop, to high-end art and craft shows like the Smithsonian Craft Show in Washington, DC or the One of A Kind Show in Chicago. And there are even more options to open a shop online, with outlets like Etsy or Big Cartel.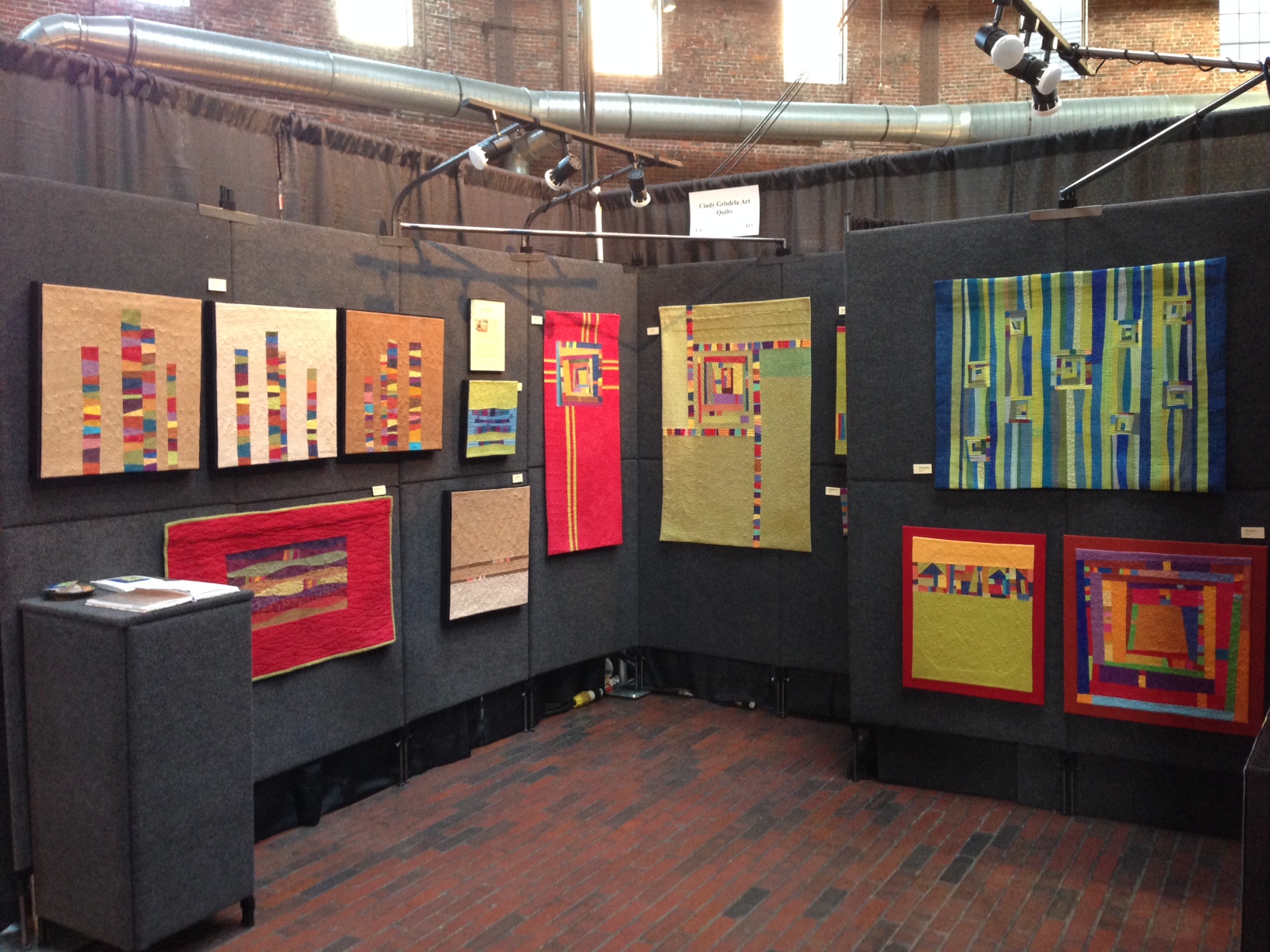 Photo credit Cindy Grisdela Art Quilts
One thing I've learned from ten years of showing and selling my work both in person and online is that it's not for everyone. It's hard work, it's expensive, and it can be mind-numbingly boring when there aren't many visitors at a show, or they just aren't interested in your work and don't stop at your booth. On the other hand, there's no substitute for the feeling you get when someone stops dead in their tracks in front of your booth and says, "Wow, that's beautiful!" Or when you get an email that someone has just purchased something from your Etsy shop.
Good photography is essential
After you've created beautiful quilts, you need to have beautiful photographs. High-quality, professional photographs are essential to get into most shows beyond the local level, as well as to sell your products online. You only have one chance to make a good impression, as the saying goes. Show jurors and online shoppers are making the decision to accept an artist or to buy a product based on a photograph, not the real thing. Artists with photos that are out of focus, grainy, or include the cat walking by will likely be automatically rejected, regardless of how good the work might be.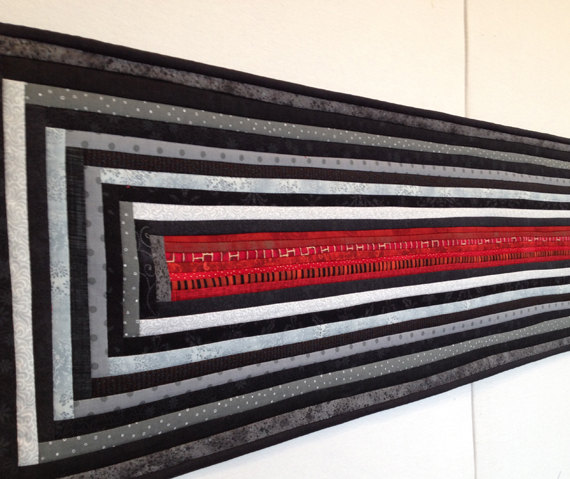 Photo Credit Ann Brauer
The table runner pictured above from Ann Brauer's Etsy shop is a good example of a well-photographed image. The bold color and graphic design of the runner attracts the eye, while the asymmetrical composition of the picture causes it to stand out on the page. Ann is a fiber artist from Shelburne Falls, Mass., who has been showing and selling her work for over 30 years.
If you don't want to pay for professional photography of your work, check out one of Craftsy's photography classes to learn how to do it yourself!
Start with local shows
If you want to sell your work at shows, the best way to get started is with local and regional shows. Maybe there's a holiday craft show in your area, or an arts group that holds regular exhibits. My first show was with a local artists' group that set up a holiday show in the public library conference room.
Or you can explore online lists of shows such as art-linx.com or zapplication.org to find festivals and shows you might be interested in applying to.
Use your name in your business name
It's easy to get started with an online shop once you have your products and photos ready. You need to have a name for your business. Many artists find that using their actual name is a good idea to help people remember them. My business name is Cindy Grisdela Art Quilts. It's simple, it includes my name, and it says what I do.
Most of the online shops have easy step-by-step procedures for establishing your shop and adding the items you plan to sell. It's a good idea to fill each step out completely to give the prospective purchaser as much information about you and your products as you can.
But once you've gotten everything set up, either online or at a show, and you're open for business, don't assume that people will start lining up to buy your art. Showing your high-quality work is just the beginning!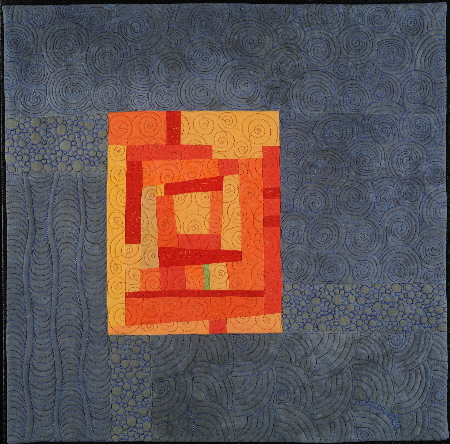 Photo via Cindy Grisdela Art Quilts
Tell your story
Be ready to interact with your potential customers. Tell them your story. I'm convinced that people buy the artist and the story as much as they buy the art itself. What is unique about what you do? Do you use unusual materials or have an interesting creative process? Give them a visual picture of how you work or what your inspirations are — whatever it is that makes you or your work special. You can do this in person at a show, or create interesting copy describing your work in your online shop. My story revolves around my use of bold color, improvisational designs and interesting texture in the stitching, shown in my Burst of Orange quilt above.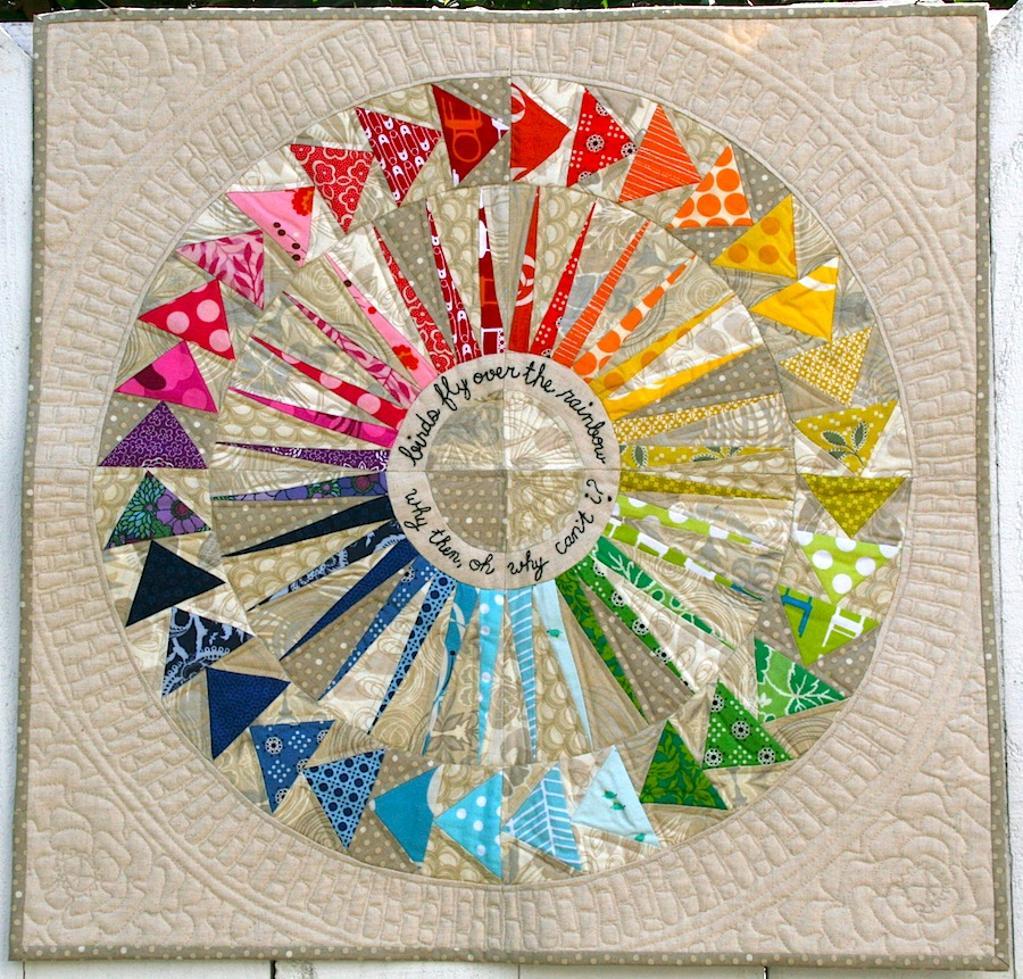 Photo via Craftsy member Better Off Thread
Sell patterns
Another alternative to selling your quilts is to sell the patterns. Craftsy has pages of patterns for sale by members, such as the NY Beauty Circle of Flying Geese, above, by Craftsy member Better Off Thread.
Have you had success selling your work either online or at shows? Tell us in the comments!