So, you're ready to take your photography to the next level and you'd like to start selling your photos?
Here are a few tips for earning a decent side income with your camera.

Selling starts when you upload your photos.
The first step in getting your photos ready to sell begins on your computer, either during upload of your photos or during the editing process. If you're going to be sharing your photos online, they need to be found by potential buyers before you can sell them. This means keywords, file names, descriptions and titles are almost as important as the image itself.
Search engines don't see a pretty picture, they see your photos as nothing but 1s and 0s. What they do see is the file name, keywords, title and descriptions. Use as many descriptive keywords as you can when importing your photos. Then change the file name to better represent what the photo is. For example, the above photo of Loon Island Light under the starry night sky started out life as _MG_0816.dng when it was first came out of the camera, by only looking at that file name do you think anyone could tell you what the photo was actually of? The finished file is now loon-island-light-with-milky-way-vertical-0816, giving a much better "picture" of your picture. 
When it comes to descriptions I was advised by someone much more knowledgeable about SEO to write as if I was trying to describe the photo to a blind person. Below is the description of my Loon Island Light photo.
"Looking up from the frozen surface of Lake Sunapee, Loon Island Light stands tall under the Milky Way in the starry night sky. The lighthouse beacon is a starburst of brilliant blue-white light, with numerous rays emanating from top of the towering white and octagonally shaped structure. The cracked surface of the foreground ice has a slightly blue color cast. On the horizon, the very first hints of the coming sunrise show as a faint orange glow in this vertically composed image."
All of this has enabled my photos to be found by everyone from people looking for a photo of a specific place, to magazine publishers looking for content, including the photo editor for Ranger Rick Jr. Magazine, published by the National Wildlife Federation, who found my cardinal image while doing an online search. I can thank keywords and descriptions for this magazine (back) cover.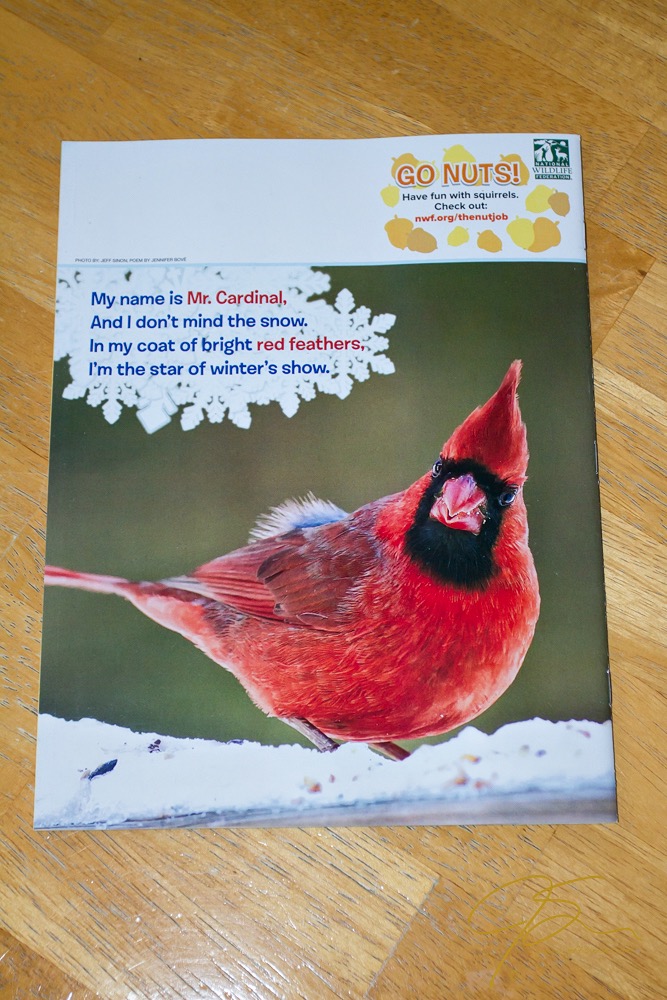 Utilize social media to share your photos.
Facebook fan pages and blogs are low to no-cost options for getting your photos seen and can often result in image sales. Within two days of posting my Loon Island Light photo to my fan page I had half dozen print sales. My WordPress blog, another free option, has given my photos a worldwide audience that has also resulted in photo sales.


This should be obvious, but only share your very best photos. Be your own worst critic, and be harsh. When someone lands on your fan page or blog for the first time the last thing you want them to see is a mediocre photo. Their first visit may very well be their last. Also, make sure your contact information is easy to find. Post your email and phone number where it's easy to find. Rare is the potential client who will go through a lot of fuss to hunt you down to make a purchase.
Start your own website.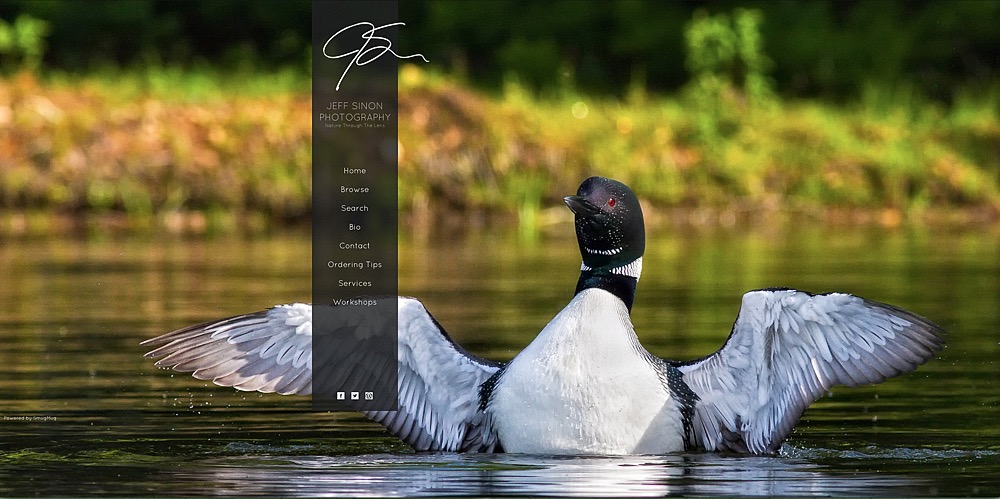 There are numerous options for photo sharing and selling websites, ranging in price from $30 to several hundred dollars or more. Determine the features and level of customization you want and the rest is relatively easy. My website, hosted by SmugMug, has what I feel is a one-of-a-kind, custom appearance, something you won't get from the cheaper options, yet was basically a drag and drop affair to set up. This was a huge bonus for those who are technologically challenged (like myself). Again, have an easy-to-find contact page.
Attend art and craft fairs.
Art and craft fairs can be a great way to sell your photos. Some people make a good portion of their income from selling at these fairs, but it takes a lot of time, effort and the expense of buying a tent and putting together an inventory of images can be daunting to some. While I personally have only made a few sales at craft fairs, my largest single sale, 30+ large custom framed prints, was the direct result of having a booth at a local art fair and having the right buyer walk into my tent.
Display your work at coffee shops and other outlets.
The absolute best way I've found to sell my photos is to have them hanging for display, framed and ready to go, in a few local shops. Start hitting the local coffee shops and stores that sell locally made art. Some will charge a commission, 30-40 percent seems about average, some are just happy to have art to hang on their walls and will let you sell without any commission fees at all.
By having your photos framed and ready to hang, you take away the element of the potential buyer second guessing whether or not they want to buy your photo. Once they start thinking about the hassle of getting your photo matted and framed, what color matte, what color and style of moulding, they may start to wonder if they really like your photo all that much after all. If they see it, fall in love with it, and the only thing they have to think about is where to put the nail in the wall, the odds of them actually making a purchase goes way up.
Contact local magazines.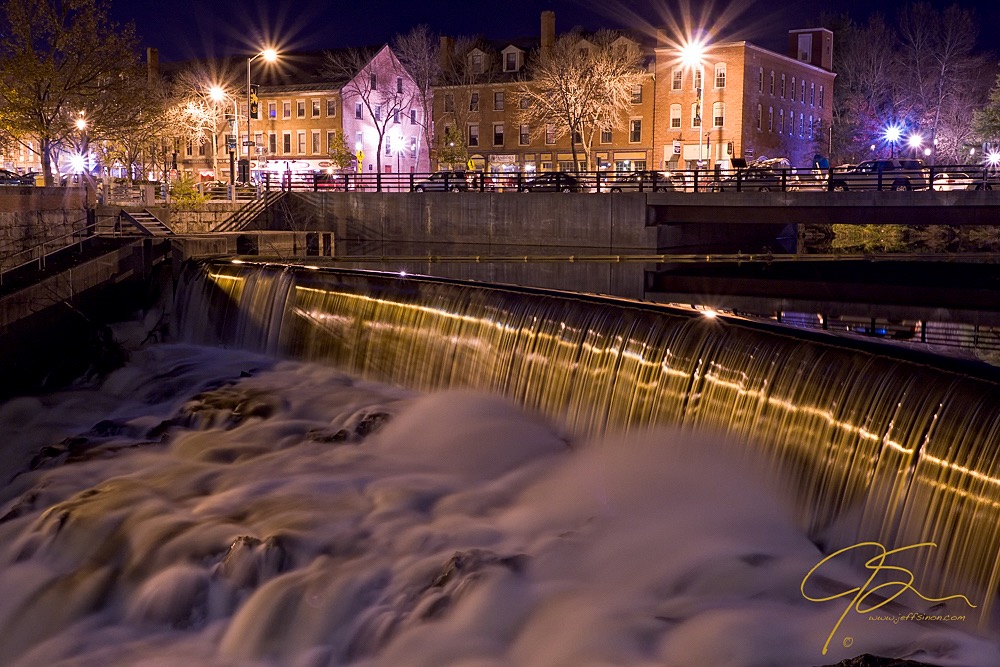 Most of us photograph primarily on our local areas. There are often regional magazines that cater to these very same areas, and they will need photos from time to time. By writing the photo editor and making yourself known to them, along with providing links to where your images can be seen, you may very well end up having your photos published.
How not to sell your photos
Maybe I should rephrase that. "How not to get paid for your photos with a worthless currency," would be better.
Once you start sharing your photos online, do not be surprised when you're contacted by someone offering photo credit as a form of payment for the use of your photos. Lets say you're contacted by someone working for a local town on "a magazine-style brochure geared towards people moving into said town and to also promote tourism within said town," "Would you be interested in providing photos for this project?" "We don't have a budget for photography, but we can offer you photo credit."
Because so many amateur photographers willingly to fall into this trap, the value of photography has gone down considerably. I beg of you, don't contribute to the problem by giving your photos away for free. Don't undervalue your photos just to make a sale either. Your photos have value, and the people offering photo credit need to realize that.