A perfect scone is tender, moist and full of flavor. The good news is that it's really easy to make perfect scones in your very own kitchen. With a few simple tricks and tips, I'll show you how to make scones from scratch.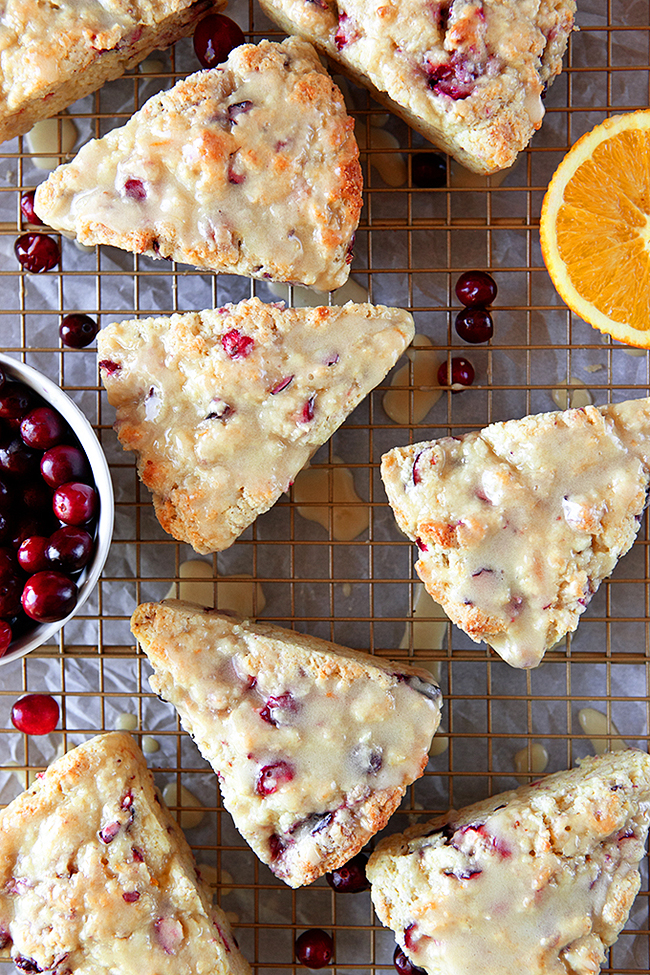 Scones v. muffins — what's the difference?
Scones are a fancy cousin to muffins. Where muffins tend to be breakfast items and after-school snacks, scones get invited to tea parties and brunch. But scones are only fancy by reputation. In reality, scones are just as simple to make at home as a basic muffin.
Just like muffins, scones can also be as healthy (or indulgent) as you want them to be. With a glaze or some chunks of chocolate, a tender, sweet, scone makes a delicious dessert. If you skip the glaze, reduce the sugar, use whole-grain flour, and add some fresh fruit, you can eat a scone with no guilt. Like muffins, scones are easy to customize and flavor to your tastes. 
Bakery-Worthy Scones, Biscuits & More
From tender scones to tasty quick breads, discover the secrets to mouthwatering tea breads with King Arthur Flour's Martin Philip.Enroll Now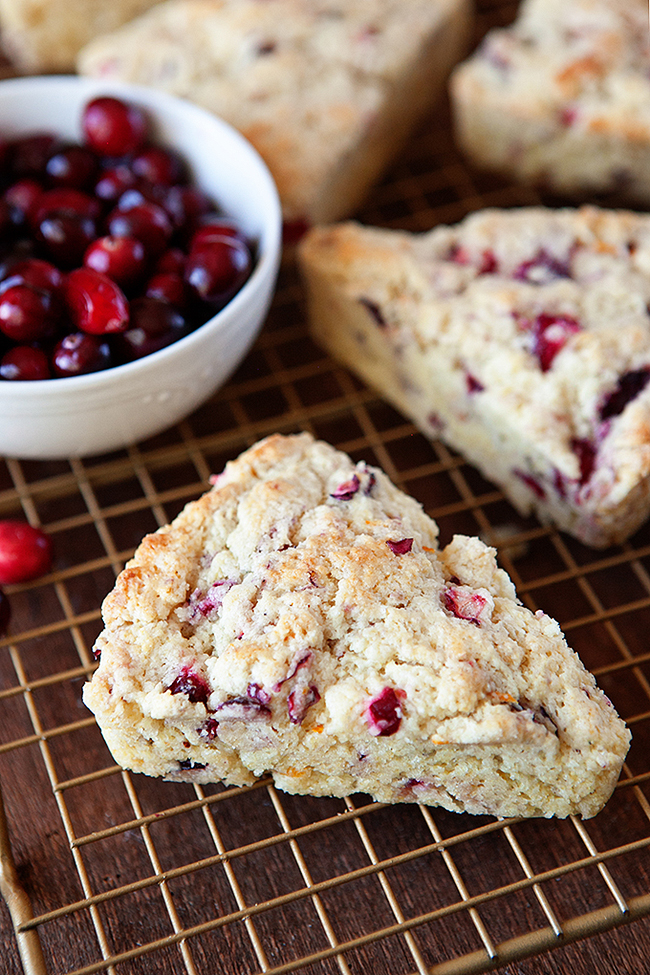 How to make scones from scratch
Scones, like their muffin cousins, are made from basic ingredients you probably always have on hand. There are, however, a few tricks for making really tender scones to rival those at your favorite coffee shop. 
The first trick to a perfectly soft scone involves the butter.
Always start with frozen butter, and instead of just cutting the butter into the flour, grate the butter instead. Grating the frozen butter allows it to spread evenly through the flour, which results in a really soft scone.
The second trick for perfect scones is to skip the milk.
Substitute plain Greek yogurt, or even sour cream, instead. The yogurt is a guaranteed insurance policy against dry, crumbly scones.
It's also helpful to put down the spoon and get your hands dirty.
Unlike muffins, which require more of a batter, scones use less moisture and turn into a soft dough. Instead of trying to stir it all together, it's easiest to use your hands to incorporate the flour and shape the dough into a soft, smooth ball of dough.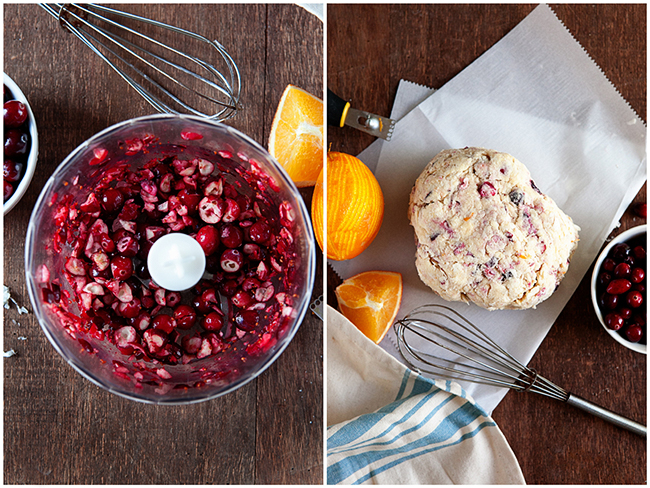 My final trick for perfect scones is to use a scone pan.
You can definitely make scones without a special pan. However, I find that using a scone pan makes really symmetrical pieces, not unlike the coffee shop version. They taste the same either way, but if you have the extra cupboard space, a scone pan really is fun. 
And that's how you make scones from scratch! Want to give it a try? There's a tasty recipe below.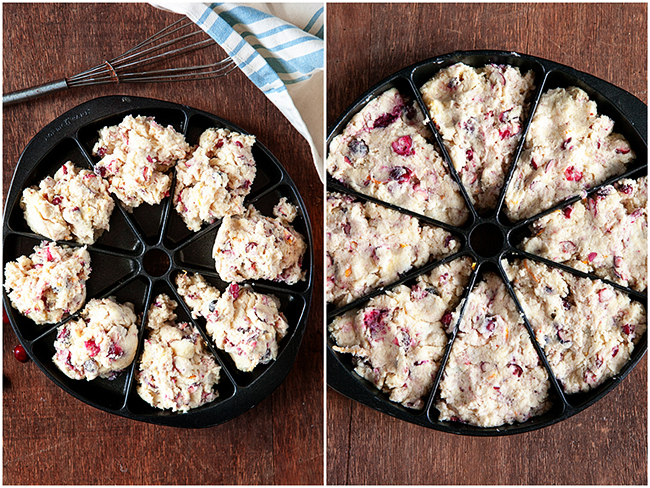 Glazed cranberry orange scones
Makes 8 scones 
Ingredients
½ cup sugar
Zest from 2 medium oranges
2 cups flour
1 teaspoon baking powder
¼ teaspoon baking soda

½

teaspoon salt
8 tablespoons frozen, unsalted butter

½

cup plain Greek yogurt
1 egg
A heaping 

½ 

cup fresh cranberries, coarsely chopped 
For the glaze (optional)
3 tablespoons melted butter
Juice from 

½

 an orange 
¼ teaspoon vanilla
1 cup powdered sugar 
Step 1:
Preheat the oven to 400 F. If using a scone pan, grease it and set aside. Without a scone pan, place a sheet of parchment paper on a large baking sheet and set aside. 
Step 2: 
In a large bowl, combine the sugar and orange zest. Use your hands to incorporate the zest into the sugar, rubbing the zest between your fingers to release its flavor. Whisk in the flour, baking powder, baking soda and salt. 
Step 3:
Grate the frozen butter into the flour mixture (the largest holes on a box grater work best). When the butter is all grated, whisk the flour and butter mixture together until the butter is spread evenly. Gently stir in the chopped cranberries. 
Step 4:
Whisk together the yogurt and egg. Make a well in the center of the flour mixture and pour in the yogurt mixture. Stir until the mixture becomes too thick to continue. Use your hands to incorporate the mixture into a ball of dough, scraping up all the flour in the bowl. 
Step 5:
If using a scone pan, press dough evenly into pan. Without a scone pan, place dough on a lightly floured surface and pat it into a 7″ circle, about ¾" thick. Use a sharp knife and cut it into 8 triangles. Place them on the prepared baking sheet with parchment paper. 
Bake for 15 to 17 minutes, or until they are just beginning to turn golden. Let them cool for at least 10 minutes. At this point you can eat them, or if you like, add the orange glaze first for a sweeter, more dessert-like scone.
Step 6:
To make the glaze, whisk together all of the glaze ingredients. Drizzle over the scones as desired.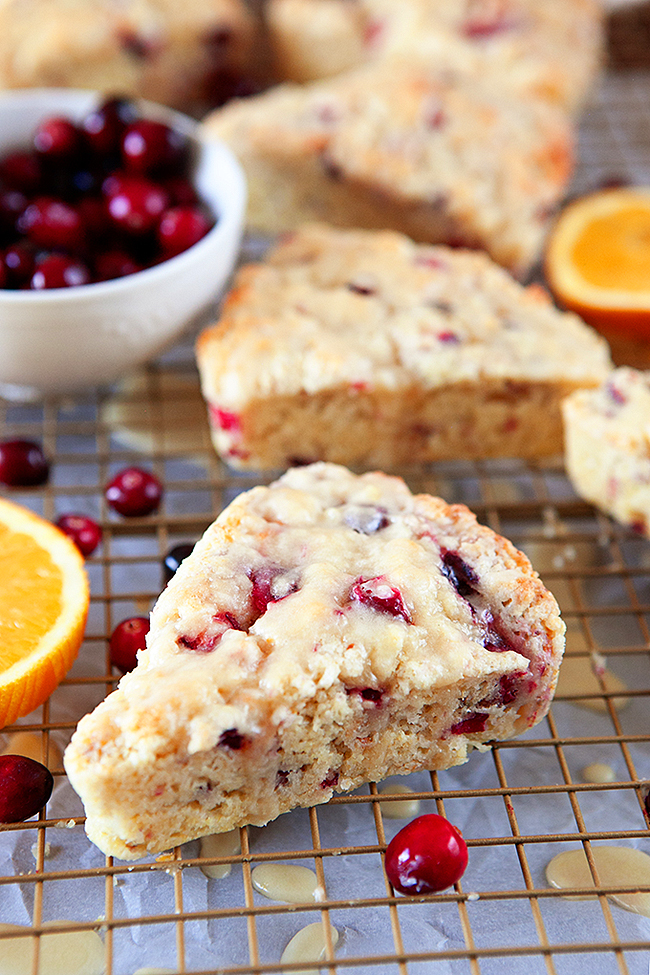 Recipe adapted from MyBakingAddiction
Bakery-Worthy Scones, Biscuits & More
From tender scones to tasty quick breads, discover the secrets to mouthwatering tea breads with King Arthur Flour's Martin Philip.Enroll Now