I'm all about the tacos and I'll bet you are too! Now that summer is here, I thought we all might want to enjoy a little time outdoors with a taco or two. Or three or four! 
Fried fish is always a delicious taco filling, but it's too hot to stand around inside frying food. Let's lighten things up and take that fish out back.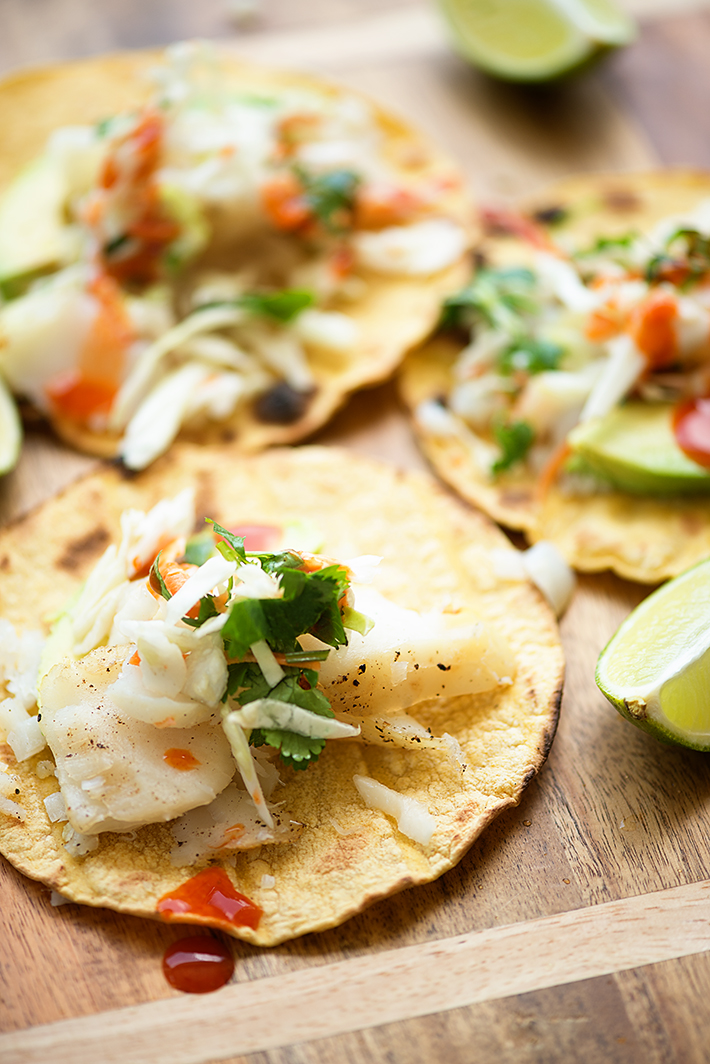 Create the Spicy Salsas and Delicious Tacos You Crave!
Finally, enjoy all the benefits of an in-person cooking class without the hassle of travel or scheduling when you join the online class Mexican Street Food today.Enroll Now »
Grilling fish is easy — we'll show you how! 
Personally, I think that the easiest way to grill a piece of fish is to wrap it in tinfoil. It lets you get that smoky grilled flavor without worrying about your delicate piece of fish breaking apart and falling through the grates of your grill. It also makes clean up a total breeze.
You'll want to start your fish tacos with a pound of firm white fish. I like cod, but tilapia works just as well. The thicker your filet of fish, the less chance it will get dried out. I always ask the person behind the fish counter at my grocery store to choose thick pieces for me rather than the thinner pieces.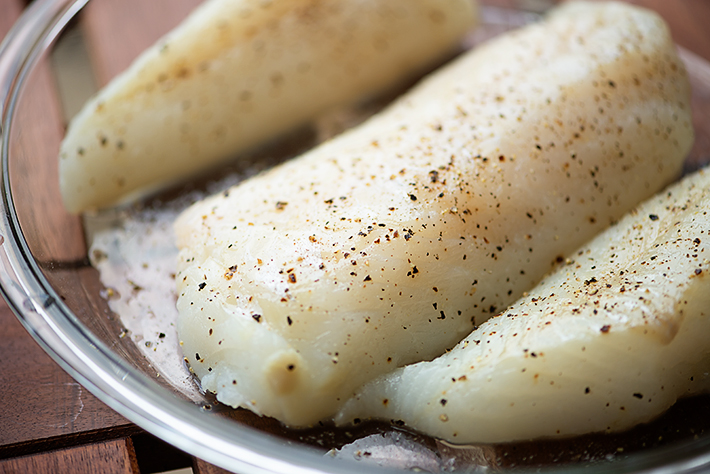 Place your fish in a shallow bowl and squirt some fresh lime juice over the top. Drizzle with olive oil and sprinkle with a bit of salt and pepper. That's really all you need to add a little flavor to your fish tacos. 
After you've marinaded your fish for 20 minutes or so, grab some heavy duty aluminum foil and wrap each piece of fish individually. You'll want to make little packets for the fish, sealing them completely. 
You'll want your grill heated to about 400 F. Grill the fish for 10-12 minutes. To check that it's done, cut a slit in the foil. The fish should flake easily with a fork. If not, return to the grill for a few more minutes. 
Don't forget the tortillas!
Tortillas are the perfect vehicle for a fish taco. Since you've already got the grill hot, it makes sense to warm them right on the grill. You can cook them right alongside the fish. Just keep an eye on them as they burn pretty quickly.
You might also enjoy our recipe for homemade flour tortillas.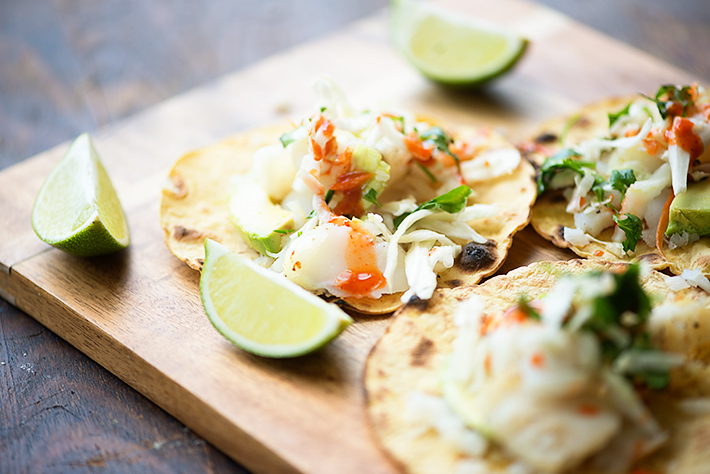 Set aside and wrap in a tea towel to keep them warm until the fish is ready for serving.
Top those tacos!
When it comes to tacos, I like lots of bold flavors. These grilled fish tacos really work well with a mixture of cabbage, cilantro and lime juice. The bright flavors in the cilantro and lime really kick these tacos up a notch.
Personally, I don't add cheese to my fish tacos. Fish and cheese just don't quite work for me, but if you can't have a taco without cheese, I won't stop you! Sprinkle it on alongside the cabbage.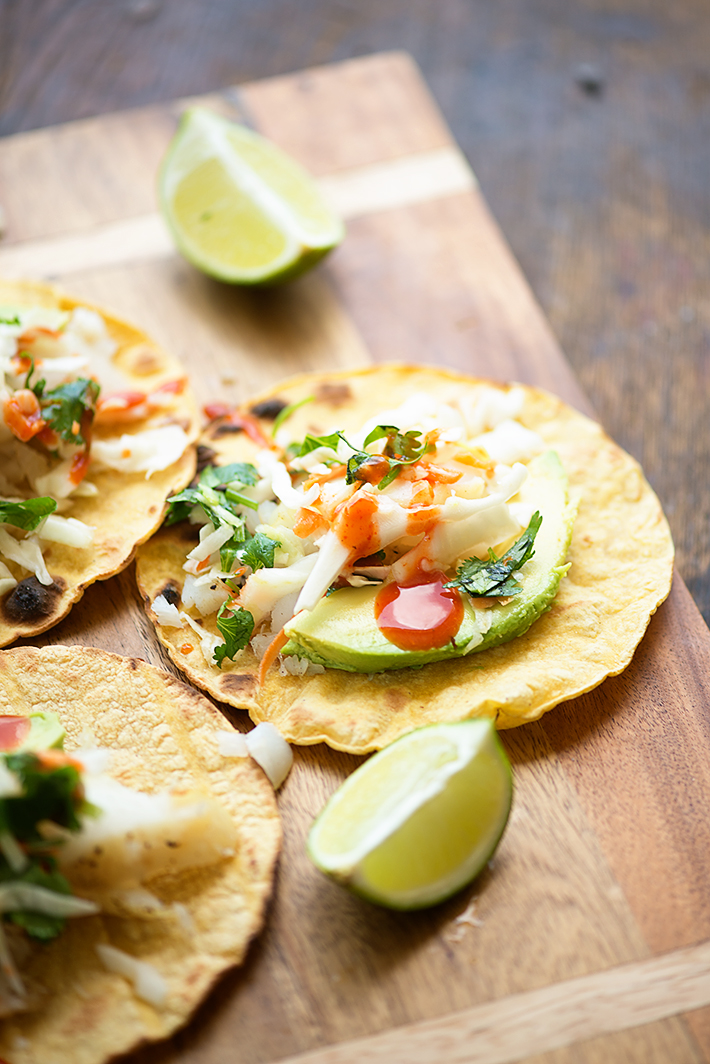 A slice of ripe avocado adds the perfect creamy touch to these tacos. A spoonful of guacamole would work as well. 
I always top my grilled fish tacos with an extra squirt of fresh lime juice and a hefty drizzle of my favorite Mexican hot sauce. 
Recipe for grilled fish tacos
1 pound cod filets
2 tablespoons lime juice, divided
2 tablespoon olive oil, divided
1 teaspoon salt
1/2 teaspoon ground black pepper
2 cups shredded cabbage
1/4 cup chopped cilantro
12 small corn tortillas
Extra limes, for serving
Hot sauce, for serving
Avocado slices, for serving
Step 1:
Preheat the grill to 400 degrees.
Add the fish to a shallow dish. Top with 1 tablespoon of lime juice, 1 tablespoon of olive oil, and the salt and pepper. Let sit for 20 minutes.
Step 2:
Wrap each filet of fish individually in pieces of heavy duty aluminum foil. Seal tightly. 
Step 3: 
Grill the fish for 10-12 minutes or until the fish flakes easily with a fork and is cooked through.
Step 4:
While the fish is cooking, add the cabbage cilantro, remaining lime juice, and remaining olive oil to a small bowl. Toss together. Taste and season with extra salt and pepper, if desired. 
Step 5:
While the fish is cooking, heat the corn tortillas on the grill. Wrap in a tea towel to keep warm until ready to serve.
Step 6:
When the fish is cooked through, break into small pieces with a fork. Place fish on a tortilla and top with the cabbage mixture, avocado, an extra squirt of lime juice, and hot sauce as desired. 
Create the Spicy Salsas and Delicious Tacos You Crave!
Finally, enjoy all the benefits of an in-person cooking class without the hassle of travel or scheduling when you join the online class Mexican Street Food today.Enroll Now »