It is a lot of fun to bake bread at home, but it can also be very intimidating and time consuming to work with yeast. Fortunately, yeast isn't the only way to make a great loaf of bread.
Beer bread is one of the easiest quick breads you can make — so easy, that you might find yourself baking fresh loaves for dinner on a regular basis! This easy recipe will turn you from a bread-buyer into a bread-baker in no time!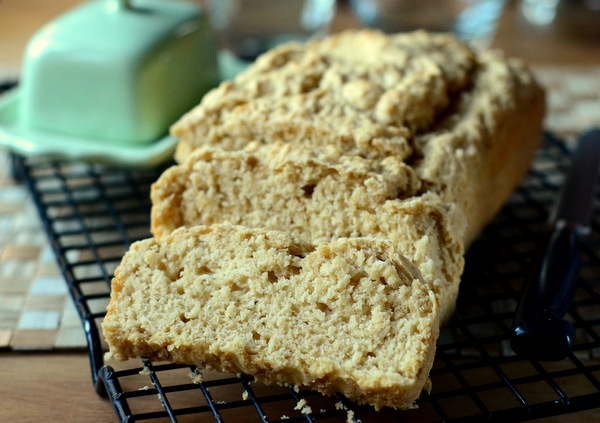 This bread can be mixed up in just one bowl and you probably already have the ingredients in your refrigerator, assuming that you have a beer in there already. The dry ingredients are whisked together in a large bowl, then the beer is poured in and everything is mixed into a uniform batter. The beer will foam up as you stir it in, leaving behind tiny air bubbles that will aerate the bread as it bakes, giving it a light and tender texture.
In addition to helping the bread to rise, beer is where most of the flavor comes from. This means that you should give a little bit of consideration to the type of beer that you are going to use in order to get the best flavor in your bread. You're going to get some nice yeasty flavors from just about all beers, but different beers bring in different flavors. I enjoy using lighter Belgian ales that great toasted wheat and tropical fruit (yes, you heard that right) notes that makes beer breads really delicious.
This is a plain loaf that can be served with savory and sweet dishes, but you can easily dress up your beer bread as you make it by adding in a handful of dried Italian herbs or some shredded cheddar cheese.
If you have a fruitier beer, you can add more sugar and dried fruit for a much sweeter loaf that is a great addition to breakfast, as I did in my Apricot Beer Bread recipe.
Homemade Beer Bread
Ingredients
3 cups all purpose flour
2 tsp baking powder
1/2 salt
2 tbsp sugar
1/4 cup butter, melted and cooled
12-ounces beer
Step 1:
Preheat the oven to 350 F. Lightly grease a 9×5-inch loaf pan.
Step 2:
In a large bowl, whisk together flour, baking powder, salt and sugar. Make a well in the dry ingredients and pour in butter and beer. Whisk or stir until completely combined and no streaks of dry ingredients remain. Pour into prepared pan.
Step 3:
Bake for 40-50 minutes, until a toothpick inserted into the center of the pan comes out clean. Allow bread to cool in pan for 5 minutes before turning it out onto a wire rack to cool completely.
Allow bread to cool before slicing.