Anyone can sew a vintage dress, but having a plan of action certainly makes it easier. Picking the right pattern for you, the right fabric for your pattern, and the right fabric for the occasion are all important for sewing success, especially when sewing vintage dresses.
I have a few tips to offer that will help set you up for sewing success before you even pick up a pin. These are not tips to follow in numerical order because they will all shape the bigger picture as you plan your project. However, I do think it's important to start by evaluating your skill level. It doesn't matter if you're a novice or a master, identifying your skills will help you narrow down the right vintage dress pattern for you.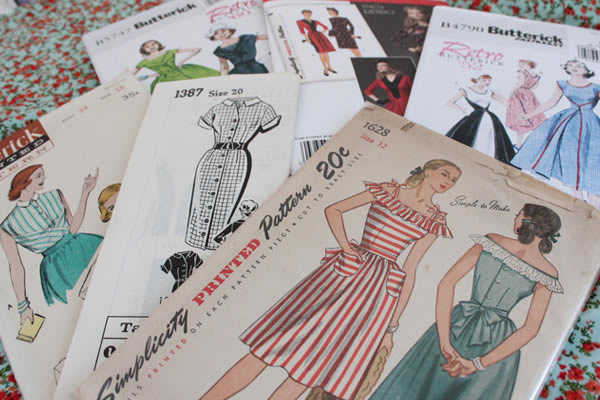 If you are a beginner sewer, consider sewing from a vintage-inspired pattern or a vintage reproduction pattern.
Modern vintage-inspired patterns will be easier to follow because the sewing instructions have been updated with current sewing terms and techniques.
After you are comfortable with basic garment construction and general sewing terms, then branch out and try sewing from an authentic vintage pattern. A class like Sewing Vintage: The Flirty Day Dress is great for all skill levels because of the step-by-step instructions, and options to add your own customizations as you sew.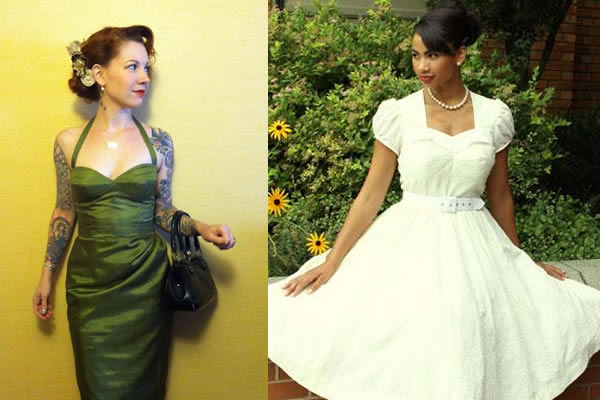 Photos via acetylenequeen and Laura Nash
Another important point to consider is what vintage dress style suits you best.
Identifying the silhouette you feel most comfortable in will definitely narrow down your pattern choices, and aid in your sewing success.
Once you've decided on the kind of vintage dress you're going to sew, you can start thinking about where you'll be wearing this dress.
This is important because your fabric choices and possible time constraints will depend on it. Is this a dress for a special event on a particular night? Are you sewing a summer wardrobe staple? Be sure to choose the correct fabric for the structure and style of your dress, as well as the structure and style of your life. Doing this will definitely help you create a vintage dress you love to wear and feels authentic to you!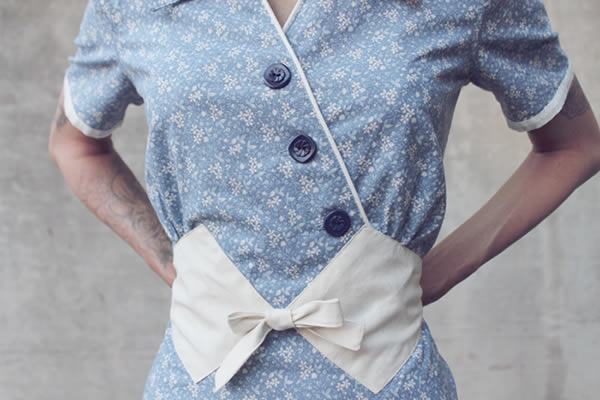 Image via luckylucille
Cotton fabrics are wonderful choices for practical (washable!) day dresses, and I love them for those reasons. Try sewing a 1940s day dress if you're looking to pair quilting cotton with stylish design.
If you're in love with the classic wiggle dress, try a more structured brocade fabric for a stunning evening outfit! Consult the back of your pattern, first and foremost, for the best fabric options for your vintage dress. When in doubt, browse online and see what fabrics a fellow sewer has used on a similar style that they had great success with.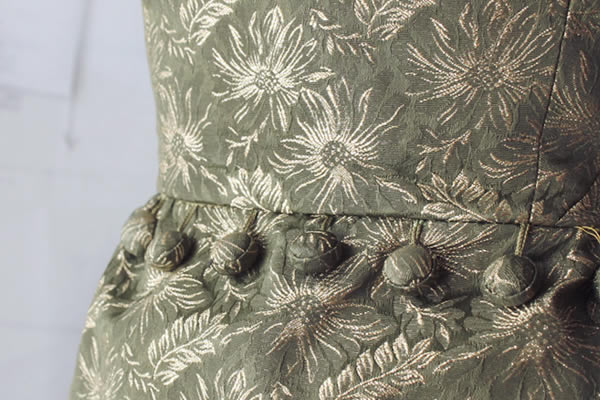 Time management also plays a crucial role in your sewing success so having a plan is key!
(Holiday sewing? Ring a bell?) Keep your deadline front and center as you pick out your pattern and fabric. A more intricate dress design with fabric that needs to be matched, will probably take more time to construct than a simple shape in a solid color. A sewing project is more successful when you give yourself enough time to feel proud of your work, especially with a vintage design that's sure to get a lot of attention!
Follow these tips for planning your next vintage dress and you'll be sewing your way to a successful project in no time.
Be sure to check out Sewing Vintage: The Flirty Day Dress to enjoy in-depth instruction on making your own vintage dress.
Do you have any planning tips that helped you reach success when sewing a vintage dress? Please share!