There exists a magical baking trick that is guaranteed to make any morning a million times better: learn how to make a crumb cake at home.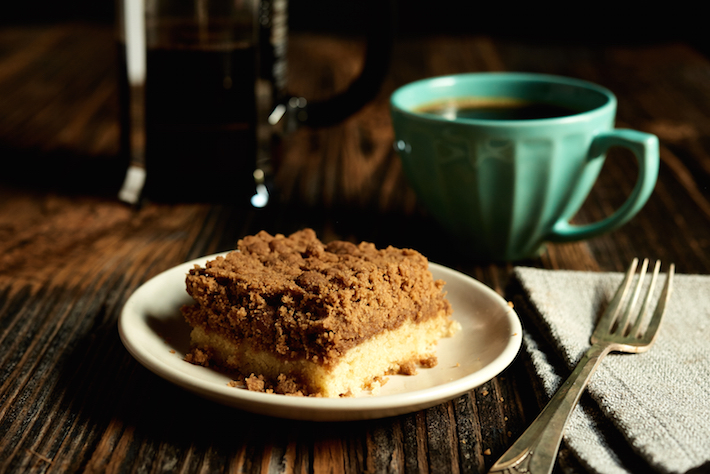 In New York City, this style of cake — a rich, buttery cake base topped with an approximately equal height of a decadent brown sugar and cinnamon crumb mixture — is ubiquitous in delicatessens and old-school bakeries.
It may not be as readily available to purchase outside of the New York metro area, but this sweet treat is still attainable by baking it at home. The homemade version, it must be said, is superior.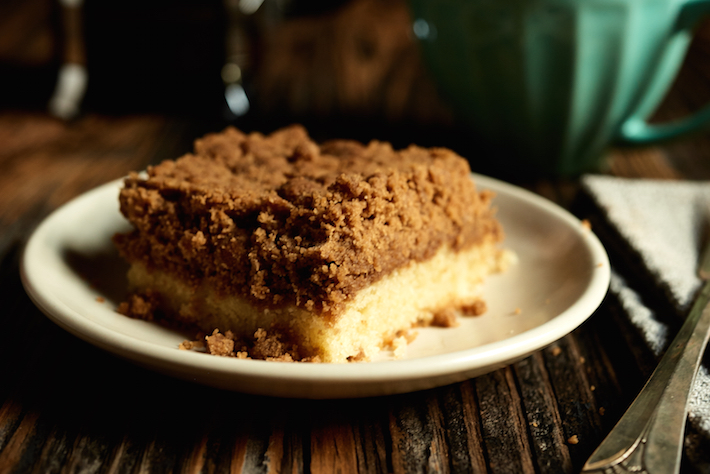 On some commercial versions, the spongy cake is just a crumb delivery vehicle — but that's not the case with this recipe, which boasts a dense and flavorful sour cream cake base that's respectable on its own.
Of course, it gets better when you combine it with the crumb topping. The crumbs — fat morsels made of flour, brown sugar, cinnamon and plenty of butter — are rounded out with salt for an addictive salty-sweet flavor. These two parts come together to form a cake what is truly unlike any other.
With four sticks of butter in total, this recipe might not be considered virtuous. But it's the perfect indulgence on a lazy Sunday, Christmas morning or following the hustle and bustle of holiday activities — or any time you just feel like you need a treat.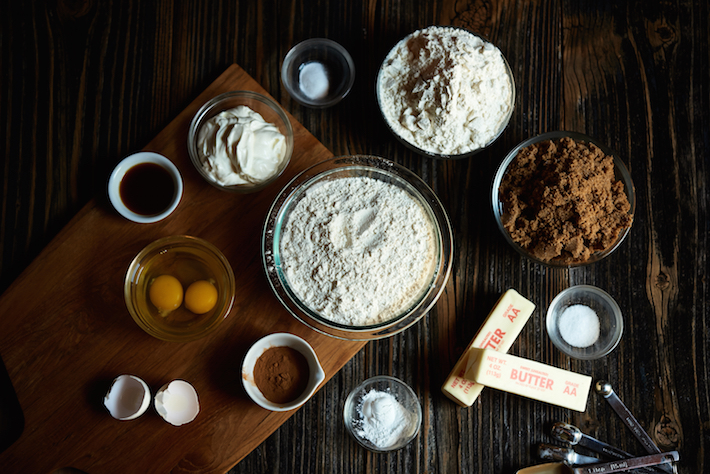 Typically consumed as a morning cake (with coffee, of course!) this crumb cake is no less delicious at other times of day. If you're feeling absolutely sinful, top a warm slice with a big scoop of vanilla ice cream — and don't forget the powdered sugar.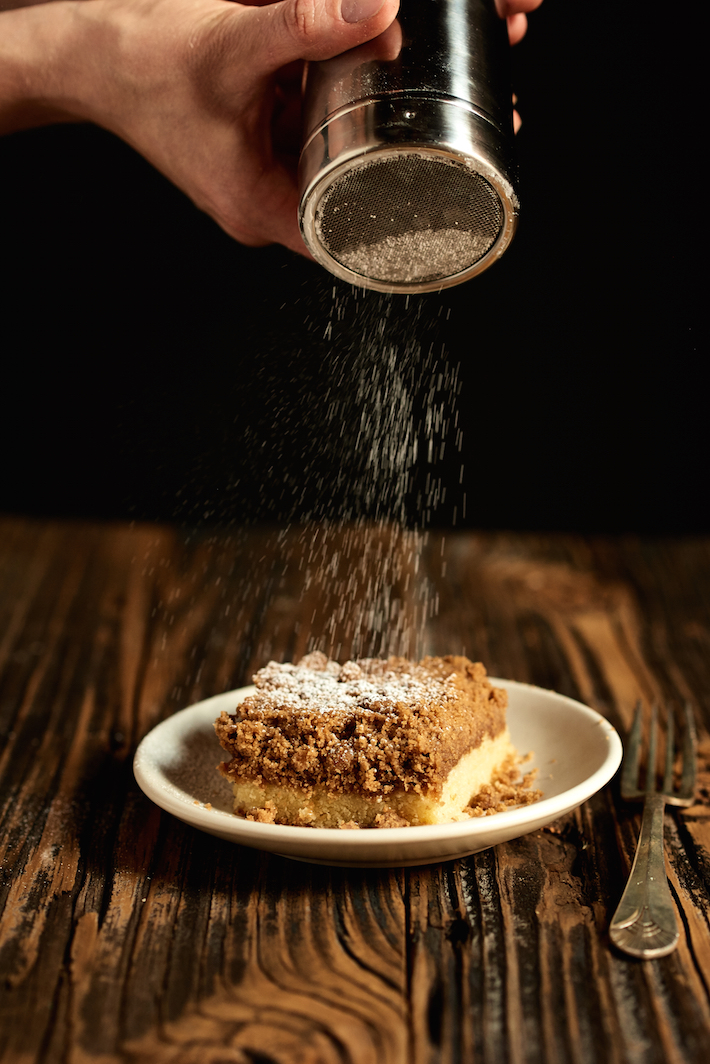 Recipe notes
Do you like your cakes very salty-sweet? Use salted butter in the crumb mixture for the topping. It will certainly satisfy your craving.
Regarding the brown sugar: It is highly suggested that you use dark brown sugar. While the recipe will work if you use light brown sugar, it really does lack the rich, slightly molasses-tinged flavor that makes crumb cake great.
Some people prefer large, fat crumbs; others prefer a more delicate, loose crumb topping. Simply break up the crumb mixture more if you prefer less crumbs. If you want fat, large crumbs, clump portions of the crumb mixture in the size you desire tightly in your hand before placing them on top of the cake batter.
If desired, you can substitute yogurt for the sour cream. However, it is not suggested that you substitute low-fat sour cream.
How to make crumb cake
Recipe adapted from The Food Maven
Makes one 9″ by 13″ cake
Ingredients: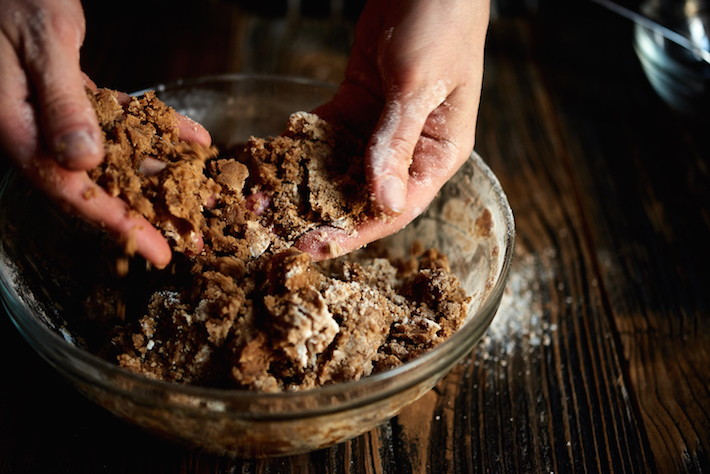 For the topping
2 ½ cups all-purpose flour
2 tablespoons ground cinnamon
½ teaspoon salt
1 ½ cups packed dark brown sugar
1 cup (2 sticks) unsalted butter
2 teaspoons vanilla extract
Powdered sugar, for dusting the top (optional)
For the cake
2 ¼ cups all-purpose flour
2 teaspoons baking powder
½ teaspoon baking soda
½ teaspoon plus 1 pinch salt
1 cup (2 sticks) unsalted butter, softened to room temperature
1 cup granulated sugar
2 large eggs
1 ½ teaspoons vanilla extract
1 cup sour cream
Step 1: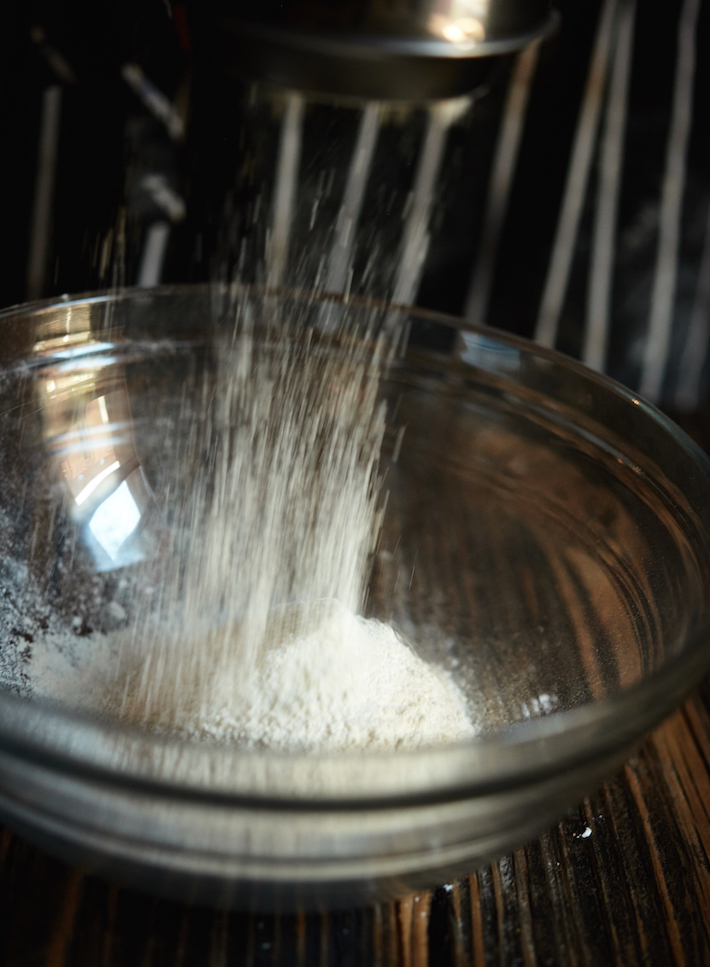 Prepare the topping. In a large bowl, sift together the flour, cinnamon and salt.
Mix with the brown sugar. Set this to the side.
Step 2: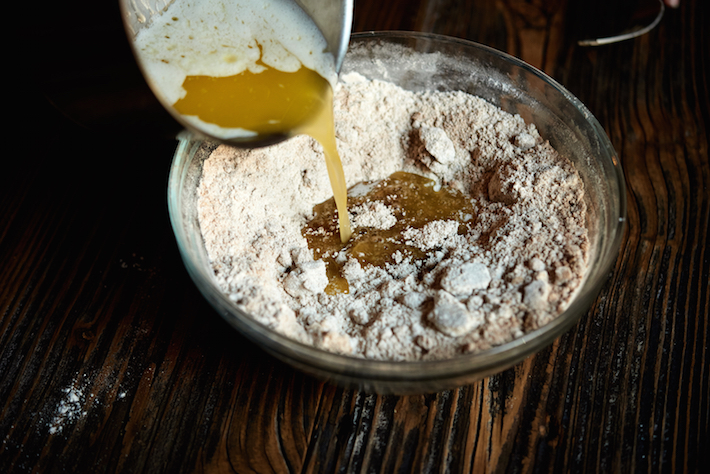 In a medium saucepan, melt the butter over low heat. Once melted, pour on top of the dry mixture. Add the vanilla. Stir with a fork until the mixture comes together to form small crumbs (if you clump it in your hand, it should easily form crumbs). Set the crumb mixture aside in a bowl.
Step 3:
It's time to make the cake. Preheat the oven to 350 degrees F. Generously grease a 9″ by 13″ pan. Place a rack in the middle position of your oven.
In a large bowl, whisk together the flour, baking powder, baking soda and salt. Set to the side.
Step 4:
In the bowl of a stand mixer (or using a hand mixer), cream the butter until smooth. Add the sugar, and continue mixing until light and fluffy, about 5 minutes in a stand mixer. Scrape the sides of the bowl as needed using a rubber spatula.
Step 5:
Add the eggs, one at a time, pausing to scrape the sides of the bowl with each addition. The mixture may look somewhat curdled. That is OK. Blend in the vanilla.
Step 6:
Reduce the mixing speed to low. Add the dry ingredients in three additions, alternately with the sour cream. Start and end with the dry ingredients. Continue scraping the sides of the bowl with a rubber spatula as needed. Blend only until combined and uniform in appearance. This batter will be thick.
Step 7:
Spoon the batter into the well-greased pan and smooth with a flat rubber spatula.
Step 8: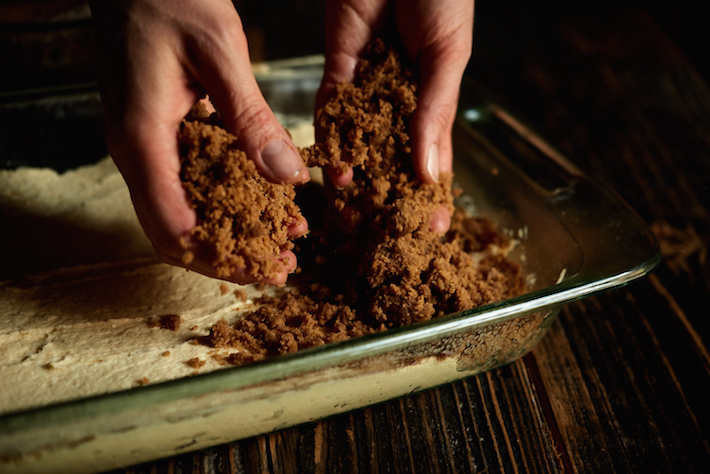 Grab a handful of the crumbs and break on top of the cake batter. Continue, making crumbs of your desired sizes all across the surface of the cake. You need to cover all of the surface with crumbs, or the cake may bubble over the crumb mixture. Gently pat the crumbs into the batter with your hand or a wooden spoon, but don't press too hard.
Step 9:
Bake in the preheated oven for 30 minutes, or until the cake is golden brown on top and begins to shrink from the sides of the pan. Remove from the oven and place the pan on a wire rack to cool. If desired, dust the top with confectioners' sugar. Once cool or just lightly warm, slice into squares (or slabs, depending on your mood and appetite).
Store leftovers, well wrapped, at room temperature for up to 3 days.