When I first started knitting socks, I thought that figuring out how to knit a sock heel was the easiest part of the process. But I also found that my finished sock heels — especially for very basic socks — were a little boring.
If you've already learned how to knit a sock heel and you'd like to add a little something special, consider adding a duplicate stitch design. Because duplicate stitch can be added on top of any existing stockinette, you can even add it to socks you knit years ago.
For me, knitting the sock heel was a little easier than adding the duplicate stitch — oh, those tiny little stitches! — but I love the way they turned out. Here's how I planned my duplicate stitch heel.
Choosing your sock pattern
You can, of course, add a duplicate stitch to a pair of socks that you've already knitted. But if you're planning to knit a new pair of basic socks, I suggest a basic pattern like Craftsy member KBJ Designs' free Very Vanilla Socks pattern.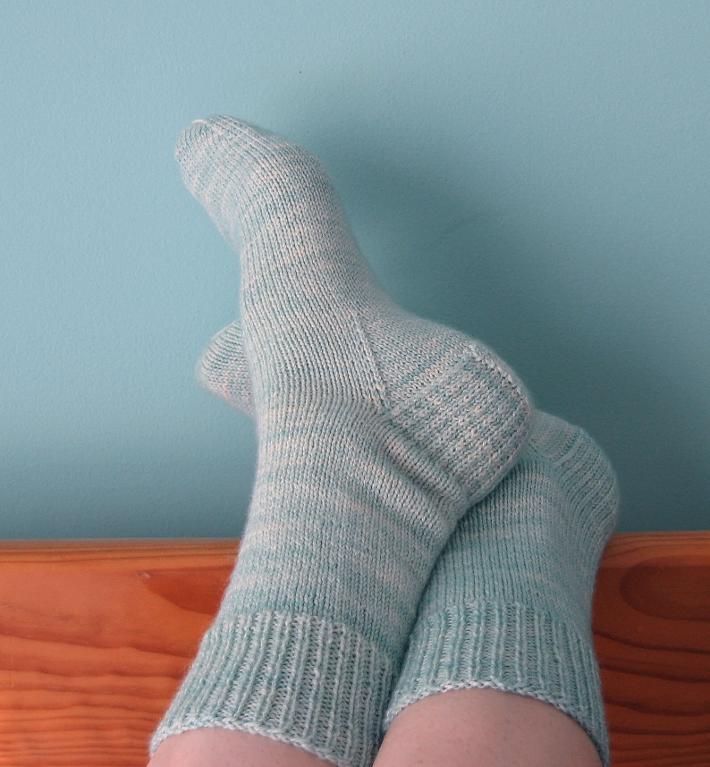 Very Vanilla Socks photo via Bluprint member KBJ Designs
Choosing your yarn
I found a beautiful soft, blue Berroco Ultra Alpaca Fine yarn to use for my socks. For the duplicate stitch yarn, I used Kraemer Saucon Sock yarn that was leftover from another pair of socks I knitted.
When you're choosing your yarn, keep laundering in mind. If you knit the socks with a yarn that is washable, then you'll also need to use a duplicate stitch yarn that is washable.
Keep gauge in mind, too. For example, if your socks are made with a worsted weight yarn, then make your duplicate stitches with a worsted weight yarn.
Adding the duplicate stitch
I decided to stitch onto the heel not just because it looks cool, but also because it's a great way to reinforce the heel. You can place your design anywhere on the sock; just be sure that wherever you put it you still allow for some stretch. Otherwise, it will be difficult to pull the sock on and off your foot.
What you'll need:
Finished knitted socks
Yarn that's the same weight as your sock yarn
Stitch marker (optional)
Cardboard or sock blocker (optional)
Yarn needle
Scissors
Graph paper and pencil or chart-making program
Step 1:
Plan your duplicate stitch design. I decided on a heart, but you could stitch any shape you'd like.
Step 2:
Using graph paper or a chart-making program, chart your design. I used Tricksy Knitter's Chart-Making tool to design my heart. Tricksy Knitter also has free charts available that are shared by other users, so you can download one of those if you don't want to design your own or are feeling uninspired.
You can also freehand your design as you go, if you're comfortable with it.
Plan your design based on the number of stitches and rows in the sock heel. The Very Vanilla Socks I used, for example, have a heel that is 34 rows and 30 stitches, so I planned my design around that.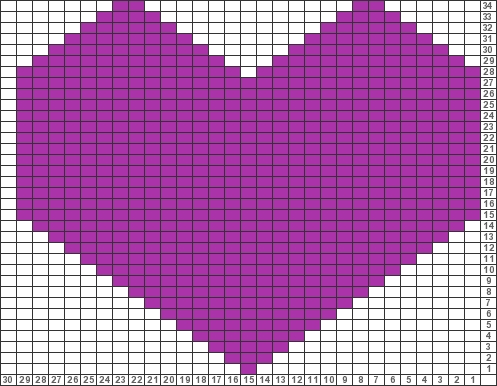 Step 3:
Decide where you will begin stitching. (I started at the bottom of the heart.) Place a stitch marker at the starting point if you'd like.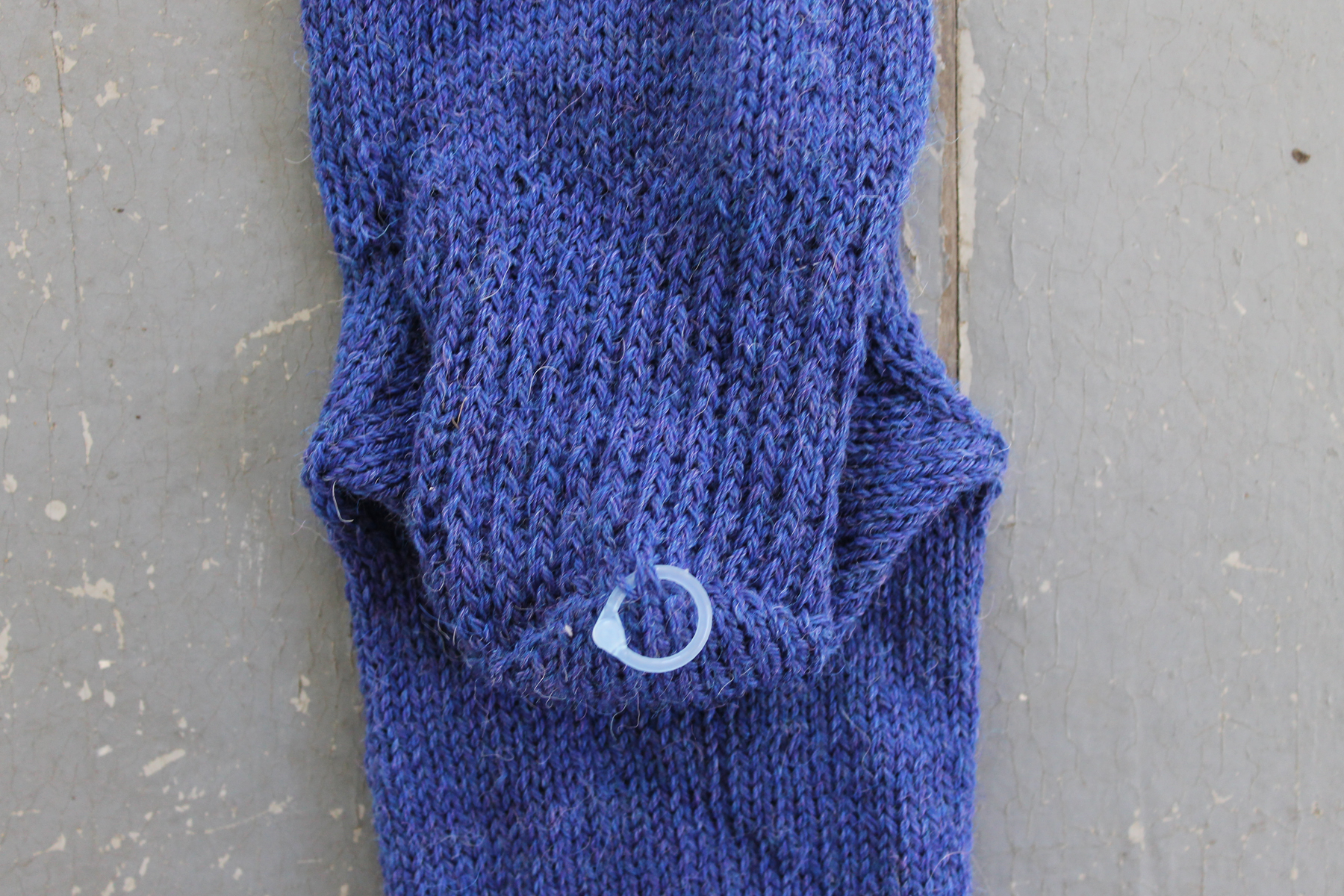 Step 4:
Optionally, you can slide your sock onto a piece of cardboard or a sock blocker. This will help you avoid stitching through both sides of the sock, plus it helps stretch out those stitches a little so it's easier to see each individual one.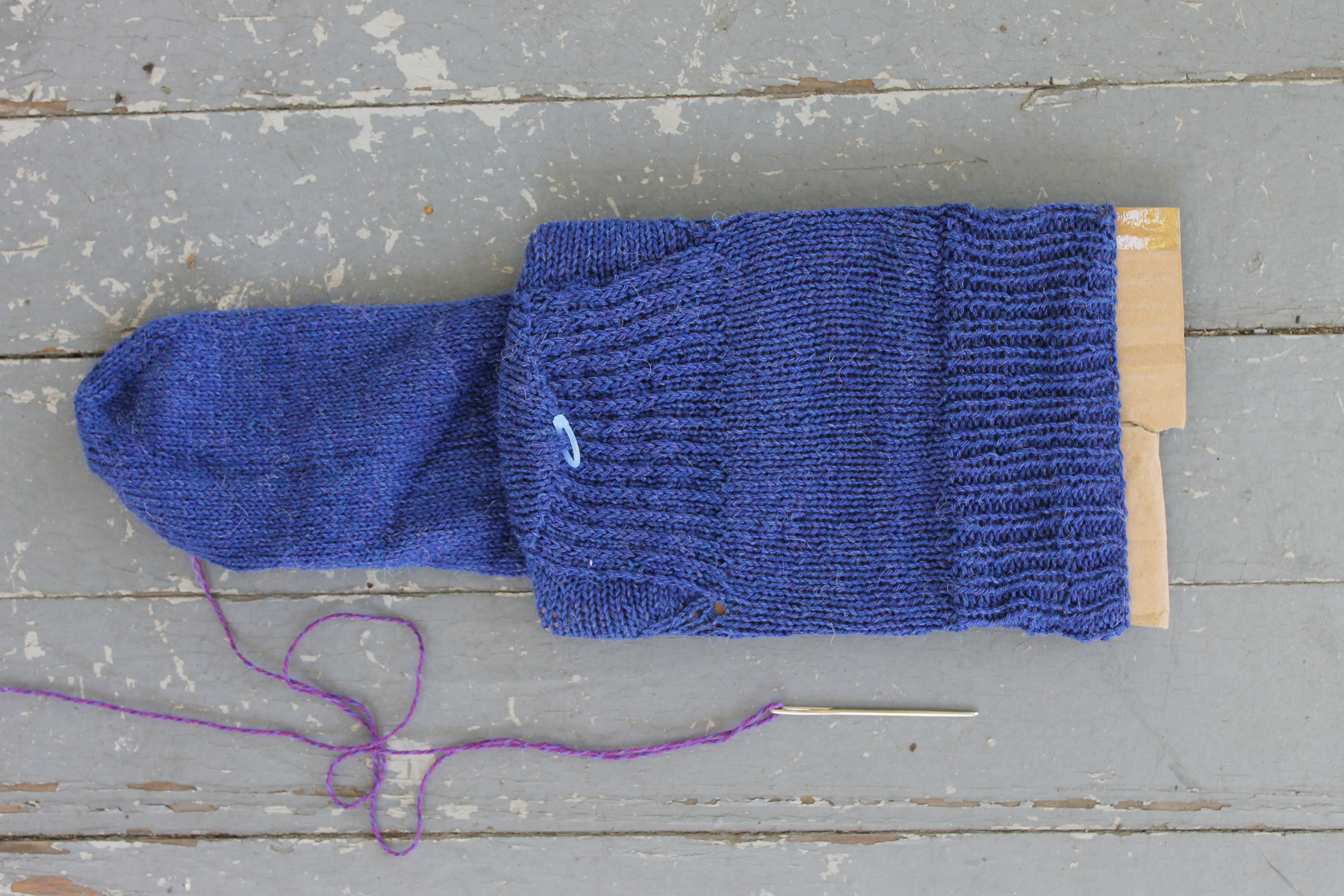 Step 5:
Cut a strand of yarn and thread it through the yarn needle. Bring the needle up through the stitch just below the starting point, leaving a long yarn tail for weaving in later.
Step 6:
Now slide the needle from right to left through the back of the V in the stitch, just above where you want the first duplicate stitch to go.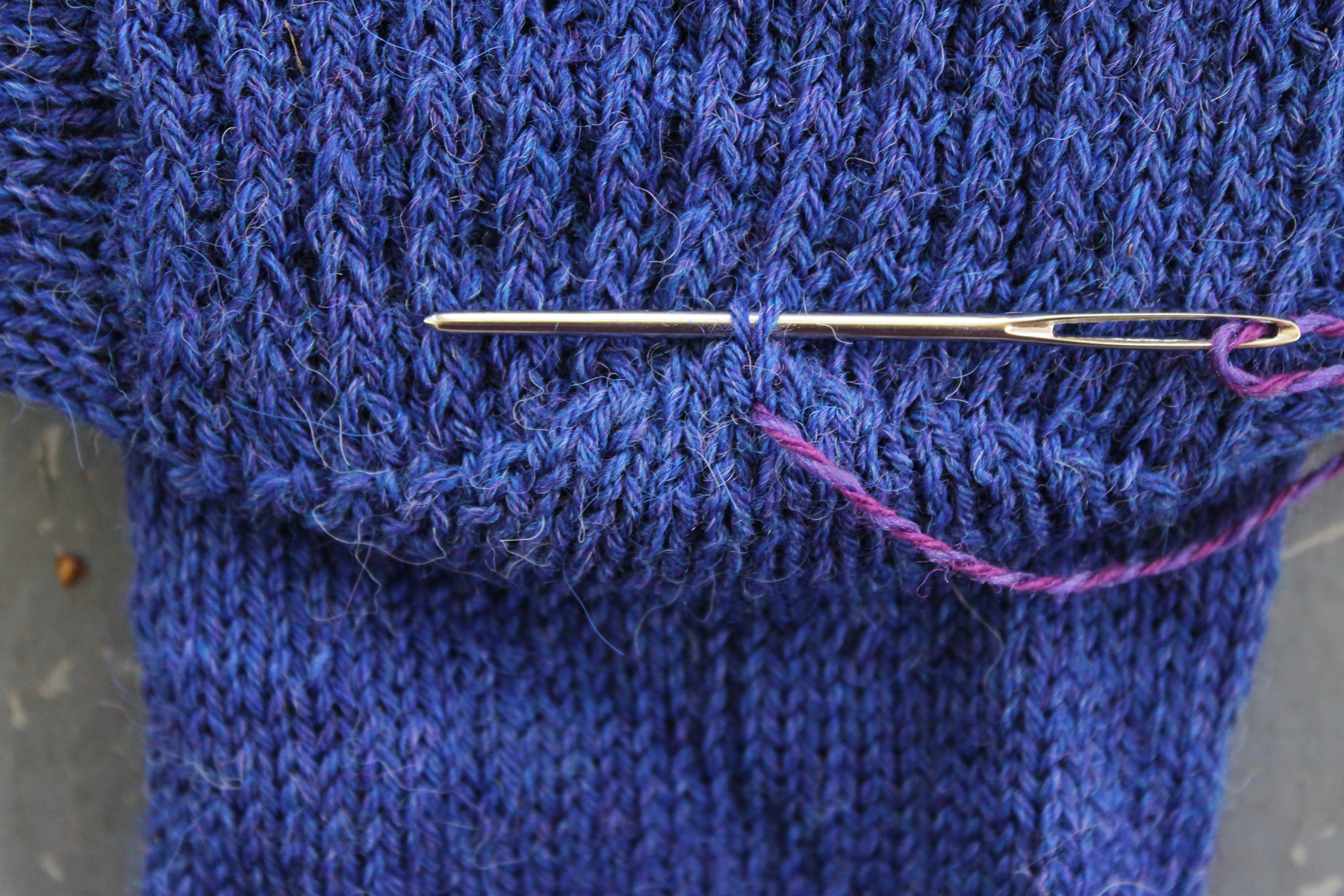 Step 7:
Insert the needle into the heel where the duplicate stitch originated. If you want to save time, you can immediately insert the needle up through the next stitch.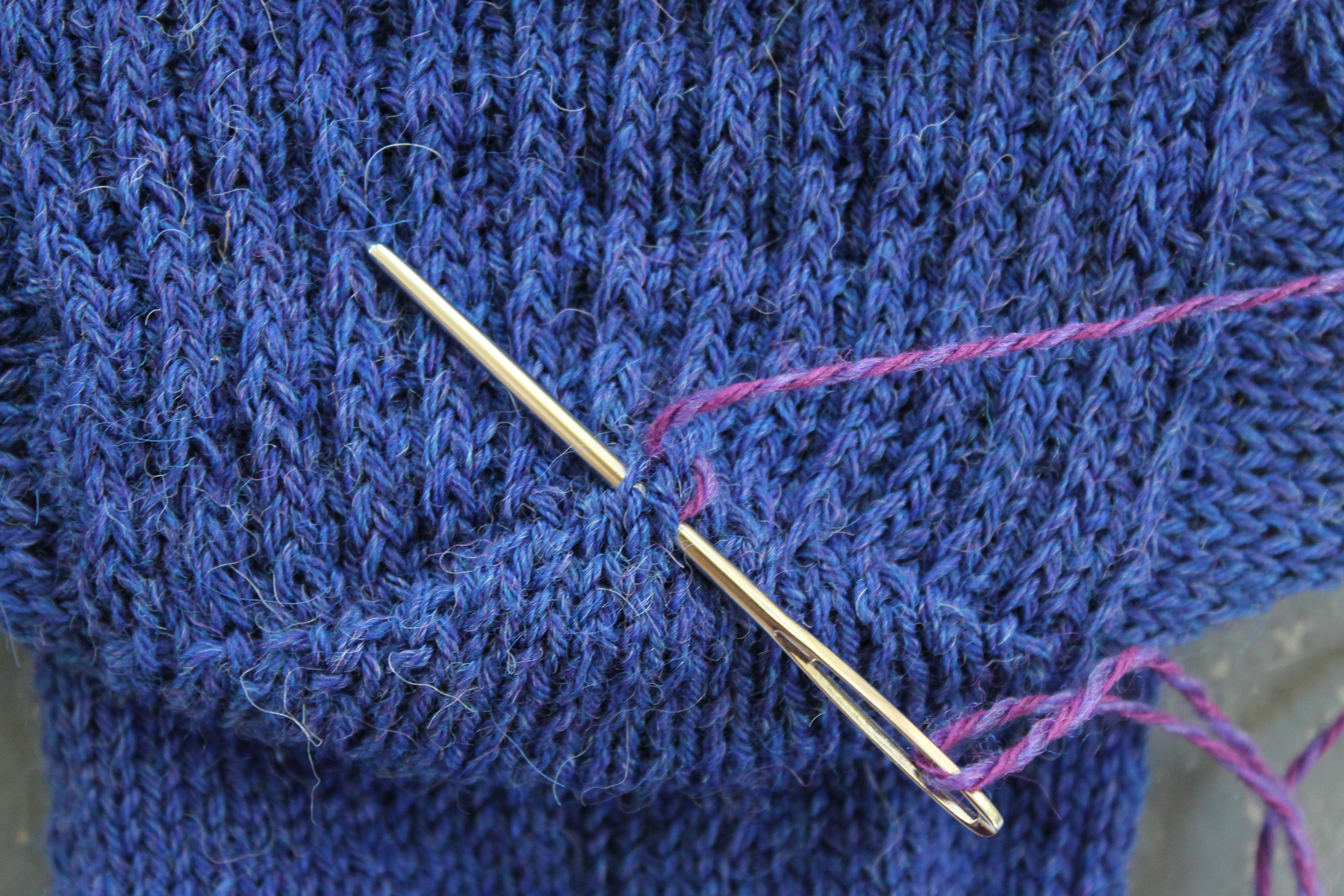 You'll immediately see your first duplicate stitch!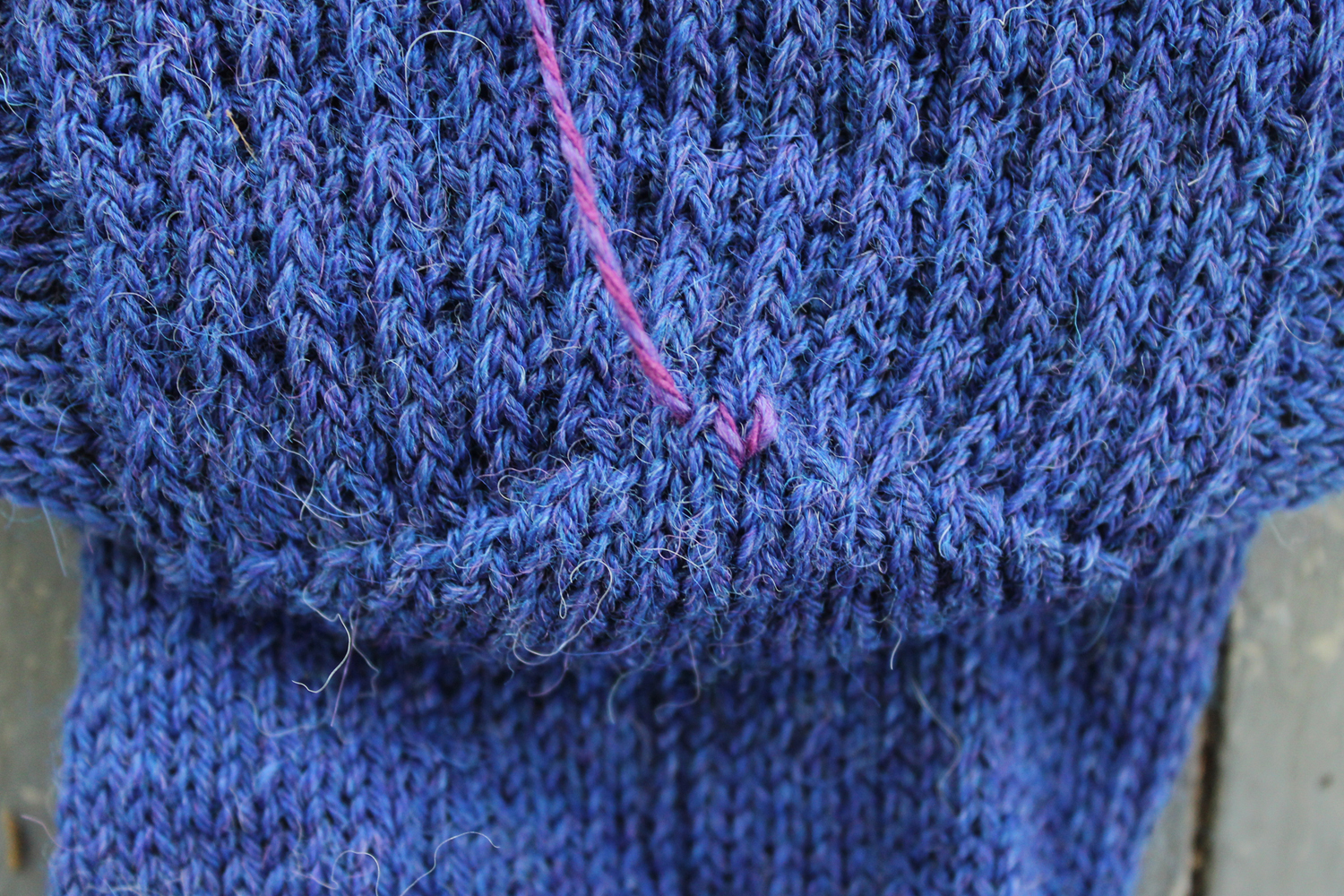 Step 8:
If you're having issues maneuvering the needle, you can slip your hand just under the sock and lift the heel away from the cardboard or sock blocker as you work.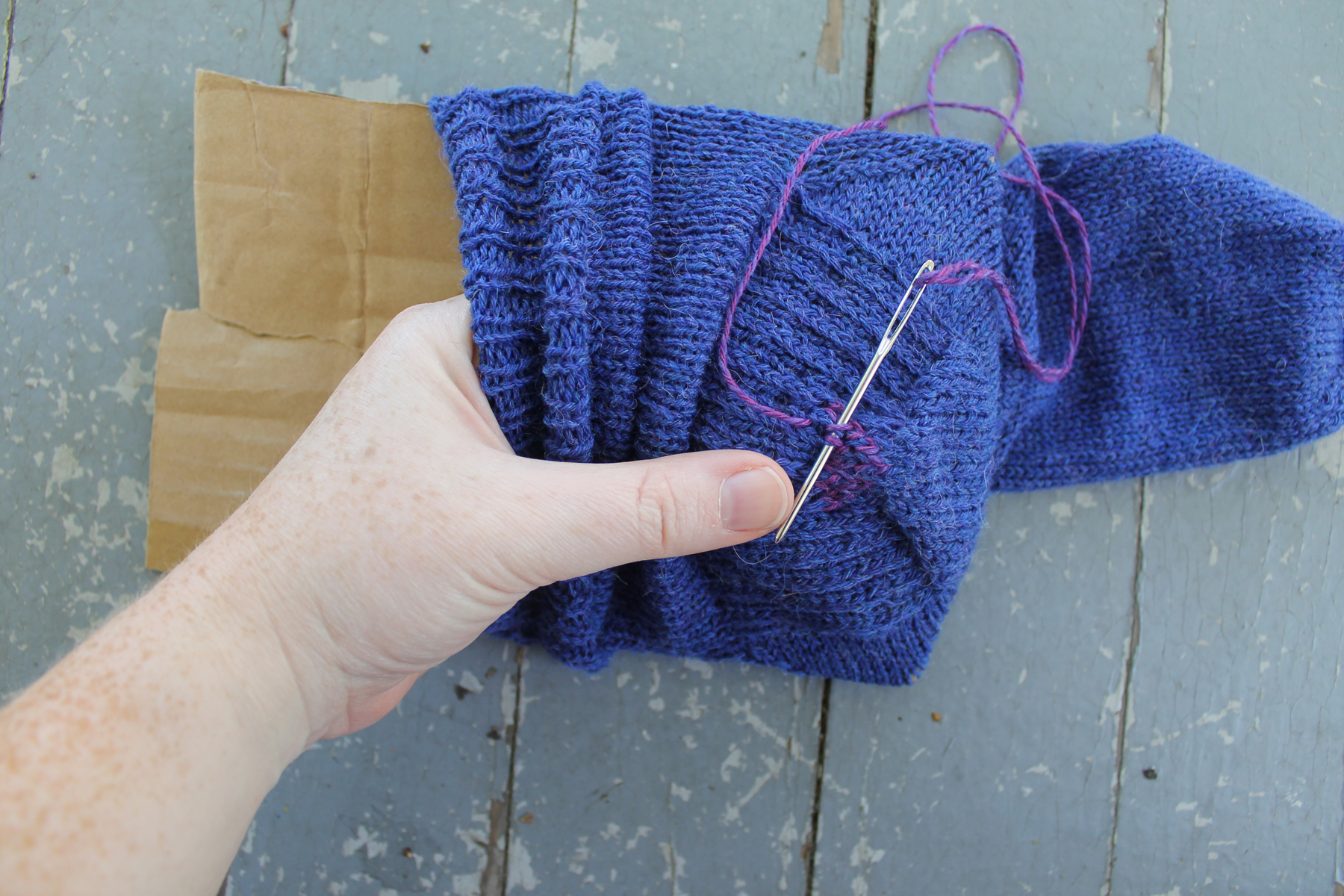 Step 9:
Continue stitching, following your chart if you used one. Work up and down or back and forth across the rows.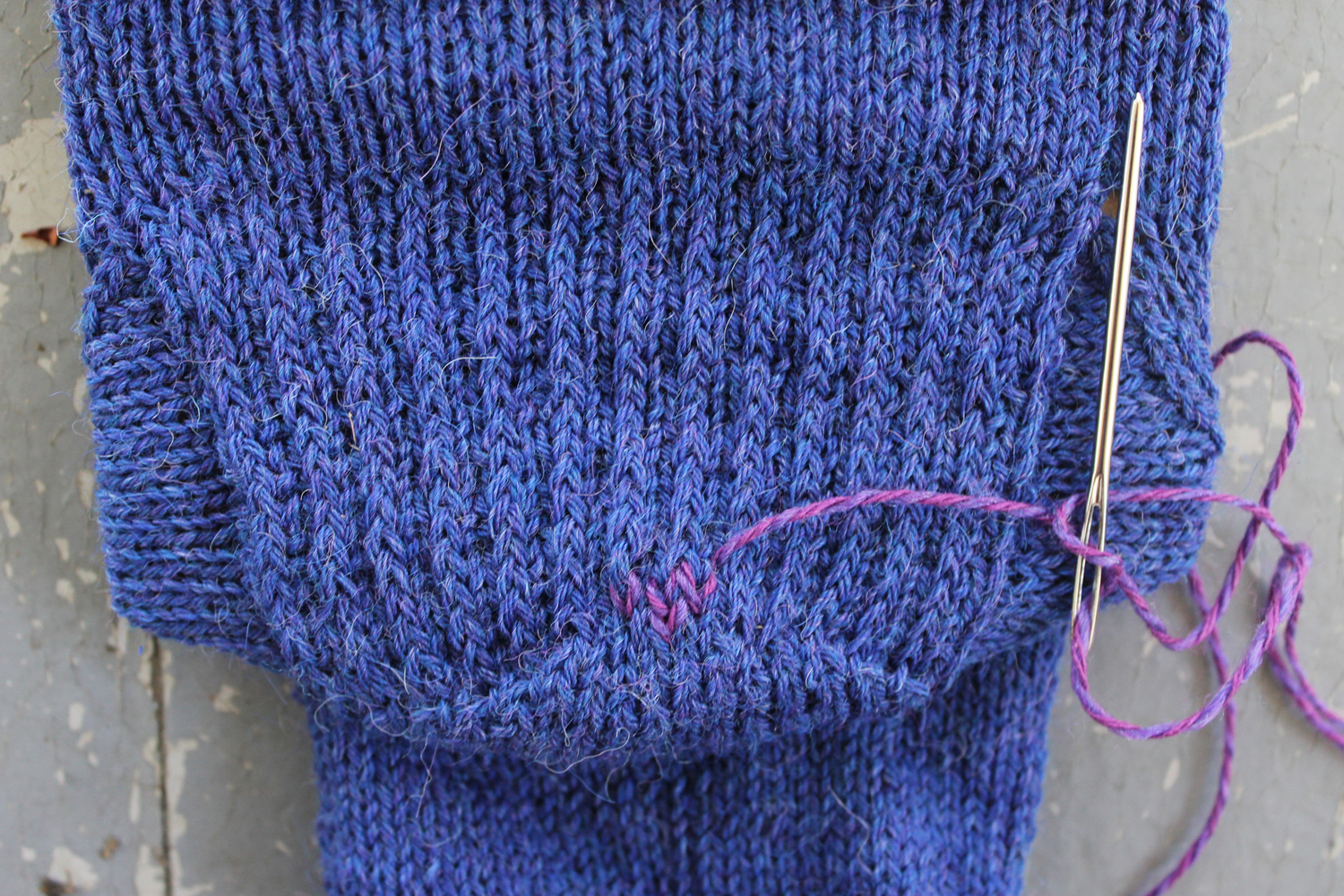 You might find that you miss a stitch here and there. Don't panic! I found that it actually added a bit of character to my sock heel.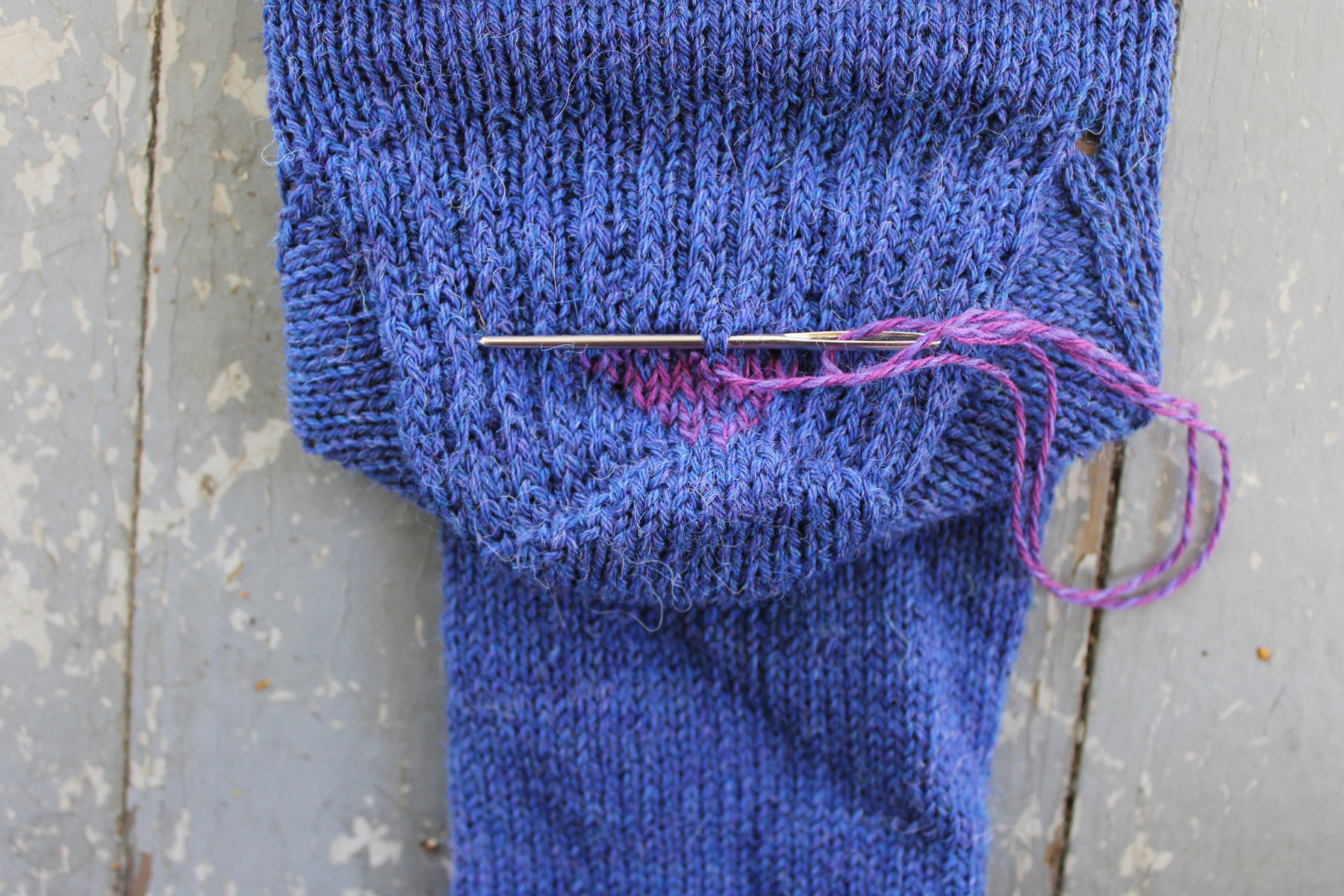 Step 10:
When you're finished, just cut the yarn and weave all those ends in on the wrong side of the sock.
Want to find even more ways to customize your socks? Socks My Way: Stitch Pattern Savvy with JC Briar covers everything you need to know about the anatomy of a sock and how you can alter a pattern to accommodate different stitch designs.
How do you add character to your plain socks?