Create elegant embroidered hearts using hot-fix Angelina fibers for subtle impact. This easy, in-the-hoop project will have recipients asking, "How did you do that?"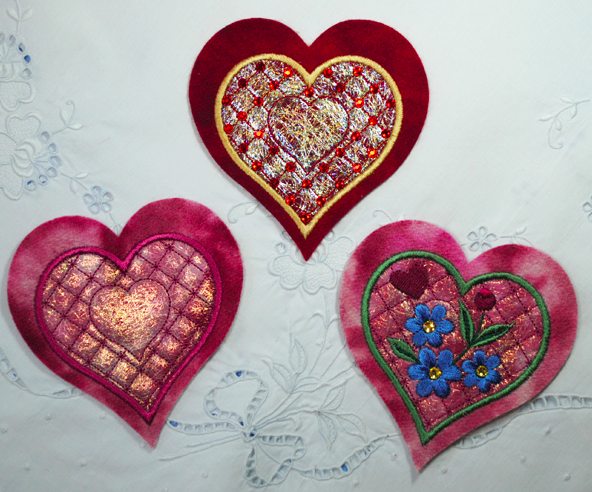 I love embroidery projects that aren't complicated but look that way. Cut hand-dyed felt, add a shimmering layer of Angelina, and top it off with beautiful embroidery customized to fit the occasion. Perfect for Valentine's Day or as a wedding favor.
What is Angelina?
Angelina fibers have been around for a few years, but are becoming increasingly visible in machine embroidery projects. Versatile Angelina functions not only as a reflective light source, but also as a palette for creating gorgeous, dimensional machine embroidery and textile art.
Cut from Mylar-type film, Angelina is available in translucent sheets and in fiber form. Fibers resemble ultra-fine Easter grass and some are fusible.
Benefits of using Angelina in machine embroidery

Fusibility
Fusible only to itself, heat-bondable Angelina films and fibers create layers of sparkle, texture and dimension. Use a pressing sheet or place between paper towels and iron for 3 seconds at the silk setting (around 225 degrees F). Over-ironing often softens colors, which is preferable if they are too shiny.
Scraps can be combined and re-fused. Non-fusible Angelina, and items such as yarns, beads and even wire, can be fused between layers of heat-bondable Angelina.
Brilliance
Fans of metallic embroidery, rejoice. Angelina is easy to use and produces a soft drape not possible with metallic threads.
Depending on the style, fibers and films reflect and refract light, producing effects ranging from opalescent to iridescent to brilliant.
Texture
Fibers are available as straight cut or crinkle cut, otherwise known as Crystalina.
Because it only sticks to itself, both film and hot-fix fibers can be ironed on any heat-resistant surface to produce texture. Or, press just in the center to create a smooth surface with feathery edges.
How to embroider a heart
Although there are embroidery designs specifically created for use with Angelina films and fibers, others with open stitching work quite well. I used the Cross Hatch Quilted Center 2 design from Amazing Designs.
The appliqué designs coordinate with the AccuQuilt GO! heart die. I cut the 4-inch heart and used the 3-inch embroidery design to fit inside.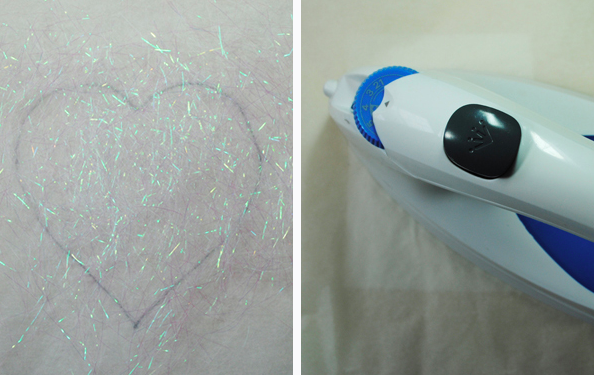 Step 1:
Trace the 4-inch heart on white paper, place it on an ironing surface, and cover it with a pressing sheet. Pull strands of Aurora Crystalina Angelina hot-fix fibers apart to form a very sheer layer covering the heart template. Less is more. It takes very few fibers to create an iridescent layer upon which to embroider. Fold over the pressing sheet and press as directed.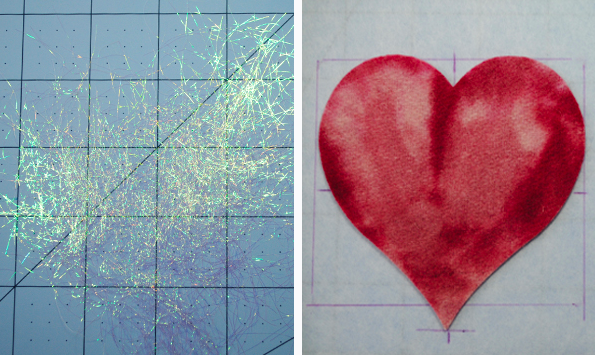 Step 2:
The fused Angelina will be used as appliqué fabric.
Hoop a stiff, tear-away stabilizer and mark for centering. Spray the back of the felt heart with temporary adhesive and finger-press it in place, centering in the hoop.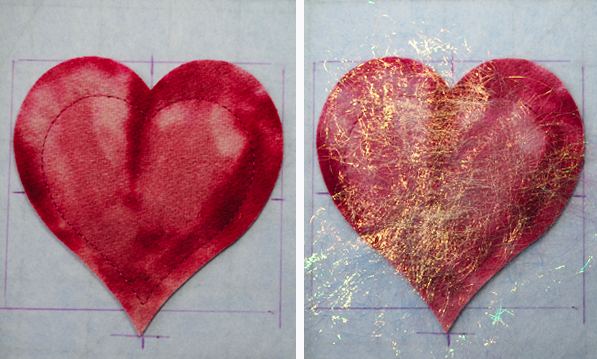 Step 3:
Use the same color thread in the bobbin. Stitch the first color stop (placement stitch).
Step 4:
Spray the back of the Angelina and finger-press over the placement stitches.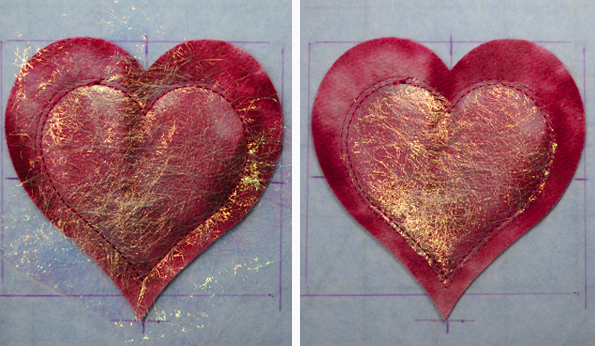 Step 5:
Stitch the second color stop (tack-down). It secures the Angelina layer to the felt. Trim close to the stitches as you would with any appliqué.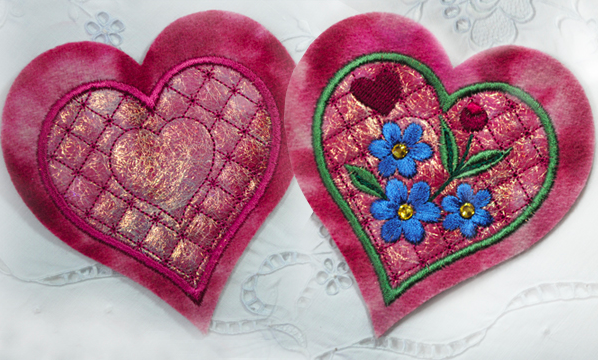 Step 6:
Finish stitching out the cross-hatched design and appliqué satin stitches. Add embroidery if desired. I edited this design by Enigma Embroidery to fit.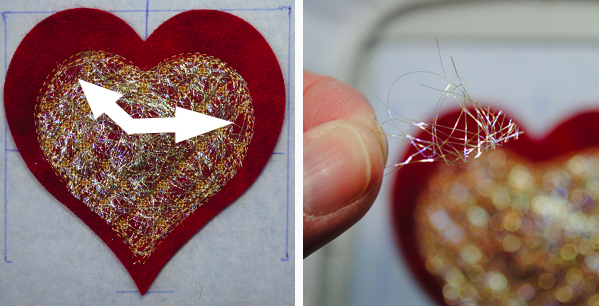 Notes:
One of the benefits of hot-fix Angelina is that you can use pieces trimmed after tack-down to patch areas needing more coverage. (Gold Iris used in this heart)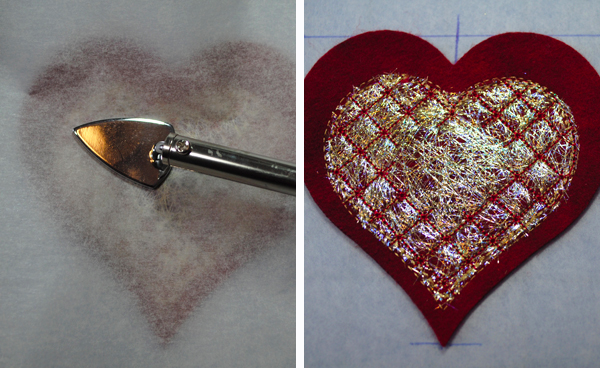 Small tack irons work well when adding Angelina in the hoop.
Originally stitched in gold thread, re-running the cross-hatched stitch sequence using red thread produced more contrast.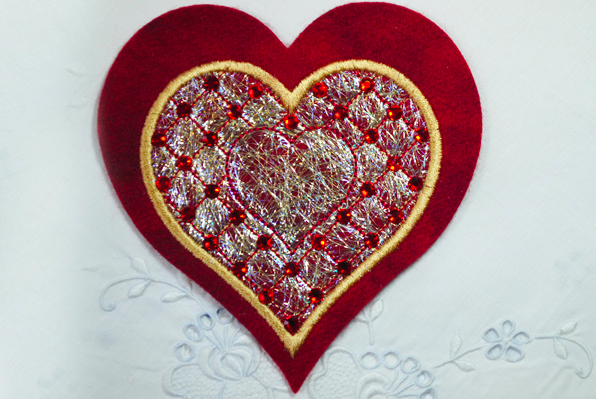 Optional:
Add 4 mm hot-fix crystals or beads for even more sparkle.
For more tips, tutorials, and videos, read Stephanie Forsyth's blog The Fiber Nation or visit Embellishment Village.
Don't forget to enter our Valentine's Day Crafts Contest! A Craftsy Mystery Prize Box is up for grabs!
How do you use Angelina in your embroidery? We'd love to know!
About the author
Debbie Henry is a published writer, photographer, editor and artisan. She writes for Suite101.com and the Sew Easy column at AnntheGran.com.