Plenty of people avoid crowds in real life. But learning how to draw a crowd of people can help you create dynamic, engaging urban scenes, without getting jostled in the process.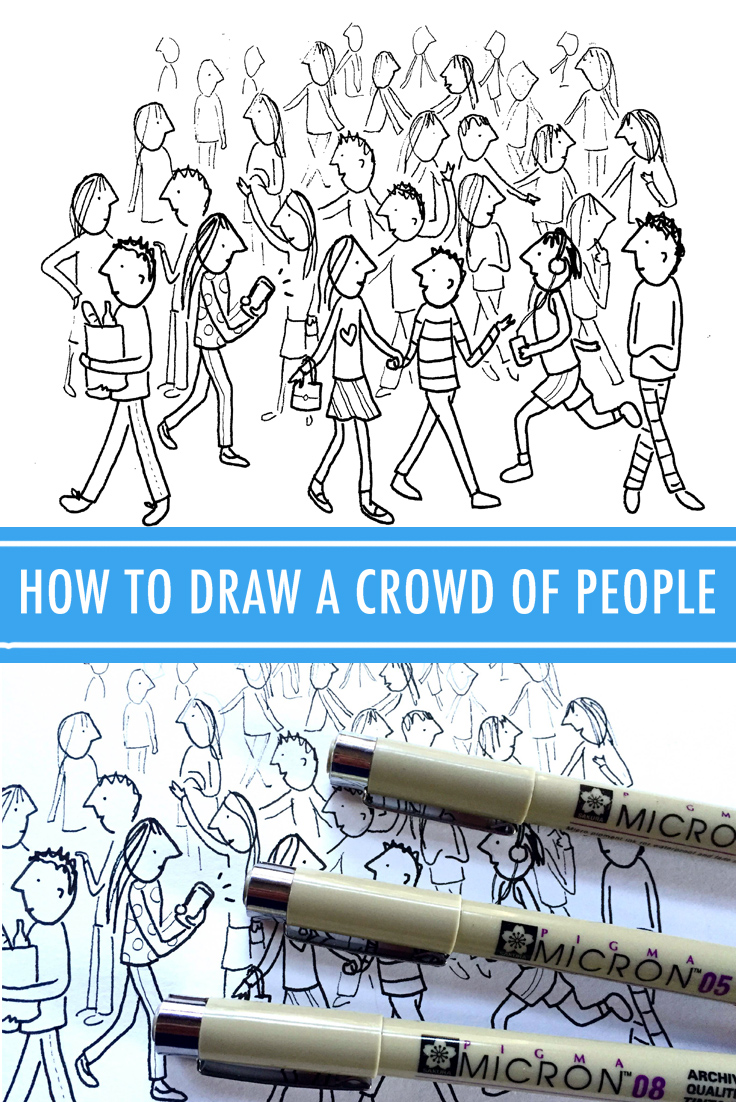 Artwork via CakeSpy
Capturing a crowd in your drawings opens up a whole new world of subject matter for your artwork. From creating an epic crowd at a stadium concert, a drawing of a bustling city street or a large gathering of characters in a scene, drawn crowds can help convey stories and show movement in your piece. 
Here, we'll address a simple method for drawing a crowd, which can be used in any artistic style and medium. Then, we'll offer some additional tips for success.
How to draw a crowd of people: a simple three-step approach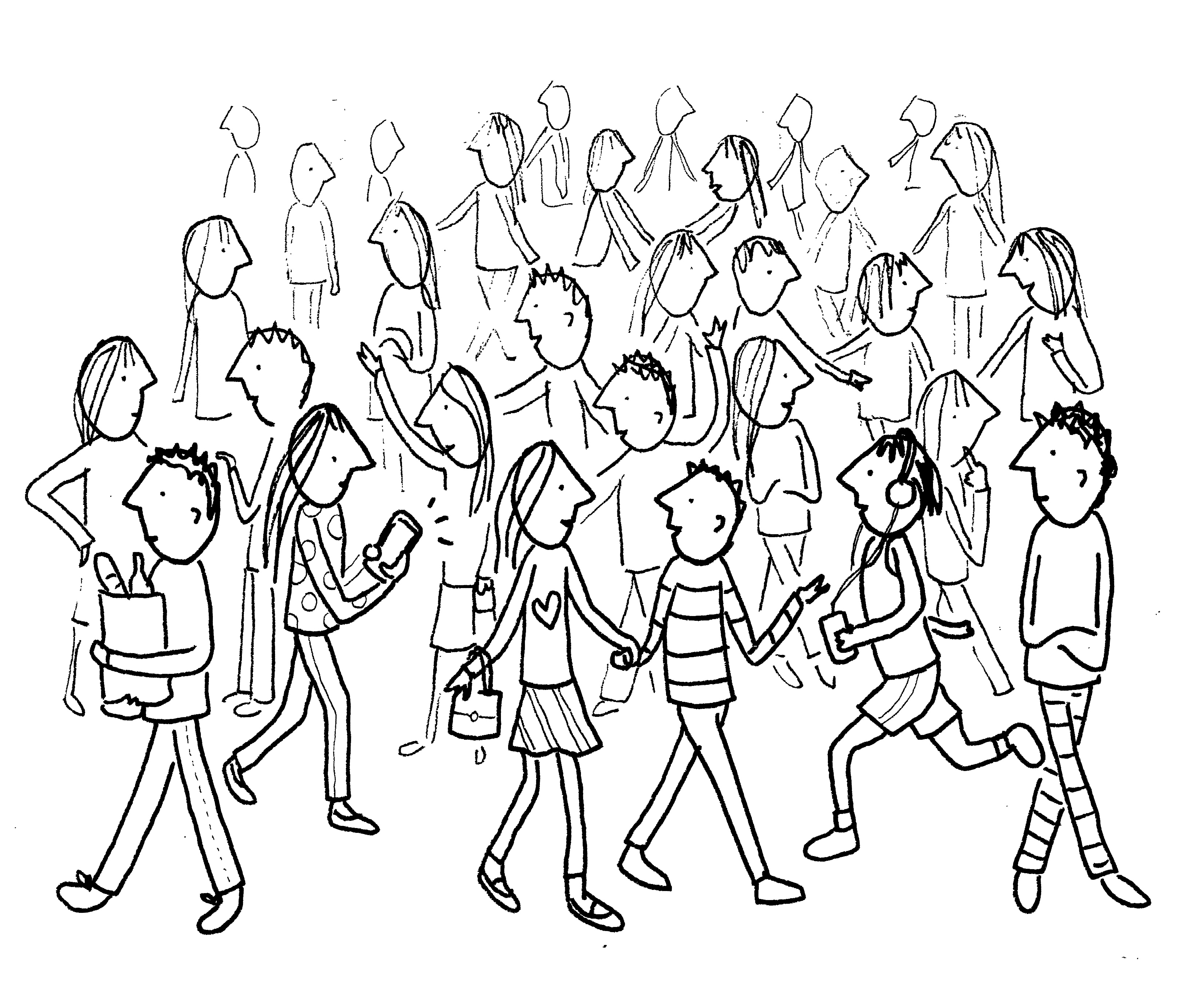 Like many other types of drawing, when drawing a crowd of people, you'll in essence be creating three different levels: a foreground, middle ground and background. Here, we'll discuss the basic method, then give some tips for how to refine it. This method can be used with any drawing medium, and is suitable for any style of drawing, from cartoons and sketching to more realistic renderings.
Step 1:
Create a foreground with people in your piece. Their expressions and orientation will depend on the theme of your overall drawing. The scene in this example depicts a bustling street scene, so the characters are doing all sorts of everyday things, like jogging, texting and holding hands while walking. They are all heading in different directions. 
Take care to add details and defined expressions on the foreground layer of people in your crowd, as this is the part of the drawing the eye will be drawn to first.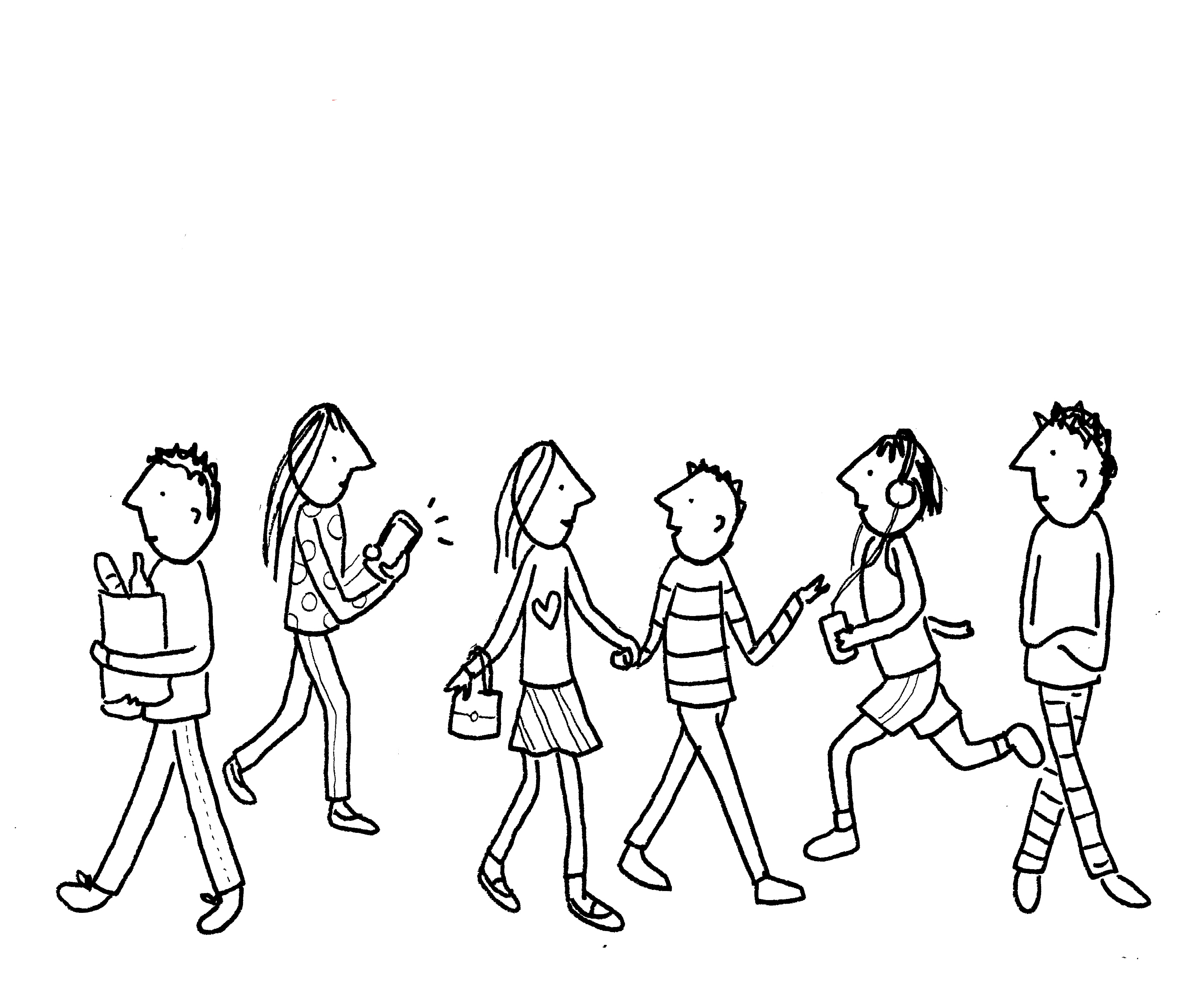 Step 2:
Create a middle ground of people. Since they will be oriented behind the first layer of people, focus on the details "above the line" of the first row of people.
In the example shown, the characters in the middle portion are drawn using a thinner pen tip. They're about 30 percent smaller than the characters in the foreground and show about 30 percent less detail. This is a subtle way of keeping the focus on the foreground, and implying that the second row is slightly less in focus and farther away. If desired, you can make several rows in this middle ground style, depending on the size of the crowd you want to draw.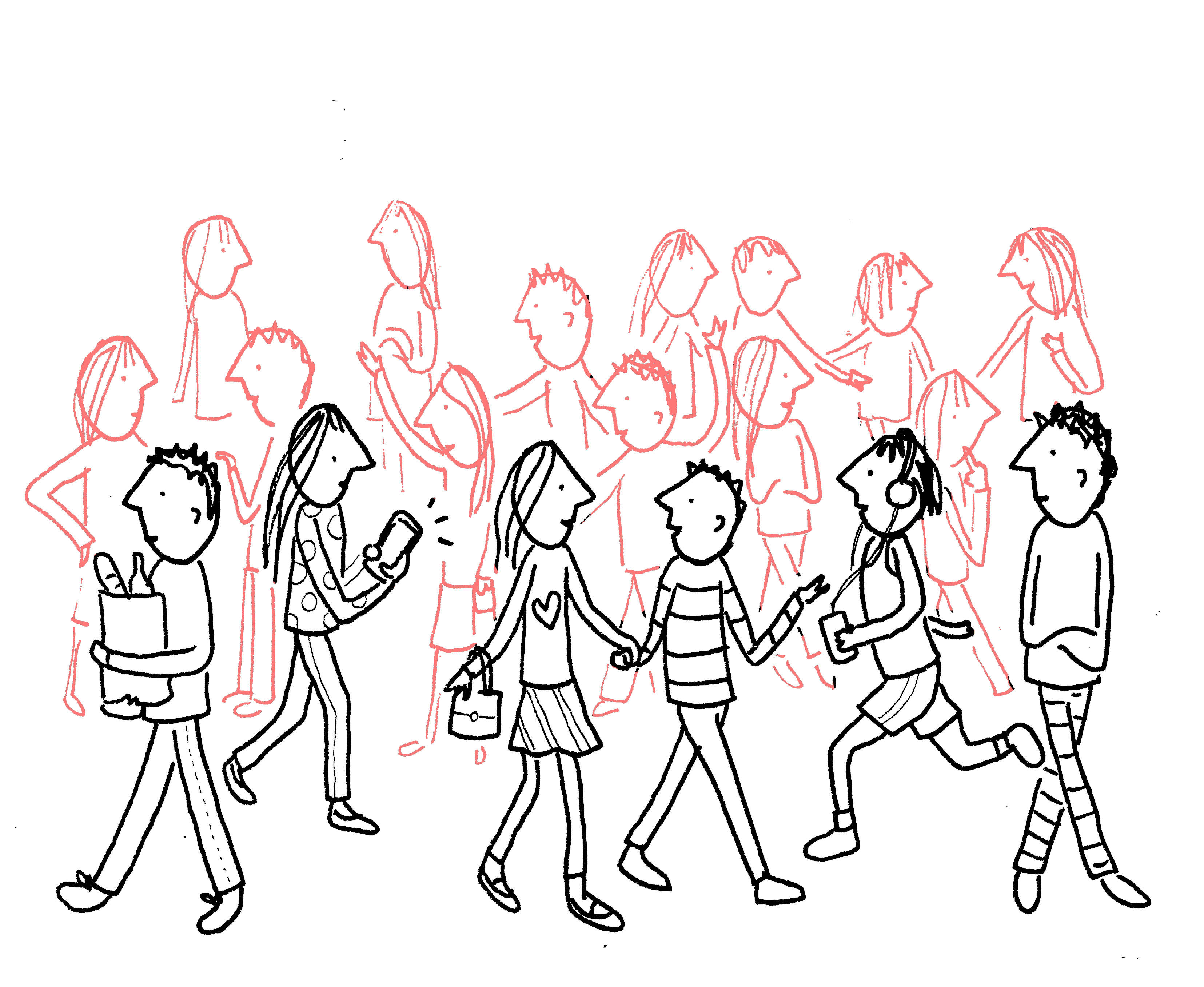 Step 3:
Finally, create a background of people. Behind your middle ground of people in the crowd, you can include a background of barely discernible characters.
In the example shown, the background crowd is drawn with an even thinner pen tip. The individual figures are much smaller than the foreground or middle ground characters and they show very little detail — some of the shapes don't even have hair or eyes. While that may sound funny, the overall effect is of a large crowd and shapes in the distance. You know how when you look at a large crowd, the farthest-away faces look like little dots? This is an easy way to mimic that visual effect with a drawing.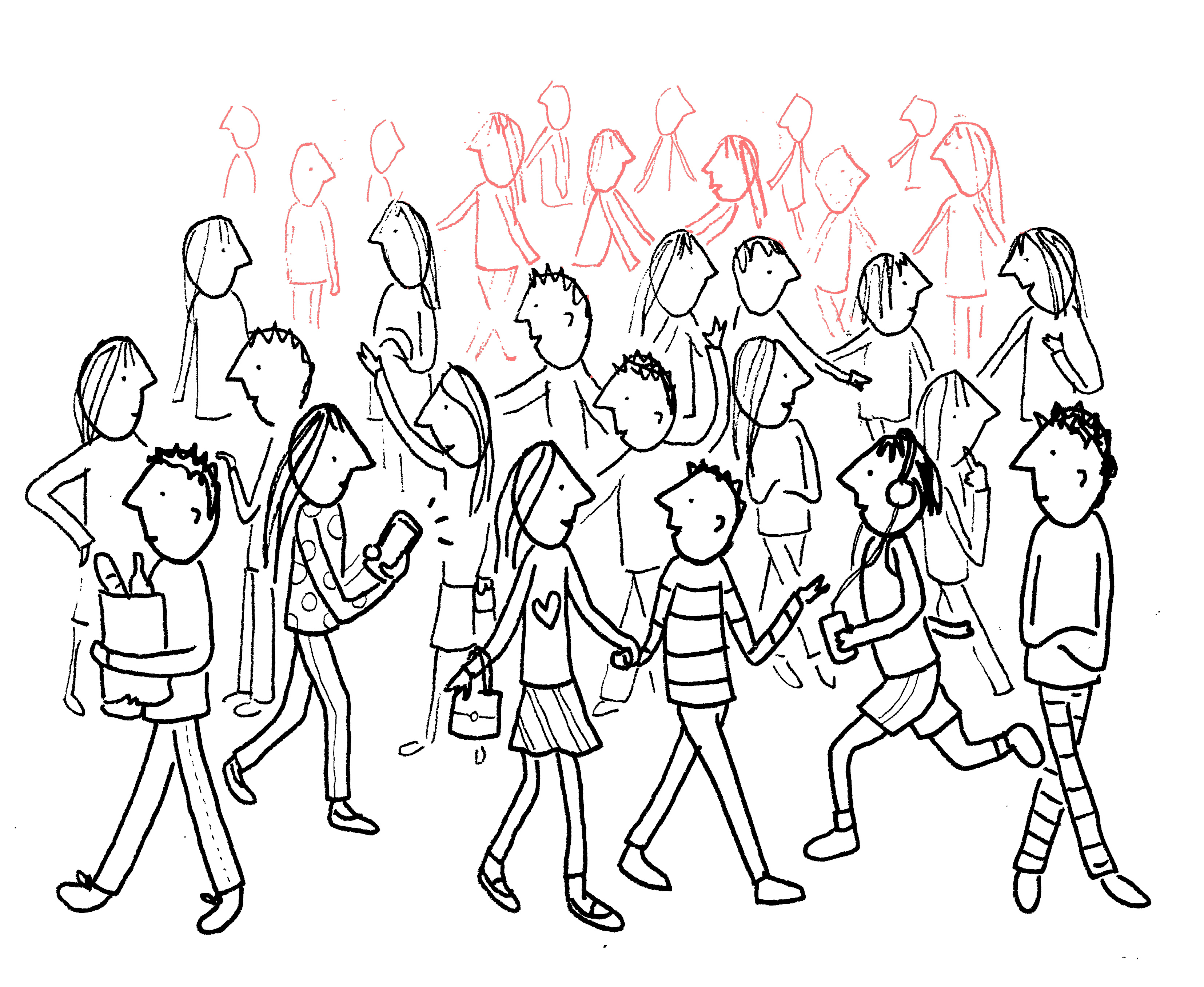 Tips for success:
You can adjust how large each section of the crowd is based on your preference, and how large the crowd is that you are drawing. 
As you create a middle and background of people, use thinner pen tips the farther back you go to increase the effect of distance and depth.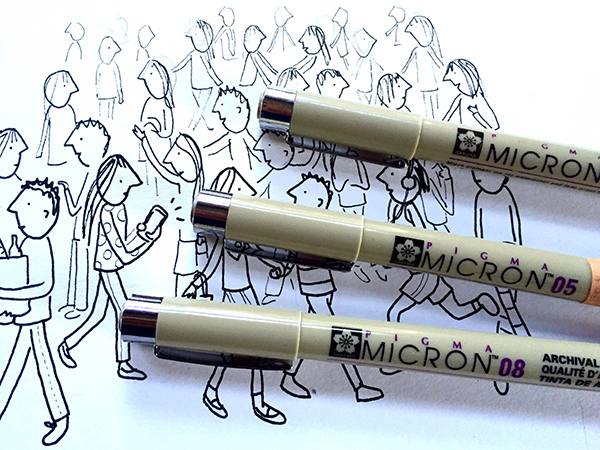 If working with a single nib size or pencil, simply reduce the size and detail of each receding row of people in your crowd.
In addition to adding less detail to the middle and background layers of people, you can also experiment with line quality: Making the farther-away characters with slightly sketchier lines can also be effective in portraying the bustling busyness of a crowd.
If adding background elements such as buildings or objects, follow the same general concepts of size and detail. Closer objects are more detailed and defined, whereas farther-away elements are smaller and less detailed.
Capture the Energy of a Crowd in Your Artwork
Sketch lively urban spaces pulsing with movement. Get step-by-step guidance for drawing bustling streets, impressive buildings and more in this NEW video class. Enroll Now »