Crayons aren't just for kids anymore and Karri Schaper of Big Fork Quilts, Etc. in Big Fork, Montana, is proving that. She has by far the most artistic technique of all when it comes to fabric painting with crayons.
Instead of simply "coloring" with crayons, she uses them like paint. Much like stenciling, melted crayon colors blend on fabrics to produce some of the most beautiful results I have ever seen and Karri has graciously allowed me to share  her crayon tutorial she developed using the book Creative Quilts From Your Crayon Box by Terri Linn Kygar.
Photos via Karri Schaper, Quilt Whimsy, of Big Fork Quilts, Etc.
How to color fabric with crayons: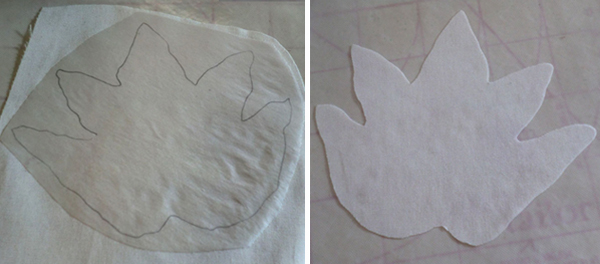 Step 1:
Draw the appliqué design on the paper side of fusible web. If creating the appliqué for machine or hand embroidery, print a template of the design and trace it on fusible web. Fuse the image to a high thread count cotton fabric. When cool, cut along the lines, peel off the paper and fuse the piece to an appliqué pressing sheet.
Step 2:
Create a makeshift paintbrush with a high-quality paper napkin or paper towel. Fold in half diagonally twice, then fold in both corners to make a point.

Step 3:
Set the iron to cotton/wool temperature with no steam. Press the appliqué piece and appliqué pressing sheet to heat them. That helps melt the crayon, lets the fabric accept the crayon and sets the color.

Step 4:
Dab the first crayon on the heated appliqué pressing sheet. A small puddle of melted crayon will form. Using the tip of your triangular paintbrush, dab a small amount of melted crayon and spread it over the appliqué piece in circular motions. Blend so that there are areas of light and dark shading.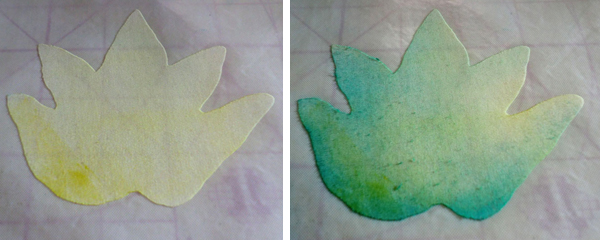 Step 5:
When the base color is complete, cover the piece with a paper towel and press it again to set the color and absorb any excess crayon. Remove the towel, heat the shape and appliqué pressing sheet again to melt the next crayon and begin shading with another color.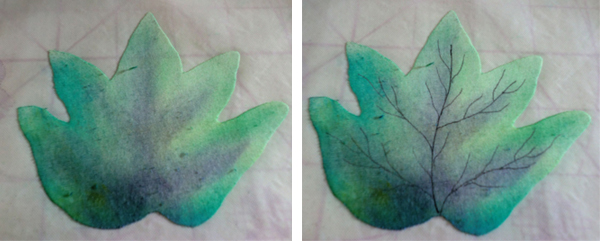 Step 6:
Continue to add colors until you are happy with the overall combination. Add details using Pigma pens, permanent markers and colored pencils. Karri added pencil shading along the edges of her piece for extra dimension. She used a stencil brush to smooth and blend pen and pencil markings.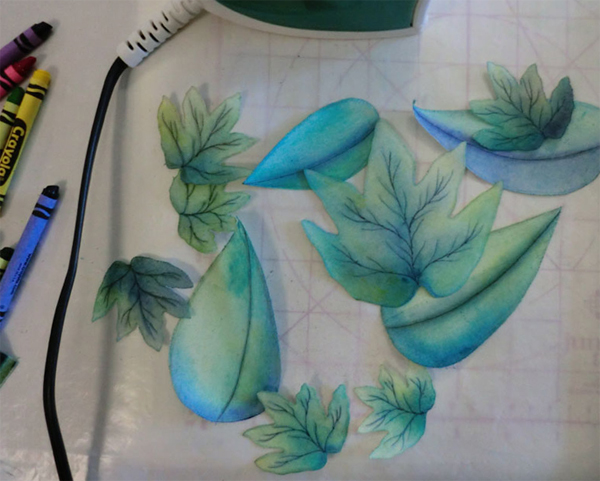 Karri's leaves.
Fused to this background fabric, Karri's leaves appear to be floating on water. Karri's examples are used on fusible appliqué, but would work wonderfully on machine appliqué as well as redwork designs created by hand embroidery and machine embroidery. See a video of this technique by author Terri Kygar here.
Learn more fabric painting techniques in the Craftsy class Painted Pictorial Quilts. Sign up today to discover how to turn photographs into line drawings, build fused appliqué designs, use paint to enhance your fabric scenes and more with personalized support from fiber artist Anette Kennedy.
Sign Me Up!
What is your favorite way to color fabric?