Caramelized onions, with their tender sweetness and rich savory flavor, add an element of gourmet to even the most ordinary dishes. But while they might make your burger or dish of pasta taste like something off a fancy restaurant menu, caramelizing onions at home is easy to do!
Follow along to learn how to caramelize onions!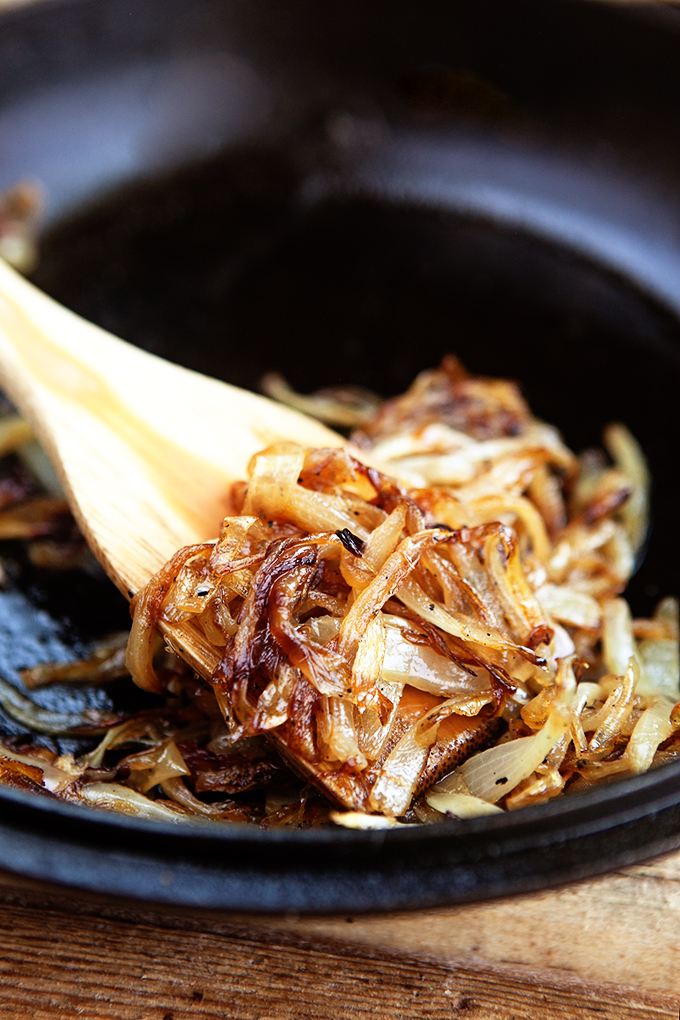 The secret
The secret to perfect caramelized onions is time. It takes less time to saute an onion so many people stop there, but good things come to those who wait. If you're patient and let those onions keep cooking, you'll end up with sweet and deeply golden onions that are so addicting you might find yourself picking them right out of the pan to eat.
To make sure you end up with perfect caramelized onions that will make even a potato taste gourmet, here are a few tips, tricks, and a step-by-step guide to caramelize onions.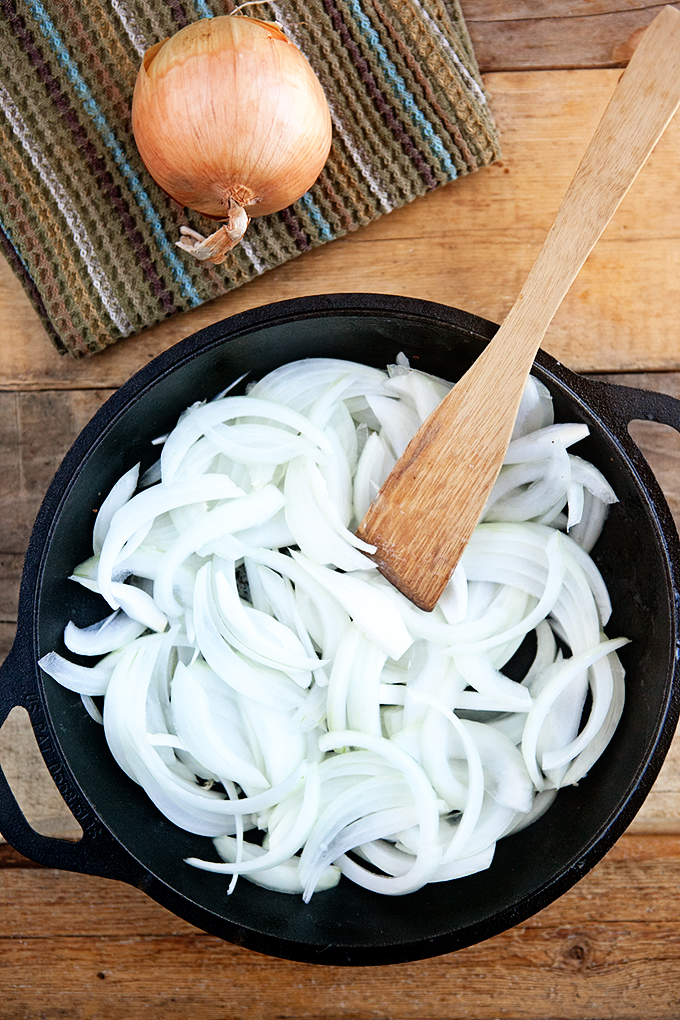 Preparing the onion
First, select your onions. Any onion will caramelize, but the most versatile onions are yellow onions, which caramelize easily and can be used in a myriad of dishes.
To prevent the onions from burning before they are caramelized, slice them at least 1/8″ thick. Slice them from root to stem. Alternatively, you can also dice them.
Equipment
The only equipment you'll need is a wooden spoon and a heavy bottomed skillet. Cast iron skillets work well, but any non-stick skillet will do the job. Keep in mind that the size of your skillet will determine how many onions you can saute at a time. You don't want to pack too many onions into the pan and you should be able to spread them evenly in the skillet. A 12-inch skillet can handle two large onions.
Get caramelizing
To begin, prepare two large onions. Add 1 tablespoon of butter and 1 tablespoon of olive oil to a 12 inch skillet and heat over medium heat. By mixing olive oil and butter, you'll keep the onions from burning or frying. You can also use 2 tablespoons of olive oil and skip the butter altogether.
Once the butter has melted, add the onions to the pan and begin cooking. Keep the heat at medium low, stirring the onions every 7 to 10 minutes. Turning up the heat won't caramelize them faster, it will just burn them, so keep the heat steady through the whole process.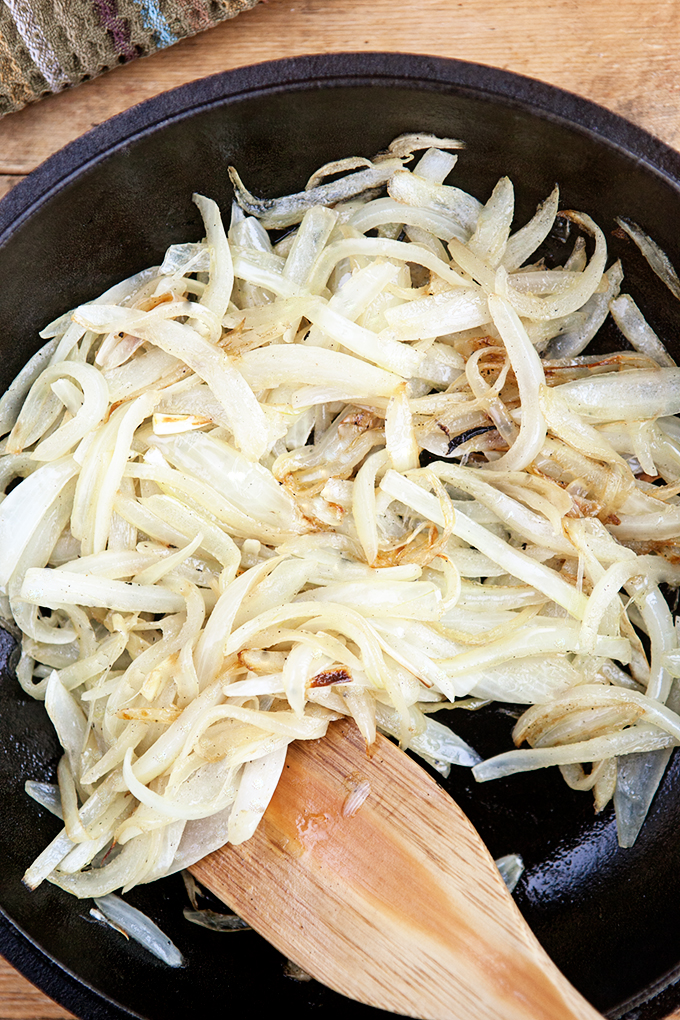 After about 20 to 25 minutes, the onions will have reached their halfway point (pictured above). They will be softened, beginning to yellow in color with some golden spots, and smell sweet. At this point, begin to watch them more closely, checking every 5 to 7 minutes and stirring.
As the onions begin to turn a deeper golden color and start to smell caramelized, taste them to determine when to stop cooking. I like to remove mine while they are still just a little bit firm, soft but not mushy. How deeply caramelized you want them is up to you and your taste preferences. I find that most onions, when you are cooking two at a time, are done around the 45 to 50 minute mark.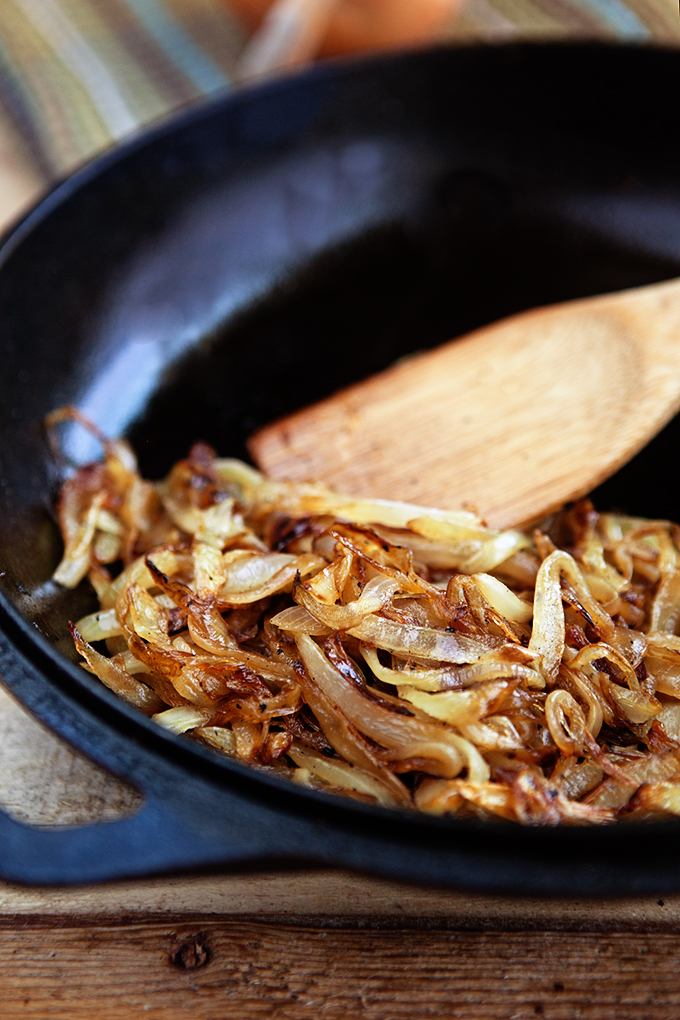 Bonus
Though you can stop when the onions are deeply golden and sweet, there is a bonus step that kitchen pros always take advantage of.
Once the onions are done cooking, add a few tablespoons of liquid (broth, wine, vinegar, water) to the bottom of the pan and put all the flavor there to good use by deglazing. As the liquid simmers, scrape it into the onions and then salt to taste.
Add the onions to your favorite fritatta dishes, put them on a burger, or toss them onto a pizza. If you're not ready to eat them yet, they'll keep in the fridge for up to a week or in the freezer for a few months.