Are you ready to take your love of pancakes to an international level? If so, it's time to learn how to make dorayaki, a sweet Japanese pancake sandwich snack.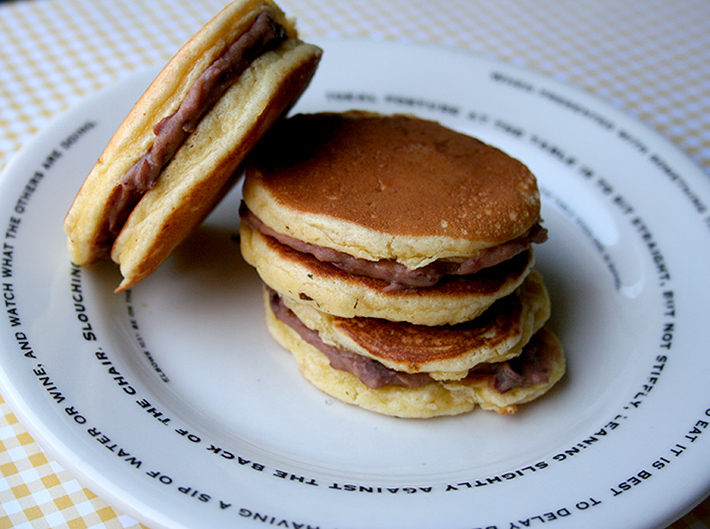 Learn how to make dorayaki, a delicious Japanese pancake snack!
Photos via CakeSpy
What is dorayaki?
First, picture a pancake. Then, top it with a generous dollop of jam — in Japan, it's often a sweet red bean paste jam — and stack a second pancake on top to form a sandwich. Now you've got the idea.

The word dora translates as "gong," which likely refers to the round shape of the pancakes. I like to think it's also a testament to their resounding tastiness, too.
The eggs are vigorously beaten before you incorporate the flour that makes up their bulk; this gives them a unique, fluffy texture.
As noted above, a sweet red bean paste jam is a traditional filling in Japan, but you let your taste buds decide the filling. Try your favorite jam, peanut butter, Nutella or even ice cream! I divided my batch and filled some with cherry jam and some with red bean paste.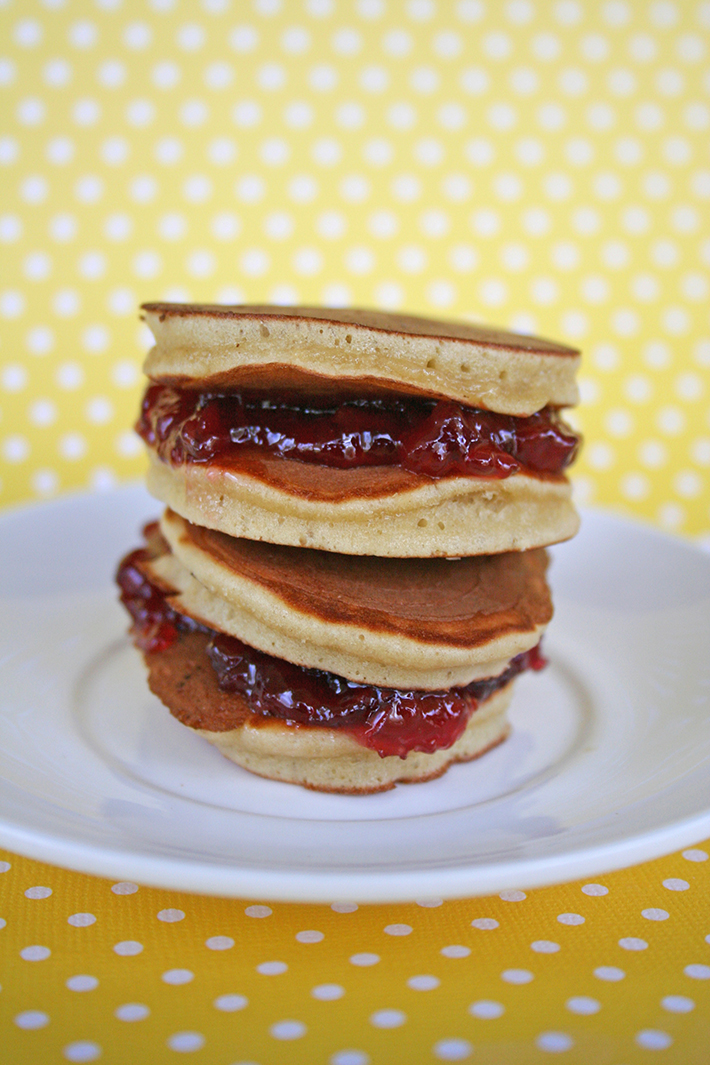 Dorayaki recipe
Makes about 8 sandwiches
For the pancakes:
2 eggs 
1/3 cup brown sugar, packed 
2 teaspoons honey
½ cup flour 
A pinch of salt  
For the filling:
1/2 cup red bean paste, jam, or other filling of your choice (see filling notes, below)
Step 1: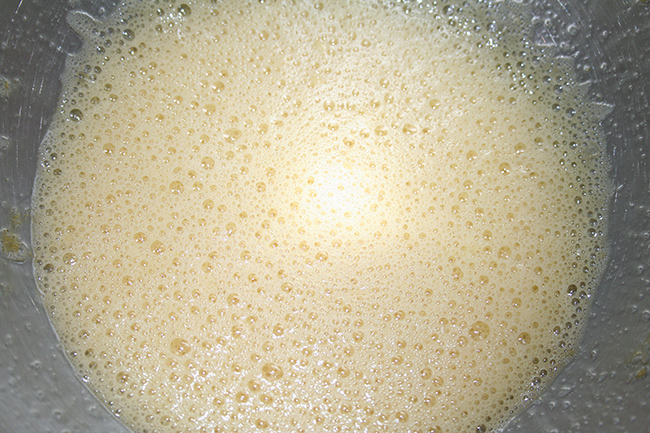 In a large bowl, or the bowl of a stand mixer fitted with the whisk attachment, combine the eggs, sugar and honey. Whisk by hand for 2 minutes, or using your mixer for about 1 minute on medium speed. The mixture will be foamy and thick. 
Step 2: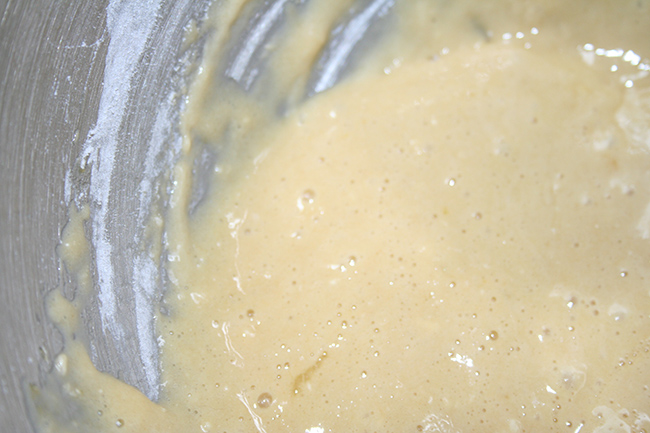 Sift together the flour and salt; stir in by hand to the egg mixture. Mix just until evenly moistened — a few minor lumps are fine. If the batter seems too thick, add a teaspoon or so of milk. 
Step 3:
Heat a skillet over medium heat (you don't want it too hot for these delicate pancakes) and pour about a teaspoon of vegetable oil (or butter) on the skillet. Being very careful, use a paper towel to spread the oil across the surface. Basically, you want the thinnest layer possible of oil. 
Step 4:
Spoon about 1 heaping tablespoon of the batter onto the hot skillet to form each pancake. You can cook a few at a time, as space permits.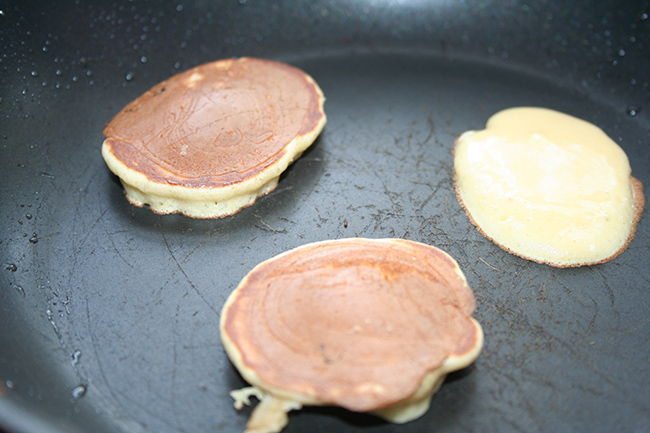 The first side takes between 30 and 60 seconds to cook, depending on the heat of your pan and the size of your cakes. Look for a slight matte look around the edges and flip as soon as it feels like a spatula can slide under with little resistance.
Flip the cake and cook the second side, noting that the second side will cook quicker than the first. 
Step 5:
Remove the pancakes and transfer to a plate while you continue with the remaining batter. Replenish the oil/butter as needed. Pair together similarly sized pancakes.


Step 6:
To assemble, spoon some of your chosen filling on the top of one pancake, and sandwich a similarly sized pancake on top. Serve immediately.
Filling notes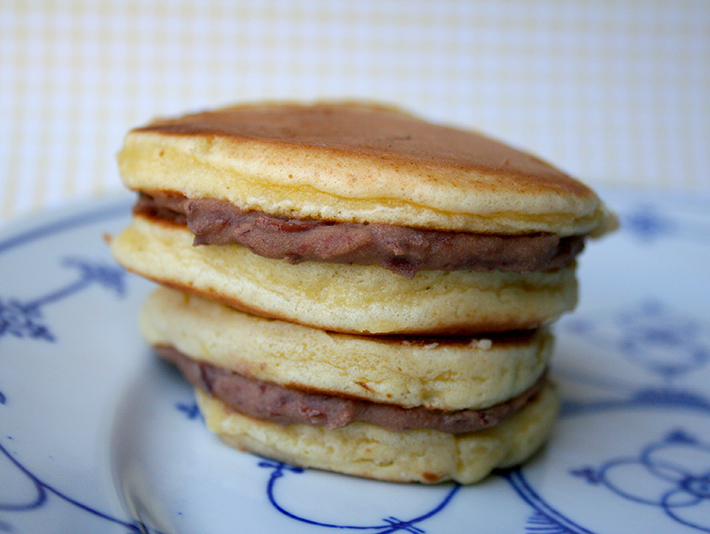 Sweet red bean paste
One of the most traditional fillings for these sweet pancake sandwiches is sweetened red bean paste. You can purchase red bean paste at Asian grocery stores, or make your own by pureeing about ¾ cup of cooked Adzuki red beans with ¼ to ½ cup sugar (to taste). If the mixture is too thick, thin with a bit of vegetable oil.
Alternative filling ideas
However, if red bean paste isn't for you, you can choose to fill these pancakes however you like. Personally, I love them filled with raspberry or strawberry jam.