One of the best ways to eat healthy garden-fresh foods is to plant herbs. These edible plants are attractive, easy to grow and absolutely delicious. But where should you begin? Here are my top five herbs for growing in your garden.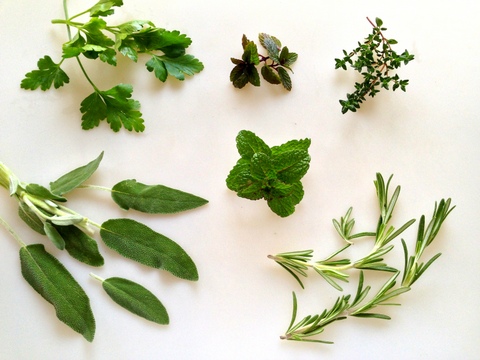 First off, let me explain how I selected these Top 5 herbs for gardens. They all are easy to grow and commonly found in local garden centers. Several of these herbs – such as rosemary, sage and thyme – are drought-tolerant once established.
But perhaps most importantly, all of these herbs are pretty in the garden and versatile in the kitchen. Once you start growing them, you'll wonder how you ever lived and cooked without these herbs.

1. Parsley
If you consider parsley a simple garnish, you're missing out on a healthy and versatile herb. Parsley is like a multivitamin in a plant. The herb is loaded with nutrients like vitamins A and C, as well as minerals such as calcium and iron. So, add parsley to your meals, and don't leave it on the side of your plate.
Parsley is a biennial grown as an annual, which is hardy to USDA Hardiness Zones 5 to 9. You can grow the flat-leaved type (shown above) or curly leaved types. Parsley thrives in moist, well-drained soil in full or partial sun. I often start this herb from transplants, because it's so readily found at local stores. If you decide to start this herb from seeds, be patient. Parsley seeds germinate slowly, often taking nearly a month for seedlings to appear.

2. Sage
It's a smart idea to grow culinary sage (Saliva officinalis). The herb's edible leaves have been used for medicinal and culinary purposes for many centuries. That's probably a big reason why a "sage" is another name for a profoundly wise person.
Native to the Mediterranean, sage plants like warm, sunny locations. The drought-tolerant herb isn't picky about its soil, but does require plenty of drainage. Sage seeds can be a little unreliable in the garden, but culinary sage transplants are easy to find in most gardening centers. The attractive herb often blooms in summer, and the edible flowers can also be used in the kitchen. This perennial is hardy in Zones 5 to 9.

3. Rosemary
As Ophelia said in Hamlet, "Rosemary is for remembrance. Pray you, love, remember." Shakespeare apparently knew his stuff, as recent medical studies reveal rosemary may indeed be effective against memory loss.
You'll want to remember this rugged herb in the garden. Rosemary thrives in a sunny location in lean, well-draining, slightly alkaline soil. The aromatic herb stands up to salt air, windy weather and drought conditions with few complaints. In Zone 6 or lower, you'll want to grow rosemary in a container, so you can bring it indoors in winter. In northern regions try "Arp" rosemary, which can stand up better to the cold.

4. Thyme
It's time to make room for thyme in your garden. This culinary herb is deliciously fragrant and available in different flavors like orange, lavender and golden lemon (shown above). In earlier centuries, fairies were believed to live among the wild thyme. Only lucky gardeners and cooks live among thyme plants these days.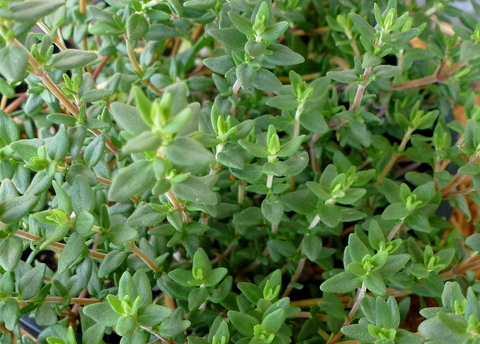 Thyme grows well with other drought-tolerant Mediterranean herbs. The easy-care herb likes full sun, gritty soil and good air circulation. Thyme is especially attractive in containers, where it compliments other herbs or flowers. French thyme is shown here.

5. Mint
Whether you're sprinkling mint leaves atop a fruit dessert or adding a handful to green salads, this culinary herb brings a minty fresh taste to different meals. "Mojito" mint, shown above, is commonly used in the popular rum drink.
Mint grows so easily, the roots (or runners) can be invasive and take over your garden. That's why I strongly recommend you plant your mint in containers, rather than directly in the soil. Believe me, you'll thank me later.
This popular herb thrives in rich, moist and well-drained soil. In hot climates, plant mint where it receives morning sun and afternoon shade. To extend the harvest, pick the mint flowers as they appear and use them in soups, salads or drinks.
Use the parsley, thyme, rosemary and sage to make a bouquet garni seasoning. This French cooking technique adds flavor to all sorts of food.
How do you like to cook with homegrown herbs from your garden?