Risotto is known for being rich and creamy. But while risotto may be the epitome of fancy, Italian cooking, there really is such thing as guilt-free risotto. Packed with kale, spinach greens and delicious pesto, this is one healthy risotto recipe that doesn't skimp on flavor.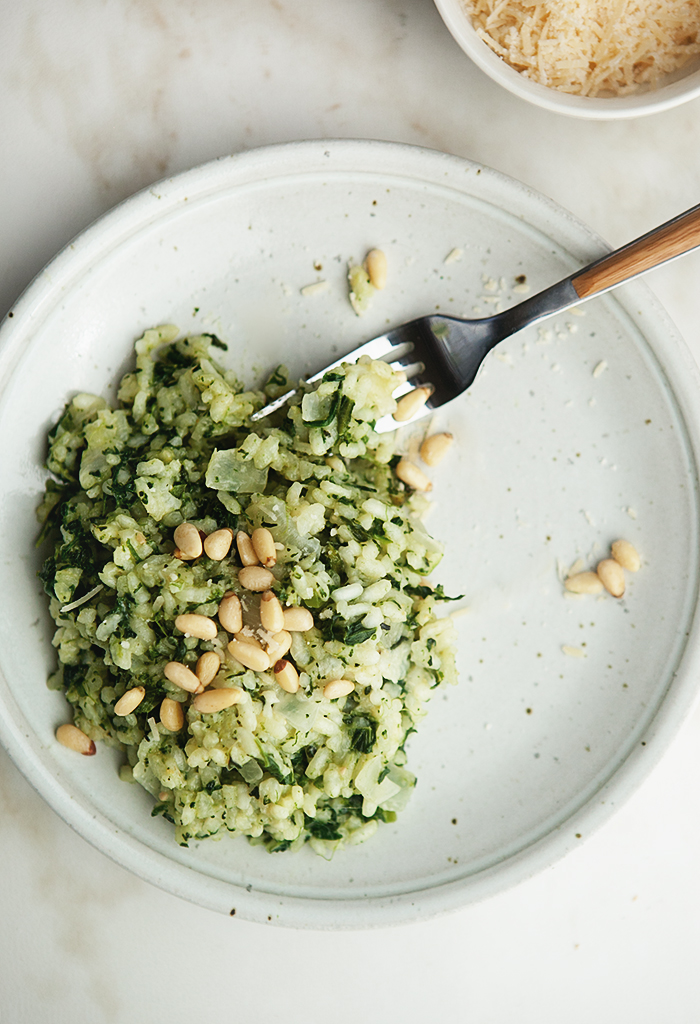 There's one sure way to get my family to eat their greens: add them into a pot of creamy, rich rice and call them pesto. I serve a big steaming pot of this pesto risotto alongside a piece of pan-grilled salmon, and it works true magic at the dinner table. No one complains with this healthy risotto recipe, everyone eats and murmurs little exclamations of happiness after each bite.
While green food is sometimes public enemy number one at my house, no one even thinks to comment on the color of the pesto risotto, let alone ask if there might be vegetables in it. They're too busy eating every single bite. A good, creamy risotto can work all kinds of magic. 
There was a time, however, when I let risotto's bad reputation keep me from attempting it in my own kitchen. It's known for being rather fussy – a time-consuming, finicky recipe that requires a lot of attention.
Don't let such silliness fool you! Perhaps those stories were started by the Italian chefs who wanted to keep this impressive dish in the restaurants and away from home cooks, but let me assure you with complete confidence that this is one classic Italian dish you can most certainly make for dinner tonight.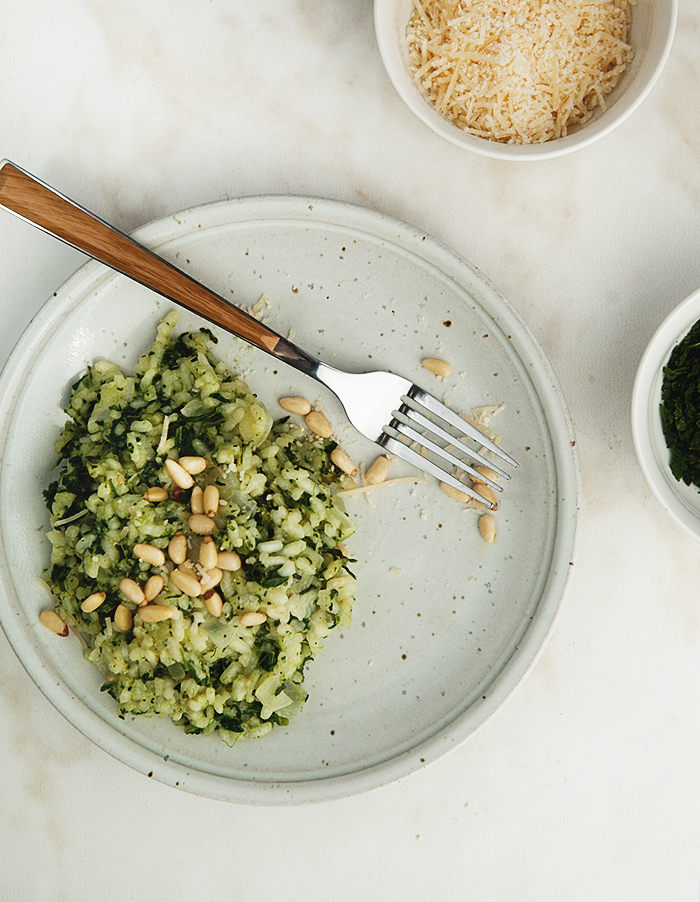 You will have to hover near the stove while it cooks (I always take this opportunity to organize the spice cupboard next to the oven and wipe out the bread box), but it doesn't take more than 30 minutes from start to finish, which really is no big deal. 
The key to simplifying risotto and making it easier at home is to do a little mise en place (i.e. have everything ready, portioned out and within arm's reach of your rice pan). After that, just keep an eye on it and remove it from the heat as soon as it's the perfect consistency. 
They key to making this classic dish a little bit healthier is to add in the greens. Using spinach and/or kale, along with fresh basil leaves, not only gives your risotto a gorgeous emerald glow, it also adds so many good vitamins and nutrients.
Pesto risotto really is the most flavorful risotto dish you'll ever make – the health factor is just an added bonus! 
Healthy risotto recipe
Ingredients:
6 cups chicken stock
10 oz package of frozen spinach or kale or a spinach kale blend, thawed and thoroughly squeezed to release excess water
1 cup fresh basil leaves
2 tablespoons butter
1 small onion, chopped
4 cloves garlic, minced
1 1/2 cups arborio rice
1/4 teaspoon salt, or to taste
1/2 cup dry white wine
1 cup shredded Parmigiano-Reggiano cheese, divided
1/3 cup toasted pine nuts
Freshly ground pepper to taste
Directions:
1. In a medium sauce pan, bring the stock to a low simmer over medium heat. Reduce the heat to the lowest temperature and cover. 
2. In a food processor, combine the thawed, drained spinach/kale and basil leaves. Puree until smooth. Set aside. 
3. In a Dutch oven, melt the butter over medium-low heat. Add the onion and sauté until softened. Stir in the garlic and cook for an additional minute. Add the rice and salt and toss gently in the butter to coat. 
4. Stir 1/2 cup hot stock and a splash of wine into the rice. Cook, stirring frequently, until the liquid has been absorbed. Repeat this step, adding stock in 1/2 cup increments with a splash of wine until most of the liquid is absorbed. The risotto is done when all of the stock and wine have been added and the rice is creamy and tender – a thick porridge-like consistency. This should take about 20 to 25 minutes. 
5. Stir in the basil-spinach puree and 3/4 cup of the cheese. Serve topped with the remaining cheese, pine nuts, and fresh cracked pepper.
Eat warm, ideally as soon as it finishes cooking. Pairs well with salmon. 
What's your favorite healthy risotto recipe?