It's no surprise that handheld sewing machines are a new trend on the horizon. The small, easily portable machines are great for sewists on the go, for busy moms, and are especially awesome for traveling. I love using my handheld machine to save me the trouble of lugging out the big guy for easy, everyday fixes.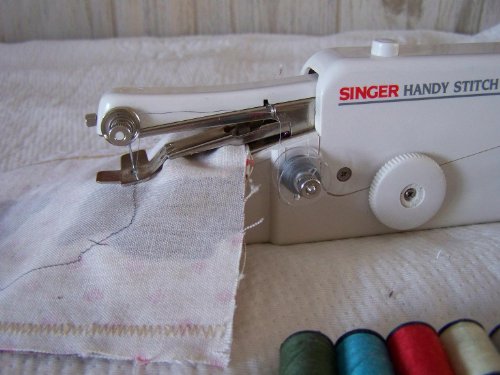 Handheld sewing machines provide so many benefits like flexibility, thrifty pricing and the fact that for many models, no electricity is required! They are perfect for doing simple projects or a little mending without bringing out your full-sized machine. If you're thinking about purchasing a handheld sewing machine in the near future, we've reviewed four popular models, weighing the pros and cons for each to help you decide which one suits you best.
Handheld sewing machine reviews
1. Michley Lil' Sew & Sew
This handheld machine is a popular choice among sewists and usually retails in the $15-$20 range, depending on where you shop. It weighs less than a pound, making it easily portable in a suitcase or backpack. This machine is battery operated and requires 4 AA batteries (make sure to always have an extra set with you!) If you run out, the machine can also plug into an outlet.
As far as the cons, the instruction manual is very difficult to read and the machine has a great inability to work well on heavy fabrics such as denim or canvas. Overall, it's a really great machine for everyday sewing with a lot of popularity.
2. Singer Stitch Sew Quick
This handheld machine retails for under $20 as well. It's easily operable with AA batteries and also has an optional AC adapter (must be purchased separately.) Just be sure not to thread and drive! This machine comes with four bobbins and three needles that all fit within the machine, giving you more variation while on the road.
The biggest con of this machine is its difficulty to thread. The holes are tiny, the threading ropes course is long, and even the best of eyes will have to strain to see the thread through the needle's eye.
3. Sunbeam Handheld Sewing Machine
This machine is very similar to the Singer Stitch Sew Quick. It's very portable and small enough to fit in your purse. This one works just fine on most thin fabrics, but the machine can handle very little bulk and doesn't perform well on any bottom weight fabrics. One great thing about the Sunbeam is its very tiny size, which can be helpful when traveling this summer. This model is okay for travel, but for everyday use at home, I'd choose a beefier model.
4. Handy Rex Sewing Machine
This machine definitely captivates me with his looks and a great name. A T-Rex sewing? Now that is a site for sore eyes. This sewing machine is by far my favorite, and you can find it in most sewing retailers and department stores (Walmart, Target, etc.). The great draw with this one (and maybe where it gets its name from) is a company claim that it has the same power as a standard-sized sewing machine. Whoa! I tried it out on a pair of gently worn jeans and it really lived up to the claim.
The machine has a great price for some of the qualities it comes with, like extra bobbins and needles. It also touts the popular battery operated/AC adapter, but this one comes with the adapter at no extra price.
The only complaint I have heard with this model is that they are not very well made, sporting a plastic body instead of a metal one like many other models. Although, they sure do make the plastic look good!
What do you think of handheld sewing machines?