Hand embroidery is a tactile art. It begs to be touched! Why? Usually because texture and dimension are a noticeable part of embroidery.
Sometimes, texture and dimension happen accidentally, but often, designers purposely add dimension and texture to their embroidery projects in order to increase their beauty and interest.
In the first part of this series on dimension and texture in hand embroidery, we're going to look at common embroidery threads and how their fiber, weight and twist help add dimension and texture to embroidery.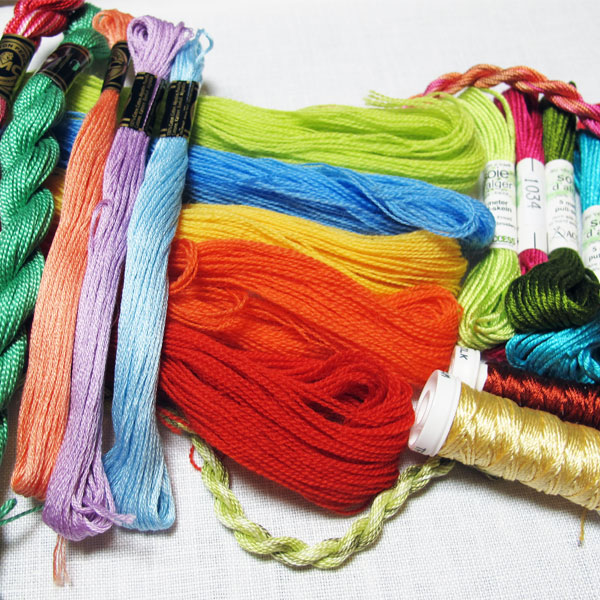 Hand embroidery threads: cotton, wool and silk
While there are many types of threads on the market that can be used in hand embroidery, we're going to concentrate first on the most common fibers used for surface embroidery: cotton, silk and wool.
Cotton embroidery thread
Stranded cotton
The most popular cotton thread used in hand embroidery is undoubtedly stranded cotton, which is also called "embroidery floss" in the United States.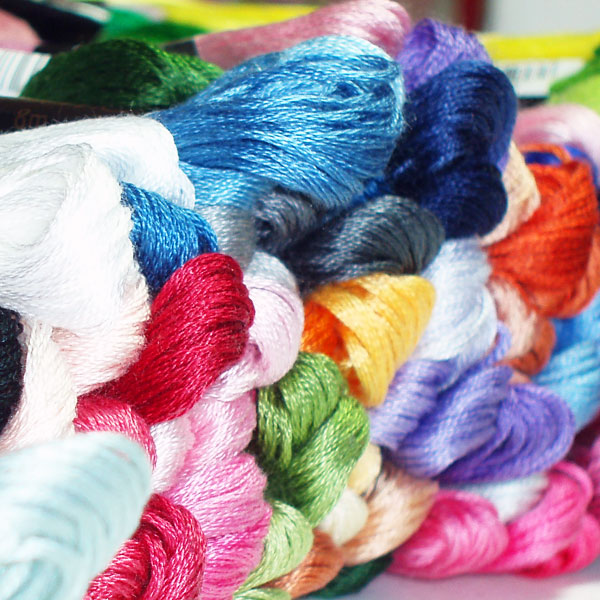 Stranded cotton embroidery floss
Stranded cotton comes in skeins, and the whole thread that comes off the skein is divisible into six separate, fine threads. Each of these threads is made up of two smaller plies that are softly twisted together.
Because of its soft twist, texture and dimension depend more on the weight (thickness) of the floss and the type of stitch, rather than on the twist of the thread.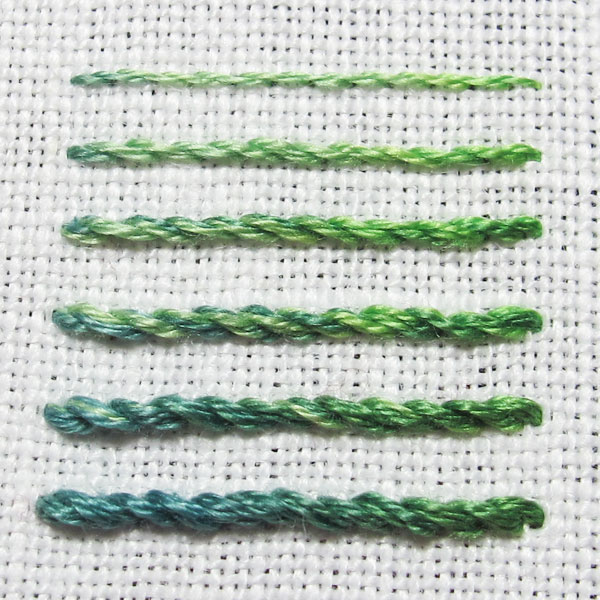 Stem stitch in stranded cotton with one to six strands of floss; photo via Needle 'n Thread
When embroidering with stranded cotton, you can choose to use any number of strands, from one to six. If you use one strand of cotton, the resulting embroidery will be quite fine. As you add strands, the resulting embroidery becomes heavier. If you stitch with all six strands, the stitches become chunky.
The number of strands you choose depends on the look you're trying to achieve. If you want to add more texture and dimension to your stitching, you can do so simply by using more strands in the needle at one time.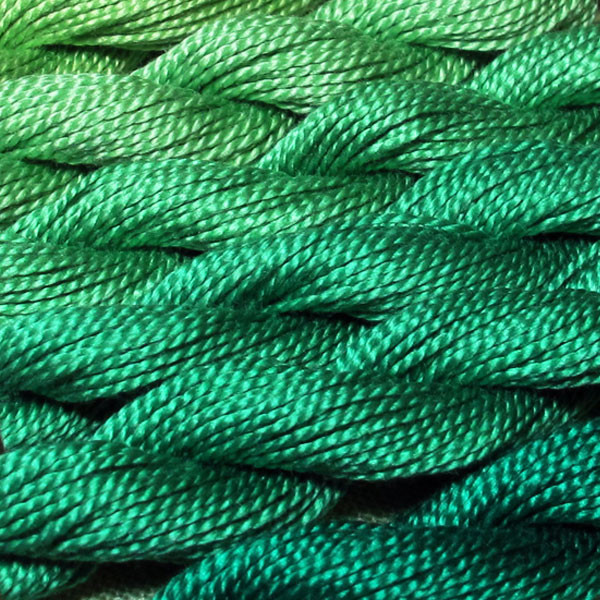 Perle cotton #5; photo via Needle 'n Thread
Perle cotton
Perle cotton is a non-divisible embroidery thread that is popularly used for needlepoint and surface embroidery. It is a non-divisible thread, which means you use it right off the skein without separating it.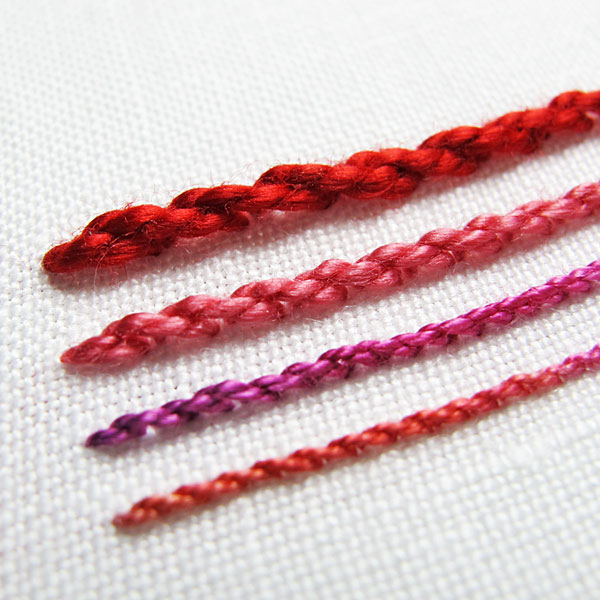 Stem stitch with perle cotton #3, #5, #8 and #12; photo via Needle 'n Thread
Made up of two plies, perle cotton is tightly twisted, so, overall, the thread achieves a much more textured effect in stitching than regular cotton floss does. Just by virtue of the twist of perle cotton, the thread already adds a certain texture to needlework. Because it is normally heavier than floss, line stitches like stem stitch and chain stitch usually sit higher up on the fabric, compared to the same stitches worked with floss.
Perle cotton comes in four sizes normally used in needlework: #3, #5, #8 and #12, with #3 being the heaviest and #12 being the finest.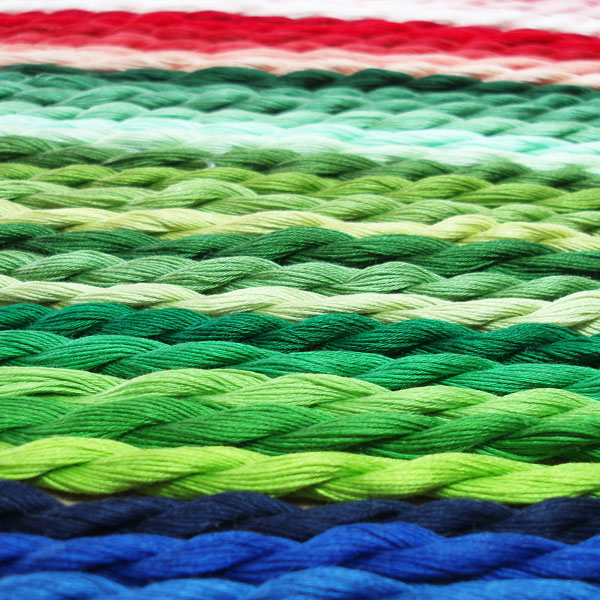 Cotton floche; photo via Needle 'n Thread
Other cotton threads for hand embroidery
Besides floss and perle cotton, there are other cottons created specifically for hand embroidery. These include floche and coton a broder, both of which are excellent hand embroidery threads. They're both softly twisted threads, and they create a relatively smooth finish when stitched.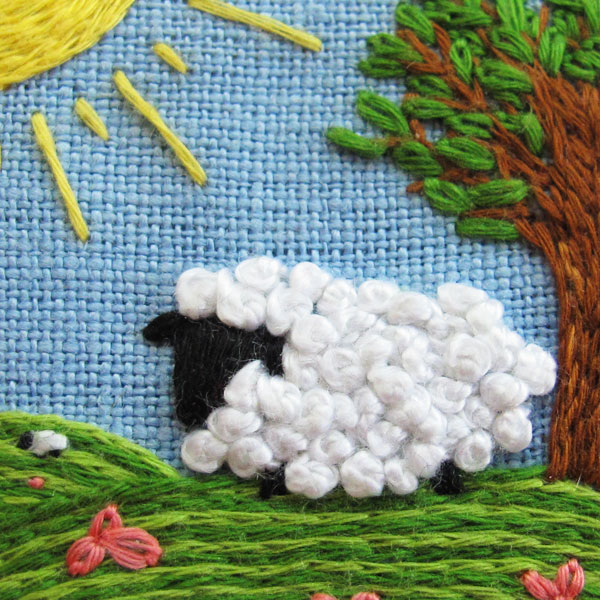 Cotton floche and perle cotton #3 in one project; photo via Needle 'n Thread
In the photo above, the green hills, tree and sun are stitched in floche, while the sheep is embroidered with large, chunky French knots in perle cotton.
Silk threads
Silk is the Cadillac of embroidery threads. Of all natural embroidery fibers, silk is not only the strongest, but it also has the highest sheen.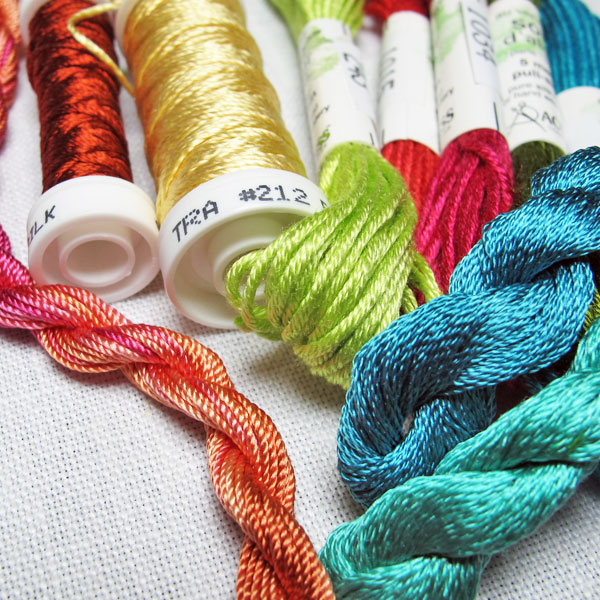 Silk threads used for hand embroidery; photo via Needle 'n Thread
Two types of silk are used in embroidery: spun silk, which is made from broken and leftover cocoons, and filament silk, which is made from single silk filaments as they are pulled from the whole cocoon.
Stranded silk, which behaves much like stranded cotton, is made from spun silk, while other silks (flat silks, buttonhole silks and other tightly twisted silks) are made from filament silk.
Consider silks almost the same way you consider cottons. The heavier the thread and the more tightly twisted it is, the more texture you can achieve with very little effort.
Wool embroidery threads
Wool embroidery threads (called crewel wool or tapestry wool) are perhaps the most tactile of the threads discussed so far.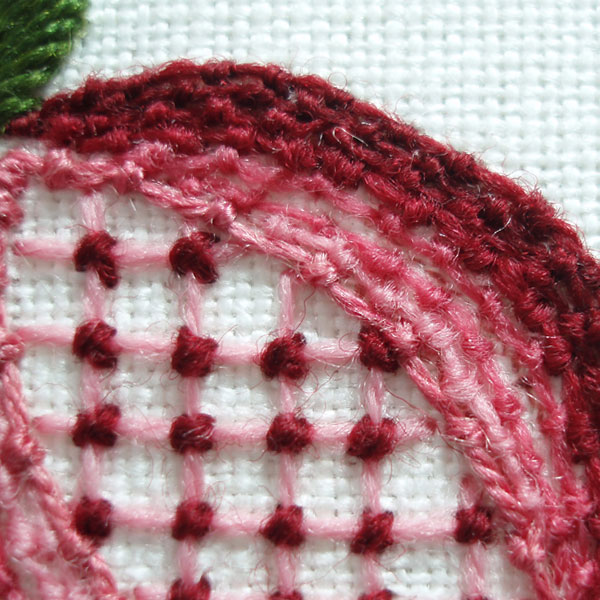 Crewel embroidery with wool thread; photo via Needle 'n Thread
Wool is hairy, after all!
Wool is a great choice of thread to use anywhere you wish to achieve a fuzzier effect on your embroidery.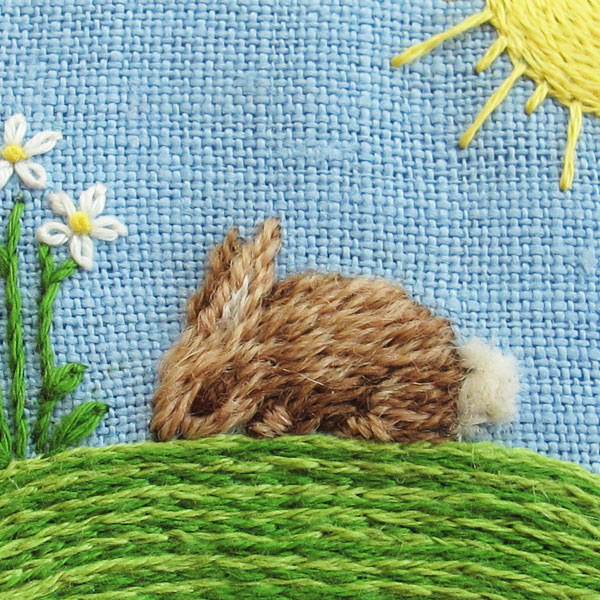 Bunny embroidered in wool, with fluffy tail in velvet stitch; photo via Needle 'n Thread
In the photo above, the tiny bunny is stitched in wool, while the grass and flowers are stitched in cotton. Wool works well for animal coats!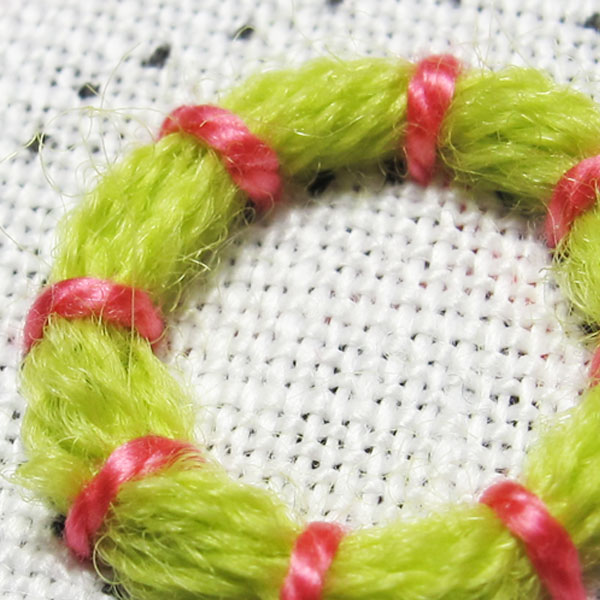 12 strands of wool, couched with perle cotton; photo via Needle 'n Thread
When stitching with wool, you can use one strand or more in the needle at once.
Just as with cotton and silk, the number of strands you use will determine the thickness of the embroidery. Wool by nature is already thick and it covers quickly, but if you want chunky, wooly embroidery, just use more than one strand in the needle at once.
Putting it all together
Besides working with different weights of specific kinds of embroidery threads, combining various fibers together in one project creates contrast, which adds to the textural nature of the embroidery.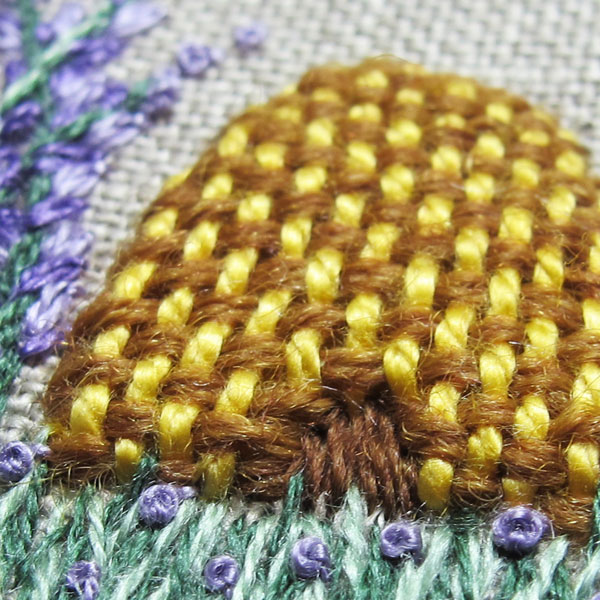 Crewel wool and Trebizond silk in woven stitch. Photo via Needle 'n Thread
In the photo above, silk and wool work together to create a woven filling that's textured and dimensional. The thickness of the threads and a little felt padding underneath lift the embroidery off the ground fabric, and the different textures in the silk and the wool provide contrast and interest to the filling.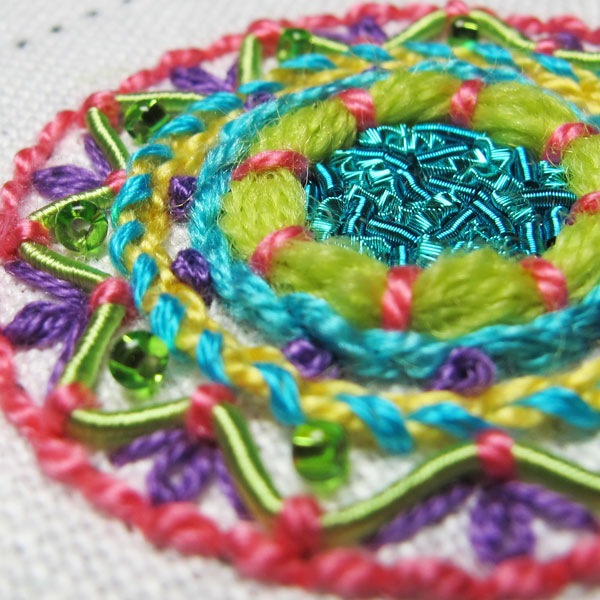 Wool, silk, cotton, synthetic and metal threads in one project; photo via Needle 'n Thread
Above, I've combined wool, silk, cotton and some specialty threads in a variety of stitches to create a whole conglomeration of texture and dimension on the fabric surface.
Experiment with your embroidery!
To get the hang of adding texture and dimension to your embroidery, the best approach is experimentation. Play around with threads and stitches to see what combinations you like best!
In my next article, we'll look at other materials that can be used to add texture and dimension to hand embroidery, including specialty threads. Then we'll follow up with a little embroidery project!
Over to you…
What are your favorite ways to add dimension and texture to your embroidery projects? Do they just come about accidentally for you, or do you purposely plan your projects with dimension and texture in mind?