Whether or not you're sewing the Flower Basket quilt, there's still a lot you can learn from designer Kate Colleran. Here, she shares a few tips and tricks for making half-square triangles that you can use for the Flower Basket or another quilt project!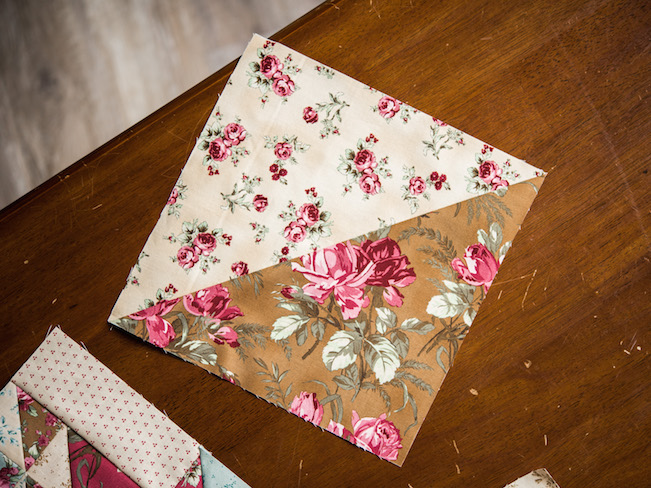 Quick tips for better half-square triangles
Tip #1: Cut larger pieces
There are many different ways to make half-square triangles, but Kate's favorite method is cutting oversized pieces and trimming them down. For example, if you need to make an unfinished HST that's 10.5″, cut the squares first to 10-5/8″. This way, you can trim down the excess to get perfect, accurate points exactly where you need them.
Tip #2: Line it up just right
Instead of just placing your ruler on your diagonal line and cutting away, take this extra step to place it perfectly: Set your ruler right at the point closer to you. Position your rotary cutter in place. Then, move the top of the ruler to align it with the top of the corner. You'll find that your cut is perfectly precise!
Tip #3: Use a square ruler to perfectly square up blocks
Squaring up half-square triangles is easier than ever when you use a square ruler. Position the diagonal line of your ruler along the seam line of your block. Check that the corners are perfectly aligned. Trim the right side and the top first, then rotate the block and trim the other sides.
But what if your square ruler isn't the same size as your HST block? Try this technique.
Tip #4: Press your seams open
Some quilters think pressing seams open is always a bad idea, but it can be useful! If you press your seams open, your half-square triangle blocks will lay much flatter and the intersections will line up more accurately.
You can get more of Kate's quick tips by watching the video tutorials that come with the Flower Basket kit. Grab the kit and sew alongside our community of makers!