There's nothing better than busting out the grill during the hot, summer months. It keeps the house cool and there is always much less cleanup involved. Plus, that savory, grilled flavor. I just can't get enough!
Today I've created an easy vegetarian appetizer that you and your friends are going to love. This grilled zucchini recipe is easy to make and loaded with fresh, summery flavor.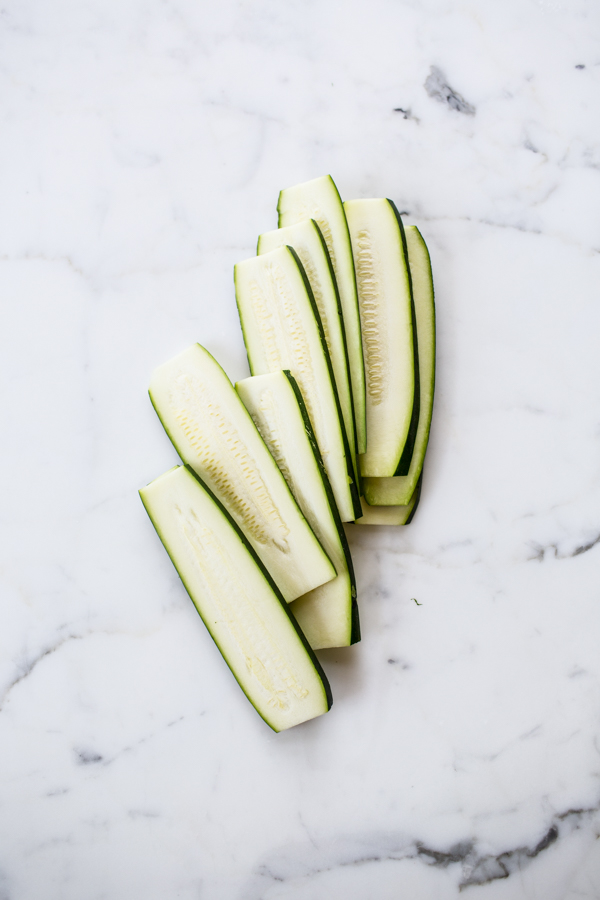 Photos via Edible Perspective
Zucchini seems to be one of those vegetables people always have too much of in the summer. They just grow so quickly in the garden! But if you're like me, you tire of zucchini quickly and run out of new ideas on how to prepare it. However, now you won't have to worry any longer! This recipe is about to solve your zucchini rut. I promise!
You'll start off by slicing long, thin slabs of zucchini and grilling them for just a few minutes on each side. Then, you'll mix up a simple goat cheese stuffing that you'll spread on each grilled zucchini slab.
I highly recommend making an extra batch of the goat cheese mixture because you're going to want to spread it on everything you see! It would be excellent on toast, mixed in pasta, eaten with raw vegetables and spread onto crackers. It's addicting stuff! I'm warning you now.
Roll up your zucchini, secure it with a toothpick and you're all set. Just don't forget the kalamata olive. It adds a nice salty bite!
This appetizer can be eaten warm, room temperature or even chilled. Feel free to serve with a few sprigs of fresh herbs and a lemon wedge or two. You can even consider these as a side-dish or chop them up and use as a salad topping.
Any way you go about it, you won't be disappointed.
Grilled Zucchini Rolls with Herbed Goat Cheese: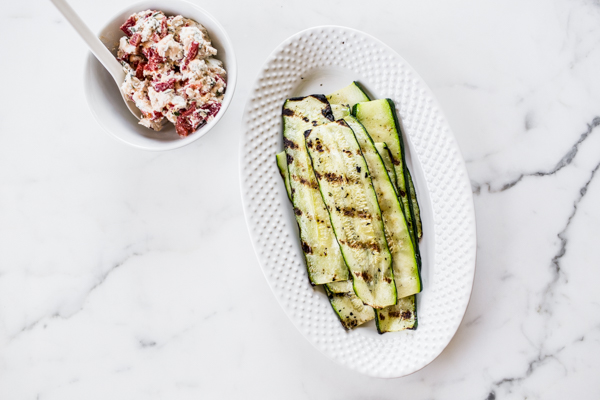 Yield: 8-10 rolls
Ingredients:
3oz goat cheese
2-3 teaspoons freshly chopped herbs (thyme, oregano, parsley work well together)
1/8 – 1/4 teaspoon salt
1/8 teaspoon pepper
1/8 teaspoon garlic powder
3 tablespoons diced roasted red peppers
2 medium zucchini (about 7-inches long and 2-inches wide)
Oil for grilling
Kalamata olives
Step 1:
Preheat your grill to medium, or 350F.
Step 2:
Mash goat cheese with a fork, in a small bowl until softened. Mix in herbs, salt, pepper and garlic. Taste and add more salt if desired. Gently mix in the roasted peppers. Set aside.
Step 3:
Trim the ends and slice your zucchini lengthwise into about 1/8-1/4-inch thick and even slabs. Lightly oil on both sides.
Step 4:
Once the grill is hot, lay zucchini on the grill grates and let cook for 2-3 minutes, until grill marks start to appear. Flip, and grill another 2-3 minutes.
Step 5:
Remove from the grill and place on a cooling rack. Let cool for 5-10 minutes.
Step 6:
Spread 2-3 teaspoons of the goat cheese mixture down the length of each zucchini slab. Roll tightly. Skewer an olive on a toothpick and press into each roll. Serve at room temperature or chill before serving.
Notes:
You can make these a few hours in advance, but save the toothpick and olive addition until just before serving. They will keep in the fridge for a few days, but best served (for a party/company) the day of.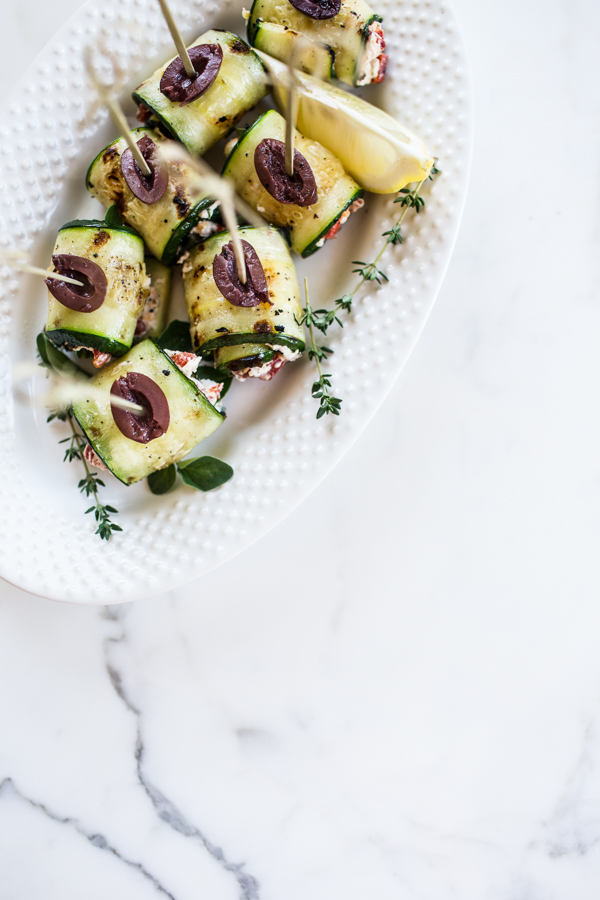 New Online Food & Cooking Class
Learn the techniques you need to grill your best meat, fish, veggies and more!
Enroll Now »