When you think about grilling in the summer, you probably think about meats and veggies. They're certainly the most common foods to find on the grill, but they're not the only ones. You might be surprised how well some other foods hold up to grilling — and grilled pizza is one of them!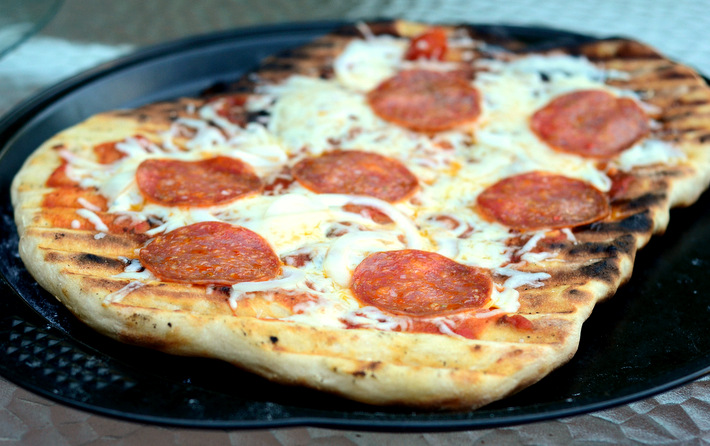 Pizza on the grill has a similar flavor to pizza prepared in a high-temperature pizza oven. Not only can it be prepared quickly, but it just might change the way you make pizza at home forever. 
Grilled pizza is easy to make in a wide variety of flavors, from simple margherita pizza to a pizza piled high with toppings.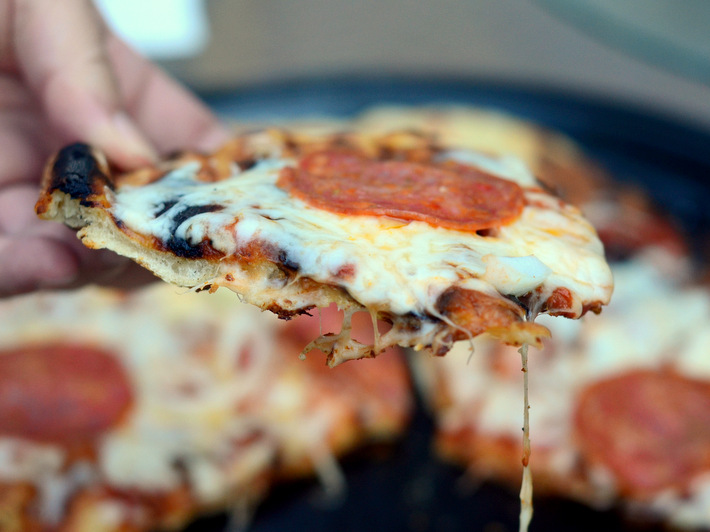 The pizza dough
When it comes to the dough, you don't need to do anything special for grilled pizza.
You can make your own dough, or buy pre-made pizza dough, which is often available in the refrigerated section at grocery stores.
Once you have your dough, you need to let it rise completely (or let it come to room temperature, in the case of the refrigerated dough) before you can work with it.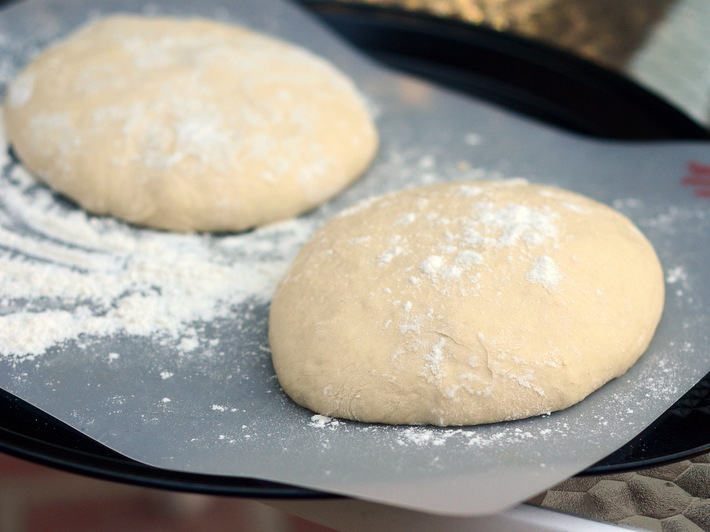 The dough needs to be stretched by hand to shape it into a round that's 10″ to 12″ in diameter. There are three ways to do this:
Tossing it in the air (it's a spectacle, but I wouldn't recommended it unless you have pizza parlor experience)
Holding the edge of your ball of dough slightly above the counter and letting its weight stretch the dough out while you rotate it
Pressing or rolling it out on a lightly floured surface.
Your dough doesn't need to be a perfect circle, but it does need to rest on a flat, lightly floured surface when you're done shaping it so that you can slide it onto the grill. I used the back of a baking sheet, but use a pizza peel if you have one.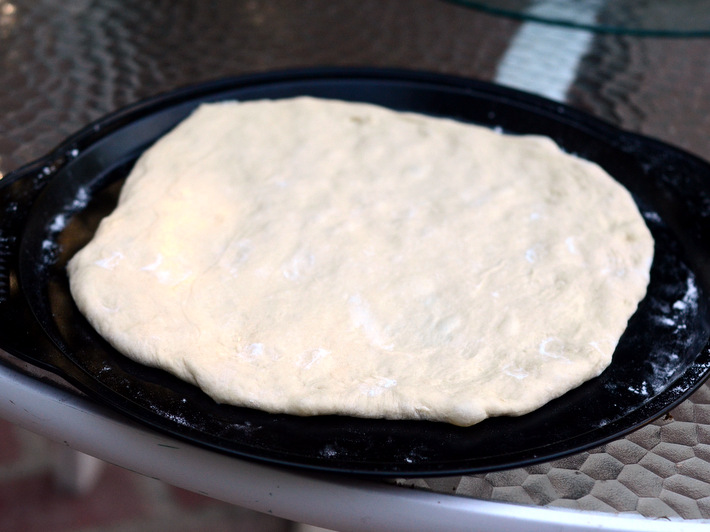 How to grill the pizza
I have a gas grill, but charcoal or gas can be used as well. A charcoal grill will give the pizza a smokier flavor, but the cooking time is short enough that you won't noticed a significant difference in the flavor of the finished pizza.
With a hot grill (at least 450-500 F), you'll need to cook each side of the dough for about 2-3 minutes.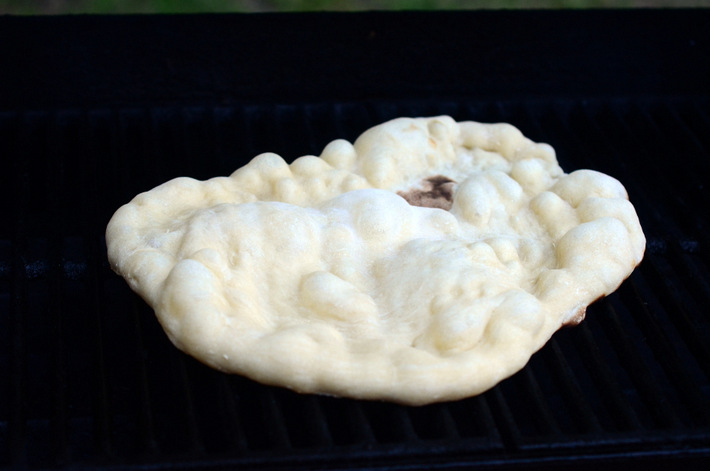 I grilled one side, then flipped the pizza over and added my toppings. Then, I closed the lid briefly to melt the cheese before serving.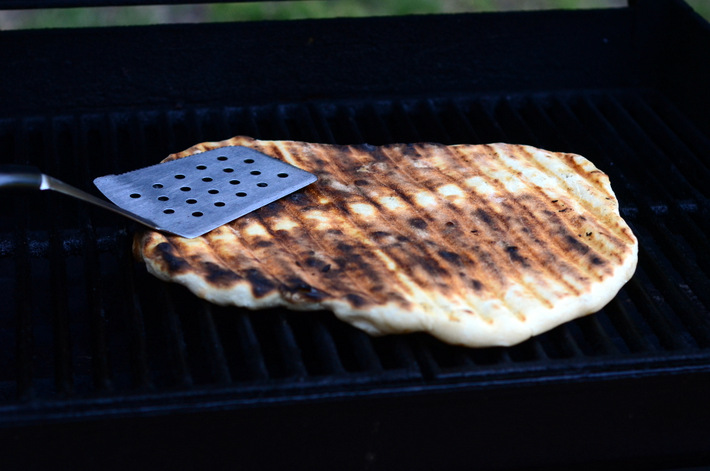 Topping your pizza
For this post, I chose a classic pepperoni pizza with a fresh tomato sauce and mozzarella cheese.
If you want to use toppings that require additional cooking — for instance, grilled peppers or caramelized onions — they should be cooked in advance. The cooking time for the pizza dough is only long enough to melt cheese and heat everything up, not to thoroughly cook additional toppings.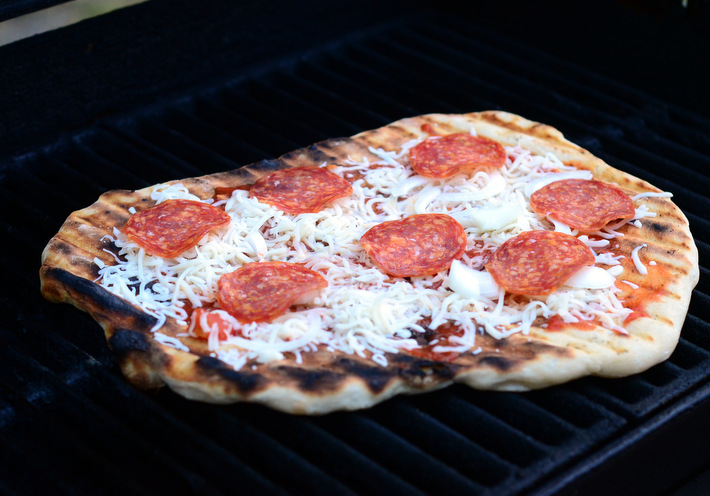 The pizza below is topped with fresh cherry tomatoes, goat cheese and sweet Maui onions. The cheese melts while on the grill and the other ingredients warm up, but don't get completely cooked.
It's a great combination for summer, especially if you have extra sweet cherry tomatoes available. It's not the most traditional topping combination, but it just shows that you can get creative with your dough!!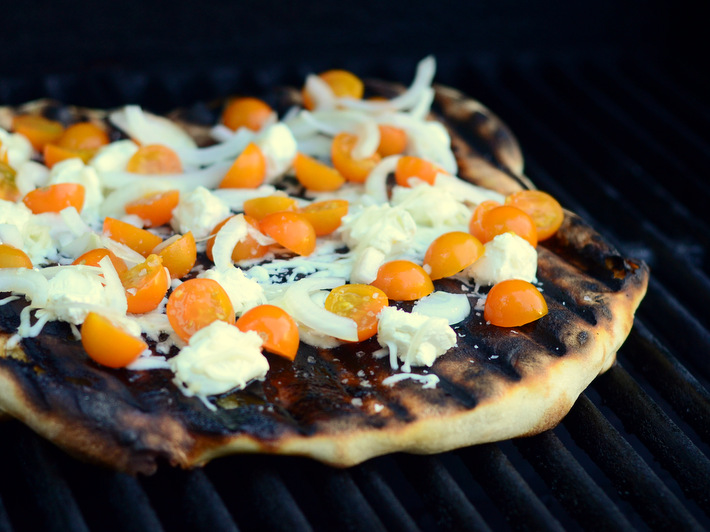 Grilled pizza recipe
Makes 2 pizzas; serves 6-8 people
Ingredients
2 portions of pizza dough, approximately 8 ounces each
Pizza toppings, such as sauce, mozzarella cheese, meats and veggies
Step 1:
Preheat your grill to a high temperature, around 500 F. 
Roll or stretch each portion of pizza dough into a 10- to 12-inch circle and place on a lightly floured baking sheet or pizza peel.
Step 2:
Slide the dough off the sheet pan and onto the grill.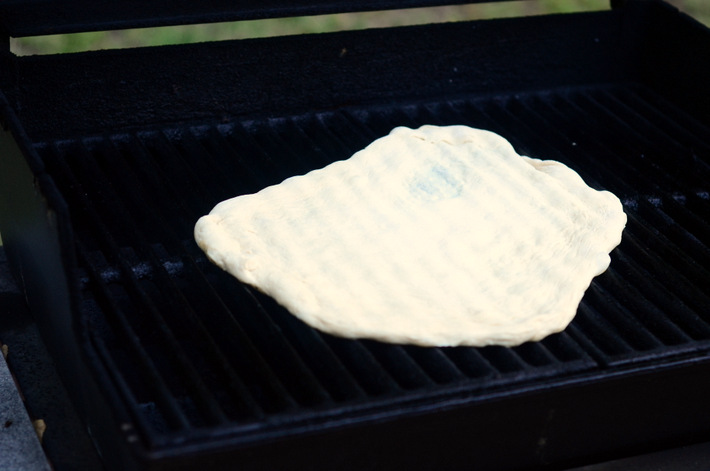 Close the grill and cook for about 2 minutes. Then flip the pizza dough over and apply the toppings.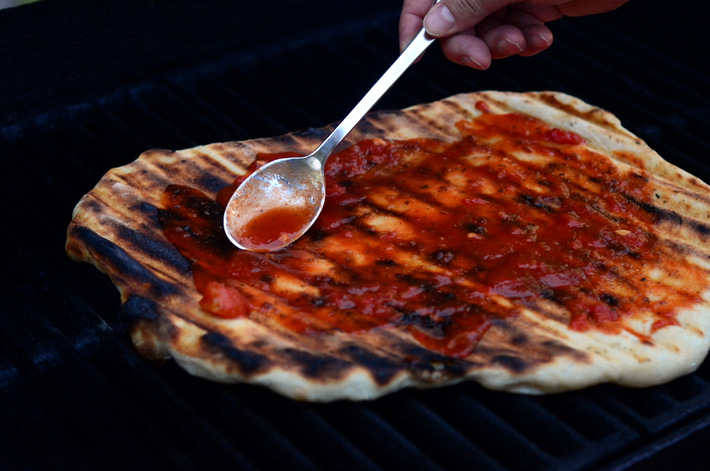 Step 3: 
Close the grill and cook for about 2 more minutes, or until cheese (if using) is melted. Pizza should be golden and have dark grill marks on both sides. Serve immediately.