When you ask someone their favorite color, it's not often green. But just a little closer look and you can easily see how this color has many faces and can be used to great effect, especially in jewelry.
Let's explore the different ways to look at green stone jewelry!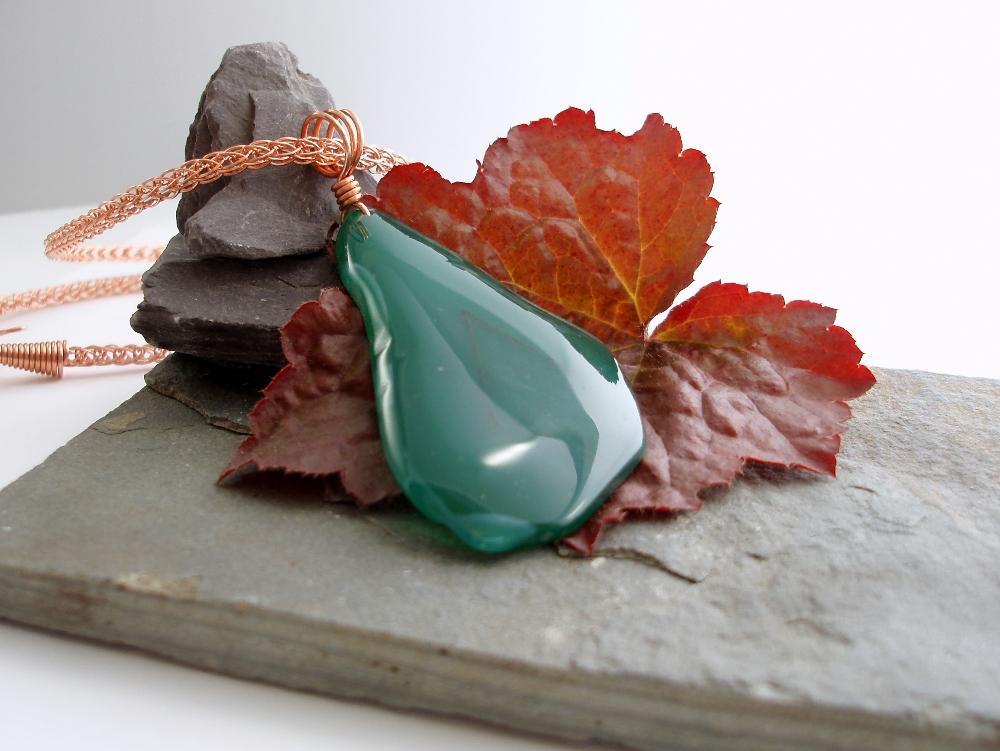 When the Leaves Turn From Green via Bluprint member Abby Hook
Color
When you think of any color like red or blue or green, you probably imagine the basic, primary/secondary colors you learned when you were a child. But there's so much more to it than that! Green in particular has many personalities, especially in gemstones.
Deep green
A deep, dark green can be mesmerizing. This green is a tad blue but it's so dark you almost can't tell except for the light coming through the glass. A dark green feels somber and sophisticated. Dark green stones to look for are emerald, malachite and seraphinite (one of my favorites).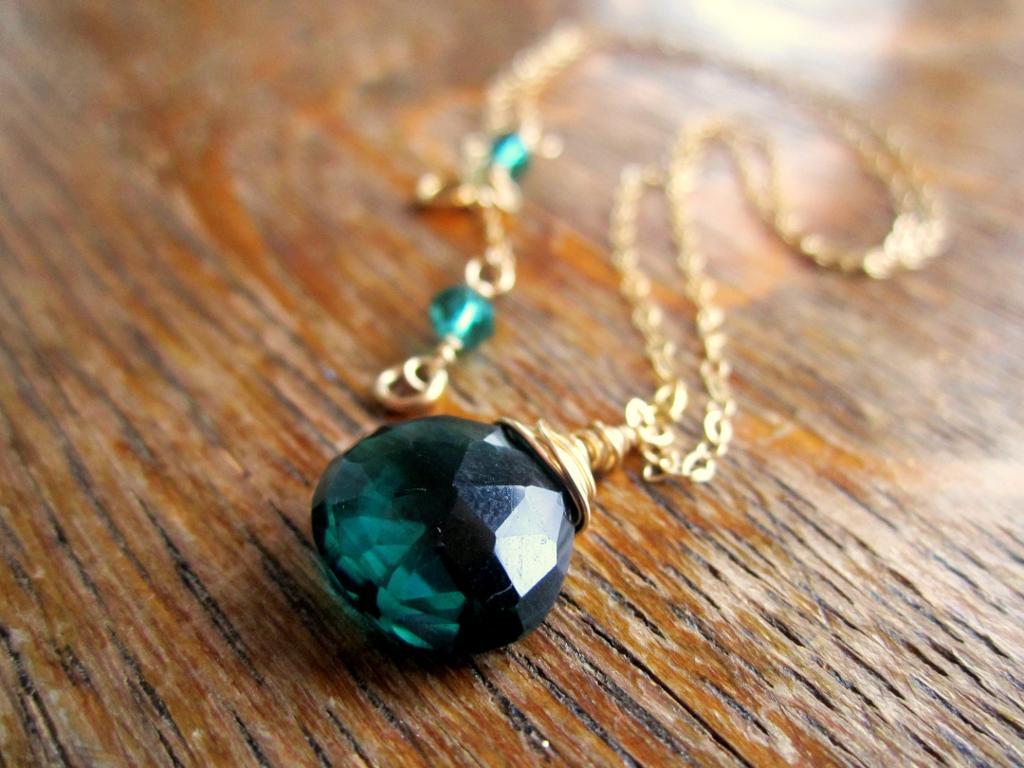 Emerald Green Quartz Necklace by Bluprint member Banana Grove, created in the Wire-Wrapped Stones, Crystals & Clusters Bluprint class with Aga Kruk.
Bright green
There's something very vibrant about some greens — they're a bit yellow, and remind me of grass like in the sea sediment jasper and copper piece below. It's cheerful and happy and summery. Look for apatite, jade and peridot for these bright greens.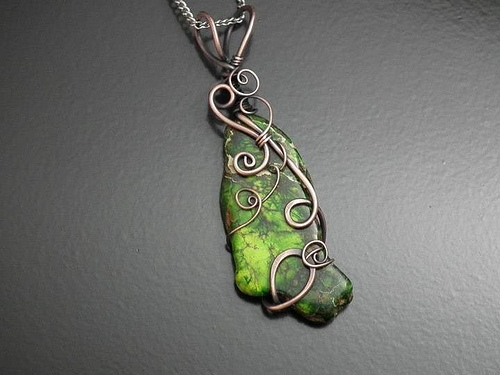 Photo via Gayle Bird
Soft blue-green
The image below illustrates exactly what's so lovely about a soft green with a bit of blue in it — it's like a spring day, trees and sky together. Soft green stones include aventurine, fluorite and some labradorite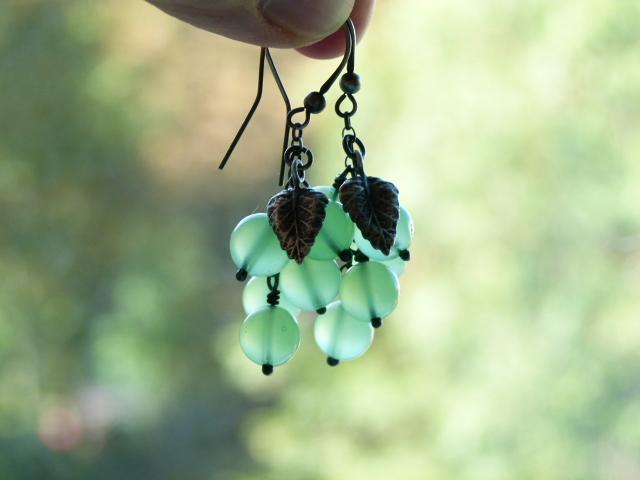 Photo via Bluprint member DeFactory.
Mixed
However, in my opinion, there's nothing so lovely as green stones combined with other colors. Lime green is one of my favorite accent colors — it's amazing with orange and pink together — and as you can see below, it works beautifully in this tourmaline necklace by Bluprint member diademjewels. Green is particularly strong in an analogous color scheme with blues and yellows as it's made up of those colors.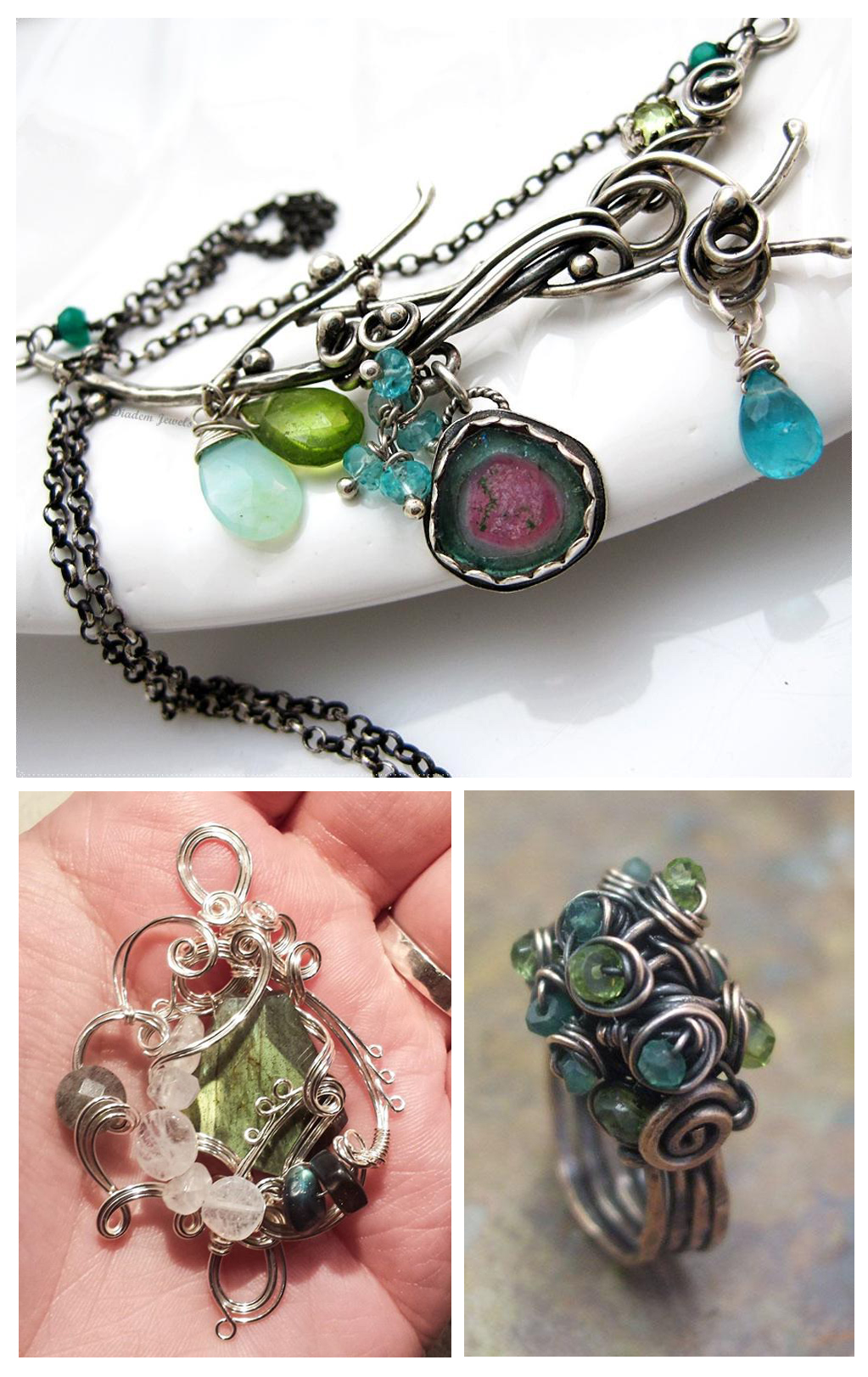 Photos via Bluprint pattern Woodland Moss Ring by Bluprint member ThePurpleLily and Gayle Bird.
Style
Color is super important, but when you're making green jewelry, what is the style you want? Let's take a look at some basic types of stone usage.
Drop
The easiest, and possibly most elegant, way to show off a green stone in your jewelry is to use it as a simple drop, such as in these projects below. Earrings or pendants are perfect places to use the drop.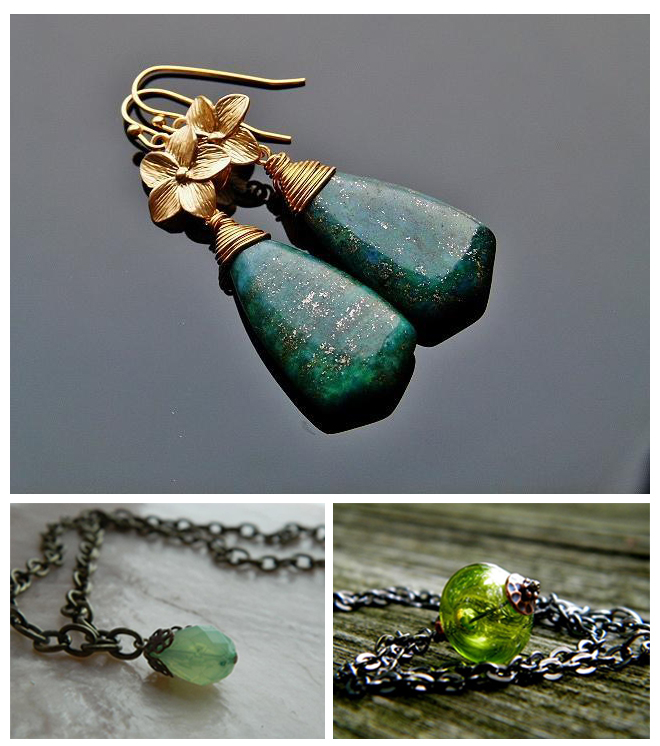 Photos via Bluprint members DeFactory, buddly5547653 and The Whale
Cluster
Ah, the cluster. It's such a perfect way to group stones in jewelry that there's a whole class on it! It creates interest but uses the rule of proximity to keep disparate elements looking like a single element, building texture and dynamics in any piece. It perfectly accents a drop, as seen below.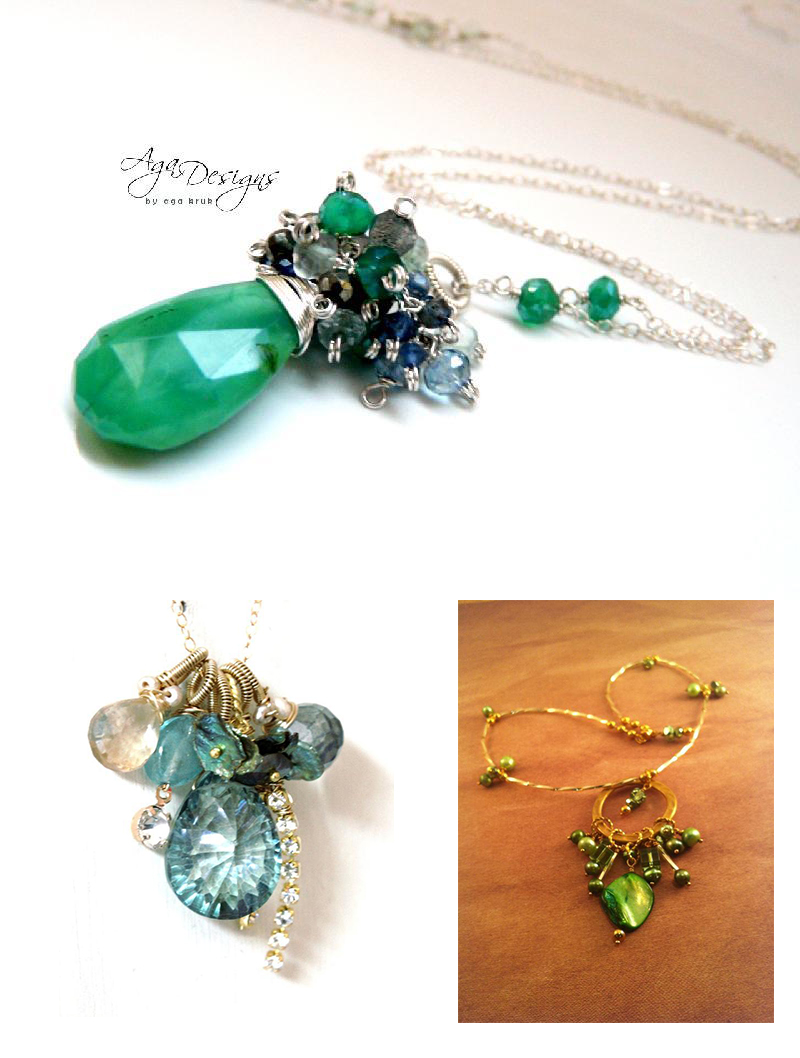 Photos via Bluprint instructor Aga Kruk and Bluprint member Susan Bowerman
Linear
Another simple method for presenting stones, putting them in a linear pattern shows off each of your stones to its finest. A linear pattern can be kept unadorned or can be spiced up by using some criss-crossing wire like in the projects below.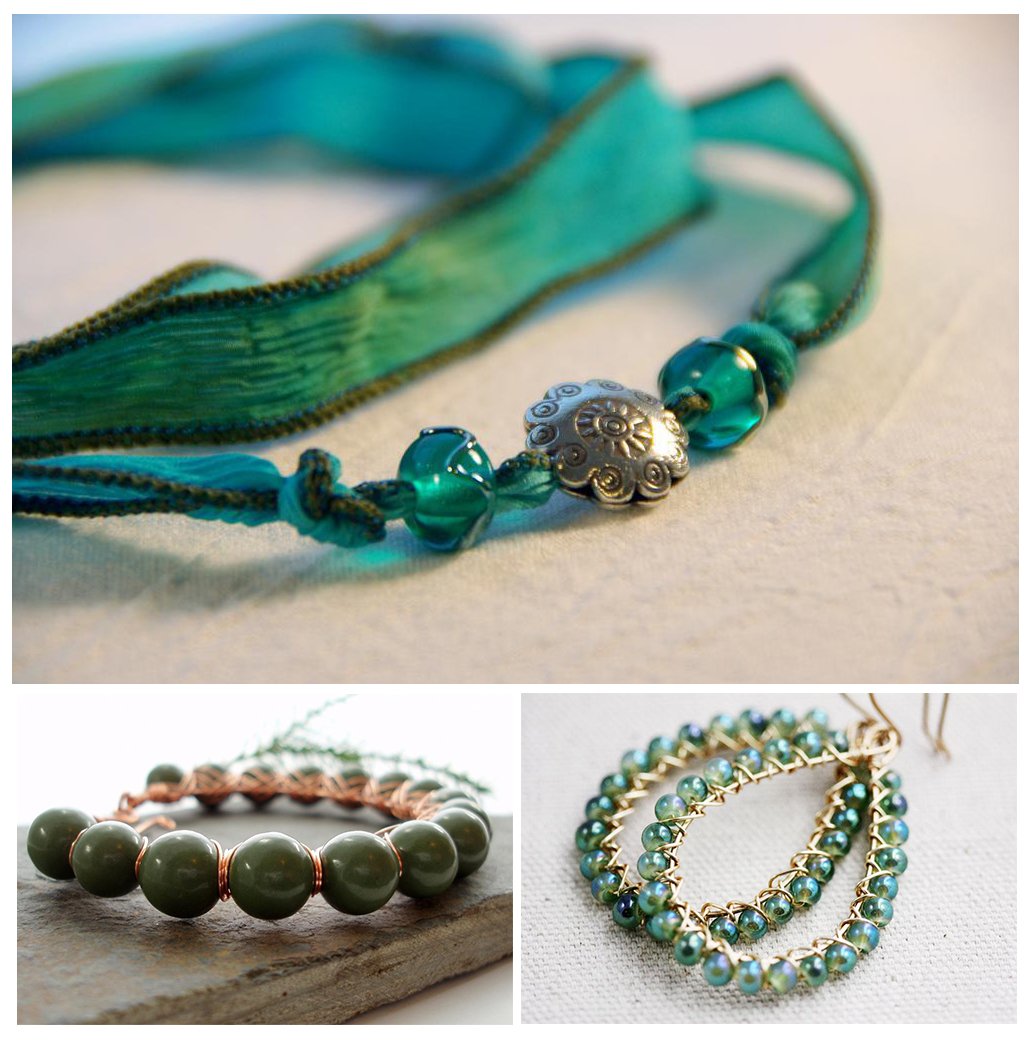 Photos via Bluprint members Daw B Designs, Elizabeth Bergeson and Abby Hook.
Focal
Sometimes, you want to focus on a very special stone. In that case you'll want to use a focal setting — different from a drop in that it can be any shape and doesn't need to dangle — in order to cleanly make that single stone the center of interest in your piece. Rings and pendants are fine examples of focal settings like in the photo below.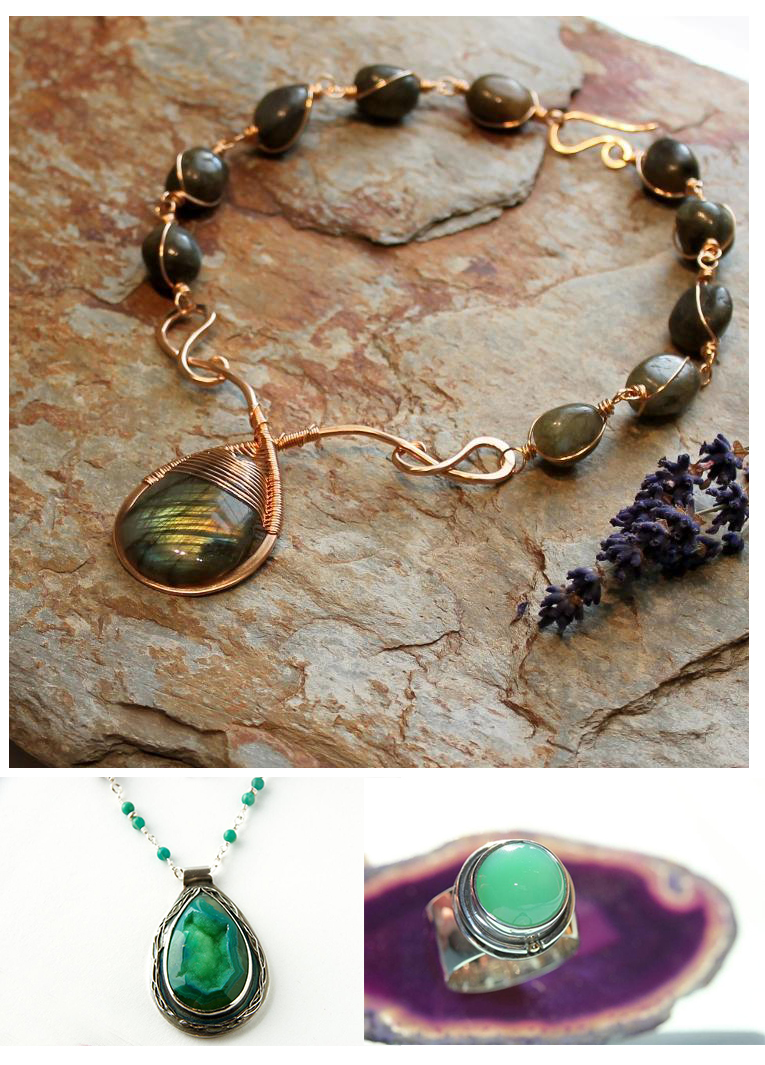 Photos via Bluprint members Abby Hook, Kieran and Daw B Designs.
Making your own green stone jewelry
Can you think of other ways to present green stones in your jewelry? What about combining drops and linear patterns? Focals and clusters? Or clusters with linear patterns?
Share your own green stone jewelry on Bluprint's Projects page or in the comments below!

Free Guide! Make Wirework Wonders
Create beautiful jewelry when you conquer wirework basics with these tutorials.Download FREE Now »