When it comes to art and crafting, a good rule of thumb is this: you never know how much you can accomplish until you try.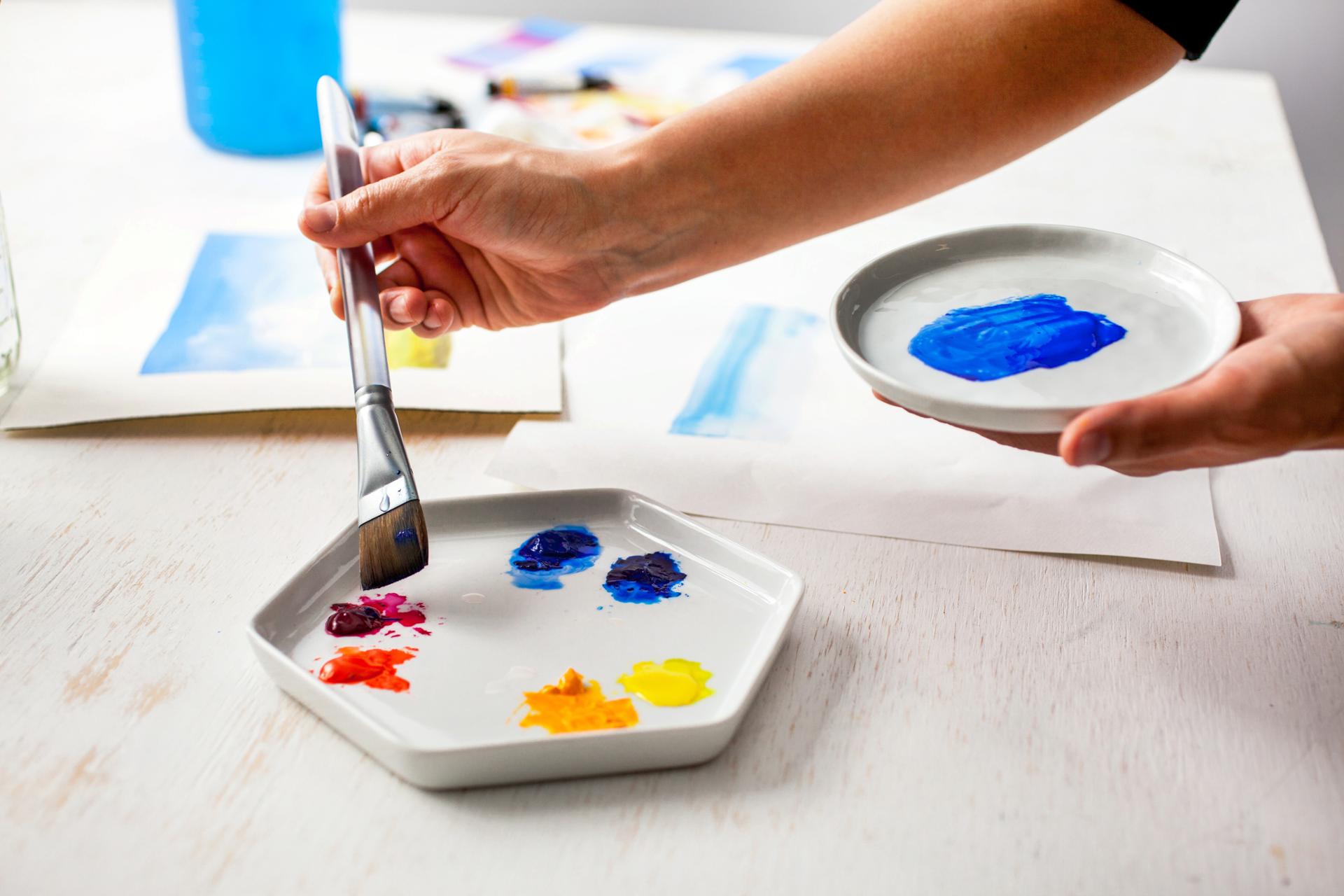 Photo via Craftsy; Illustrations via CakeSpy 
I studied illustration in college, which ultimately led to a career as a commercial illustrator and writer. Drawing and painting are my go-to crafts, and the ones which I consider myself "good" at. However, in spite of (or possibly because of) my level of prowess in one area of crafting, I consider it important to constantly try new things. 
There are many benefits of trying a new craft and re-entering the beginner's mindset. Not only does it expand your horizons, but it might just make you better at your primary skill! Here are some of the reasons why it's good to be a beginner. 
1. It makes you mindful.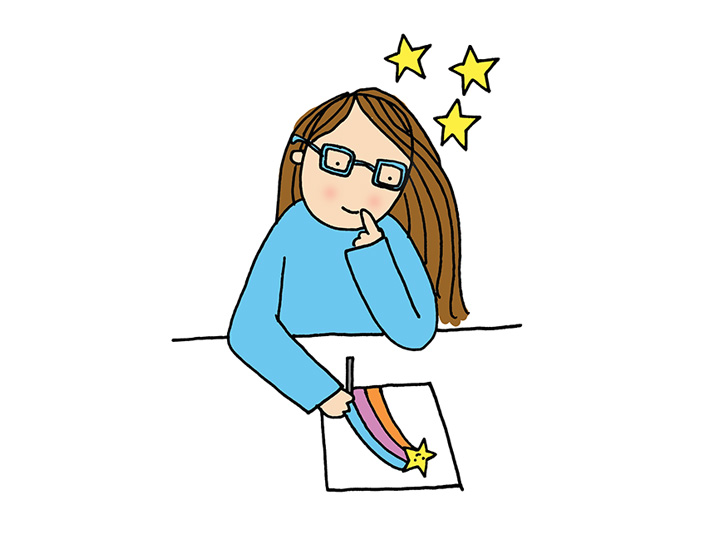 When you're established at one type of art or craft, it can be easy to fall into autopilot mode. For instance, as an artist, I can confidently grab a pencil or my watercolors and just get to work.
However, when I try something new, such as pottery, there are all sorts of basics that I don't know that prevent me from being able to jump right in. The fact that you need to start with the basics at the beginning can be a good thing. It minimizes the potential of falling into old habits or zoning out. In this way, you're much more mindful and present in the act of creating because there's so much newness to it. This mental shift can bring a fresh perspective to things when you go back to your "primary" craft. 
2. It gives you respect. 
If you want to quickly gain a sense of respect for something, it's as easy as trying something new. Think of it this way; perhaps you're an accomplished knitter, and when you see other people's projects you may instantly compare their work to yours (for better or worse).
But, if you were to try something new, like baking, where you're a total newbie, then you'll quickly gain a sense of respect for what other people do. As a beginner, looking at the accomplishments of others can inspire you rather than instantly propel you into a competitive spirit. 
3. It sets you free from expectation.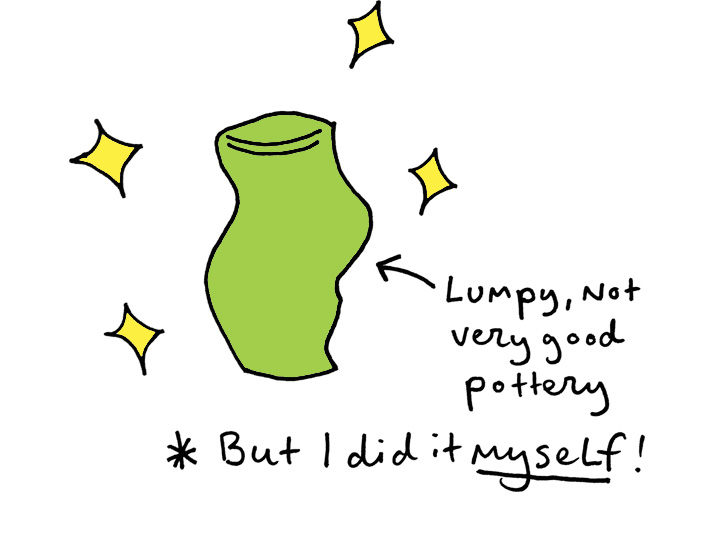 I don't know about you, but I set the bar pretty high for myself. When I create within my realm of expertise, I have certain expectations for how I want things to turn out. I am disappointed when I don't meet my own expectations.
However, when exploring something new (like when I took a beginning pottery class) I had the beautiful experience of having no expectations. Since I'd never worked with a pottery wheel before, I wasn't thinking about how I wanted my project to come out. I was focused on absorbing new information and the learning the basics, which included not flinging clay into my own face or onto my neighbor's lap. 
There's a wonderful sense of freedom to exploring a craft and creating without expectations. Being a beginner can bring you back to that state. 
4. It makes things magic again.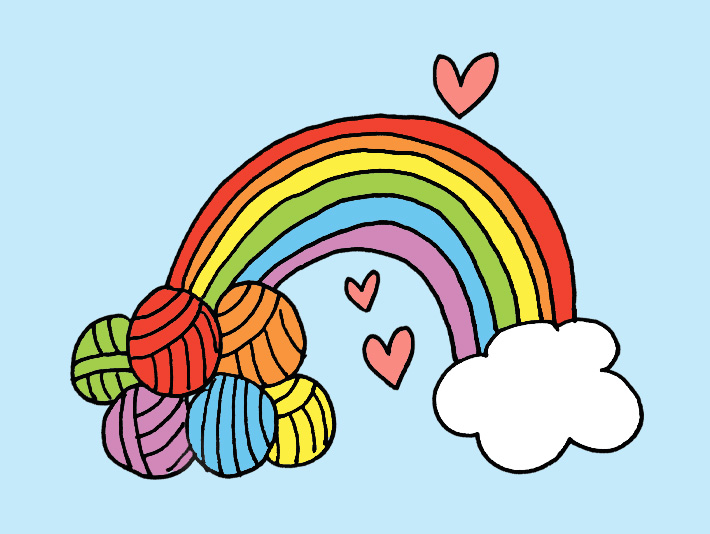 Even if you love your craft, after a period of time, you may lose the creative spark you once had. I am a commercial artist and I do hundreds of drawings and paintings a month. While I still love it, in some ways it can become monotonous.
Take, for instance, the time I took a knitting class at a local yarn shop. I distinctly remember when I was first able to actually envision the scarf I was making, rather than the lines of stitches that seemingly were going no where fast. Let me tell you, it was like pure magic. Even though it was far from refined (it was somewhat lumpy and uneven, and the stitches were way too tight) the fact that I had made it myself filled me with an almost absurd sense of accomplishment. 
Trying new things can remind you how magical the art of creating can be, and can remind you of how very capable you are. 
5. It makes you better at what you already know.
Artistically, I identify mostly as a painter and illustrator, with pretty good chops in the kitchen as well. However, having a level of accomplishment in these two artistic arenas hasn't stopped me from branching out. I've tried knitting, needlework, pottery and more. I wasn't very good at any of those things, but that didn't keep me from enjoying them.
Perhaps the biggest benefit I found of trying these new things is that they allowed me to bring that beginner's mindset back to the crafts at which I am "good" at. I was able to approach things I do on a frequent basis in a new light and with a new sense of appreciation. While very different, the other crafts brought on ideas, inspiration and color concepts that I might not have thought of otherwise. So in a way, being a beginner makes you better at the things you already know! 
Experience the beginner's mindset firsthand by trying a new craft! Craftsy's Startup Library is the perfect starting point for trying something new. 
Why do you think it's good to be a beginner?