Does your life feel somewhat hectic or rushed lately? Between family, work and all of the errands it takes to get through a normal week, you may find yourself feeling a little spent.
Now, imagine yourself picking up a needle and thread to focus on the joyful act of quilting by hand. Each glorious motion is a chance to return to a simpler pace of life. It's quite a difference, isn't it?
Amish hand quilting may become your favorite antidote to the rush and bustle of your busy life.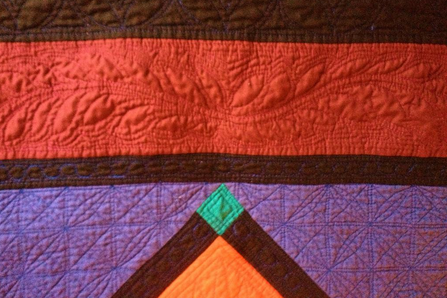 Detail photo of Amish quilt via Bluprint member bellabarbara
In the tradition of sewing by hand and without the use of modern sewing machines, the Amish have developed a hand-quilting style as well as original quilting patterns, such as the Double Wedding Ring Quilt.
What began as a way to use fabric scraps to make frugal bed coverings became a major reason for women to gather together and build quilting communities. What's perhaps most special about this craft is that it has persisted through the decades, giving quilters a reason to slow down and appreciate the process of heirloom quilting.
Have you given Amish hand quilting a try? We've been inspired by these hand-quilted pieces in the Bluprint project gallery!
Erasable ink was just the ticket for Bluprint member Thalia, who wanted to try Amish hand quilting with a pattern from the book Custom Curves. As you can see from her work in progress, she started quilting from the center with short, even stitches.
This meditative craft can serve the same purpose as embroidery or other needle crafts. After trying hand quilting, you might find yourself drawn to its portability — it's easy to take on the go, especially for smaller projects!
This romantic Amish hand-quilting project was Bluprint member Keencrafter's first quilting project ever. Can you believe it?
The close-up details of hearts and feathers are echoed for added texture. If you attempt a pattern like this, consider marking it first with a stencil and a disappearing marker. And most importantly, take your time and enjoy the process, she says.
Bluprint member PaulineW completed this Baptist Fan patterned quilting by hand. The curves of the Amish hand quilting create a fabulous contrast to the rectangular blocks.
Pauline says the simple piecing encouraged her to try the more difficult and time-consuming task of hand quilting. Her tip is to have persistence when hand quilting, especially on a larger project.
Get ready to swoon over this whole cloth quilt and hand-quilted masterpiece by Bluprint member Morag2504. Working from a whole cloth quilt kit, she says she most enjoys hand quilting at night while her favorite TV shows.
A wool batting is a good choice for Amish hand quilting, since it has a nice loft to it. Since it doesn't feature any patchwork, a whole cloth quilt naturally relies on the quilted designs to do the talking.

Peace and Quiet is the name of this Amish-style quilt by  Bluprint instructor Andi Perejda. The stunning detail shot to the right shows off her Amish hand quilting in the quilt's central medallion.
[box type="shadow"]
To learn more about finishing your quilts by hand, check out Hand Quilting: Heirloom Design & Technique, taught by Andi herself. From designing, marking and hand quilting your fabric, you'll learn everything you need to take your Amish hand quilting to the next level, even if it is your very first quilting project![/box]
Do you enjoy calming crafts like Amish hand quilting, or would you rather zip through quicker projects?