We're always on the lookout for the latest trends in knitting, and one that we just can't ignore is giant knitting!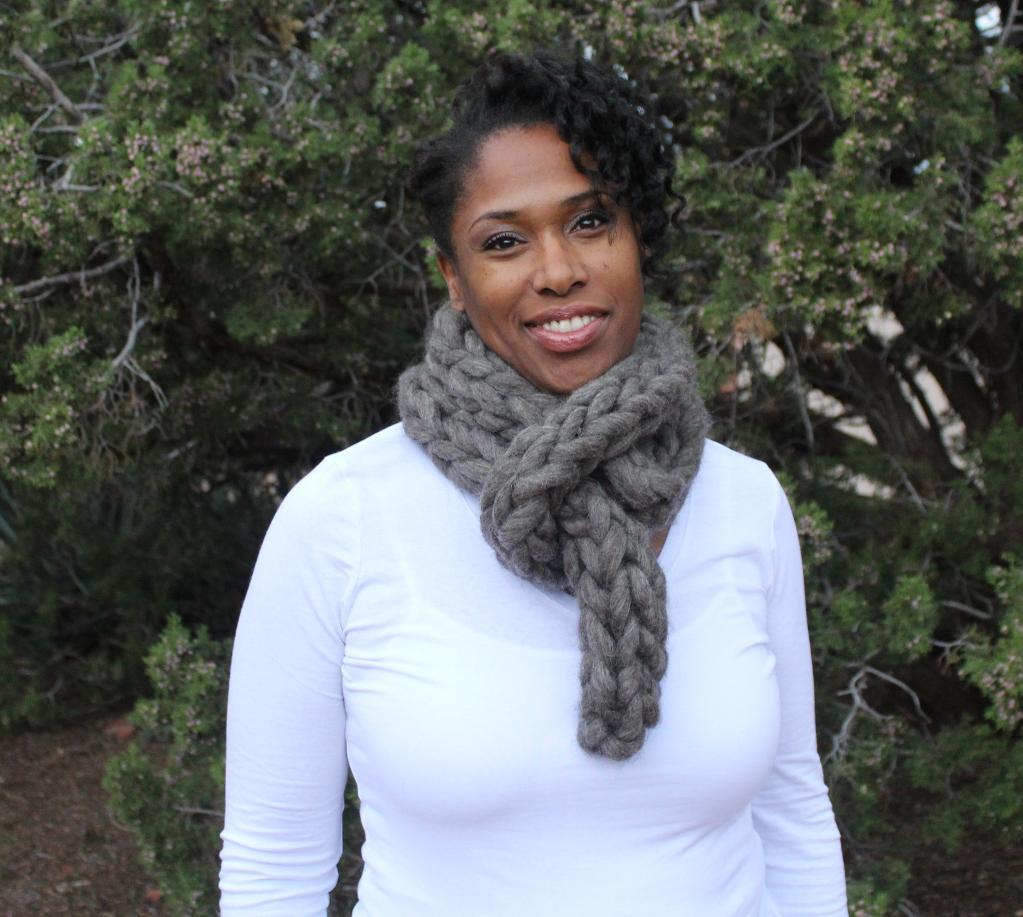 Mega Rope Scarf pattern via Bluprint member Taiga Hilliard
Giant knitting takes chunky knitting to a whole new level. You'll need some unconventional supplies: Oversized projects often require special knitting needles that look more like dowels than they do needles.
Plush, you might not be able to use regular old yarn. In fact, giant knitting is so popular that the Craft Yarn Council of America added an extra category called #7 Jumbo to their Standard Yarn Weight System that covers knitting needles size 17 and larger.
Ready to jump on board with this cool trend? Here are just a few reasons why you should try giant knitting for your next project.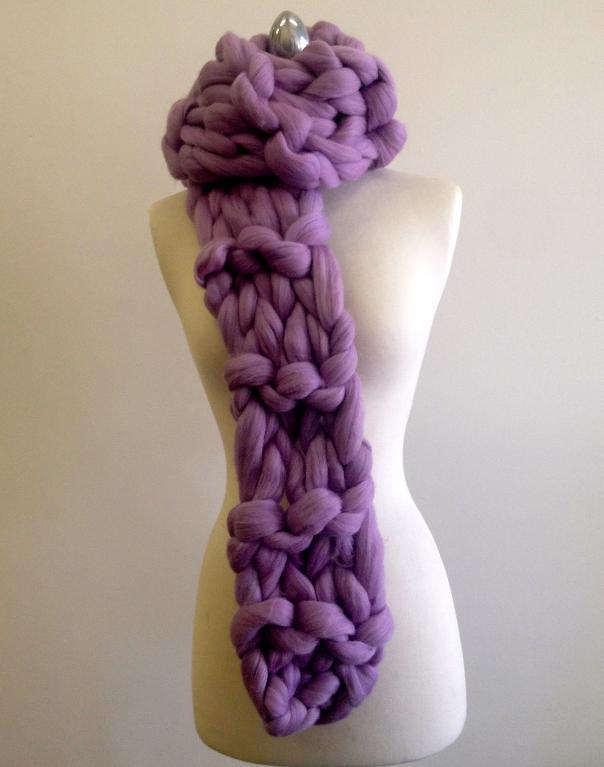 Photo via Bluprint member MountainCity
1. It's fast.
You probably already know that thick yarn + huge knitting needles = a super quick project. The 20-Minute Chunky Scarf pictured above is so fast that the designer decided to include the project time right in the project name! With giant knitting, you'll be able to whip up anything from a scarf to a hammock (yes, a hammock) in less than a day.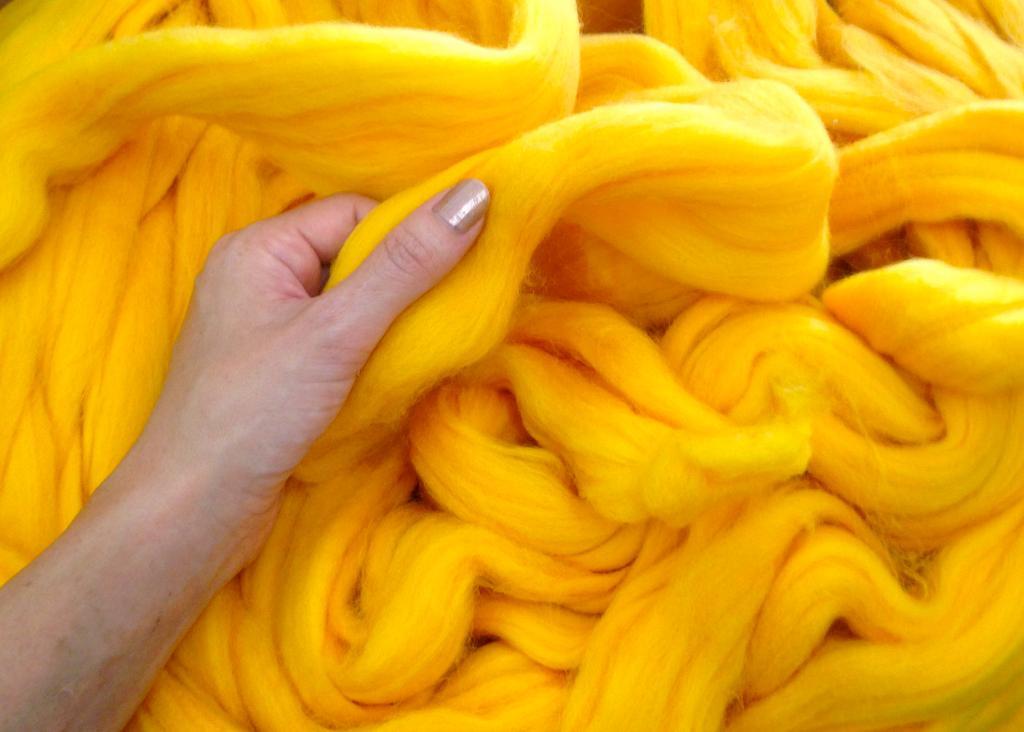 Photo via Bluprint member MountainCity
2. You can experiment with different types of fiber and other materials.
Working with yarn is fun, but sometimes it's also fun to step outside your comfort zone and experiment with other types of fiber and materials.The 20-Minute Chunky Scarf was knit using roving, a fiber mostly used in needle felting and wet felting. (You can read more about roving here.)
Wool fiber isn't the only option, though. You can also experiment with materials like suede lacing, cotton rope, nylon cord — practically anything! Giant knitting also works well with extra-thick T-shirt yarn.
Check out our FREE guide on How to Choose and Use the Right Type of Yarn Every Time if you need more ideas! 
3. It's on trend — and it's easy to design.
Sometimes copying runway trends is a major blow to your budget. You spend lots of money on luxury yarn and maybe even on patterns to try and replicate the exact runway design. But giant knitting is super trendy right now, and you don't have to pay the price to get in on the fashionable trend. Because giant knitting doesn't involve a lot of shaping, getting inspiration right from the runway is simple even if you've never designed a pattern.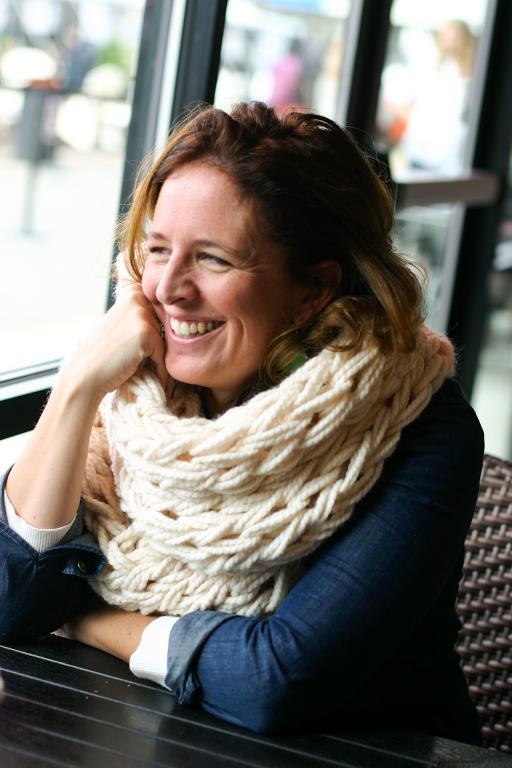 Photo via Bluprint member Anne Weil
4. You can use your arms as needles!
If you don't want to spend money on those giant specialty knitting needles, try out the arm knitting technique. In arm knitting, you'll use your arms as the knitting needles. It's very similar to knitting, and it's a really fun technique to try if you want huge stitches.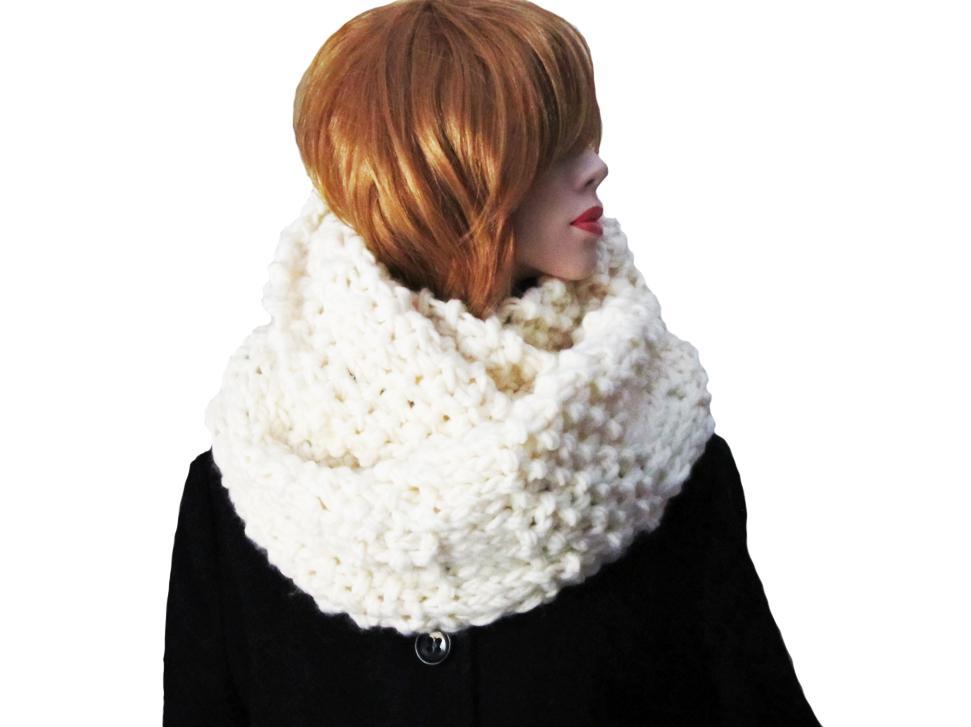 Photo via Bluprint member theredfox
5. You can start small and work your way up.
If you don't want to invest in giant knitting supplies or don't feel confident about working with such large needles, start with what you already have in your stash. The Cloud Cowl pictured above, for instance, uses size 19 knitting needles and a combination of two different yarns.
You can take bulky and super-bulky yarns that you already have in your stash and hold several strands together to achieve a gauge that's suitable for giant knitting. Work on those size 19 needles and when you feel comfortable, then you can think about increasing the size of the knitting needles.
6. Even simple stitches have impressive texture.
Giant knitting is perfect for beginner knitters because it's more about the texture of the stitches than the actual stitches themselves. Most projects basic garter or stockinette stitch (for example, the Mega Rope Scarf pictured at the top of this post is just a simple I-cord). After all, the real showstopper is simply the size of the stitches!
FREE Guide! Choose and Use the Right Yarn
Learn everything you need to know about yarn weights and fiber types to make savvy selections and achieve superb stitches. A free PDF guide, available exclusively on Bluprint!Get My FREE Guide »