Flowers are beautiful jewels. There is no wonder they are the subject of so many paintings. They are very pleasing to the eye, even a single flower can evoke emotion, and they just make you feel good to look at them.
The next best way to appreciate the beauty of flowers is to create your own garden watercolor paintings!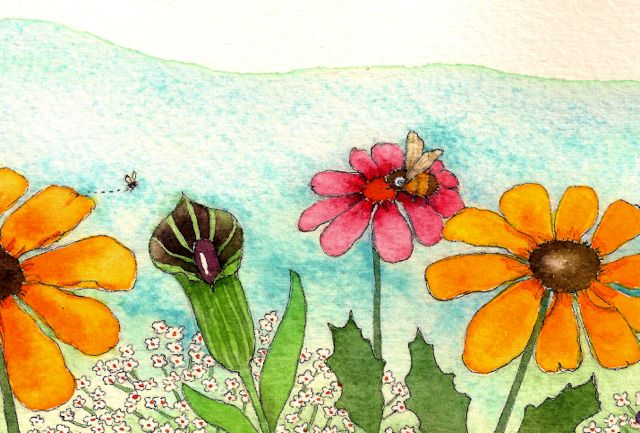 Grab your pencils, paint brushes and paints and I can show you some helpful ways to capture your flowers in a painting.
Preparing your composition:
Think about how you want to portray flowers in your artwork. Sketch from life, use pictures in a book, photos or even cut some flowers and bring them into your work area.
I almost always use a book for my reference, even if I see a flower while out on a walk and want to incorporate into a painting, I usually try to find it in a book and use that image — it is just the way I work.

To mask or not to mask?
I know there are many who do not like using masking fluid and maybe it is cheating a little if your are a purist with art, but I get tense when I have large wet areas of paper where I have to think and work fast in order to keep paint off numerous details, such as flowers. So masking fluid is a welcome assistant for me.
I have masked off all my flowers and the insects to keep the paper under them white, so my colors will be more vibrant when I paint these forms.
I have not applied masking medium to the stems and leaves since my background washes will be the of the same hues that I will use when I deepen the colors of the greenery.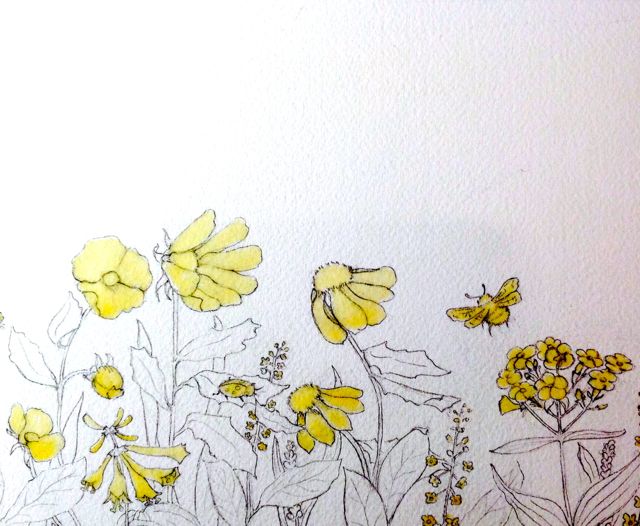 Apply background color(s):
Wet your watercolor paper and apply your color. Paint right over all your masked flowers. Let your paper dry completely.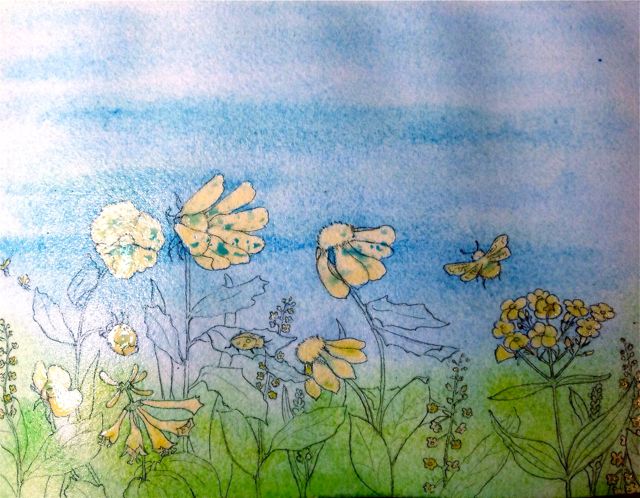 Remove masking medium:
Double check that your paper is dry and gently rub or use an eraser to gently remove the masking medium.
If you paper is not completely dry, you just might remove the top layer of your watercolor paper along with the masking medium, Trust me, I learned this the hard way.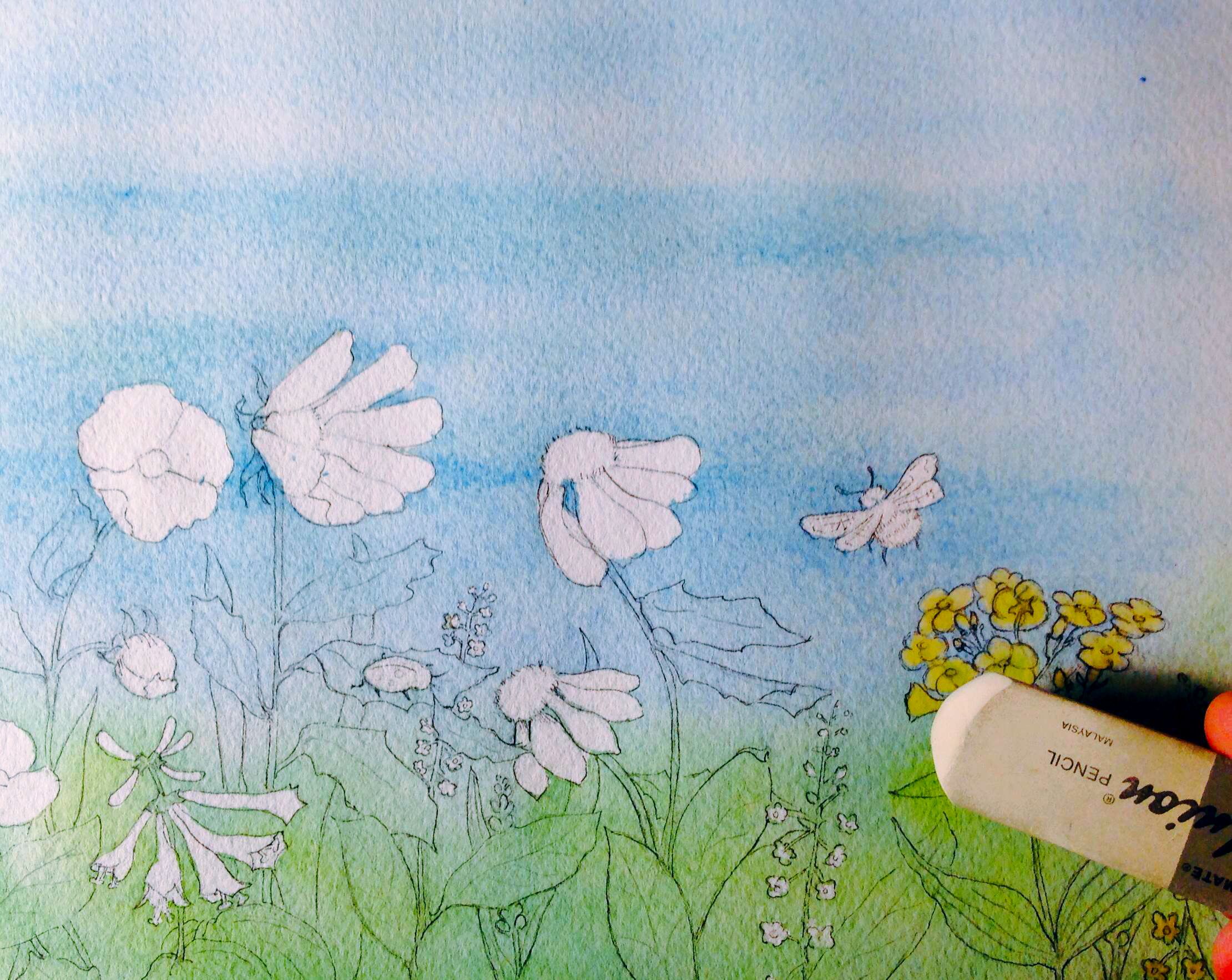 Address imperfections left by the masking medium:
You may notice some white areas just outside where the masking fluid was applied. Sometimes these can look artistic, but sometimes they trouble me so I correct them.
Take your pointed paintbrush, dip it in water and then dip it into the matching color of your background.
Blot it on a paper towel and then lightly fill in the little white areas you want to tidy up. The trick is for your brush to not be too wet or too dry. You get better with practice and it is a highly useful skill that you will use over and over with watercolors.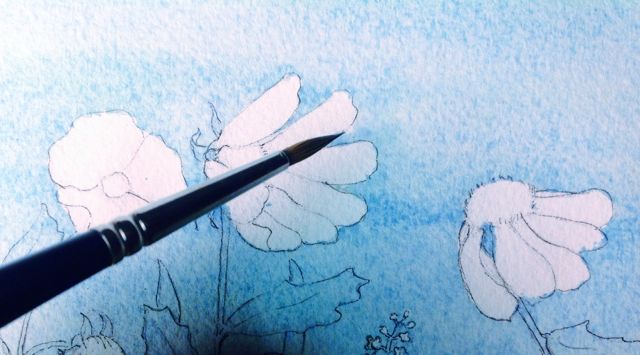 Finish your painting:
The flowers will allow you to use many different colors. However, you will need to be more creative with mixing various shades of greens to keep the lower portion of a garden from becoming a monotone green.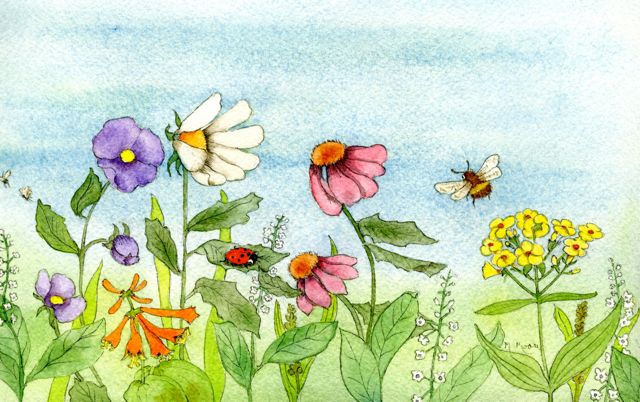 Have you discovered any interesting ways to paint flower gardens with or without masking mediums?