This is Part 2 of a 3-part series featuring six ways to appliqué in embroidery. Last week we took a look at machine embroidered appliqué and electronic die-cut machine appliqué. This week, I'll share some tips for free-standing appliqué and shadow appliqué.
Free-standing appliqué tips: Fun things to do in your hoop
One of my favorite free-standing appliqué projects is Tag-A-Longs. These in-the-hoop tag designs are created entirely in the embroidery hoop in only one hooping.
Here are some helpful hints for making multiple tags:
To best foundation I have found when making tags is to iron your cotton fabric onto Floriani Stitch N Shape Single Sided heavy interfacing. This is made from needle punched batting, which means it's soft and will embroider or sew beautifully. It can be ironed and pressed and will hold its shape, even after lots of handling. I have not found anything better than this product to embroider through. I can use rayon or polyester embroidery thread without having it snag, shred or break, even when running it 1000 stitches per minute! Now that's impressive.
I do not recommend Peltext, fast2fuse or Timtex for machine embroidery as it is much stiffer than Stitch N Shape. While these are great products for creating 3-D crafts, fabric bowls, boxes and purse liners, they can be problematic when paired with machine embroidery. The most common problem is constant thread breakage when these are used for machine embroidery.
For a finished look on the wrong side, wind a bobbin with matching embroidery thread for the last color so the white bobbin thread won't show through.
Want a little heavier coverage on the outer satin stitch? Try switching to Sulky 30 wt. rayon thread, which is heavier than the traditional 40 wt. threads.  If using 30 wt. thread in the needle, use the matching 40 wt. thread in the bobbin.
To finish off the round hole used to hang your tags, use a Crop-A-Dile II (Big Bite), 3/16" eyelets and ball chains. The Crop-A-Dile is a cool crafting tool that allows you to easily punch a hole in your finished tag. Then you insert an eyelet and use the tool to set the eyelet. I've used this tool for years and often am asked about how I finish off the hang holes so professionally. This is my secret weapon.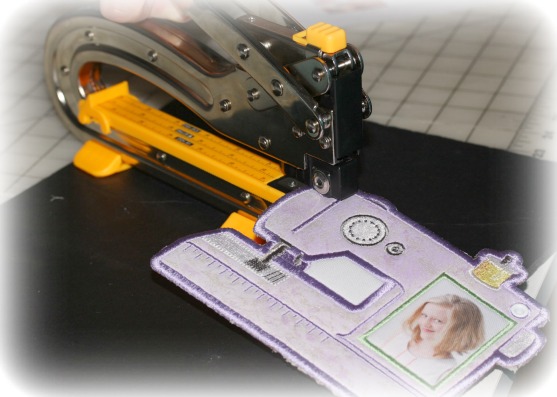 The shadow appliqué technique: Transform lace designs to shadow work the easy way
Shadow work is in the heirloom category of designs and can be created in many different applications from using thread only and twin needles to create a shadow of threads showing from the wrong side of the fabric to the front side. This is achieved with special digitizing and it is necessary to purchase designs that have been specifically digitized for shadow work, such as Jenny Haskins' Twin Needle Shadow Work collection.
Another method is to use lace designs and add a second layer of fabric under the netting or lace. Lets take a look at this method.
The picture below shows how the finished design would look by following the directions provided with the collection.

The picture above has a peek-a-boo effect that shows through the center of the design. Sometimes you may not want to see through the design, as in a garment.
Here's an easy shadow work technique to try:
Lay the second layer of brightly colored contrasting fabric behind English Cotton netting fabric — this will create the shadow effect.
Experiment with different colors and intensities of fabrics to get the desired shadow effect.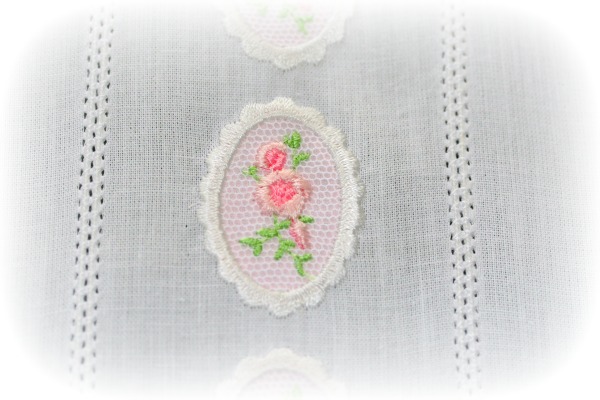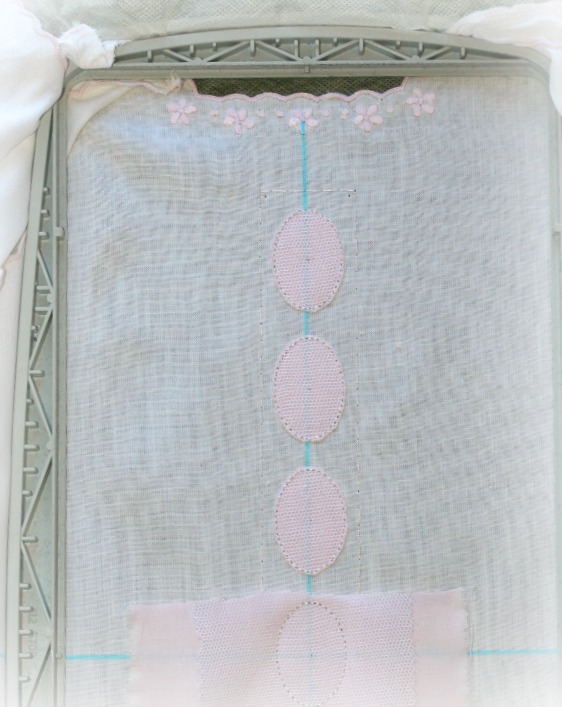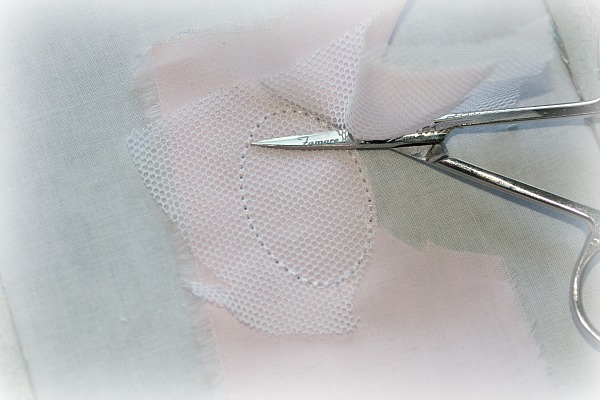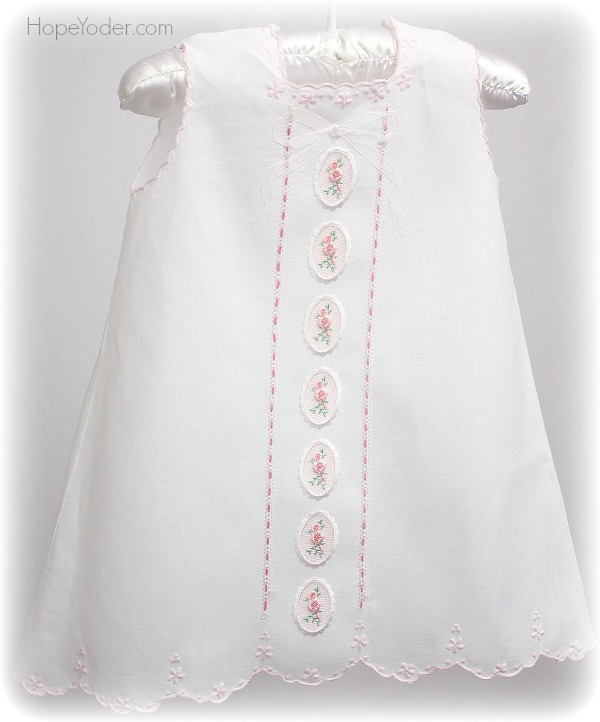 [box type="shadow"]Want more helpful hints for creating tags? Check out our machine embroidered gift tags tutorial.
For more fun with machine embroidery, check out the Bluprint class Digitizing Machine Embroidery Designs. Instructor Cookie Gaynor will show you how to digitize and embroider the designs of your dreams, including original redwork, appliqué and filled in designs using whatever software you have.[/box]