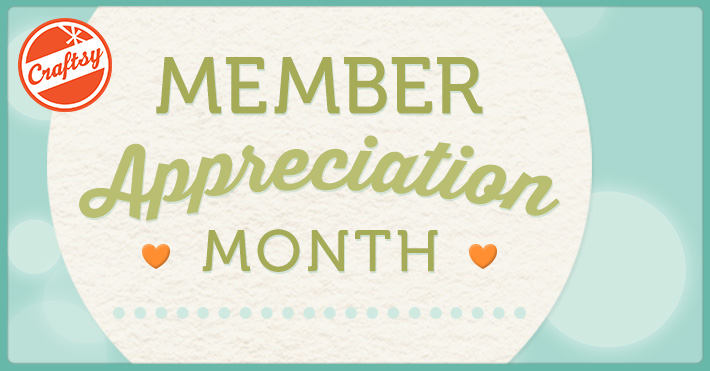 It's Member Appreciation Month here on Bluprint! We love to share the beautiful crochet patterns from Bluprint members — these pattern designers are seriously impressive! We love to share them even more when their fabulous and FREE!
Here are seven of our favorite free crochet patterns from Bluprint members.
1. Juliette Shawl by Jessie At Home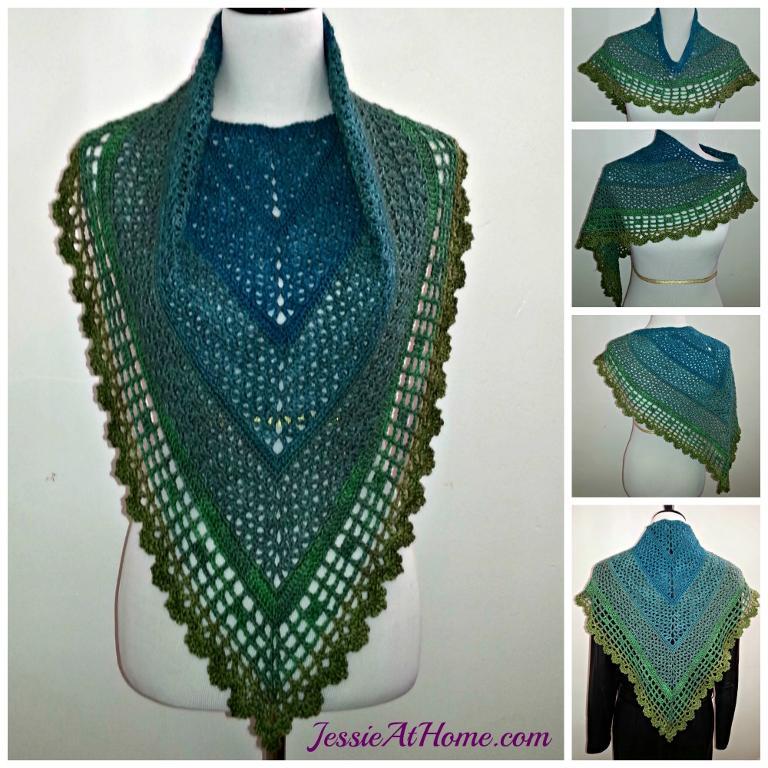 Photo via Bluprint member Jessie At Home
Jessie Rayot of Jessie At Home offers a number of beautifully-designed crochet patterns for free. Our current favorite is the Juliette Shawl, a flirty and feminine shawl worked up using a single mini-skein yarn pack from Frabjous Fibers in a terrific selection of blue and green hues. This lovely circular crochet shawl pattern uses simple stitches like single crochet and double crochet but is considered an intermediate pattern.
Fun fact: The Juliette Shawl is named after Juliette Gordon Low who founded the group that eventually became known as The Girl Scouts.
Get the Juliette Shawl crochet pattern free here.
2. Happy Harlequin Crochet Blanket by Felted Button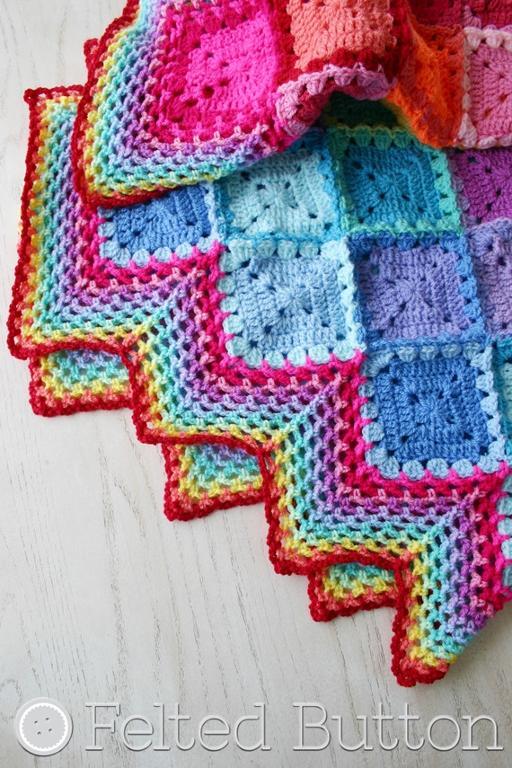 Photo via Bluprint member Felted Button
Susan Carlson of Felted Button is another amazing crochet designer who offers several great free patterns through Bluprint. We especially love her brightly colored crochet blanket patterns. The Happy Harlequin is aptly named because making it is such a happy experience thanks to all of those colors that just bring a smile to your face as you craft. It combines easy square motifs with chevron-style edging for a terrific twist on classic designs.
Fun fact: The Happy Harlequin crochet blanket uses 22 different colors of DK weight yarn. However, Susan says that you should feel free to use up whatever is in your stash when making this blanket.
Get the Happy Harlequin crochet blanket pattern free here.
3. Cotton Market Tote by LazyTCrochet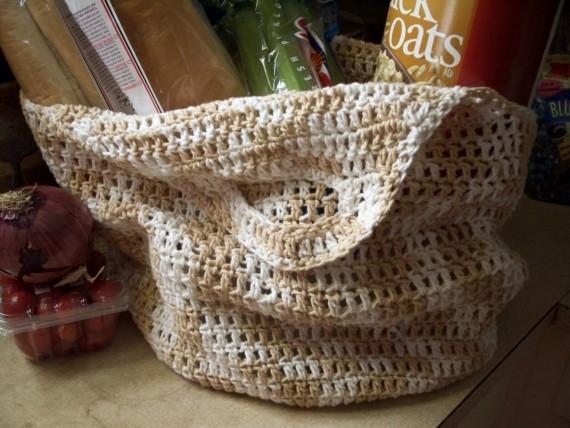 Photo via Bluprint member LazyTCrochet
Ohio-based crocheter Tricia of LazyTCrochet is a self-taught designer who creates many beautiful patterns for crochet garments and women's accessories. This cotton crochet market bag is one of her most popular free crochet patterns. Cotton yarn holds its shape well so it's great for tote bags.
Fun fact: Tricia says that she chose to make a short handle instead of a shoulder strap because she finds this to be a more comfortable choice for carrying heavy items including groceries and library books.
Get the Cotton Market Tote free crochet pattern here.
4. Really Easy Slouchy Beanie by JennLikesYarn
Image via Bluprint member JennLikesYarn
AG Handmades has a number of adorable free crochet hat and headband patterns. This easy crochet beanie is designed to be a beginner crocheter's introduction to shaping. What makes it so easy? No need to count stitches! Instead of decreasing near the crown, you'll switch to a smaller hook, which creates the cozy slouch.
Fun fact: This is currently one of the Top 20 Free Crocheting Patterns on Bluprint.
Get the Really Easy Slouchy Beanie free crochet pattern here.
5. Daisy Coaster by Whiskers and Wool
Image via Bluprint member Doni S
Brighten up any space with these pretty floral crochet coasters. These 5″ crochet coasters are made with cotton yarn and use a combination of single crochet, half double crochet and double crochet stitches.
Fun fact: Whiskers and Wool also offers a matching daisy vase cozy pattern.
Get the Daisy Coaster free crochet pattern here.
6.  Crochet Ruffle Dress by Vira Sayenko
Image via Bluprint member Vira Sayenko
There is nothing sweeter than this little girls' crochet dress pattern! This dress uses unique stitches like the shell stitch, V stitch and picot stitch to create beautiful ruffles and embellishments It's so fun to crochet!
Fun fact: The designer has plenty of free patterns for baby dresses, so check out her pattern store to find one you'll love.
Get the Crochet Ruffle Dress free crochet pattern here.
7. Kitten Crochet Amigurumi Pattern by Amy Gaines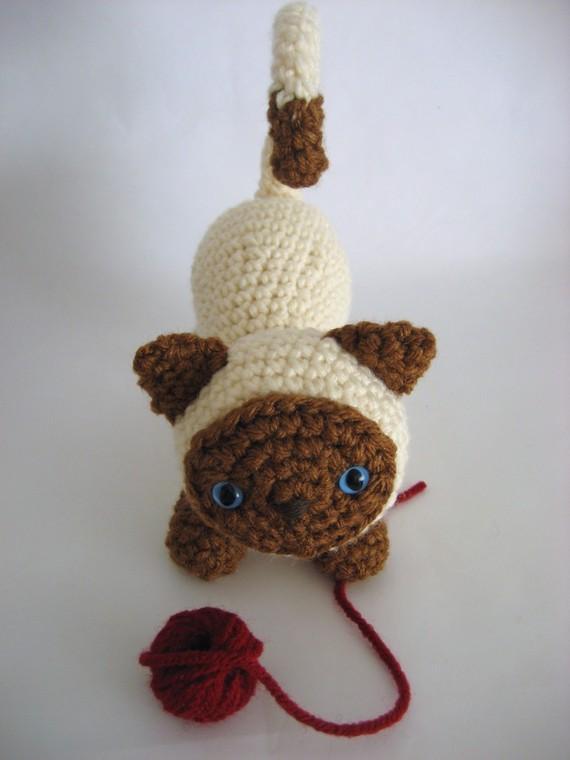 Image via Bluprint member AmyGaines
Amy Gaines designed both knit and crochet amigurumi patterns. Most of these are for sale at affordable prices but she makes a few of them available for free. This cute crochet kitten pattern is a great one because it's actually two patterns in one – you can make the kitten you see here or a sitting version of the cat.
Fun fact: This crochet pattern is worked in a spiral of single crochet stitches (rather than in traditional rounds).