There are so many weaving ideas, information, and tutorials on the Internet that it can get overwhelming and you may suffer from the occasional internetitis like I do. Trying to refine and target your reading on weaving can be a challenge. And weavers always need more input!
Online tools offer a variety of easy ways to research, store, and discover information. Weavers often need a way of finding and saving deeper information on the craft. Much of this can be offline (yes! people lived before the Internet), but we also need to access, read, and organize references online.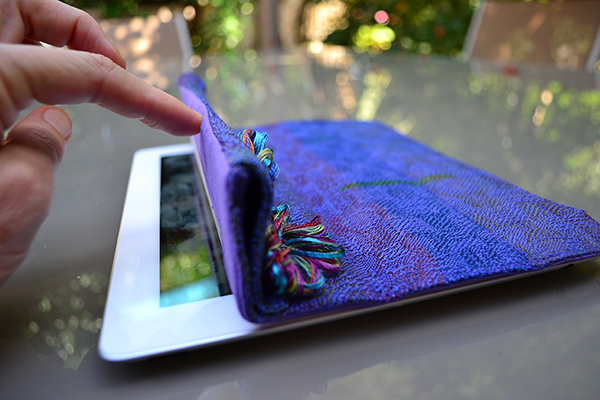 Pinterest
Pinterest offers strong imagery-based design, which can directly link to tutorial pages you've saved. This is a great way to store static links to tutorials or links to books in a visual, casual way. It can be used across devices with a mobile app and has good promotional and social media connections.
Click here to follow Craftsy on Pinterest.
Facebook
Facebook allows to you keep up with new material with links delivered straight to your own news feed from pages or people you follow. You won't get all of their posts but you can click through to their Facebook page at any time to see their timeline of post listings. However, this is rather transitory and forgettable after you see the posting if you can't reference the link or even find it again.
Click here to follow Craftsy on Facebook.
LibraryThing
In lieu of your own database for your weaving book collection the LibraryThing offers a great option for cataloging weaving books, etc. If you have more than 200 books, there is a modest fee to store an endless amount. You can also mark each book as private, include wishlists and to-read lists as well as connecting with others on the site.
Weaving blogs
Blogs by weavers and other crafters offer a richer information experience than the other platforms, at least in my humble opinion. Although still generally short posts, they have an enormous potential in offering tutorials, insights into lives, personalities, meaning, and links to deeper material. Some inform you about a new post via Facebook, which can work well to follow along, but you can easily have all of your favorite weave bloggers quietly alert you to new posts via a News Reader using RSS. This way you can read them at your decided leisure and have links to all the interesting posts you like housed in one place. You'll need to have a link to the RSS page of the blog and a News Reader to add it to.
What is RSS and where is it?
I'm just not into acronyms. They are a little scary with all those capitals shouting at you and RSS is one of them. However, it's worth following through because it really can help with organized and stress-free blog reading.

The RSS page of any blog is a separate page and looks like a plain text page interspersed with code. You don't need to do anything with the codey looking page, you only need the link to the page. The address link (URL) on this page is important because it tells a News Reader app or program to display the blog entries as they are updated. So if I use my blog as an example, the RSS link is http://curiousweaver.id.au/feed. Mostly the direct link to an RSS page is provided on the blog's homepage, but sometimes it is a bit trickier if the blogger hasn't provided it and you have to go a bit deeper! The RSS logo seen above also indicates a link to the RSS page. Also try a  search for the RSS link within a News Reader program.
What to do with the RSS link
Once you've found an RSS feed link to your favorite blog, you need to add it into any News Reader, such as Feedly but there are many others. Most will also sync between devices so you are always up to date. You can see at a glance if there are any unread posts on your favorite blogs, you can display them in different ways and email or share them. If you use an email client like Outlook, you can also add the RSS address and new posts will show up there in a folder under your emails.
What other weaving blogs do you read?