Do you want the benefits of gardening and growing plants, but either don't want the commitment of a traditional garden, or don't have the space for one? With bonsai, you can get all of the therapeutic benefits of gardening by growing an entire forest that fits on your windowsill or balcony. And yes, if you are the kind of gardener that likes flowers, you can have flowering bonsai, too!
The most popular plant material used in bonsai are usually pine, evergreens and deciduous trees. But there is a whole world of flowering trees and shrubs that would make excellent bonsai for flower lovers. Just about any flowering tree or shrub that you can grow in your garden would make a good bonsai once you decide on a bonsai style.
Indoor flowering bonsai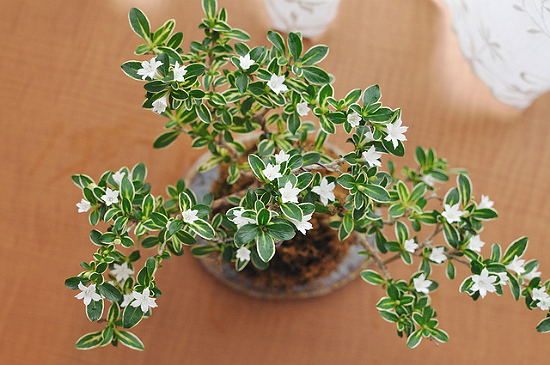 Flowering Serissa by Yoppy via CC BY 2.0
All trees are outdoor trees. But we can use the term "indoor tree" to refer to trees, plants and shrubs that do not need to be allowed to go into a yearly dormancy with temperatures below 40 F in order to give it a rest period. This gives us a lot of leeway in terms of what kind of trees we can play with. These can be tropical and subtropical plants and even some succulents.
Serissa
Fukien Tea
Crown of Thorns
Adenium
Jade trees
Dwarf Jade Trees
Natal Plum
Outdoor flowering bonsai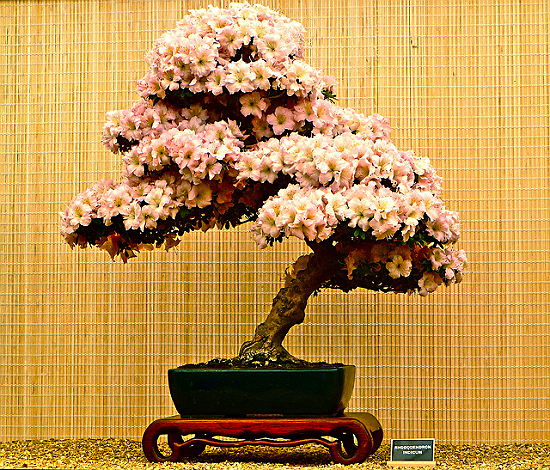 Flowering azalea by Herry Lawford via CC BY 2.0
Many popular flowering trees and shrubs that you may have growing in your yard or that you can find in landscapes across the country would make great flowering bonsai. If you are inspired to grow a bonsai based on one in your landscape, choose to dwarf variety or plant material with naturally smaller leaves to help sell the illusion of bonsai. Hydrangeas are great flowering shrubs, but they wouldn't make good candidates for bonsai.
Azalea
Wisteria
Flowering quince
Bougainvillea
Crape Myrtle
Pyracantha
Camellia
Fruiting and flowering bonsai trees
If we're discussing plants, trees and shrubs that would make good flowering bonsai, we can't ignore all of our trees and shrubs that produce fruits. After all, as gardeners we know you can't have fruits unless you have pollinated flowers. Maybe these flowers aren't as bold and exciting as azaleas, but they shouldn't be ignored when looking for flowering bonsai candidates.
Apple
Cherry
Pomegranate
Citrus
Kumquat
Crabapple
Persimmon
There are a lot of flowering bonsai options for gardeners of every skill level.
These recommendations for flowering plants are just some of the ones I am personally familiar with. I'm sure there is a host of flowering trees and shrubs growing in gardens I didn't cover. But these lists will hopefully help you narrow down some of the options. If you're just starting out with bonsai design, I'd recommend growing a jade, serissa or a fukien tea tree. These are very easy bonsai to repot. Azaleas are probably the most popular of all flowering bonsai, and are suited for the intermediate gardeners and bonsai growers. More advanced gardeners should flex their green thumbs with some flowering bonsai that also produce fruits to test their skills.
Keep in mind that different plants flower at different times of the year and sometimes bloom times are fleeting. Make sure to mix up your flowering bonsai collection to ensure interest during a big part of the growing season.
[box type="shadow"]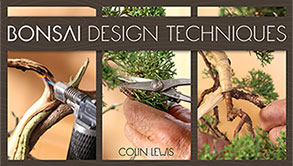 Showcase your creativity with impressive bonsai design! Join expert bonsai artist Colin Lewis in his Bluprint class Bonsai Design Techniques and confidently make standout or subtle changes to your tree. With a 100% money back guarantee, there's no reason not to try today?

Sign Me Up!

[/box]
What makes online Bluprint classes great?
Learn for life! With lifetime access to your classes, you can watch lessons at your preferred pace and easily revisit your favorite concepts with just a click.
Kick up your feet! Enjoy classes anytime from the convenience of your home or even on-the-go with our mobile apps.
Get personalized guidance! Ask your instructor questions to receive all the answers and feedback you need to succeed.
Love it! There's no risk in trying with our 100% money back guarantee.