There are lots of tricky ways to finish your knitting faster. You can knit with bulky yarn and big needles, of course, but one method that's often overlooked is knitting with two strands at the same time.
Knitting with two strands of yarn at the same time creates a knit that's thick and warm. It's also a great technique to try when your pattern calls for a bulky yarn, but all you have is worsted weight. Put those two worsted weight yarns together and you might just get the gauge of a bulky yarn!
Here are 6 double-stranded patterns to choose from, plus a quick tip for beginners about knitting double-stranded with one skein of yarn.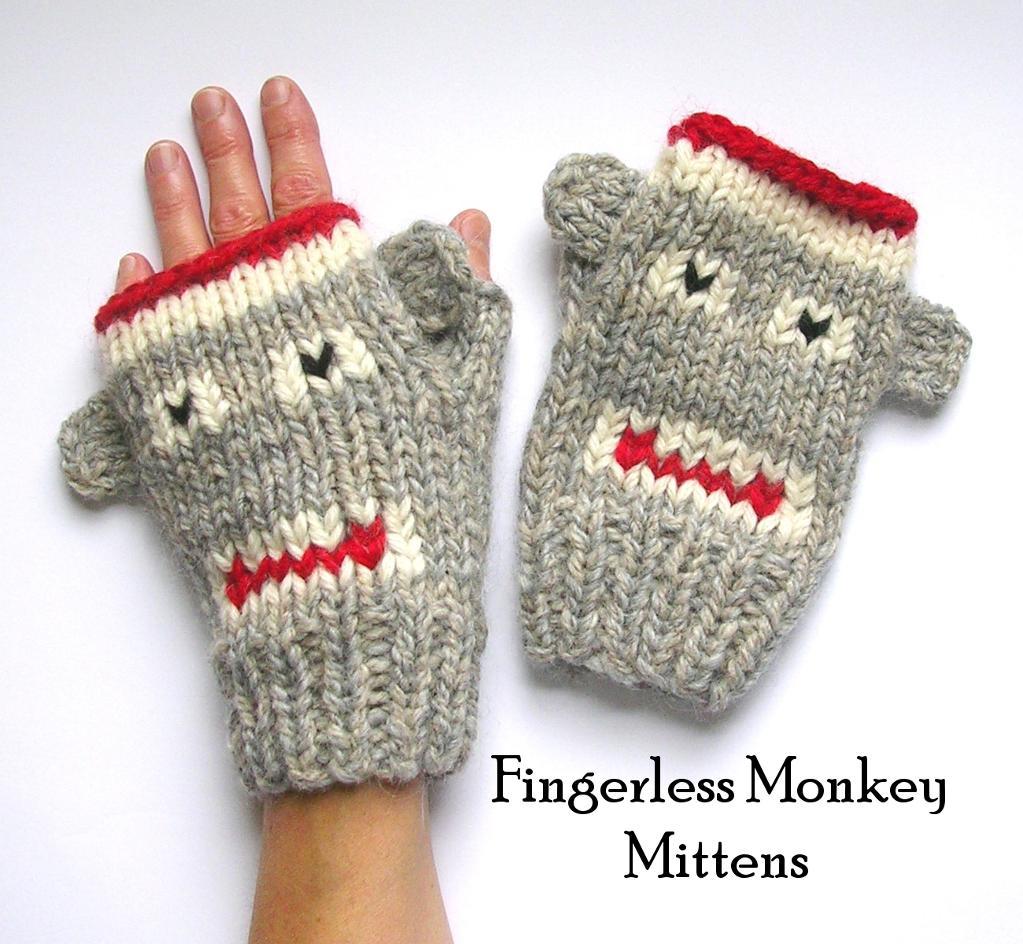 Photo via Craftsy member Snow Day Artist
Fingerless Monkey Mittens
Knit these with two strands of worsted weight yarn or one strand of bulky yarn. Check out your scrap yarn and see which one works best for you. You'll be using duplicate stitch to create the face, and the pattern includes instructions for it if you're not familiar.
Get the Fingerless Monkey Mittens pattern here.
Photo via Craftsy member DaisyGrayKnits
Snuggly Chunky Cable Blanket
There's nothing like a chunky, snuggly blanket when you're chilly. Double strands make this blanket even cozier — and faster! It's knit with two strands of chunky yarn held together. You'll be surprised at how quickly it works up.
Get the Snuggly Chunky Cable Blanket pattern here.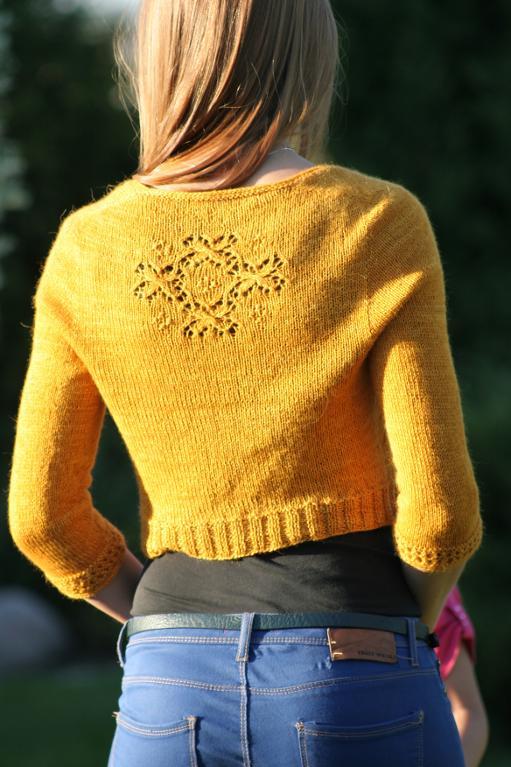 Photo via Craftsy member Hada Knits
Secrecy Cardigan
This cardigan has two things going for it: it's knit top down and it's seamless. You'll use lace-weight yarn, but with two strands of the yarn held together, it will work up much faster than a usual lace-weight project. You can even try it on as you knit. It's just one of the advantages of top-down knitting.
Get the Secrecy Cardigan pattern here.
Quick tip for beginners: Knitting double-stranded with one skein
The first double-stranded pattern I ever worked on was a small tote bag that only required one skein of yarn. Clueless, I rolled roughly half the skein into a ball and cut it to create two balls of yarn that I could hold together at the same time. Of course I didn't estimate the exact halfway point, so I ran out of one skein before I finished the project. Oops!
What I should have tried instead was pulling from both the center and outside of the skein at the same time. Skeins and cakes are perfect for one-skein double-stranded projects. Just pull one strand from the center and one strand from the outside. Easy peasy.

Photo via Craftsy member Julia Marsh
Cats
Toys are already super easy to knit, and knitting these kitties with two strands at the same time cuts the knitting time in half. Knit them with three strands held together for an even quicker knit.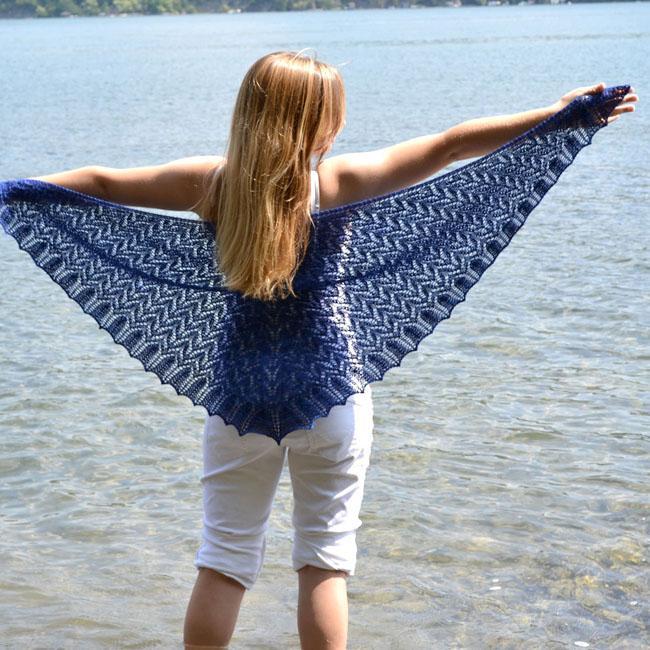 Photo via Craftsy member Melissa Burke
Shale Beach Lace Triangle Shawl
Here's another great example of double-stranded lace. You can also try this pattern with fingering-weight yarn. The first few rows of the pattern are written out to help you get started, but you'll have to rely on the chart for the remainder of the pattern.
Get the Shale Beach Lace Triangle Shawl pattern here.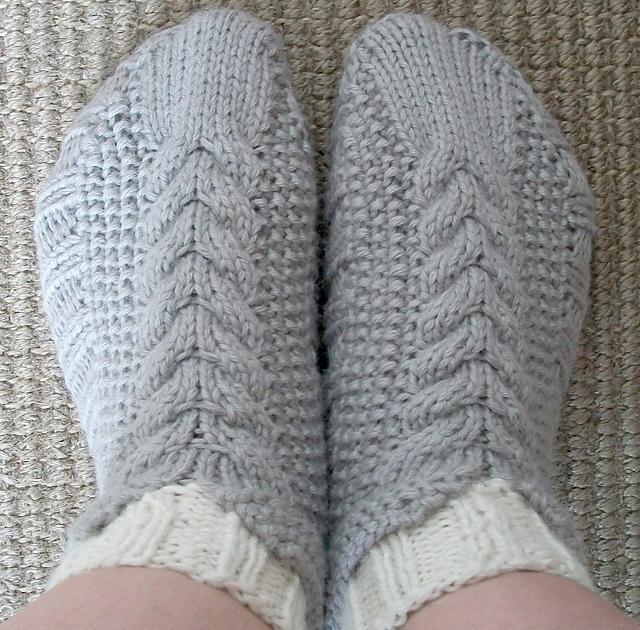 Photo via Craftsy member Galler Yarns
Cabled Cozies Slippers
Slippers and socks are notorious for taking a long time to knit, but these slippers are an exception. The cables, seed stitch, and ribbing keep things interesting as you zip through the double-stranded pattern.
Get the FREE Cabled Cozies Slippers pattern here.
Do you have any strategies for finishing knits faster?