We've all been there. You waited until the very last minute to start knitting a gift for a friend's birthday or another special occasion. Or maybe you just want a weekend knitting project that you can finish before Monday.
Fast knitting patterns not only help us meet gift deadlines, but they also guarantee we won't start the project, only to toss it into the corner to be forgotten. (Trust me. I once worked on a sweater for six years. Six. Long. Years.)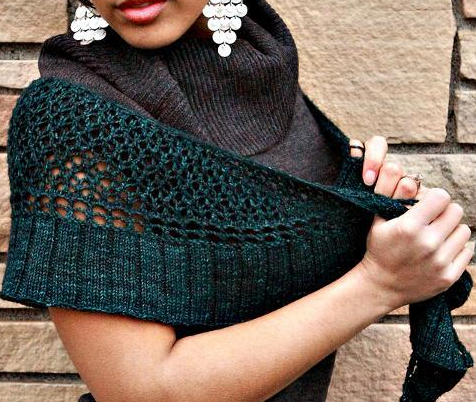 Not all patterns note how long it takes to complete the project, and completion time varies from knitter to knitter. Fortunately, there are a couple things you can look for to make sure you're not going to spend the rest of the month (or your life) knitting up that shawl or sweater.
Things to consider for fast knitting patterns:
Bulky Yarn
It makes sense that bulky yarn knits up quickly. It's thick, so the gauge helps the project move along quickly. Even a sweater knitted with bulky yarn can be worked up in a weekend.
Large Needles
Large needles go hand-in-hand with bulky yarn. You'll need them to make sure you're meeting the gauge. And of course, larger needles mean larger stitches!
Open Stitches
Look for open, lacy stitches, even if the pattern uses smaller needles. The openness of the stitches will take up more room — room that doesn't require tons of stitching on your part.
Accessorize
The most common quick projects are accessories like scarves, headbands, jewelry — you get the idea. They're small-scale and usually work up quickly.
Small Amounts of Yarn
Patterns that do not require much yarn have a double advantage. Not only will you finish the project quickly, you can probably complete it using something you already have in your yarn stash. Look for patterns that only use a couple balls or skeins of yarn.
Skill Level
Skill level is a good indicator of how long a pattern might take, especially if you're a seasoned knitter. Beginner patterns are likely to move faster since you're using basic stitches. More complicated techniques and stitches, like cables or intarsia, take longer than plain old knits and purls.
Enjoy more speed knitting tips here.
Bluprint's Fast Knitting Patterns
Here are a few fast knitting patterns that you can work up in no time.
[one_half_last]Knit Necktie: This tie by Knit Outta the Box & Feel Good Yarn Co. uses a unique quilted stitch pattern. It's knit all in one piece, so there's no joining yarn. And the best part? It doesn't require much yarn, so you probably don't even need to go shopping. Just pull the yarn right from your stash and start knitting.[/one_half_last]
[one_half_last]Charlize Shawl: The openness of these stitches make this shawl by Knit Rhapsody a quicker knit than you might think. It's lacework easy enough for a beginner, so don't be intimidated by it if you haven't tried lace before.[/one_half_last]
[one_half_last]Francine Headband: This fast knitting pattern by Knit Motion is a great example of using bulky yarn to speed up the process — plus you can get the turban look without actually knitting the entire turban. Knit it and wear it on the same day.[/one_half_last]
[one_half_last]Quick Cable Double Cowl: This pattern by A Crafty House takes advantage of both bulky yarn and larger needles — two guarantees for a fast knitting pattern. Don't be fooled by that lovely cable. It looks complicated, but it isn't.[/one_half_last]
[one_half_last]Diamond Knit Boot Cuffs: You'll really be cheating with this pattern by Life in Small Spaces. These boot cuffs look like they're legwarmers that extend all the way into the boot, but they're actually just cuffs that peek out the top. Everyone will think you spent hours on it. (Don't worry. Your secret is safe with us!) The design gives knitters a challenge without overwhelming with a time-consuming project.[/one_half_last]
Do you have any tips for finding fast knitting patterns? What do you knit when you're in a hurry?
In case you missed it, learn how to knit ribbing. Come back to the Bluprint blog tomorrow for a lovely free knitting pattern and to discover the Norwegian knitting technique.