Sometimes you want to plant fast growing flowers to create bouquets and flower arrangements for upcoming events, like a wedding. Or maybe you have a lot of garden to cover, and you quickly want to see the blooming results of your hard work.
Whatever your reason, you'll love this handy list of fast growing flowers you can plant in your garden today, and before you know it, you'll be enjoying a beautiful blast of color that'll last all season long.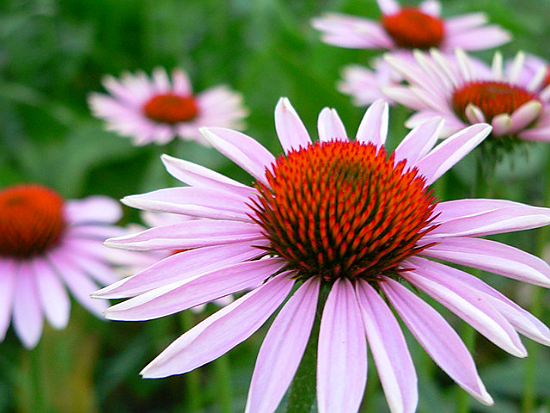 Coneflower by Domenico Salvagnin via CC BY 2.0
Free Online Gardening Class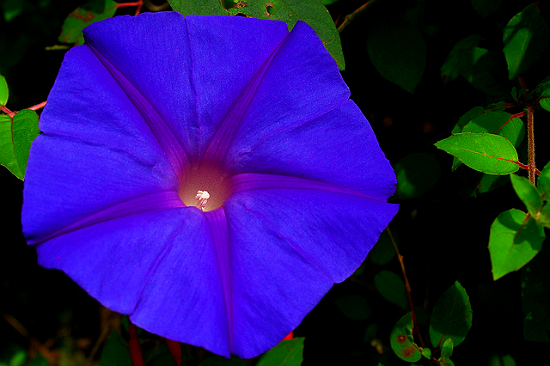 Blue morning glory flower by Thangaraj Kumaravel via CC BY 2.0
40 fast growing flowers to consider for your garden:
Alpine aster
Bachelor buttons
Bee balm
Blackberry Lily
Black-eye Susan (perennial)
Black-eyed Susan (vine)
Blanket flower
Calendula
Chocolate vine
Clematis
Cleome
Columbines
Coreopsis
Dianthus
Delphinium
Cosmos
Cup-and-saucer vine
Foxglove
Fuchsias
Hyacinth bean vine
Hardy geranium
Marigold
Mexican sunflower
Morning glory vine
Nigella
Nicotiana
Nasturtiums
Pansy
Passionflower
Poppies
Purple coneflower
Snowdrop anemone
Sunflowers
Snapdragons
Star Jasmine
Sweet Alyssum
Sweet peas
Verbena
Wisteria
Zinnia
This list is by no means a complete list of fast growing plants, but it should help you get started in creating the garden of your dreams with fast growing plants and flowers. Keep in mind that a lot of plants that may be fast growing in warmer zones, may in fact not grow as fast in colder zones.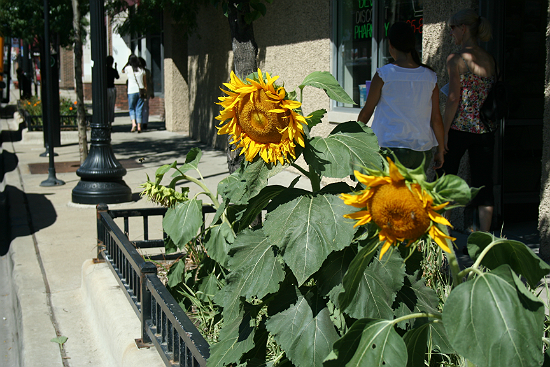 Urban sunflowers via MrBrownThumb
Notes on choosing fast growing flowers
Annuals are the plants that go from to seed to flower in one growing season. But if you are interested in fast growing flowers you can't rely on just annuals. You will need a mixture of annuals and perennials to quickly cover bare spots in the early spring, or to create living walls and privacy screens.
Thinking vertically will also help you get lush results quickly. Many vines are prolific bloomers and shouldn't be overlooked in the quest for plants that bloom quickly.
If you're looking for instant gratification in the garden, I recommend planting a mixture of fast growing annuals, perennials, herbs and vegetables that fit your requirements.
Another thing you should consider when planting a garden in the hopes of growing plants that bloom easily are "re-bloomers." There are many plants that you can deadhead and will re-bloom a second time before the season is over. These plants are great if you are growing a cutting garden and want to bring in a lot of flower bouquets during the growing season.
Planting larger sized plants will also lead to flowers that seem to grow faster. For example, a 5 gallon plant will take a couple of years to establish itself and mature. Whereas a plant growing in 15 or 25 gallon pot is a lot older and will bloom sooner and probably more abundantly that first year after planting.
The best way to achieve a garden of fast growing flowers is sit down and make a garden plan. Do you need fast growing flowers because your growing your own flowers to decorate your home or for a special occasion?
The best approach would be to plant seeds for flowers for a cutting garden that will not break the bank. However, if you are looking for fast growing flowers for to landscape around your home, and don't have time for plants to mature, it would be prudent to start with larger plants.
Free Online Gardening Class