Fashion sewing blogs are a great way to keep up with new releases from independent pattern companies, find inspiration, read pattern reviews, and learn new skills and tricks for such techniques as patternmaking and garment construction. Many bloggers also host sew-alongs, which are a great way to stay motivated to finish a project and get to know other bloggers and sewists.
Here are a few of my favorite fashion sewing blogs:
DIXIE DIY: Dixie is a sewist in Austin, Texas. She shares her recent creations from commercial and independent patterns. Dixie also frequently shares sewing tips; she did a series on sewing with knits. She sells her own pattern designs through her blog and has written about starting an indie pattern company.
CLOTH HABIT: Amy loves sewing lingerie and shares her process on her blog. If you've ever wanted to sew your own bra, she recently hosted a bra-making sew-along that will help you through the whole process.
COLETTERIE: Written by the owner and designer of Colette Patterns, Sarai Mitnick, Coletterie is a treasure trove of information. In addition to highlighting her own patterns, Sarai shares tutorials and tips. She also occasionally includes interesting discussions on the state of the modern garment industry, like this post on the decline of mid-range clothing.
ANGELA WOLF: Angela is the owner of a custom apparel business, the "Couture Sewing Expert" on the PBS series It's Sew Easy, and a contributor to Threads and SewStylish magazines. She dishes out the scoop on how to sew texting gloves, zippers into jackets, and more.
LLADYBIRD: Lauren lives in Nashville, Tennessee and frequently blogs about her latest additions to her closet, sharing details about her fabric choices and the changes she made to the pattern. She also shares tutorials, like this one on creating your own croquis.
PETITE REPUBLIC: This petite blogger shares her latest creations with dreamy photography. If you're also under five foot, you'll be inspired. She's also written about sewing for a post-baby body.
REALLY HANDMADE: Amy Alan started her own business altering wedding gowns and sewing custom quilt. Now posts about fun sewing tutorials and wardrobe updates, like this one about Minoru jackets.
JULIABOBBIN: Julia shares the occasional tutorial and shares projects inspired by TV shows (particularly Mad Men) in a celebrity copy-cat" feature. She also hosts a Mad Men dress challenge.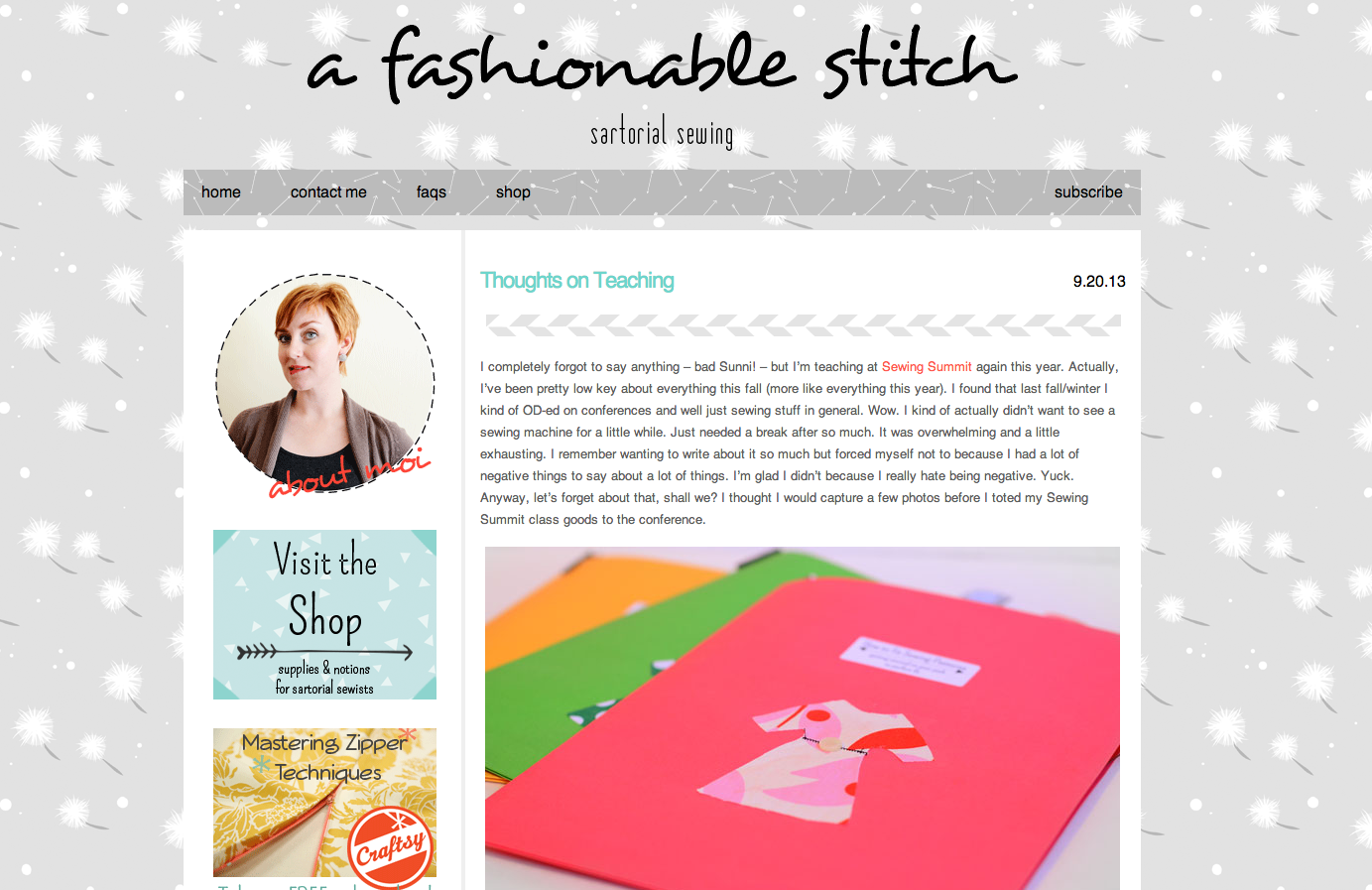 A FASHIONABLE STITCH: Sunni Standing writes about how to create an everyday wardrobe by combining handmade with ready-to-wear and has shared an enormous amount of tutorials on everything from making a muslin to adding piping.
A GOOD WARDROBE: I love that Lizz always includes the amount of time she spent working on the pattern in her reviews. Her seasonal wardrobe challenges are a good read if you're thinking of trying something similar; here's her Spring 2012 wardrobe challenge.
BEAU BABY: Suzanne writes about her finished projects and sometimes about projects that needed a redo, but I really like her recaps on what she's learned from watching Project Runway.
ERICA B. DIY STYLE: Erica combines inspiration from fashion magazines and Pinterest to kick commercial patterns up a notch with fun details and couture sewing techniques; here's a recent outfit she wore inspired by Pinterest
MANHATTAN CRAFT ROOM: Brett Bara is a TV host, author of the book Sewing in a Straight Line, and a designer. She keeps busy crafting, DIY-ing, cooking, eating, sewing, decorating and thrifting, in Brooklyn and her blog shares helpful tutorials and fun giveaways. She also happens to be a Bluprint instructor! Her courses include Sew Ready: Garment Basics and Design Your Own Handbag.
CITY STITCHING: Christine Haynes is a Los Angeles pattern designer, author, and sewing teacher, making her blog a great resource for everything from rosemary collars to growing an indie business. Just like Brett, Christine is also a Bluprint instructor, teaching the popular course Sassy Librarian Blouse.