As the days become shorter and the temperatures begin falling, you still can enjoy fabulous flowers in the garden. Several flowering plants bloom in late summer and fall, providing you with lots of different options for fall flower gardens.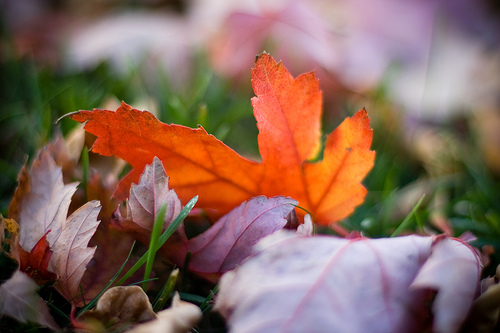 Autumn leaves photo via life is good (pete)/Flickr Creative Commons
Here are just a few perennial and annual flowers to plant in your fall flower gardens.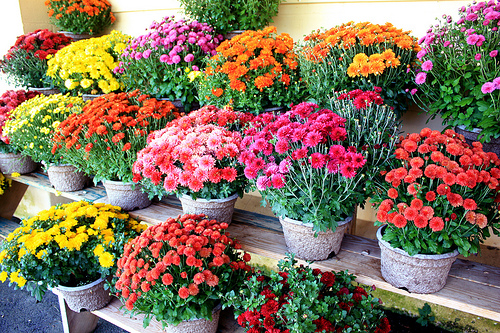 Mums photo via amiefedora/Flickr Creative Commons
1. Mums (Chrysanthemum)
These classic fall flowers are easy to find in a wide range of autumnal colors. But their popularity shouldn't hold you back from planting and enjoying these carefree flowers in your garden. Mix up your mums with pumpkins, winter squash and ornamental corn for a traditional holiday look on the front porch.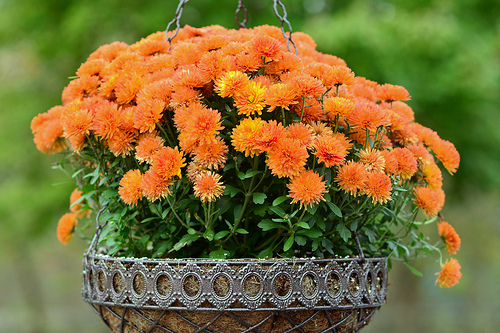 Hanging mum photo via pmillera4/Flickr Creative Commons
Consider hanging mums in baskets to add color to porches, or planting the flowers in garden beds with other late bloomers and ornamental grasses. Keep mums well watered and mulched in the garden for best results. Zones 4-9.
Here are photos of my late-summer/fall garden with mums and ornamental grasses, some of which I was testing for Proven Winners a few years ago.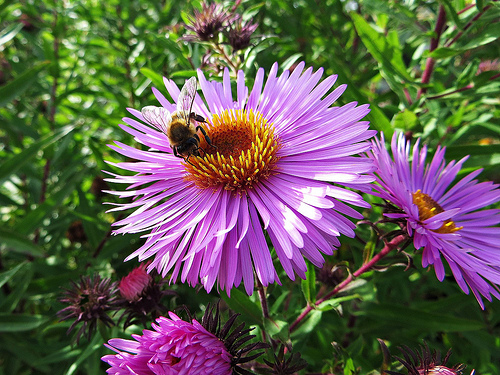 Aster photo via Ingrid Eulenfan/Flickr Creative Commons
2. Asters
This pretty perennial attracts plenty of bees and butterflies to the late season garden. The daisy-like flowers appear in pink, purple, blue or white, depending on the type. Give your asters full sun and well drained soil for the best flowering. Zones 4 to 8.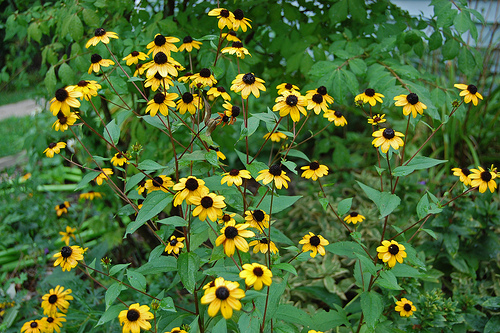 Rudbeckia photo via FarOutFlora/Flickr Creative Commons
3. Black-eyed Susans (Rudbeckia)
This popular flower is easy to love in the garden. A member of the sunflower family, black-eyed Susan blooms with cheerful flowers in summer and fall. Plant these perennials in full to partial sun. Deadhead these carefree plants regularly to encourage more blossoms, which make pretty cut flowers in fall arrangements. Zones 3 to 9.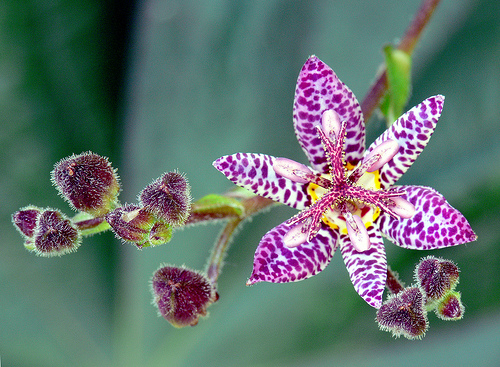 Toad lily photo via J.G. in S. F./Flickr Creative Commons
4. Toad lilies (Tricyrtis)
Don't judge this plant by its ugly name. For the shady garden, this hardy perennial provides dramatic orchid-like flowers in late-summer and fall. Toad lily grows best in moist soil that is well draining and rich in organic matter.  If you're looking for something special for that shady spot, don't overlook the toad lily.  Zones 4 to 8.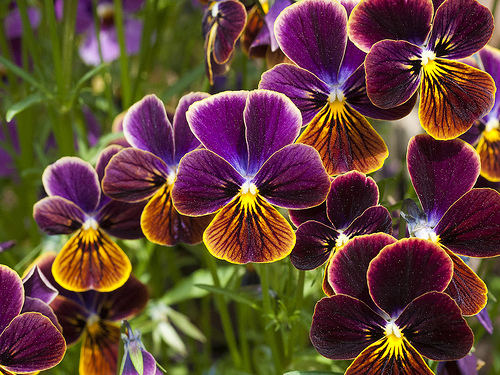 Pansies photo via torugatoru/Flickr Creative Commons
5. Pansies
Along with late-blooming perennials, several annuals prefer the cooler temperatures of fall and spring. Pansies are annuals that grow well in fall and many are quite hardy. In colder climates, consider winter-hardy pansies (such as 'Snow Angel' or 'Icicle'), which survive winter temperatures in Zone 4 and re-bloom in spring.
Plus, it's hard to beat the flowers' wild variety of colors and shapes that are available to consider. Plant pansies into garden beds or in containers near the window, where you can appreciate them from inside the home too.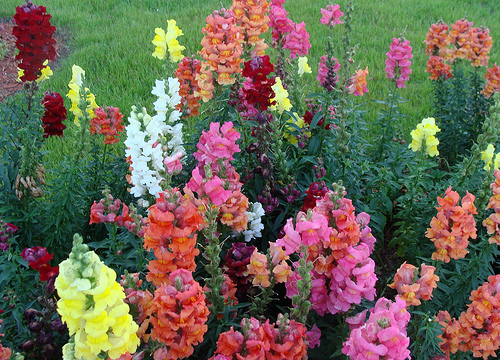 Snapdragons photo via Martin LaBar/Flickr Creative Commons
6. Snapdragons
Snapdragons and other annuals, such as calendula, will often last well into the fall, especially when grown in a sunny, sheltered area. They provide easy-care color and beauty to your late-season containers and garden beds, as well as in the spring.
With a little planning ahead, your garden doesn't need to suffer when summer ends. Enjoy these diverse and colorful flowers for fall beauty in your garden.