Adding embellishments to your quilting and sewing projects can be a fun and easy way to personalize your pieces, making them truly one of a kind! In the past few years fabric embellishments have exploded in the marketplace, providing you with plenty of options. However, the large number of products and techniques available can also make it difficult to know where to begin.
Here are some tips on how to embellish your quilting and sewing!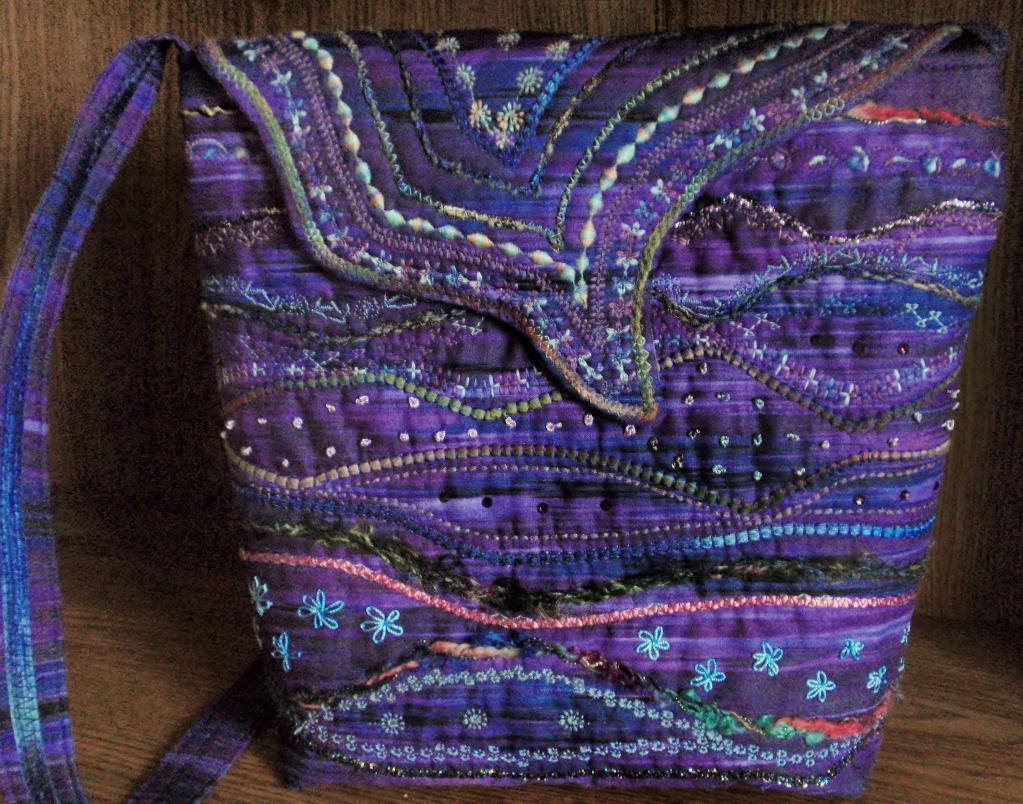 Purple bag made by Craftsy member LaVonne Rosso in the online class Stupendous Stitching: Adventures in Surface Design
Yarns and fibers
Yarns and fibers create dimension, texture and can highlight printed fabric motifs. They can also add contrast between two areas of patchwork that might need an extra boost of definition. While machine quilting your project you can couch in various yarns and fibers. Consider using them as flower stems, or highlighting appliquéd stems with green fibers. Braided and twisted fibers can also be used as a hanger for a wall hanging, or as fringe on the bottom of a quilt.
Angelina Fiber is a shredded iridescent polyester fiber that comes in a rainbow of color choices, as well as bondable or non-bondable varieties. The bondable Angelina fibers will bond together to create a non-woven type of fabric. The non-bondable Angelina can be sprinkled into the bondable type to add color variations. Once you have created your Angelina "fabric" you can stitch through it or cut it into shapes for appliqué. Using Misty-Fuse with Angelina Fibers will allow you to fuse the fibers directly to your quilt.
Get more ideas for decorative stitching methods here.
Buttons and beads
Buttons and beads are an ideal way to start quilt embellishing. They are available everywhere (you may even have some in your own sewing room!) and can add fun texture to your quilts. Most buttons and beads are easy to apply with a small hand stitch, and can be added before and/or after the quilting is done. For a fun look try stacking a few buttons together with a few beads. You can also stitch the beads to your quilt with a heavier weight thread for a different look.
Stamping fabric techniques via Cindy Walter's online class Fun Techniques With Fabric Paints
Crystals
Crystals can add a sparkling treat to your projects, and can be used to highlight a particular part of the fabric or design. Light up stars with pink crystals, or add yellow crystals to the center of flowers. You can even embellish a quilt that has been finished for quite some time. Simply create a unique crystal design and your quilt will come alive! For easy application look for Swarovski Hot-Fix Crystals® which come with heat activated glue on the back of each crystal.
Fabric paints, colored pencils and crayons
Finally, fabric paints, colored pencils and crayons can all be used to embellish your projects. Color and highlight areas of your preprinted fabric panels to give them a truly custom look. Remember to set your crayon embellishment by covering the crayon with a paper bag and ironing the area with a dry iron. This will pull the wax out, and make the color a permanent decoration to your quilt. You can also create a design on muslin or white cotton that can be colored in with crayons or colored pencils, then quilted and embellished with some of the techniques described above.
Learn more about fabric painting here.
The key to quilt embellishment is to start small, have fun and use your own creative expression. There are so many products to choose from that allow you to customize your quilt and make it a unique piece of art. Just have fun with it, experiment, and enjoy embellishing your projects!