Equilateral triangle quilts are striking in their classic simplicity. But this classic shape lends itself to both traditional and modern fabrics. Here is a pattern roundup of some terrific projects with those equilateral triangles.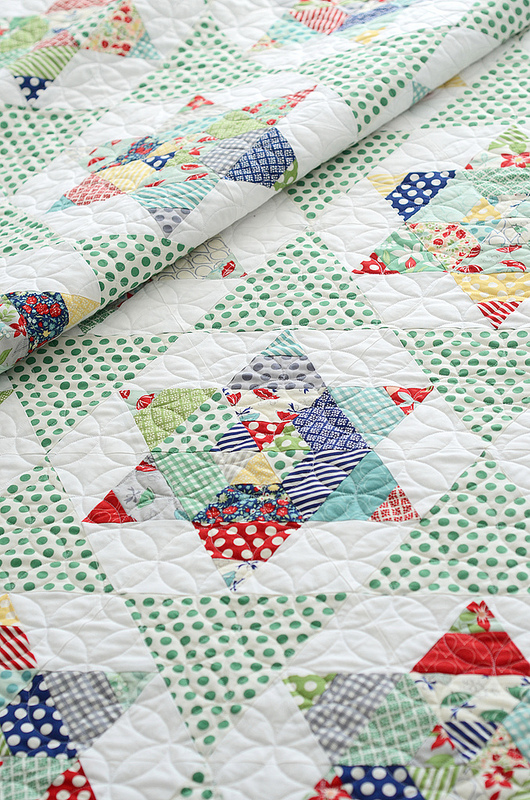 Starlight Quilt Camille Roskelley
Equilateral triangle quilts explained
Equilateral triangles are triangles in which all three angles of the triangle measure 60 degrees and all three sides measure the same length.  Six equilateral triangles can be pieced together to create a hexagon, offering even more opportunities to use this shape in quilting projects.
The simplicity of this shape lends itself to a variety of quilt designs, and piecing an equilateral triangle quilt is as easy as sewing a straight line! In addition to the ease of sewing these blocks, there are a variety of time-saving techniques for cutting the equilateral triangle pieces for your quilt. Equilateral triangles do have bias edges that can stretch out of shape, so remember to take care when handling your pre-cut pieces.
Cutting equilateral triangle pieces
One method of cutting equilateral triangle pieces is to use a cutting machine and template such as the Accuquilt Go! Cutting system which features equilateral triangle dies in a variety of sizes. By using this system, you can quickly and easily cut up to 6 equilateral triangles at a time. In addition, the edges of the triangles are cut to make for perfect piecing.
There are also a variety of equilateral triangle templates and rulers available for ease in cutting these shapes. Marti Michell and Creative Grids both feature 60 degree triangle rulers in a variety of sizes. Some templates for equilateral triangles feature a trimmed edge on the corner tips which makes sewing the triangles together very easy. For equilateral triangle sewing without trimmed corner tips, just remember to always overlap edges by 1/4″.
If you don't have access to a specialty cutting system, template or ruler, you can always create your own equilateral triangles by using the 60 degree mark on your ruler. Cut strips to your desired height, then use the 60 degree line to make your triangle cuts.
Note: When using an equilateral triangle quilt pattern or design, be sure to use the specified method for cutting your triangles.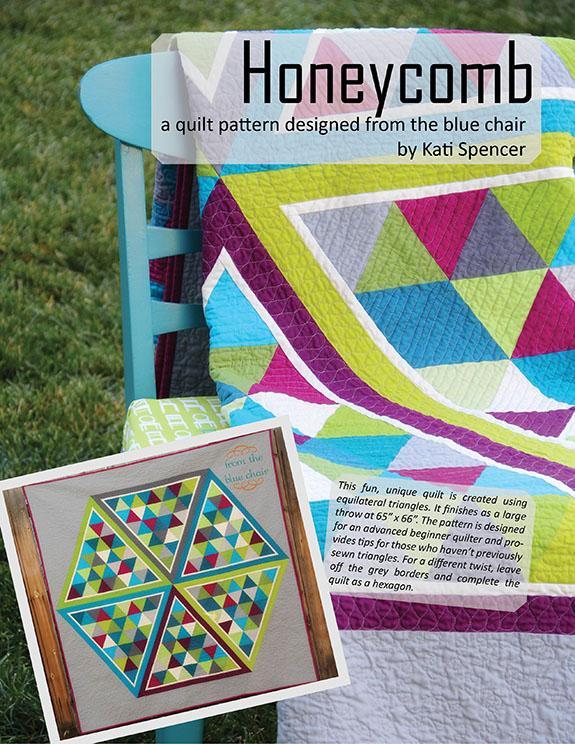 Photo via thebluechair
Honeycomb Quilt
If you are ready to try an equilateral triangle quilt, why not start with the Honeycomb Quilt. This stunning modern quilt is created using equilateral triangles. The quilt finishes at 65″ x 66″ which is the perfect size for a large throw quilt. There is also the option to create a 24″ x 24″ mini-quilt from this pattern. This pattern is suitable for the advanced beginner and contains tips and pointers for someone who is new to sewing with triangles.
Photo via Kelly's Korner
Hidden Hexagons (Triangles) Quilt Pattern
The Hidden Hexagons (Triangles) Quilt Pattern finishes at a generous 60″ x 90″ and also uses equilateral triangle pieces. No special tools are needed to create this quilt: the triangles are cut using the 60 degree mark on your acrylic ruler. Thirty different quarter yard pieces of fabric are required to create this delightfully scrappy triangle quilt.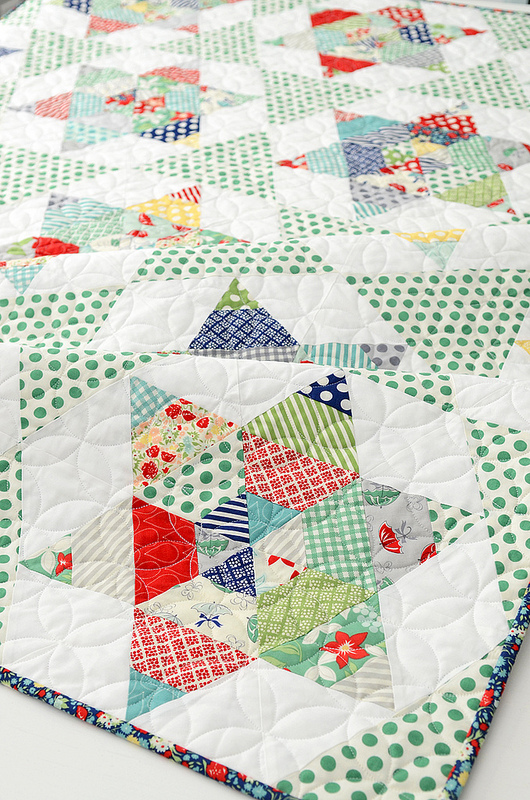 Starlight Quilt Camille Roskelley
Starlight Quilt
The Starlight Quilt by instructor Camille Roskelley features strip-pieced equilateral triangles set together with an easy-to-piece construction method. The pattern provides an equilateral triangle template to trace, or the 60 degree lines on an acrylic ruler can be used to cut the triangle shapes. This is a terrific pattern for utilizing scrap pieces of fabric since the triangles are created from strip pieced units.
Get the Starlight Quilt Pattern here.
With so many fun possibilities for equilateral triangle designs, which equilateral triangle pattern will you make first?