Have you ever sampled stollen? Stollen (actually pronounced "shto-len", not "stolen") is a rich, almond-enriched holiday bread containing dried and candied fruit that — trust us — tastes way better than fruitcake. As this easy stollen recipe proves, this bread is a keeper, making for a fantastic holiday breakfast food, teatime snack or an elegant addition to the dessert table or cheese plate.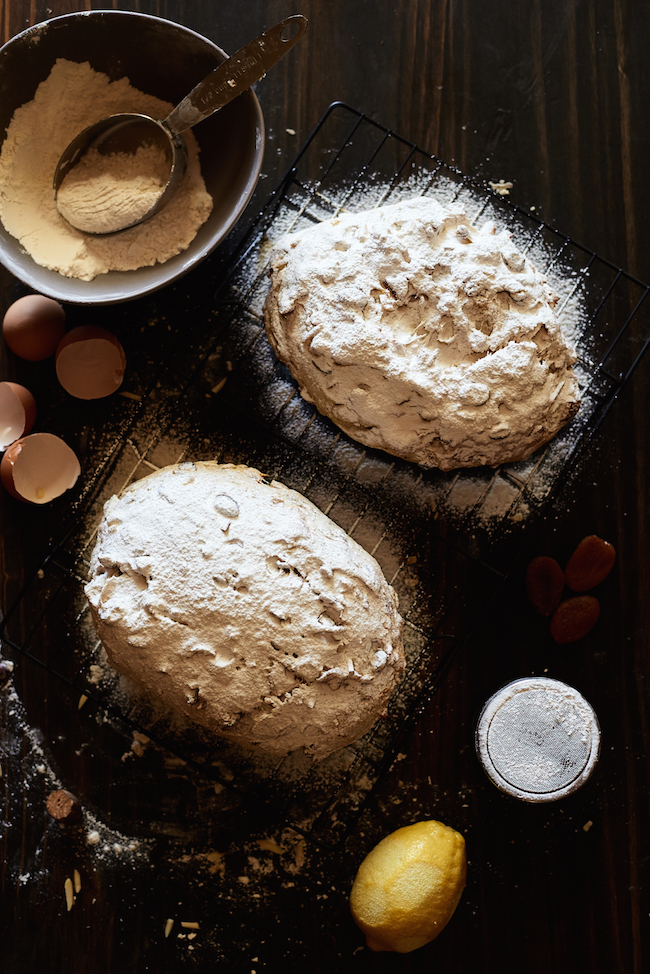 Make classic Austrian strudel at home!
Enjoy a front-row seat to expert instruction from award-winning pastry chef Nick Malgieri in online lessons that are yours forever. Enroll Now »
What is stollen?
Stollen is a sweet bread that is said to have been developed as early as the year 1329, in Dresden, Germany, as part of a baking competition for the Bishop of Nauruburg. Stollen was put together using all of the finest and most special ingredients, including grain, sugar, nuts and preserved fruits. Apparently, the Bishop was so impressed with the rich loaf that he put a quantity of grain in special reserve to be used solely for stollen. This is saying a lot, because early loaves are said to have weighed as much as 30 pounds. While the stollen bread has lightened, it remains a fairly hearty bread.
If you've only ever tried store-bought stollen, you're in for a treat with the homemade version.
Commercially produced varieties are often disappointing; slightly stale, dried out and too sweet. But when made at home, stollen can be spectacular: a moist loaf of lightly sweet bread, rich in almond flavor and dotted with flavorful and bright specks of dried fruit.
An easy stollen recipe
Makes one large loaf or two small loaves
Ingredients:
4¾ to 5½ cups flour, divided 
1/3 cup granulated sugar
2 packages (¼ ounce each) yeast
2 teaspoons finely grated lemon peel
1 teaspoon nutmeg
½ teaspoon salt
1 cup whole milk

½

cup (4 ounces) butter, cut into pieces
2 eggs, lightly beaten
2/3 cup blanched, slivered almonds, lightly toasted and cooled
2 cups candied or dried fruit (see recipe note, below)
Powdered sugar, for dusting the top of the bread
Step 1: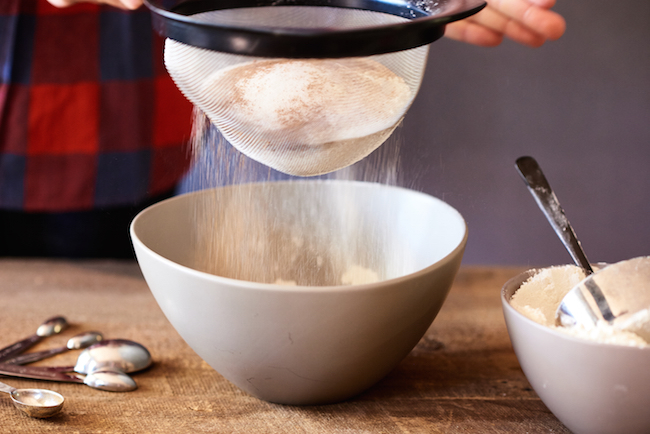 In a large bowl, sift together 2 cups of the flour, the sugar, yeast, lemon peel, nutmeg and salt. Set to the side.
Step 2: 
In a medium saucepan, heat the milk and butter on medium-low heat until the butter has melted and the mixture is warm (about 110 F). Remove from heat. If the mixture has gotten hotter than 110 or 115 F, let it cool slightly before adding, as it may kill the yeast if too hot.
Step 3: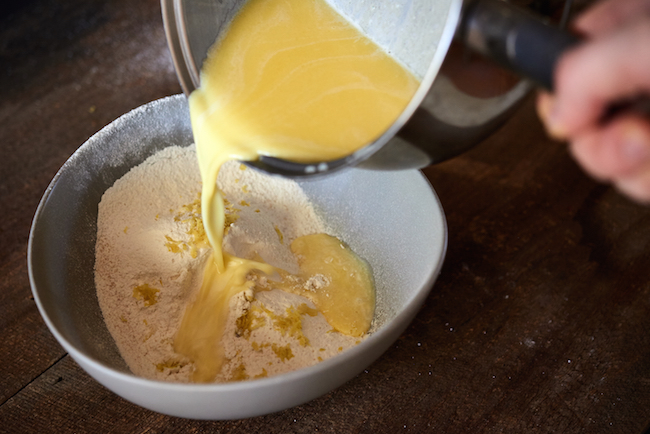 Pour the milk mixture on top of the sifted dry ingredients, and stir to gently incorporate. Once roughly incorporated (there may be a few flour streaks), stir in the egg mixture, too. The mixture will be much more like a batter than a dough at this point; that is totally normal.
Step 4: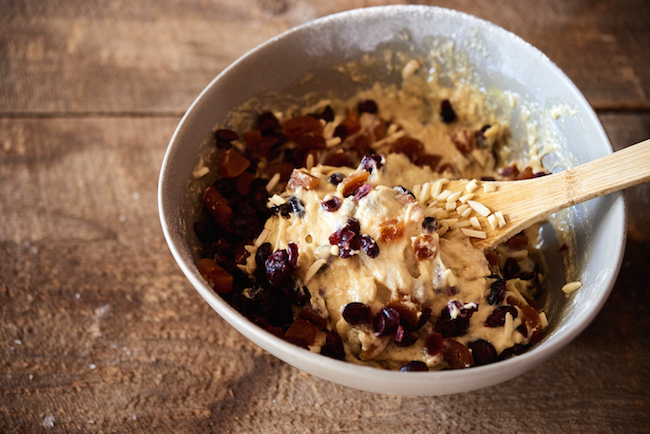 Add the candied fruit and the almonds. Once they are evenly combined, begin to add the remaining flour, ½ cup at a time, mixing the dough with a spoon and then switching to kneading with your hands when it is thick enough. You may not have to add all of the flour. You just want to add enough so that it can be handled easily. 
Step 5: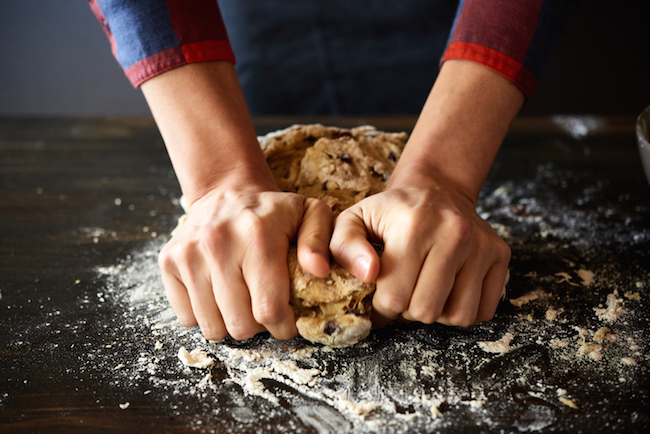 Knead the dough on a lightly floured surface until smooth, about 6 to 8 minutes. This can be done in 3-4 minutes using a dough hook in your stand mixer. Once the dough is smooth, you can decide how to form your loaf. Personally, I like to divide the mixture into two small loaves, and form them into two approximately 5″ x 10″ loaves. You can make one jumbo loaf if you prefer.
Step 6: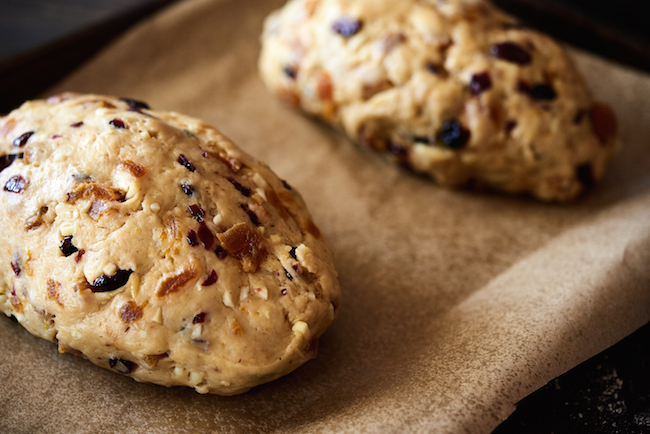 Place the loaves on a baking sheet lined with parchment paper or a silicone mat. Let the loaves rise, covered, until doubled in size — about an hour, possibly less. 
Step 7:
Near the end of your rising time, preheat the oven to 350 F. Bake for 35-40 minutes, until browned on the outside and the bread has a hollow sound when gently tapped. If your bread seems like it is browning too quickly, lightly tent aluminum foil on top. 
Step 8: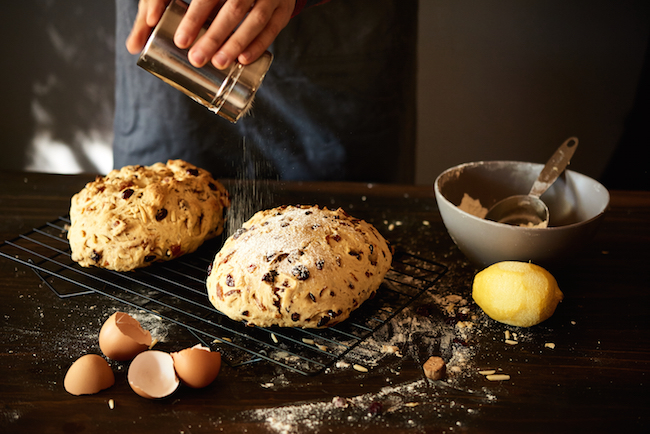 Remove from the oven, and let cool on wire racks. Sift powdered sugar over the loaves before serving in slices.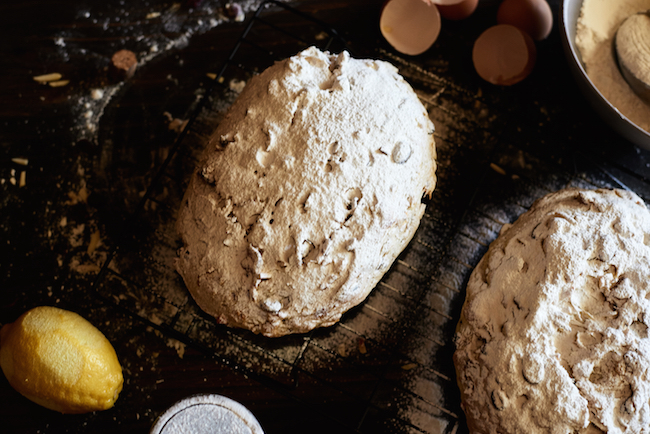 Recipe notes
The mix of candied and dried fruit contained in stollen will vary from recipe to recipe.
Personally, I prefer a "choose your own adventure" approach. This recipe allows you to use 2 cups of whatever dried or candied fruit or whatever mixture you'd like. In the photos shown, I used a combined 2 cups of homemade dried cranberries (which gave portions of the dough a pretty pink hue) and finely cut dried Turkish apricots. Perhaps you'll go with this mix, or maybe you'll choose another mix. Your dried and candied fruit mix might contain raisins (light or dark), dried figs, prunes, dried cherries, dried pineapple, candied citrus, candied cherries, or any combination or mix that you'd like. 
These loaves freeze beautifully.
If you know that you won't go through all of your stollen at one time, you can freeze one or both of the loaves yielded in this recipe for up to a month. If freezing, do not dust with confectioners' sugar until the loaves have been thawed and are ready to serve. 
Got leftovers?
Leftover stollen makes for a fantastic French toast casserole, should you find yourself with a few slightly stale slices. Just saying.
Make classic Austrian strudel at home!
Enjoy a front-row seat to expert instruction from award-winning pastry chef Nick Malgieri in online lessons that are yours forever. Enroll Now »