It was my son's favorite movie when he was three. Of course due to the food-centric theme of the Disney film Ratatouille, I may have pushed it on him quite a bit. But regardless we both loved recreating the final dish, the one in which Remy (a rat who is also a talented chef) turns a classic and often homely Mediterranean dish into a 5-star-restaurant-worthy recipe.
Ratatouille, and now I'm taking the recipe not the movie, is the perfect dish to ease out of summer and into fall. This hearty, peasant dish uses a bounty of summer's offerings that are then slow roasted to create a rich, warm, satisfying dish that makes me giddy for the comfort food that so readily accompanies the chill in the air.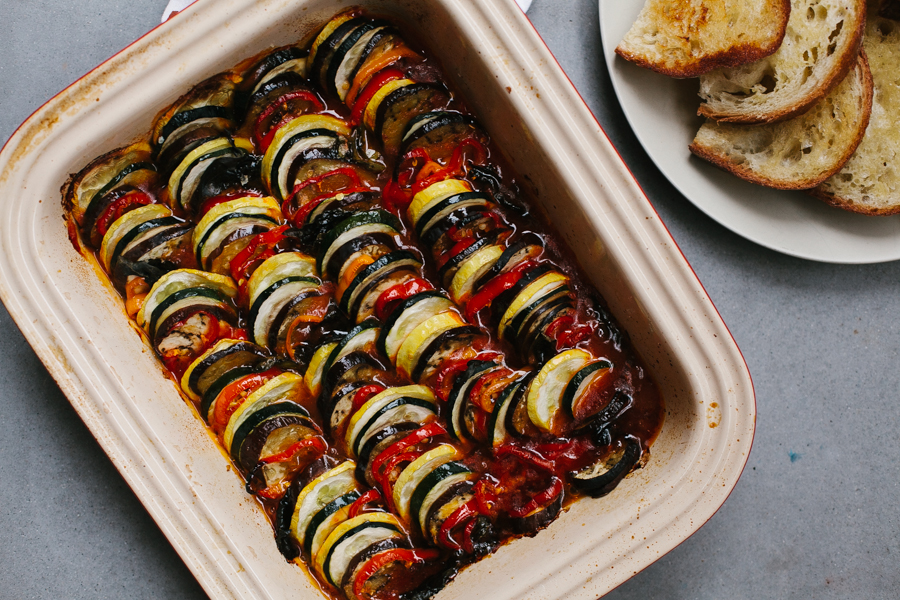 About this recipe
If you start looking around at ratatouille recipes you see they are really quite varied. Some resemble a casserole while others are more stew-like. Regardless of how it's cooked, and many French grandmothers may completely disagree with me, I think the point is the fresh Mediterranean ingredients, such as zucchini, peppers, eggplant and tomatoes, all cooked together with a bit of herbs.
My method of choice for this easy ratatouille recipe is to thinly slice the vegetables and nestle them into a layer of tomato sauce and roasted until tender and some of the edges crisp and caramelize. I find it much easier to cook it in this way than carefully cooking each ingredient separately as is done with many other ratatouille recipes.
To serve I simply set out a bowl of crusty bread and top the dish with shaved Parmesan or even goat cheese.

How to make ratatouille
Serves 4-6
Note: I've used fresh basil in my version here but really any herb would work. Thyme is also lovely as is marjoram. 
Ingredients: 
1 1/2 cups simple tomato sauce (store-bought or homemade)

2 zucchini, sliced into 1/4-inch thick rounds
1 yellow squash, sliced into 1/4-inch thick rounds
2 small eggplant, sliced into 1/4-inch thick rounds (look for the thin variety)
2 red or orange bell peppers, halved and thinly sliced (I used 6- 8 small sweet peppers)
10 fresh basil leaves
Olive oil
Salt
Parmesan shavings for serving
Directions:
Preheat your oven to 350 F
1. Add the tomato sauce to the bottom of a 9″x12″ baking dish. 
2. Stack the vegetables and line them up in neat rows in the dish. Every so often insert a basil leaf between some of the vegetables. 
3. Drizzle the vegetables with olive oil and sprinkle with a good bit of salt. 
4. Cover the baking dish with a sheet of parchment paper or aluminum foil. 
5. Roast for 1 hour, then remove the parchment and aluminum and roast until parts of the vegetables crisp around the edges. If they look dry, you can add a bit more olive oil.
6. Finish with shaved Parmesan or creamy goat cheese.
Serve with bread, couscous or polenta. Leftovers are great tucked in between two pieces of bread with melted Gruyère or goat cheese.