Dress forms can be incredibly useful for knitters and sewers alike, but not everyone can spend hundreds of dollars to buy a professional dress form. If that's the case for you, consider creating a duct tape dress form!
Duct tape dress forms are made with — you guessed it — duct tape that is applied right to your body. The only supplies you need are scissors, duct tape, something to stuff the dress form with, and a buddy to help you out.
While making a duct tape dress form is simple, there are a few things you need to know to make the process easier.
Check out these tips for making your own duct tape dress form.
Tip #1: Don't use your best scissors to cut the tape.
Cutting duct tape is a gummy mess sometimes. Don't use your best scissors to cut those strips of duct tape. The best option is to use non-stick scissors, which you can find at your local craft store. They're awesome for cutting through tape and glue.
Tip #2: Use a buddy — or two.
Making a duct tape dress form is much easier if you have a buddy to help. It's even better if you have two! One person can cut the tape while the other one places it on you.
Tip #3: Choose buddies you're comfortable with.
Your buddy is going to be placing duct tape all over your body, so choose someone you're comfortable with to make the process more relaxing.
Tip #4: Choose duct tape based on budget and how you'll use the dress form.
My dress form is gray, and I like it because it looks nice when I use it to photograph my knits. The neutral gray looks nice under almost any color of yarn. There are a lot of fun patterned duct tapes out there, so there's an opportunity to go nuts if you want your dress form to be colorful.
Keep in mind costs, too. The traditional gray duct tape is the least expensive, while the patterned duct tape is a higher quality and costs a little more.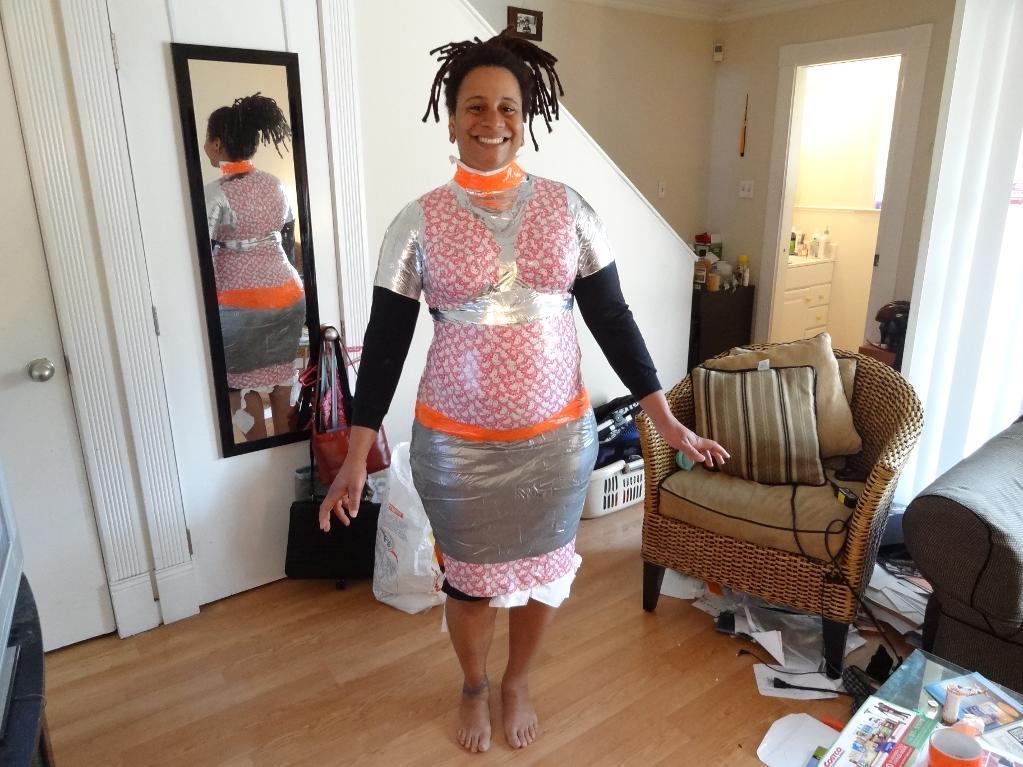 Craftsy member Quotidianlight had a lot of fun making her duct tape dress form. Check out her other pics if you don't believe me!
Tip #5: Wear the undergarments you'll wear with most of your clothing.
When I say "undergarments," I'm mostly talking about bras here. Don't wear a sports bra while making your duct tape dress form, unless a sports bra is your usual undergarment. It's kind of like being measured: wear the bra you'll most likely be wearing with your knits.
And speaking of undergarments, make sure that the T-shirt you're wearing underneath is tight and has sleeves on it. You don't want that duct tape getting stuck to your arm!
Tip #5: Mark important measurements with a marker.
Everyone's body is different, and it can sometimes be difficult to tell exactly where that bust or waist is. In order to accurately fit your knits and use those pattern measurements to your advantage, use a marker to mark important measurements, like your waist and the fullest part of your bust.
Tip #6: Use plastic wrap to fill in the gaps.
A T-shirt can't cover every single part of your body that you want to include in the dress form. For areas that may not be covered by the t-shirt, like your neck for example, first cover your skin with plastic wrap, then tape. You'll be glad you did once it's time to remove the dress form!
Tip #7: A crappy-looking dress form can still be accurate.
Duct tape won't result in a perfect dress form. Duct tape has a tendency to wrinkle, especially when you start taping curvier parts of your body, like your bust. If your dress form is kind of crappy looking, measure it. If the measurements are accurate and match your body, then don't worry about making the dress form look perfect!
Want more guidance on making your own duct tape dress form?
Enroll in Curvy Knits with Marly Bird and you'll get the details for creating a dress form, plus advice on how to customize patterns to fit your body.
Have you ever tried to make your own dress form? Any tips for other knitters making a duct tape dress form?