If you enjoy capturing details in your paintings and illustrations, then read on! This mixed media technique using graphite pencils, watercolors and color pencils is perfect for painting detailed subjects.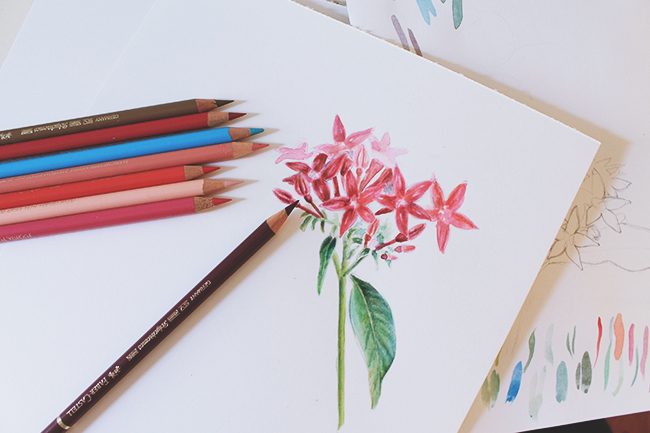 Follow along as we create a bouquet of flowers with step-by-step instructions.
Step 1: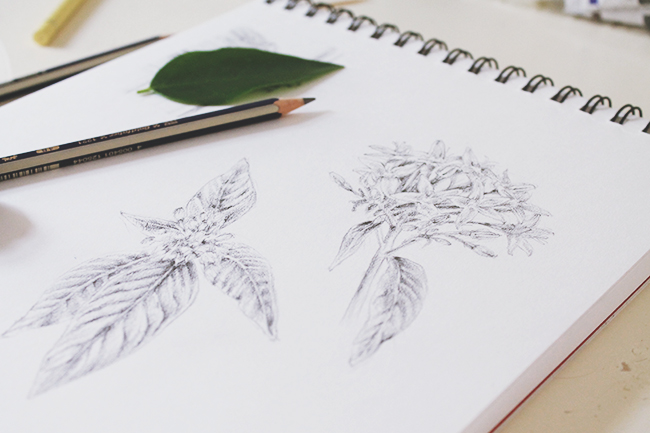 This first step is one you could skip. But, I really like sketching the flowers I am going to paint to get comfortable with the shapes, proportions and get acquainted with this lights and shadows. This is also your chance to work out the composition. For this step you can use anything from your sketchbook or sketchpad to regular printer paper.
If you want to make the experience even more fun, you could go out with your camera and take plenty of reference photos of plants and flowers for you to work from.
Step 2: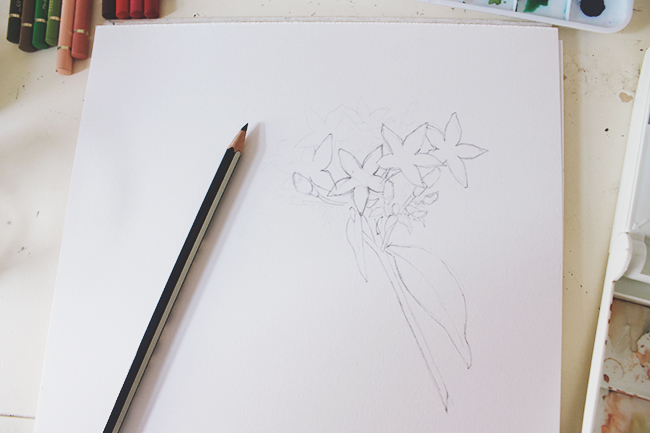 After sketching the flowers and deciding on size and composition, draw the basic outline on watercolor paper or bristol board. You'll want to keep these lines light and simple. I made the lines on this drawing darker, so that they would come up on the camera but later erased them a little by using a kneaded eraser. 
Step 3: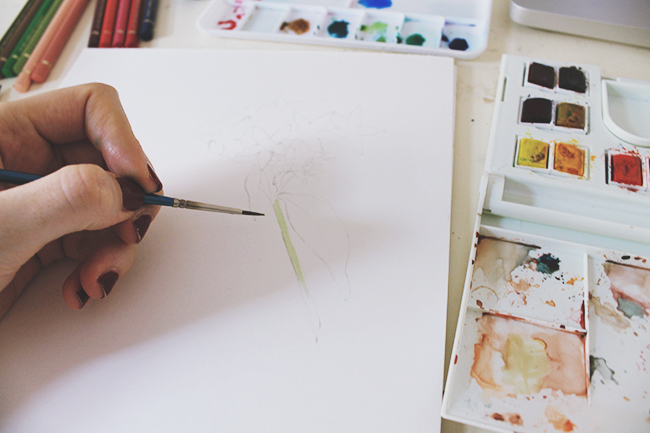 Now you are ready to paint your first watercolor brushstrokes. The key to this technique is: layers, layers, layers. You should start with a thin, watered-down layer of watercolor and build up the color with thicker paint each time. Remember to let every layer dry completely before you move on to the next one.
Use green paint to block in a light wash of the stem and leaves.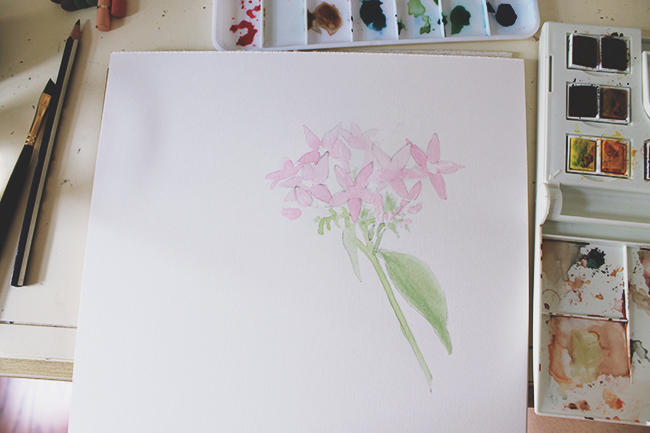 While you wait for this layer to dry you can move on to painting the base wash of the flowers. 
Step 4: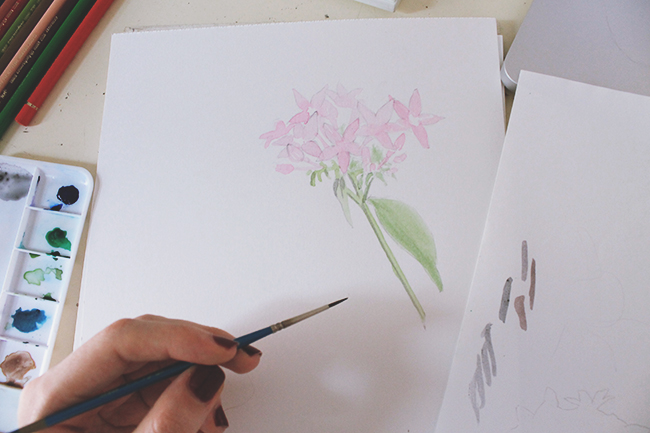 After the first layer dries completely, begin adding subtle layers. At this point you can mix a couple of grey colors to start creating some depth. Don't worry about it looking flat because you have plenty of time to add more shadows and create more dimension.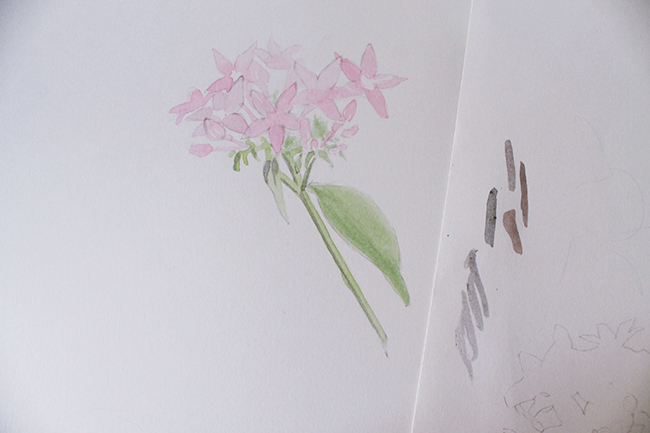 Step 5:
Continue to build up the color of the leaves with watercolors. Paint some of the undertones and continue shading. After this new layer dries completely, you can reach for your color pencils. For this tutorial I used Faber Castell polychromos but you can use whichever pencils you have and/or prefer.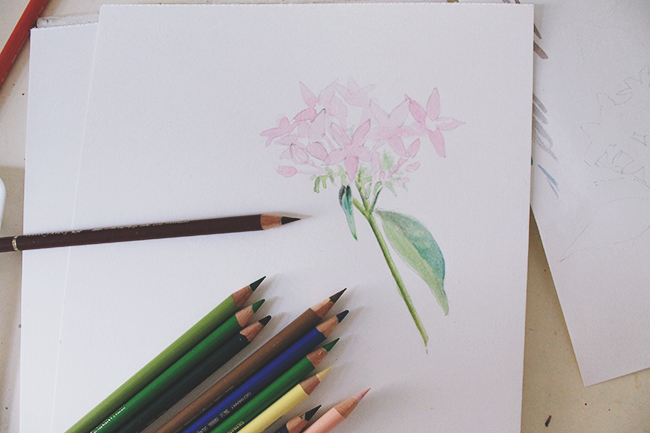 Use your pencils in small circular motions over the area you want to color. This will allow all of the color already on the paper to blend together nicely. Keep building up both colors and shadows simultaneously.  
Step 6: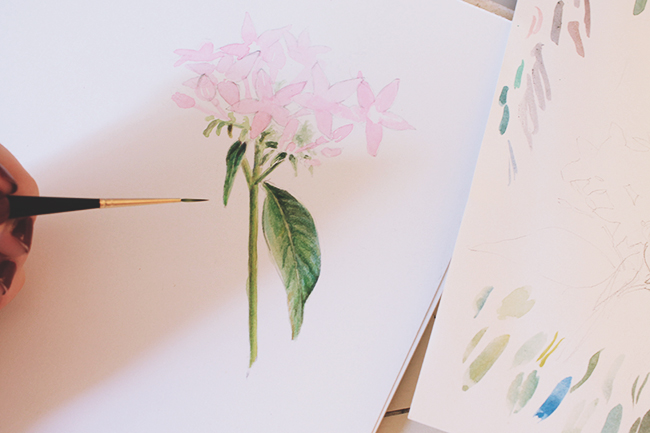 Now you can go back to watercolors. Using a liner brush or small round brush, paint all of the small details on the stem and leaves.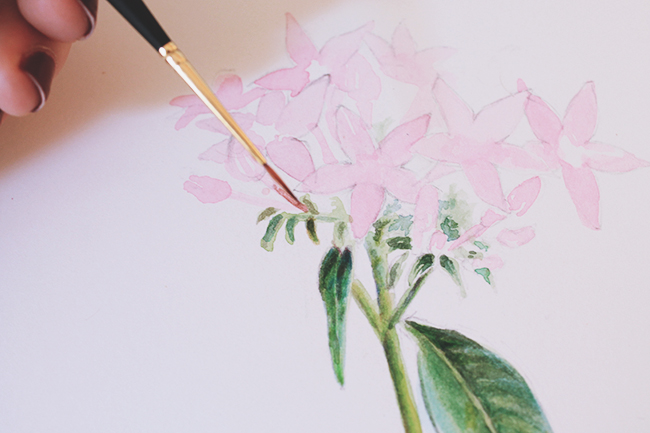 You can go as detailed or painterly and abstract as you wish. It all depends on your personal style and which final look you prefer.
Step 7: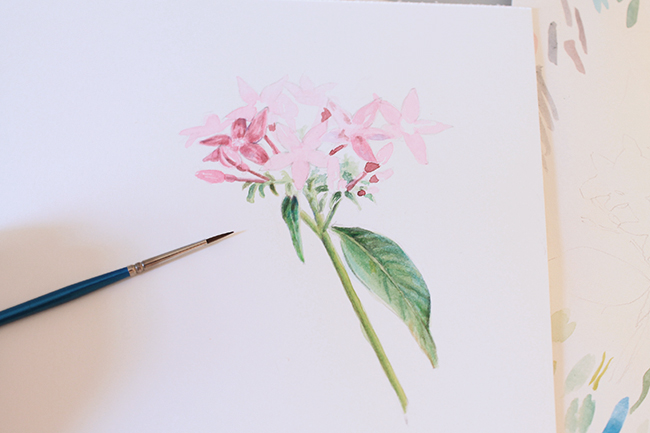 After finishing all of the green areas you can move on to the flowers. Mix the watercolors you will need for these and slowly begin to layer some shadows as we previously did with the leaves and stem.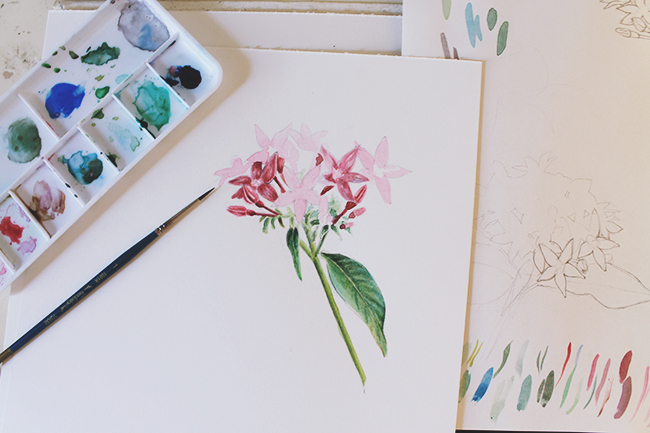 You will soon begin to notice the flowers taking shape and gaining depth. Continue painting all of them until you feel like moving on to the details with pencils. 
Step 8:
As always, remember to let the watercolor paint dry. Afterward you can start painting the details with your color pencils. 
Step 9: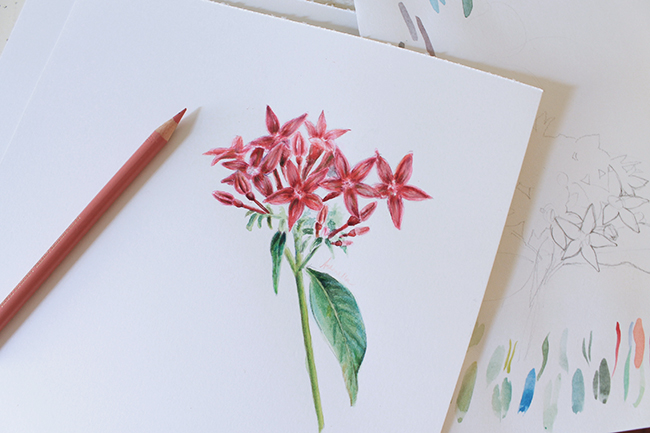 Keep painting with pencils until you are happy with your piece. You can also go back to watercolors and paint another layer if you feel like doing so. This is a very versatile technique that doesn't demand the layers to be applied in a specific order. Let your artistic expression come through the painting and adapt this technique to your own aesthetic. 
Which is your favorite mixed media technique?
5 Botanical Illustration Tutorials