What do your pants, a blanket and skin all have in common? They have folds! And if we want to accurately depict what we see, we eventually have to learn how to draw them. You might've avoided drawing folds for a while, and I don't blame you. They can be multi-faceted and tricky, especially when there are a lot of them!
This tutorial will go over drawing folds in fabric and provide some helpful tips for making it look realistic.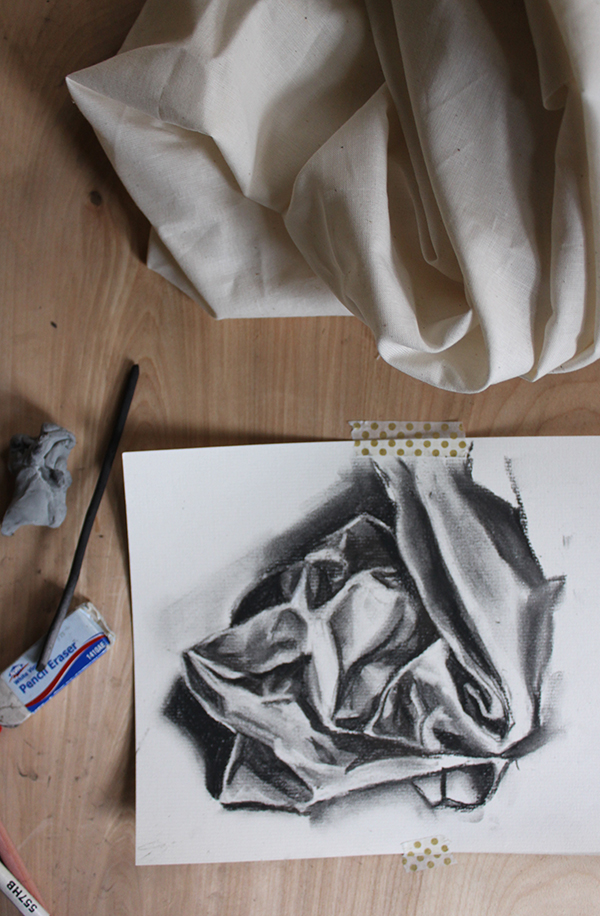 For this exercise, I'm going to use charcoal to draw cotton muslin fabric. It's not a heavy weight material and drapes nicely. I'd recommend to start by drawing folds in fabric that's light colored — it will reflect light better and it's easier to see all of the small folds.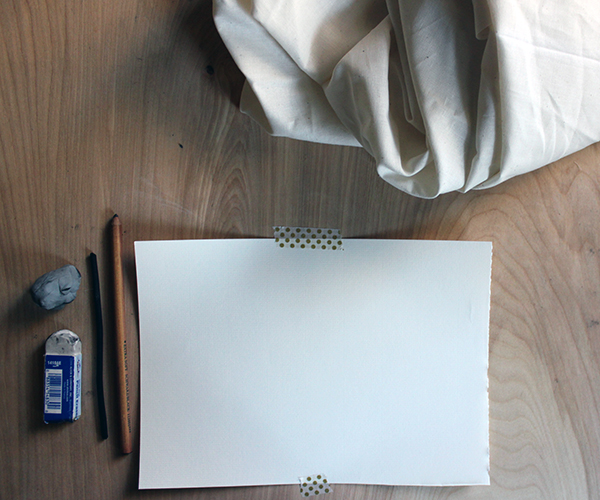 If you've read any of my previous charcoal tutorials, you know that I use a combination of soft vine charcoal and harder compressed charcoal, along with both a kneaded and conventional eraser. I'm using it for this too, with paper that's meant for charcoal media.
1. Notice the overlapping lines.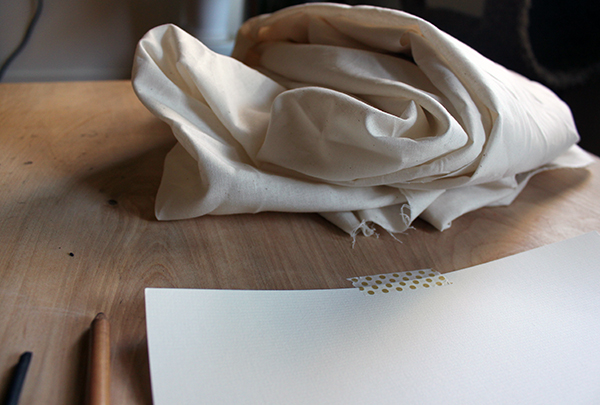 Before you begin, let's consider what folds actually are: They are an excess of something, such as fabric, and create layers of the material that rests on top of itself when not laying flat. So, if we think of folds like that, we are drawing layer upon layer and looking for the overlapping lines.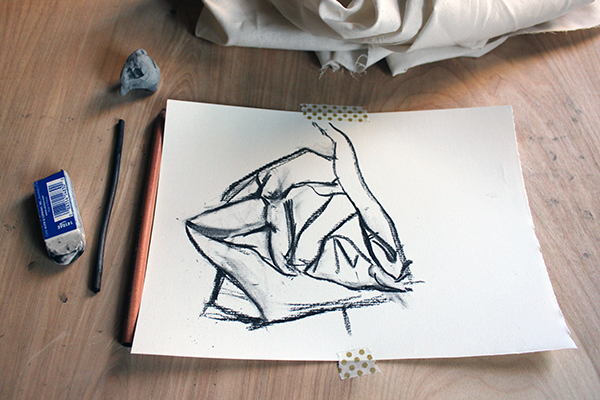 Take notice of what you're drawing. Before you put charcoal to paper, look carefully at your fabric. Do you see a distribution of weight? Which layer is more prominent? Notice how those lines slope outward and in front of other ones to that they're closer to us.
Once you've studied your drawing, it's time to start. Use your vine charcoal to record the outline of the folds that you see. Remember, draw the overlapping lines! Don't be afraid to use your conventional eraser to re-draw something. It's important to get the image correct before you go any further.
Here's a tip: If you're having trouble capturing the angle on something, hold your stick of charcoal away from your face and line it up with what you're trying to draw (not so close that it's touching the object, but just in the air so that it appears to match up). Then, keeping your charcoal at the exact same angle, bring it back to and sketch it on your paper. You'll notice the line is correct!
2. The kneaded eraser is your friend.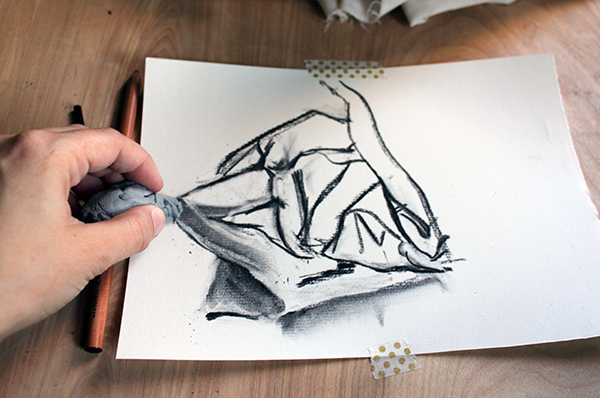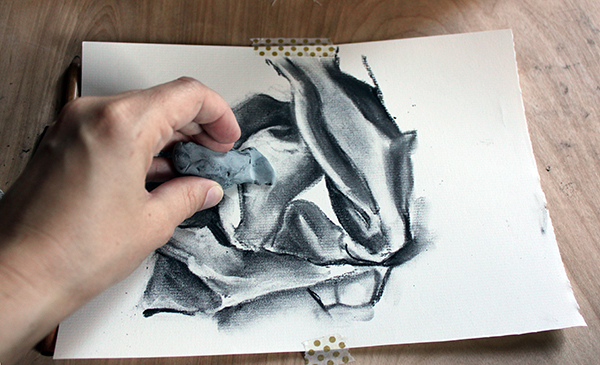 The kneaded eraser is my favorite charcoal drawing tool. A lot of times, I use it more than my charcoal to blend and diffuse edges and capture subtle shading. I recommend doing the same thing here. First, fill in an area with charcoal. The use your eraser to smudge the pigment and take it away.
Varying the amount you press on the paper will have an effect on how much charcoal is left on the page. This is good for building form and subtle folds where there aren't sharp edges. I'll also use my fingers for this, too.
3. Refine the edges with your compressed charcoal.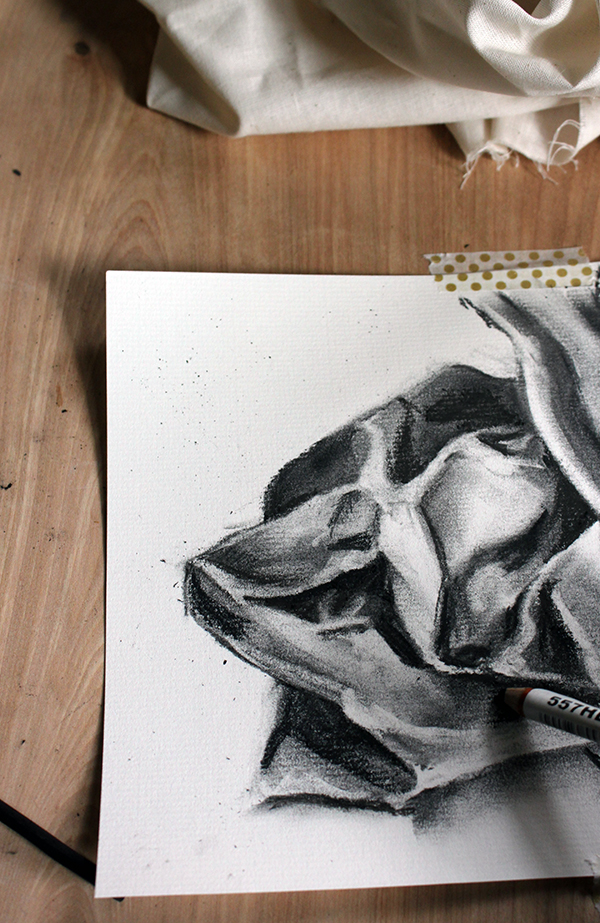 After you've drawn and defined your overlapping lines, it's time to use your compressed charcoal. You probably have sharp folds in your fabric that have equally as rigid shadows. This type of tool is perfect for defining the small, fine details and to give your drawing more visual weight. Use it sparingly, though. Compressed charcoal can be very unforgiving and not erase easily. I like to blend the vine and compressed charcoal, and sometimes layer the two. It will give you a richer black. Afterwards, feel free to erase any smudges and clean up your composition.
So, there you have it! The process of drawing folds in fabric isn't that different from anything else we'd draw. It's just knowing what to look for, which in this case is overlapping lines.

Discover professional techniques for sketching, shading and finishing the timeless look of the human form draped in fabric in Craftsy's Drawing the Draped Figure class!
Sign me up!
What tips and tricks do you have to share for drawing folds in fabric?