I have to admit that it took me a long time to catch Doctor Who fever. I tried to watch the series years ago, but it was only when my boyfriend forced me to watch it that I began to appreciate it. With the new season and a new Doctor starting August 23rd, there's never been a better time to break out our Doctor Who patterns!
Whether you're just starting or you're a loyal Who devotee, these Doctor Who crochet patterns are for all our Bluprint Whovians out there!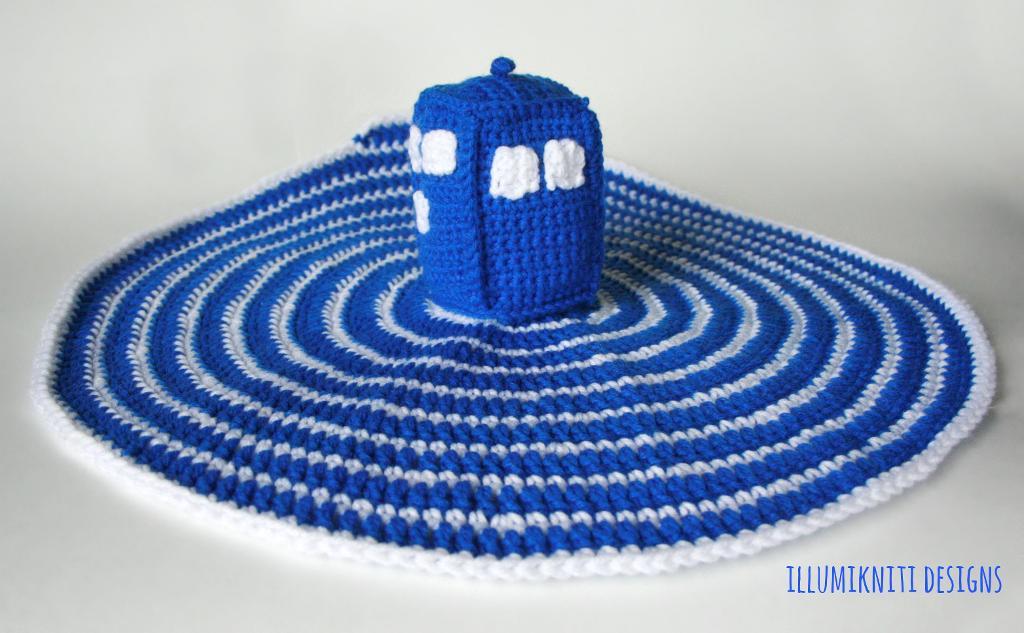 Photo via Bluprint member Illumikniti
TARDIS Lovey
Encourage your geek baby in training to love the Doctor as much as you do with this toy-blanket hybrid featuring the TARDIS. The blanket is designed to look like the time vortex the Doctor travels through each time the TARDIS takes off again.
Get the TARDIS Lovey pattern here.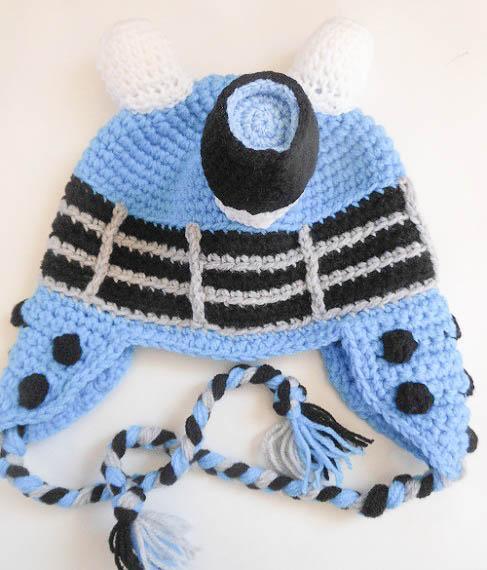 Photo via Bluprint member wistfullywoolen
Dalek Hat
Let's face it: Daleks might be dangerous, but they certainly are adorable. This hat comes in four sizes so you can transform your entire family into the evil race of Daleks from Doctor Who. (Note: Exterminating others while wearing the hat is greatly discouraged.)
Get the Dalek Hat pattern here.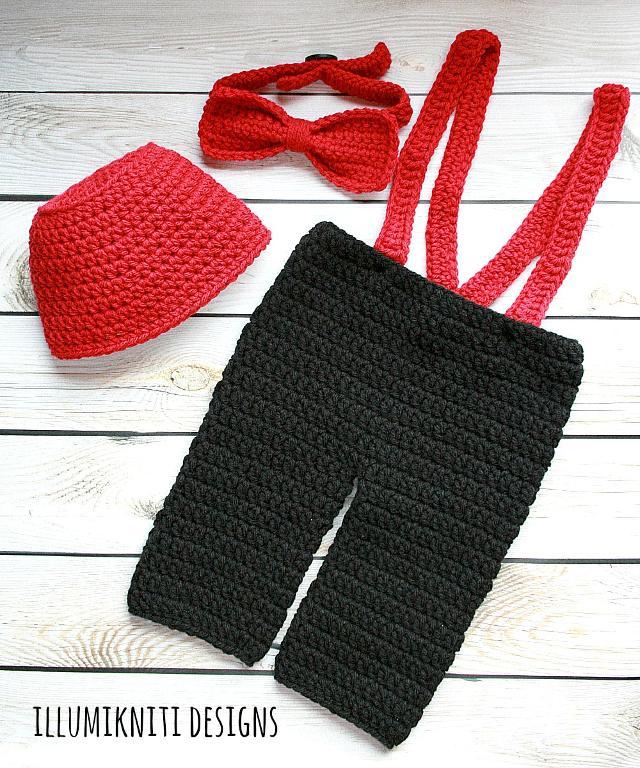 Photo via Bluprint member Illumikniti
11th Doctor Photo Prop Set
If you crochet this set and professionally photograph your baby wearing it, designer Illumikniti will refund your money for the pattern purchase. Sized from 0-12 months, the 11th doctor's outfit is ready for any little Whovian baby.
Get the 11th Doctor Photo Prop Set pattern here.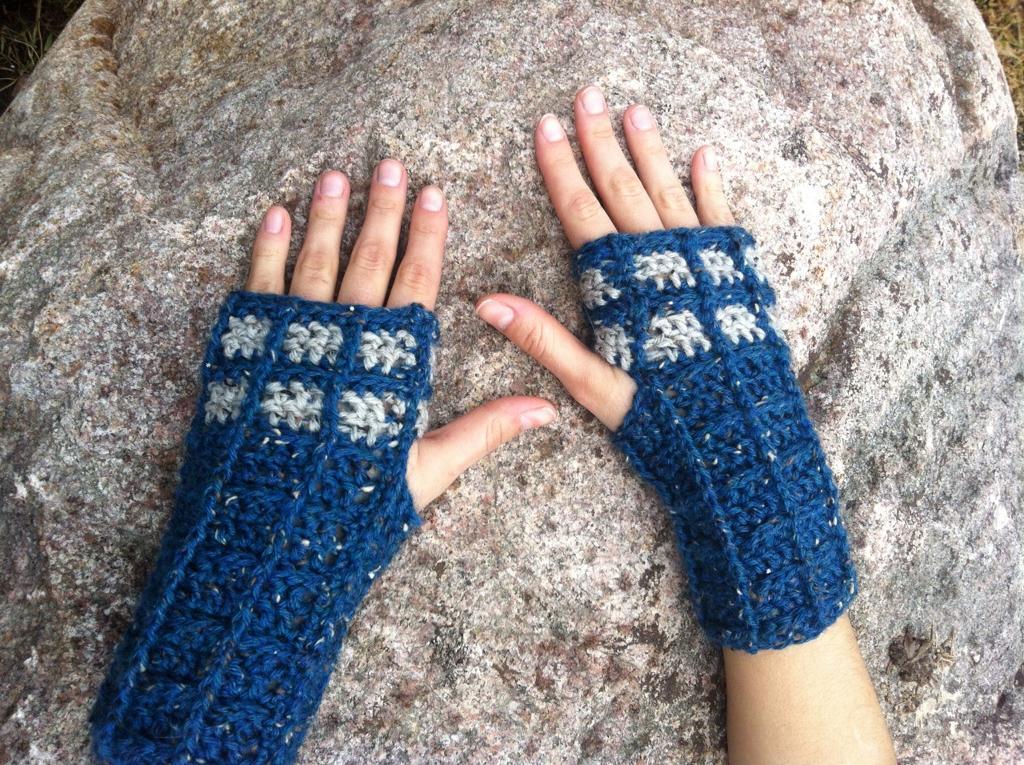 Photo via Bluprint member CarrissaKnox
TARDIS Fingerless Gloves
Only a true Doctor Who fan will be able to spot the TARDIS inspiration behind these gloves. You can use scraps of white yarn to make the windows, and there is a video tutorial included to help you out with the color changes.
Get the TARDIS Fingerless Gloves pattern here.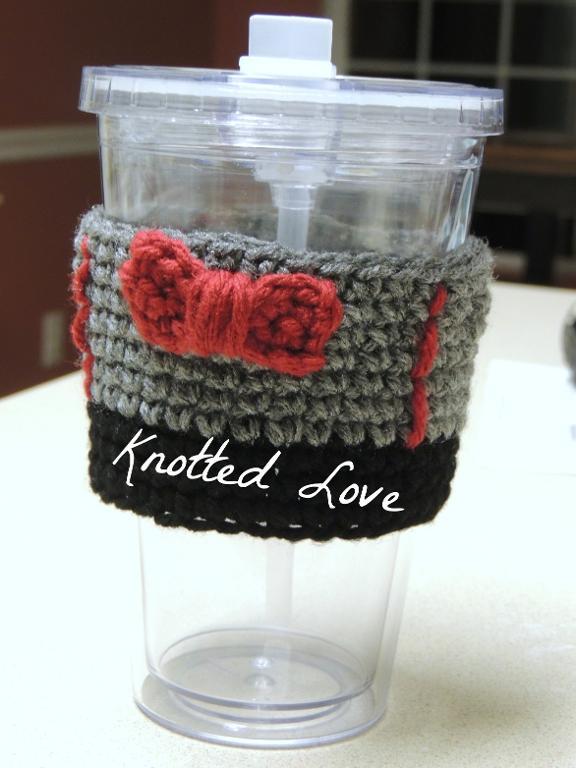 Photo via Bluprint member knottedlove
11th Doctor Cup Cozy
Bow-ties are cool! Greet the Doctor (well, sorta) each morning when you wrap his famous bow-tie around your cup. You may even have all the yarn you need already in your stash.
Get the 11th Doctor Cup Cozy pattern here.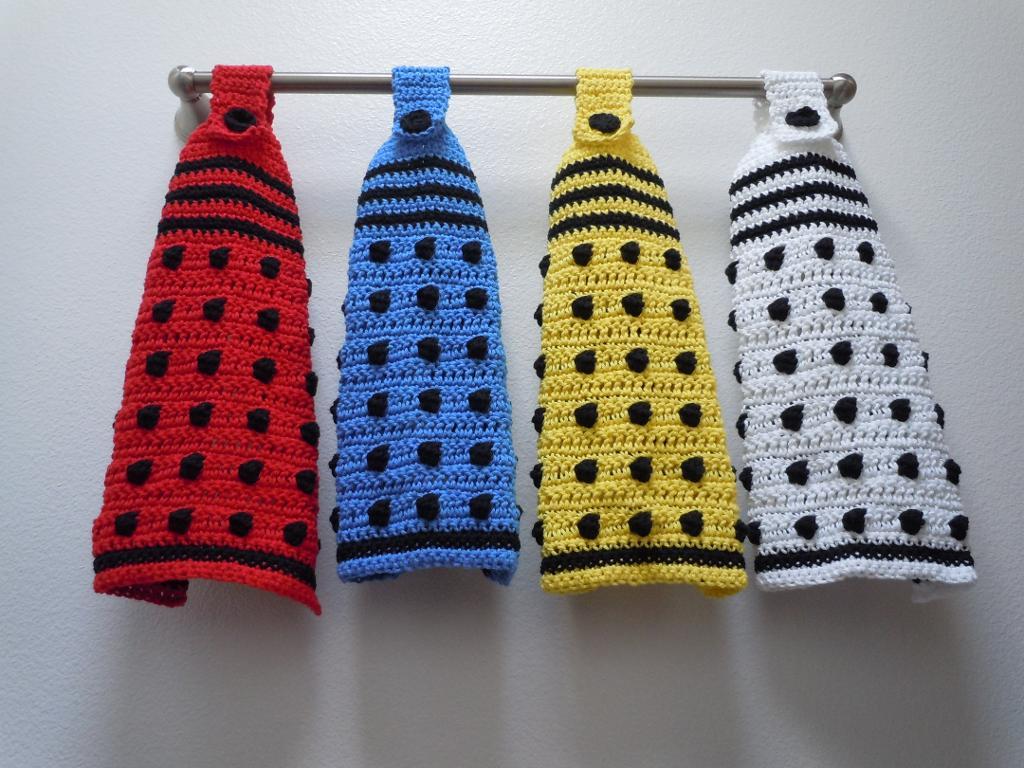 Photo via Bluprint member Critical Stitch
Dalek Hanging Towel
While the Doctor cleans up messes in the universe, you can clean up the kitchen with Dalek towels. These hanging towels are crocheted from absorbent cotton yarn, making them just as handy as store-bought ones. Attach them to hooks or to the oven door for easy access.
Get the Dalek Hanging Towel pattern here.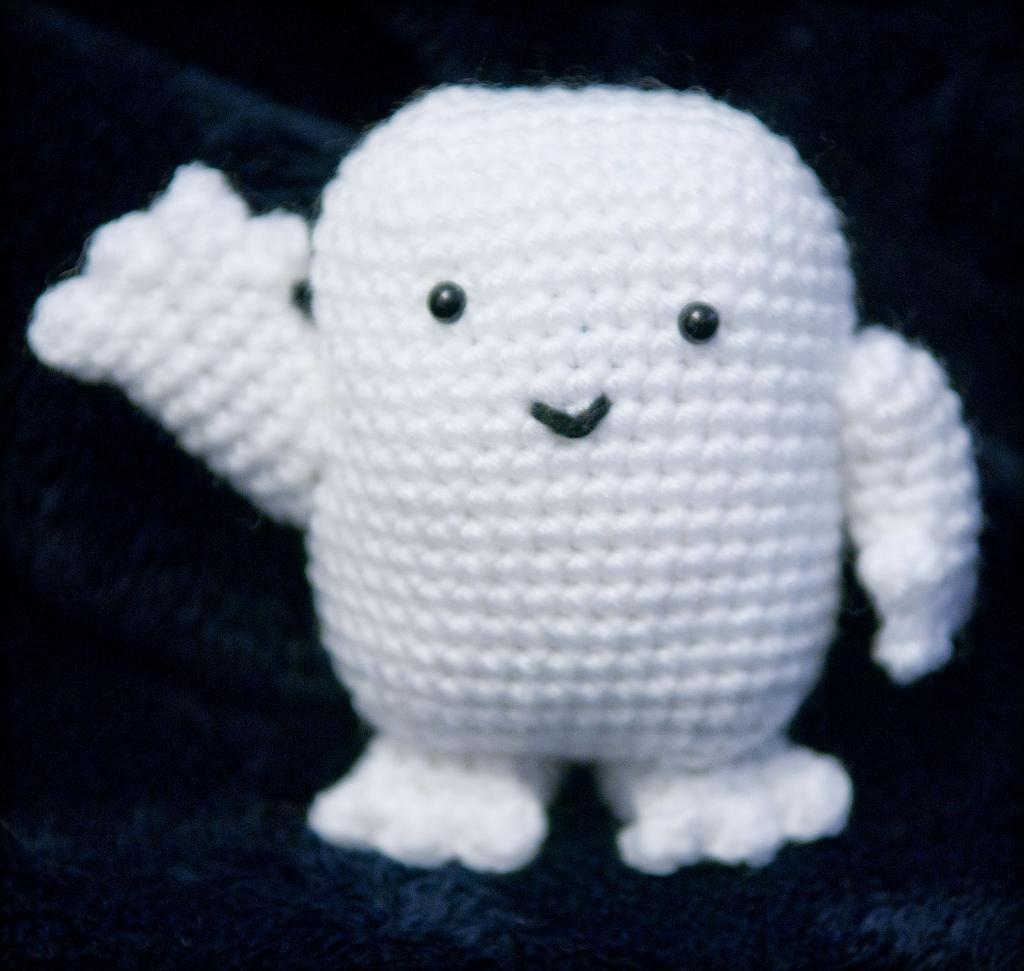 Photo via Bluprint member amcdonoug1011669
Adipose Amigurumi
Remember when the Doctor and Donna ran into each other while trying to find out the truth behind the Adipose diet pills? They helped these little creatures get home safely in the end. Fortunately, these are made from yarn instead of fat. Remember: those Adipose pills don't actually work.
Get the Adipose Amigurumi pattern here.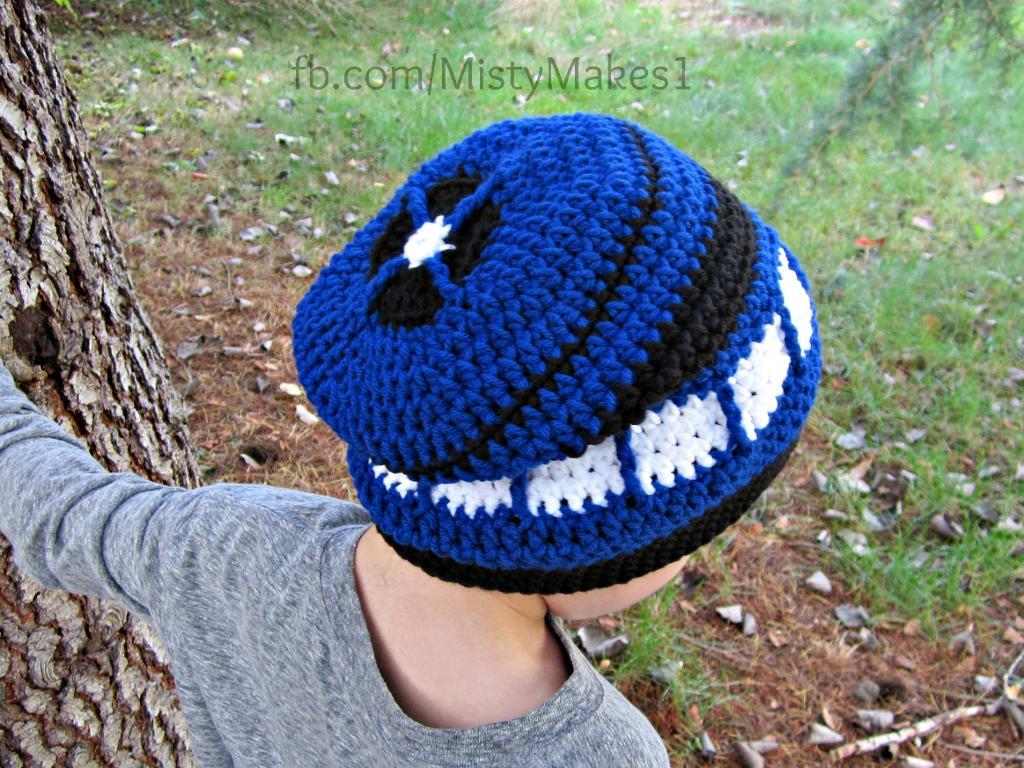 Photo via Bluprint member Misty Makes
TARDIS Slouch Hat
The Doctor always travels through time and space in style, and now you can too. If a slouch hat isn't your style, you can easily convert it to a beanie by leaving out a few rows.
Get the TARDIS Slouch Hat pattern here.
[box type="shadow"]
Need a little review of some of the crochet techniques used in these patterns? Bluprint instructor Kim Werker can help you out in Crochet: Basics and Beyond. You'll learn everything from reading a pattern to crocheting in the round — all great ways to help your Doctor Who projects come alive.
[/box]
Who's your favorite Doctor and companion?