Now that we're in the full swing of summer, your social calendar is likely filled with birthday parties, barbecues, backyard dinner parties…the list goes on. Coming up with homemade party decoration ideas is one way I get inspired to start the event planning process. DIY party favor ideas are especially fun to dream up. They have a way of elevating a get-together and making it even more memorable.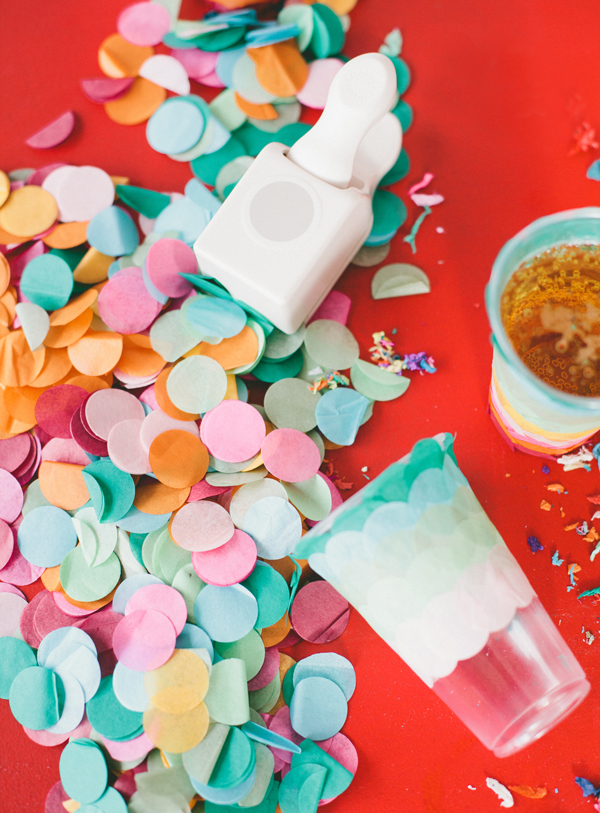 Photo via A Subtle Revelry
Here are some of our favorite DIY party favor ideas that will help you throw an awesome party with paper!
Using paper for party decor is so great since it is very affordable and you can make a massive impression with just a few cuts and pastes. Now that is party planning I can get behind!
Photo via Decor 8
DIY favor boxes and tags
These awesome meringue party favor boxes and tags are bright and so very festive. Add in a few baked sweets and they are sure to be a hit at your next bash. You can totally play with the color scheme to match your party! Thinking of doing a superhero party? Give your guests a color scheme of their favorite superhero!
Photo via Sarah Hearts
Feather garland
This feather garland has me drooling over its sophisticated dreaminess. This is seriously the easiest garland; all you need is white card stock, gold glitter, Mod Podge, a ribbon, and a stencil of a feather (or go outside and see if you can find a pretty one!). The garland is perfect for a shower, and looks beautiful left up hanging on the mantle everyday.
Photo via The Allison Show
Printable ponies
How cute are these pony gumdrops and matching paper pony party prints? They'd be perfect for your next cookout to completely catch your guests off guard! The pony candies are super simple to make, and the matching pony party printable can be found right here. However, I've heard through the grapevine that you will need a BIG pot to cook them in or you might end up with blue-tastic goo all of your stovetop!
Photo via My Sister's Suitcase
Vertical chevron garland
Tired of hanging your garland horizontally? Let's think vertical with this DIY chevron paper garland. This garland can act as both garland and streamers! It will brightened up any festivity with its chic perfection!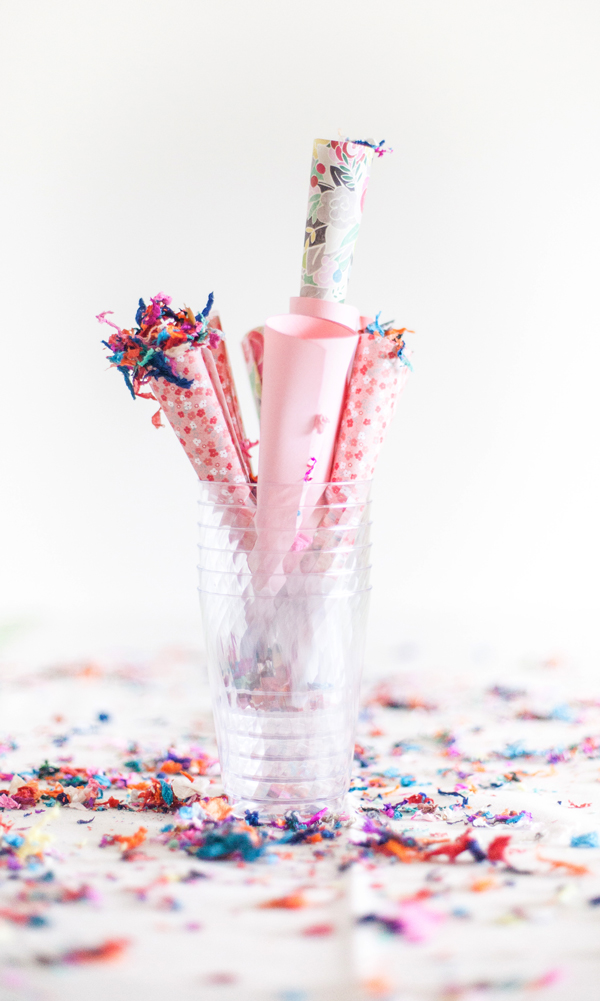 Photo via A Subtle Revelry
Confetti party horns
These confetti blower party horns will put everyone in a merry mood. These are perfect for throwing surprise parties for your special birthday guy or girl. The best part? They blow confetti and make noise! Ultimate win. These also require very little assembly. All you need is party horns (purchased from local party store) and sheets of pretty paper. It doesn't it get any easier!
Photo via The Tomkat Studio
Party favor bags
These gorgeous party favor bags are made from wrapping paper. Wrapping paper! The possibilities are endless as to what you can stuff in these bags: chocolate, homemade jams, mini spa kits, toys. The sky is the limit!
Photo via Hello Lately
Ice cream cone garland
This project is definitely on my summer party list. This ice cream cone garland is perfect for cooling down those warm weather parties. Hop into the summer vibe and try this sweet treat at your next get-together.
Photo via Studio DIY
Party hats
Be the life of the party with these DIY party hats. The trick into keeping the glittery toppers in place is lots of glitter, and of course…a headband.
Photo via The Flair Exchange
Crepe bow garland
And finally, we can't forget the crepe bow garland. Bows are never going out of style and this garland could be the exact touch you are looking for to completely knock your guest's socks right off their feet!
Want to make your paper POP?
Join the 5000+ students who have enrolled in the fun Craftsy class Paper Arts to discover professional gift-wrapping tips, how to make elaborate greeting card designs, trendy paper home decor and more!
Sign me up!
Which paper party decoration will you use to gussy up your next bash? If all else fails just throw some confetti around and start dancing! Happy celebrating.